How does SWOT analysis help to grow your business? Check out the best SWOT analysis examples and practice right away.
You have been struggling with positioning your brands and expanding your market exponentially, or considering which shares you should spend money on. And you have also to think of whether these businesses will be profitable or worth investing in. There are plenty of factors involved in making a business decision and you need an ultimate technique to help you map out a business's future from all angles. Then go for SWOT analysis.
So what is SWOT analysis, and how to practice it correctly and effectively in your workload? The article will give you more handy information and SWOT analysis examples that help you quickly adopt the technique in your work.
Table of Contents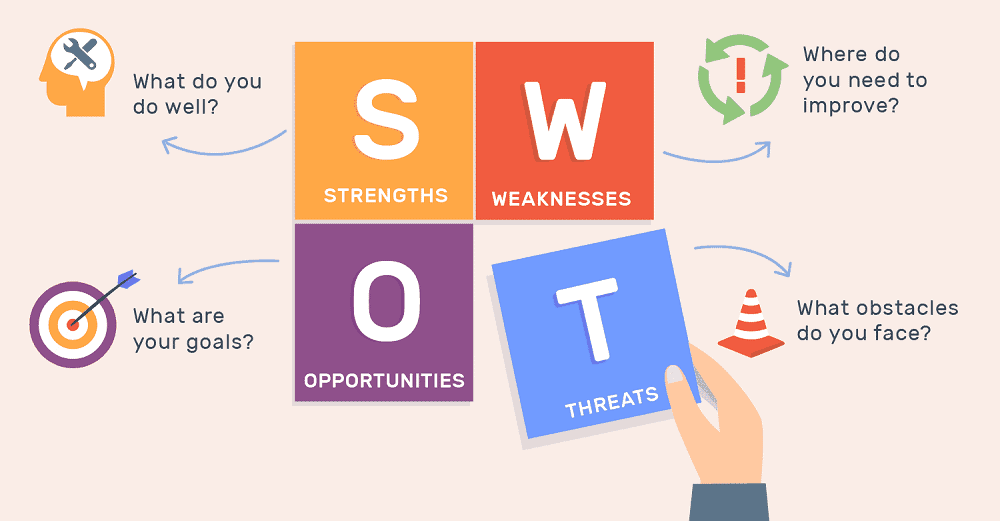 What is SWOT Analysis?
SWOT analysis is a strategic planning tool that stands for Strengths, Weaknesses, Opportunities, and Threats. It is used to assess an organization's or individual's internal and external factors to identify areas for improvement and potential challenges. This method was first developed and introduced by Albert Humphrey of the Stanford Research Institute created in the 1960s during her study on the purpose of identifying the reasons behind the consistent failure of corporate planning.
Here are explanations of the four primary components:
Strengths are what an organization or individual excels in or has a competitive advantage over others. Examples may include strong brand recognition, a talented team, or efficient processes.
Weaknesses are factors that an organization or individual needs to improve on or lacks a competitive advantage in. An instance happens among poor financial management, limited resources, or inadequate technology.
Opportunities are factors that an organization or individual can take advantage of to achieve their goals. In particular, new markets, emerging trends, or changes in regulations can create opportunities.
Threats can negatively impact an organization or individual's ability to achieve their goals. For examples, the increasing competition, economic downturns, or changes in consumer behavior, and more should be put into consideration.
Better Brainstorm Sessions with AhaSlides
How to Brainstorm: 10 Ways to Train Your Mind to Work Smarter in 2023
Is Brainwriting Better than Brainstorming? Best Tips and Examples in 2023
Six Thinking Hats | Best Complete Guide For Beginners in 2023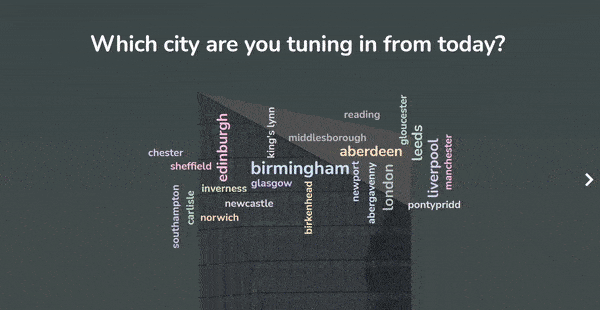 Need new ways to brainstorm?
Use fun quiz on AhaSlides to generate more ideas at work, in class or during gatherings with friends!
🚀 Sign Up For Free☁️
How to conduct SWOT analysis effectively?
Define the objective: Identify the purpose of conducting the SWOT analysis, and determine the scope of the analysis.
Gather information: Collect relevant data, including internal information about your organization's strengths and weaknesses and external information about the opportunities and threats that may impact your organization.
Identify strengths and weaknesses: Analyze your organization's internal strengths and weaknesses, including its resources, capabilities, processes, and culture.
Identify opportunities and threats: Analyze the external environment to identify potential opportunities and threats, such as changes in the market, regulations, or technology.
Prioritize: Prioritize the most important factors in each category and determine which factors need to be addressed immediately.
Develop strategies: Based on the SWOT analysis, develop strategies that leverage your strengths to take advantage of opportunities, address weaknesses to mitigate threats, and maximize opportunities while minimizing threats.
Monitor and adjust: Monitor the effectiveness of the strategies and adjust them as necessary to ensure that they remain relevant and effective.
SWOT Analysis Examples
Before starting to practice your SWOT analysis, take time to read through the following SWOT analysis examples, which are inspired by some specific fields including personal growth, sales development, marketing research, departmental improvement, and product development. As you can see, there will be diverse SWOT matrix templates that you can refer to rather than using traditional SWOT templates with
Personal Development – SWOT analysis examples
Are you looking to enhance your personal development skills and become a better version of yourself? Then SWOT analysis is a technique that you must incorporate into your routine, that makes you focus and clarify.
Especially, if you are a fresh graduate or newbie in the industry, you might want to prioritize your goals and objectives, so you can work towards achieving them effectively. It also helps you identify potential obstacles that may hinder your progress, allowing you to plan and prepare accordingly. The below SWOT analysis examples can help you quickly apply the technique to your case whether it is leadership SWOT analysis or to Future-Proof Your Career.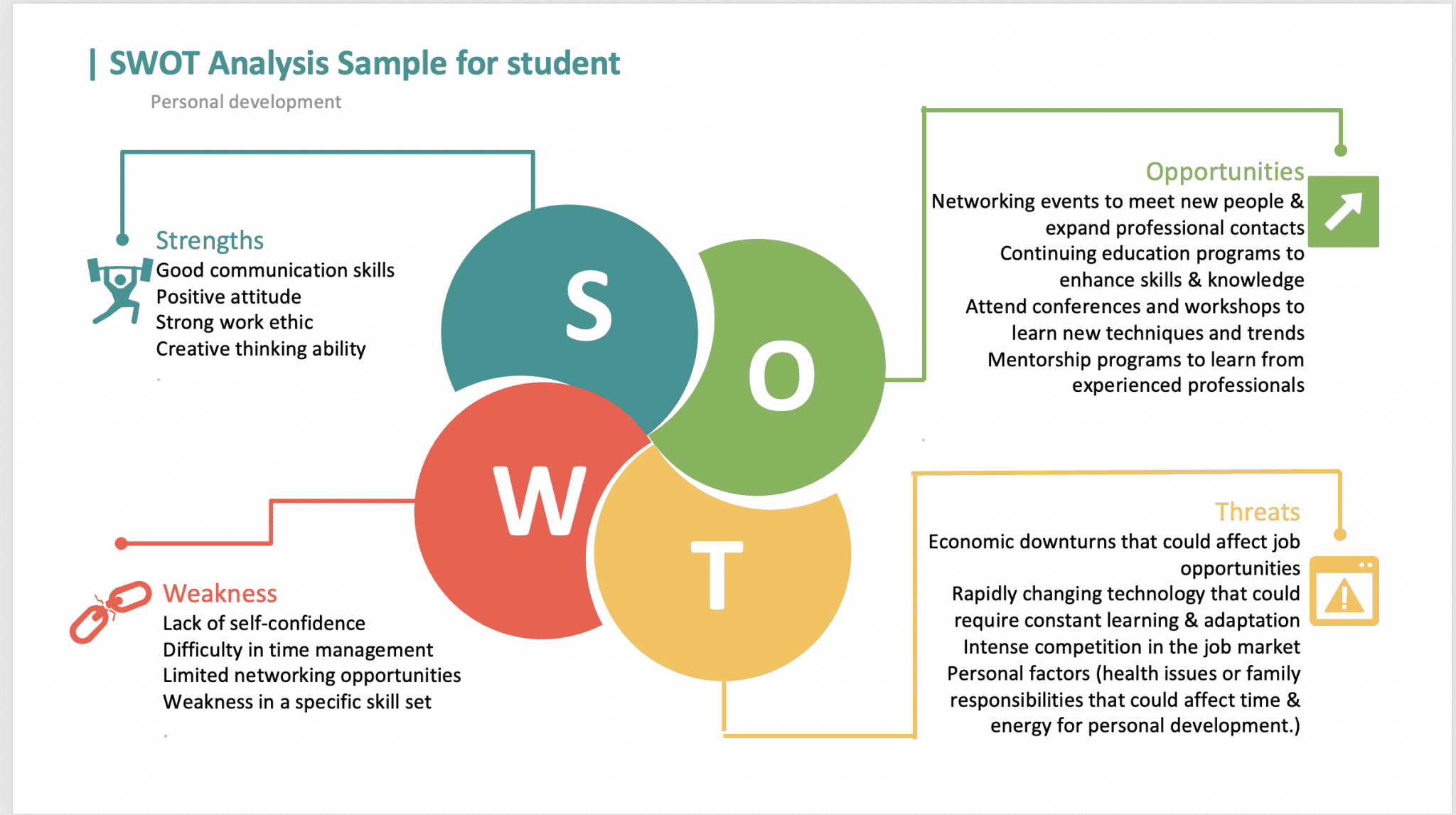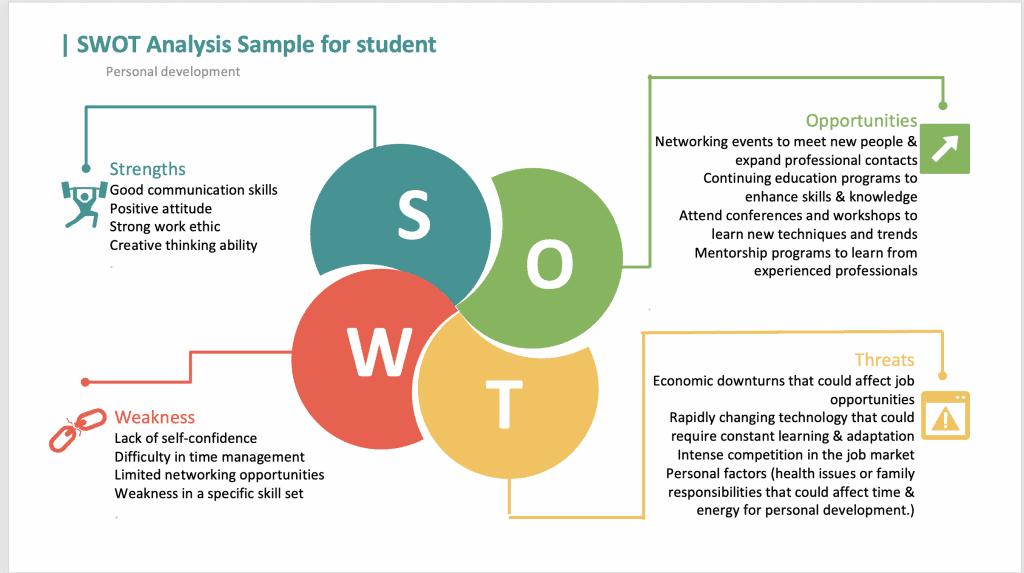 HINTS: Sometimes, get feedback, such as 360-degree feedback from people around you, so that you can explore underlying facets of yourself that you might not notice.
Sales and Marketing Strategy – SWOT analysis examples
To develop an effective sales and marketing strategy, let's conduct a SWOT analysis, where companies can gain a deeper understanding of their target market and competitors, as well as their internal capabilities and limitations. This knowledge can be leveraged to create more effective marketing campaigns, improve sales processes, and ultimately lead to increased revenue and profitability.
It helps companies to identify areas where they can improve their messaging and positioning. By understanding their strengths and weaknesses, companies can develop targeted messaging that speaks directly to their target audience. This can help to increase brand awareness, generate more leads, and ultimately drive more sales.
Additionally, by identifying opportunities and threats, companies can make informed decisions about where to focus their resources and investments, ensuring that they are maximizing their marketing and sales efforts. You might look at the following SWOT analysis examples to give you a full awareness of what a good SWOT analysis looks like.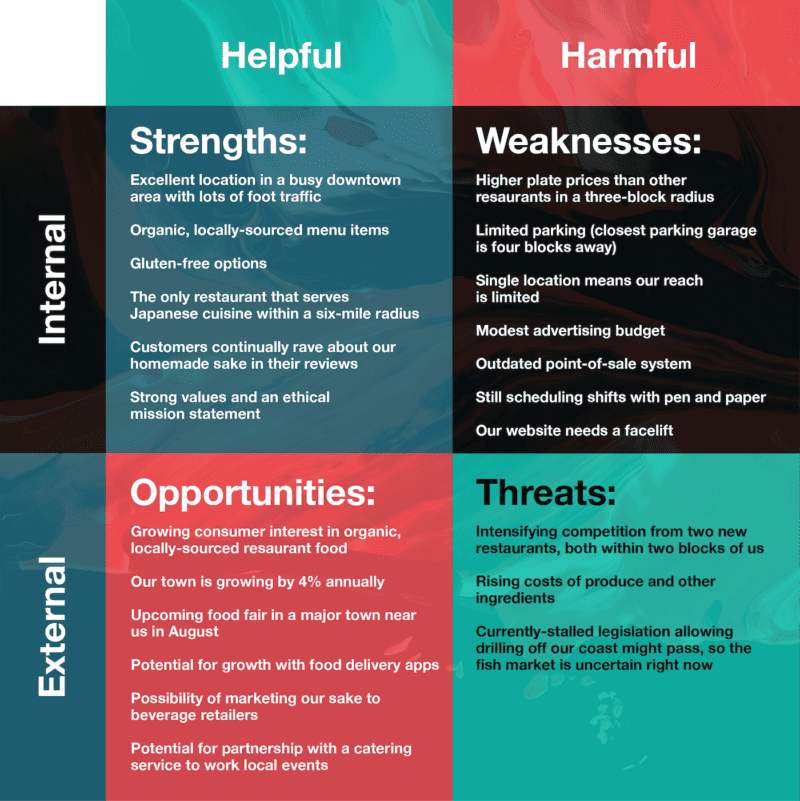 BONUS: Besides doing a SWOT analysis, the marketing team also needs to persuade the management board, and then the client about their strategy. Check out Marketing Presentation Tips from AhaSlides to make sure you won't miss anything.
HR SWOT Analysis Examples
SWOT analysis is a highly effective tool for Human Resource (HR) professionals to evaluate their internal and external factors. It helps HR managers to identify areas of improvement and develop strategies to address them. SWOT analysis provides a comprehensive view of an organization's internal and external environment, which enables HR professionals to make informed decisions. It also helps HR professionals to align their HR strategies with the overall business goals of the organization.
By understanding the strengths and weaknesses of the organization, HR professionals can develop effective hiring and training strategies to improve employee performance. Similarly, by analyzing the opportunities and threats, HR professionals can develop strategies to mitigate risks and take advantage of new opportunities. The following SWOT analysis examples describe what is strongly relevant to the HR department.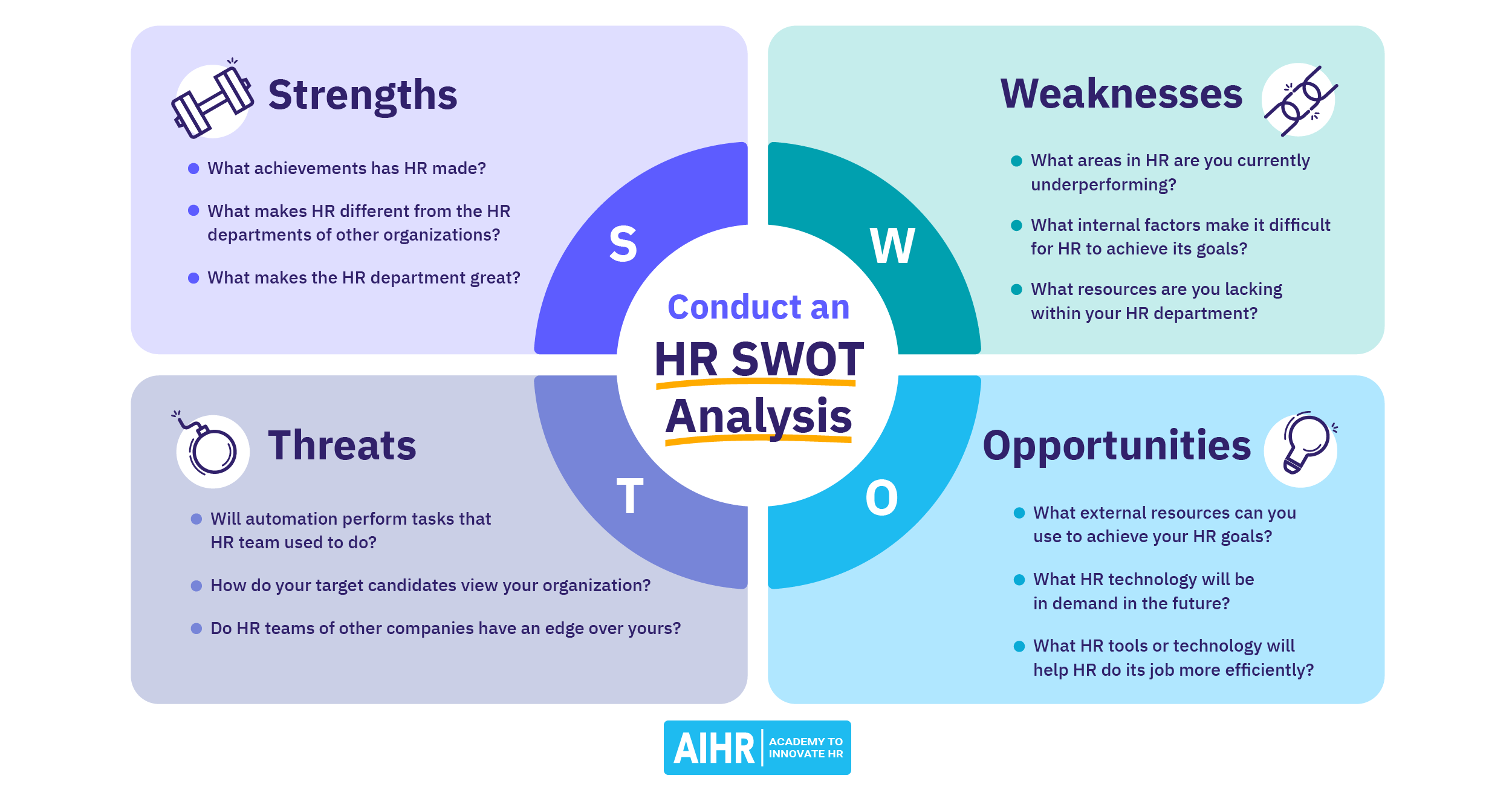 Foods and Restaurant – SWOT analysis example
SWOT analysis is a valuable tool for businesses in the food and restaurant industry. The technique can be used to help restaurant owners to develop effective strategies to grow their businesses. They can capitalize on their strengths, address their weaknesses, exploit opportunities, and minimize the impact of threats.
For example, if a restaurant identifies that its strength is its customer service, it can invest in training its staff to maintain that level of service. Similarly, if a restaurant identifies a threat such as increased competition in the area, it can develop strategies to differentiate its offerings or adjust its pricing to remain competitive. The below SWOT analysis example might help you clearly know what to do in your business situation.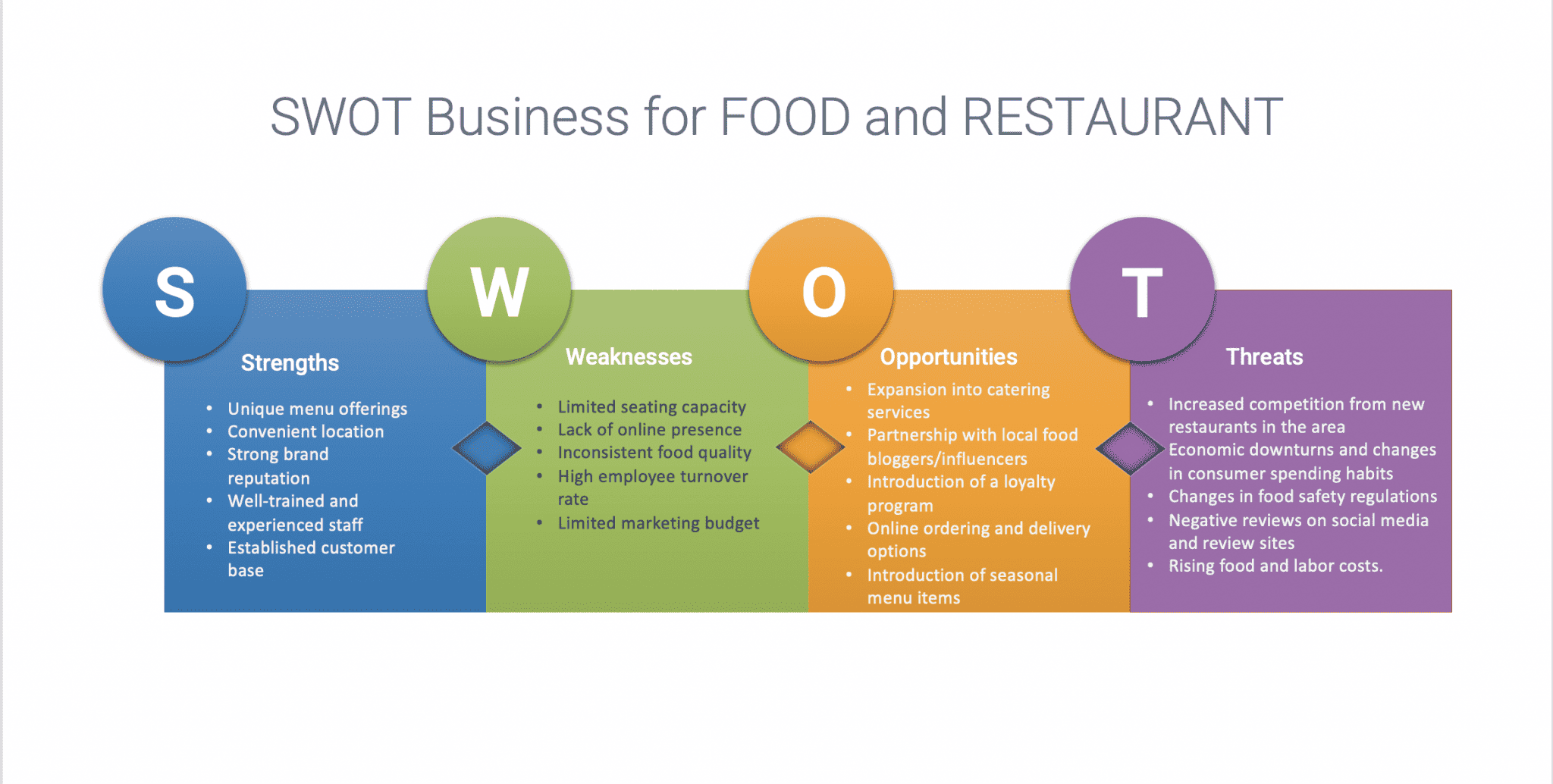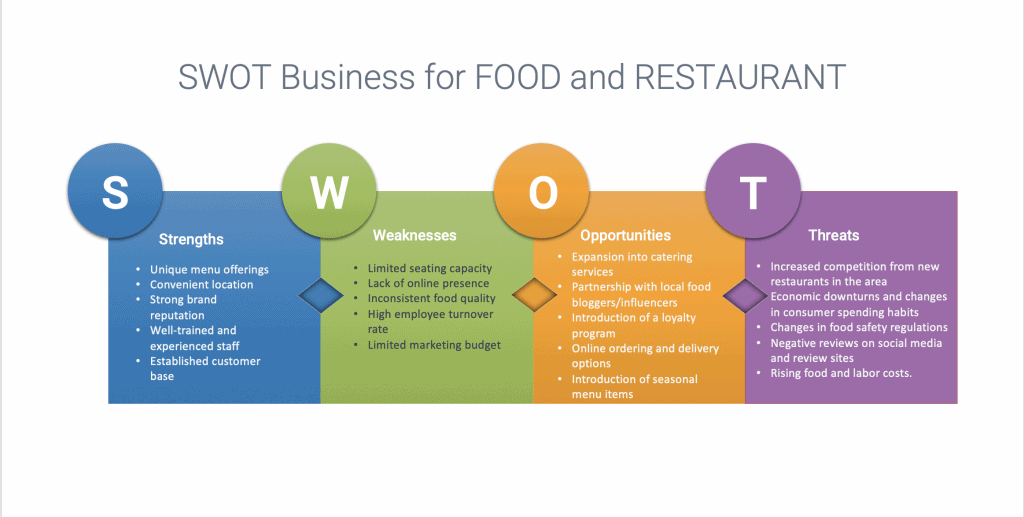 BONUS: If you want to ensure your new product or service can smoothly go to the market, there are additional works that your team has to do, like preparing for product introductions and product launch presentations with AhaSlides. Take your time to look at how to successfully present your new product development planning in front of your boss and media.
Social media SWOT analysis example
As there is a shift from using social media platforms in different generations, the company might need to consider whether they should use all kinds of platforms or should focus on some. So What should you cover in your analysis? Here are some SWOT analysis examples to consider when determining which social media platform(s) to use for your company.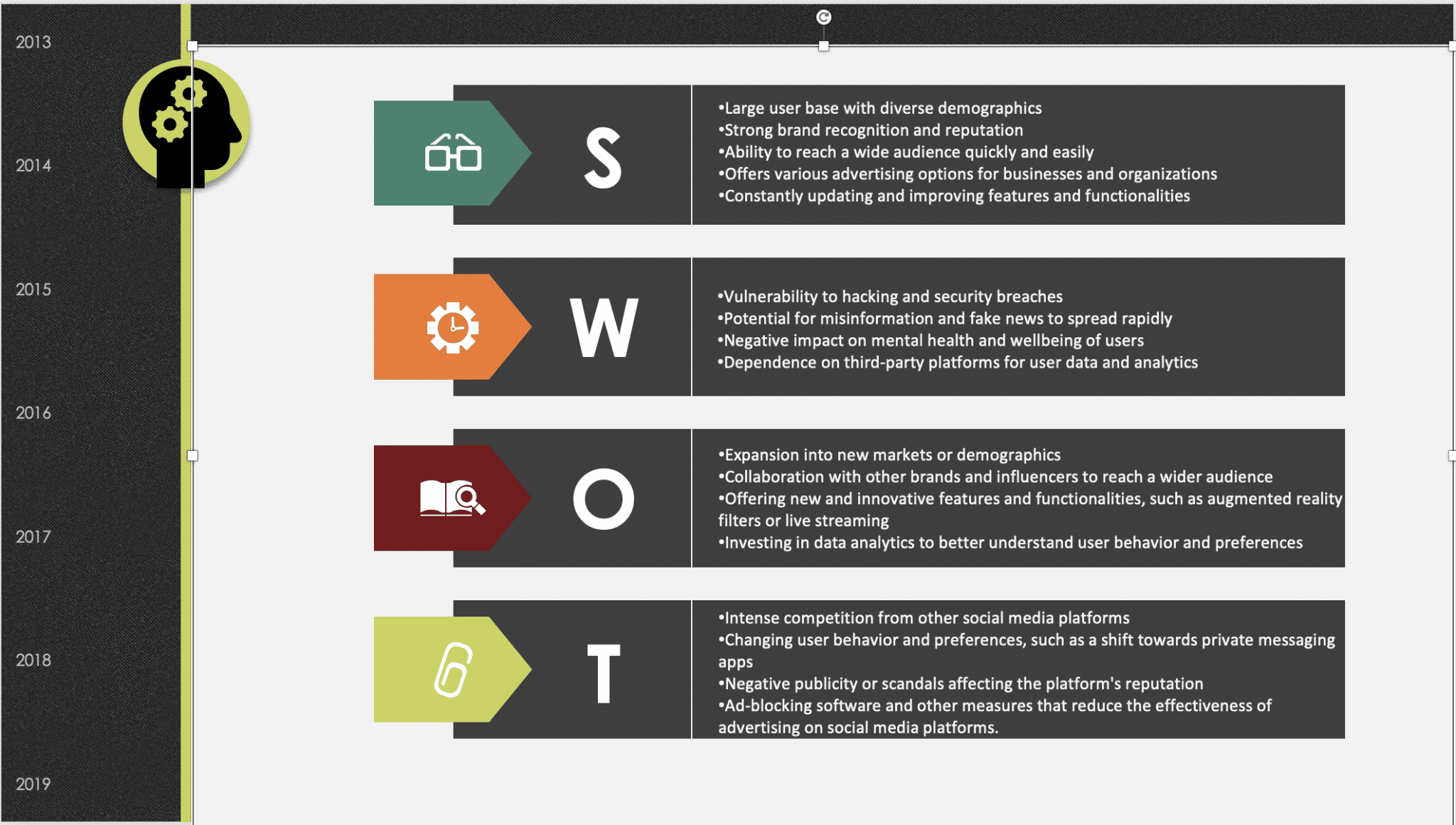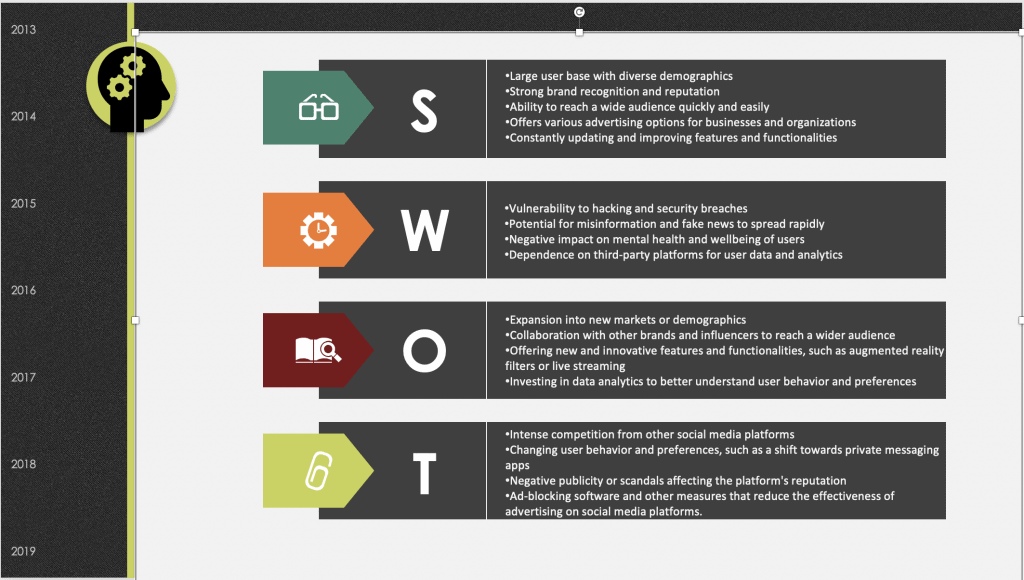 HINT: You might choose one social media platform to start with first. Then continue to do with others.
Key Takeaways
Overall, SWOT analysis is a powerful tool to help either individuals or companies to gain full awareness and valuable insights into themselves and the organization. By taking the time to conduct a thorough analysis of their internal and external environment, people can become the person they want, and companies can gain a competitive advantage and position themselves for long-term success.