We all know that a picture says a thousand words, but what if you could have a picture and a thousand words? That's real insight!
AhaSlides Live Word Cloud Generator can help you to create a word cloud with images, which can not only say so much more, but it can ask so much more of your audience and can do so much more in keeping them entertained.
Here's your practical guide to creating create word image!
Overview
| | |
| --- | --- |
| Can I export Word Cloud as an Image from AhaSlides? | Yes, you can |
| Do I have to download AhaSlides Word Cloud to use on my laptop? | No, AhaSlides is 100% web based |
| How many entries can I put into an AhaSlides Word Cloud? | Unlimited |
| | |
Overview of Word Cloud with Images
Table of Contents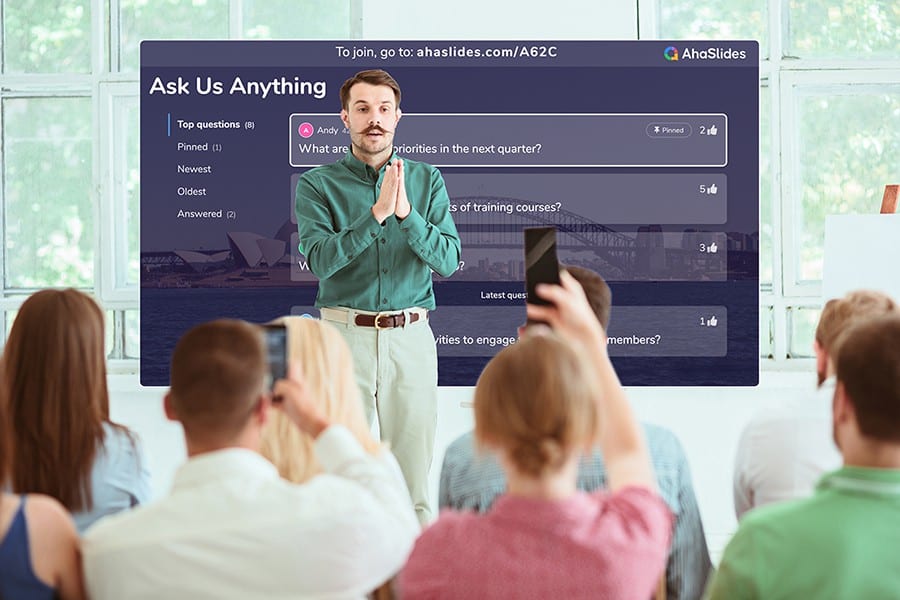 Start in seconds.
Learn how to set up a proper online word cloud, ready to share with your crowd!
🚀 Grab Free Quiz
More Inspiration with AhaSlides
Can You Add Images to Word Clouds?
While it's possible to add images around a word cloud, for example as a prompt or background, there are currently no tools for creating a word cloud made from images. It's also unlikely there ever will be a tool, as it would be very hard to submit images to normal word cloud rules.
Learn how to use live word cloud generator allows you to pose a question to participants using an image or GIF as a prompt or background. With most such tools, participants can answer this question in real-time with their phones, then see their responses in one word cloud showing the popularity of all words in order of size.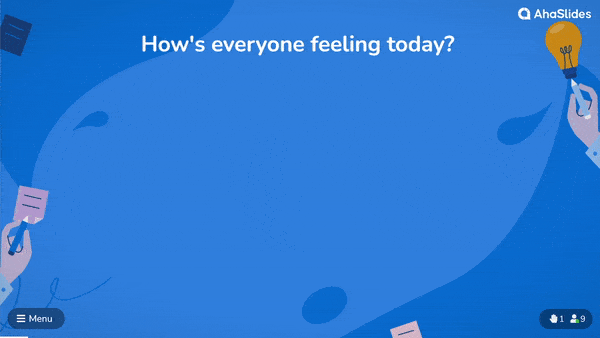 ☝ This is what it looks like when participants of your meeting, webinar, lesson etc. enters their words live to your cloud. Sign up to AhaSlides to create free word clouds like this.
3 Types of Word Cloud with Images
Though a word cloud made of images may not be possible, that's not to say that pictures don't have a place in this super versatile tool.
Here are 3 ways you can get real engagement with images and word clouds.
#1 – Image Prompt
A word cloud with image prompt is a great way to get your participants submitting ideas based on an image. Just ask a question, choose an image to show, then allow your participants to respond with their thoughts and feelings of that image.
Using their phones, participants can see the image and submit their responses to the word cloud. On your laptop you can simply hide the image to reveal all of your participants' words.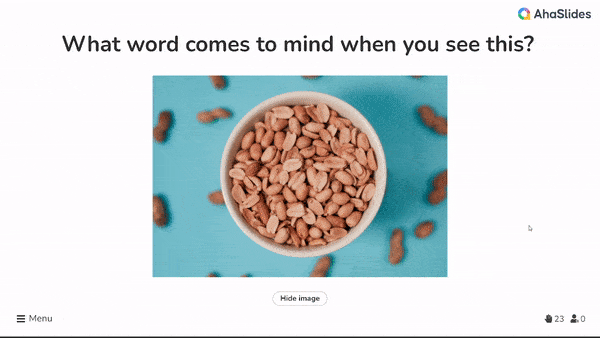 This example is kind of like one of those old-timey ink blot tests you may have gotten at a visit to the psychiatrist in the 1950s. The most popular use for this type of image word cloud is exactly that – word association.
What comes to mind when you see this image?
How does this image make you feel?
Summarise this image in 1 – 3 words.
💡 On many tools, you can also use GIFs as your image prompt. AhaSlides has a full library of image and GIF prompts for you to use for free!
#2 – Word Art
With some non-collaborative word cloud tools, you can create a word cloud that takes the shape of an image. Usually, the image represents something related to the content of the word cloud itself.
Here's a simple word cloud image of a Vespa made up of text relating to scooters…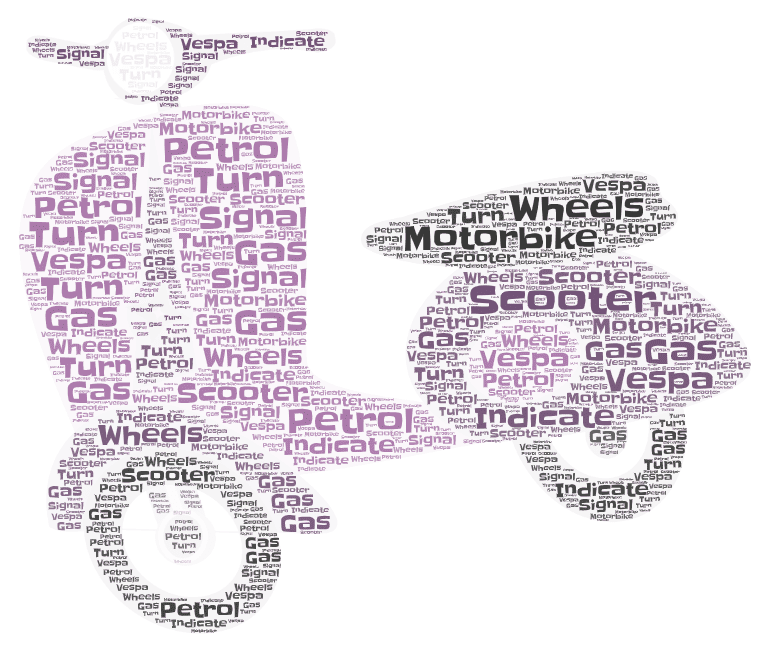 These types of word clouds certainly look great, but they're not so clear when it comes to determining the popularity of the words within it. In this example, the word 'motorbike' appears as wildly different font sizes, so it's impossible to know how many times it was submitted.
Because of this, word art word clouds are basically just that – art. If you want to create a cool, static image like this, there are several tools to choose from…
Word Art – The prime tool for creating word clouds with images. It's got the best selection of images to choose from (including an option to add your own), but is certainly not the easiest to use. There are dozens of settings to create a cloud but pretty much zero guidance in how to use the tool.
Word Clouds – An easier-to-use tool with a staggering array of shapes to choose from. However, like Word Art, repeating words in different font sizes kind of defeats the whole point of a word cloud.
Tagxedo – A nice tool to make great-looking static word art in a variety of fonts. Bear in mind that if you're going with this option, you'll have to download Silverlight first.
#3 – Background Image
The final way in which you can use a word cloud with images is super simple.
Adding a background image to a word cloud may not feel like much, but having imagery and colour in any presentation or lesson is a sure fire way to get more engagement from those in front of you.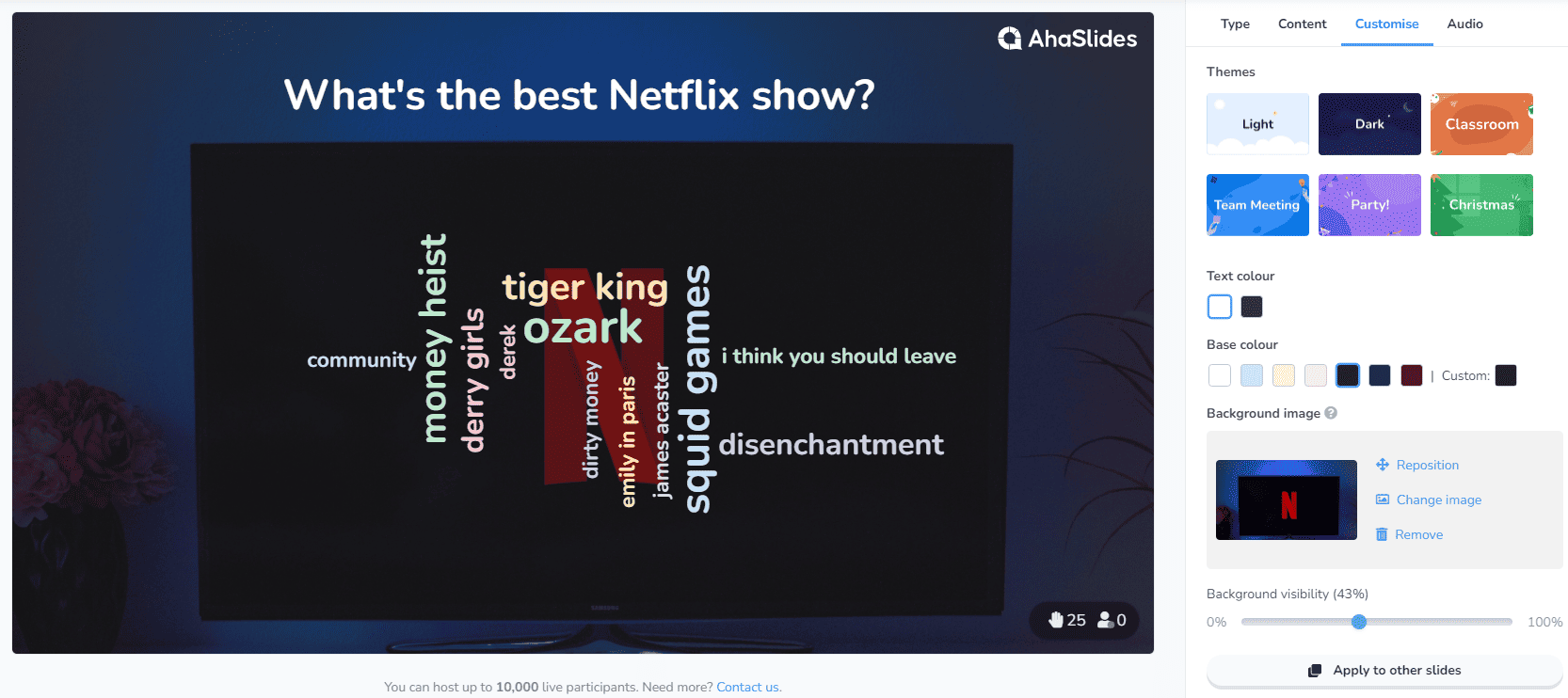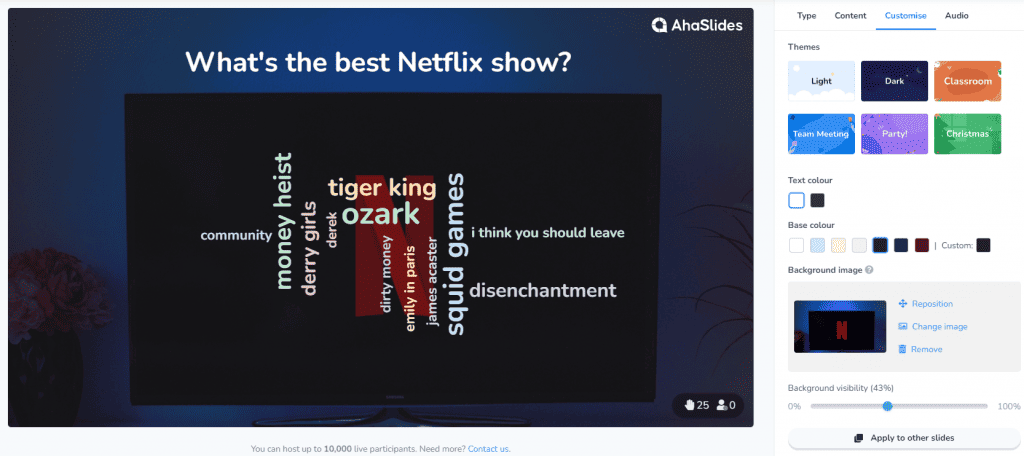 With AhaSlides, you can also create a PowerPoint word cloud, even a zoom word cloud, within a small number of steps! Many other collaborative word cloud tools let you choose a background image for your word cloud, but only the best give you these customisation options…
Themes – Background images with decorations around the side and preset colours.
Base colour – Choose primary colour for your background.
Background visibility – How much of your background will show against the base colour.
FAQ
Frequently Asked Questions
---
Got a question? We've got answers.
Yes, , it is possible to create a word cloud in a specific shape. While some word cloud generators offer standard shapes like rectangles or circles, others allow you to use custom shapes of your choice. With AhaSlides, the shape is depent on number of words you've put on the cloud!
Yes you can, even when MS Powerpoint dôessn't have the built-in feature for this. However, you still can use a Word Cloud Generator, or even better, check out AhaSlides -
Extension for Powerpoint
(Add your Word Cloud to your PPT Presentation), best way to make this process much easier and more convenience.
Word cloud art, also known as word cloud visualization or word cloud collage, is a form of visual representation where words are displayed in a graphical format. The word size is dependt on the frequency or importance within a given text or collection of texts. It is a creative way to showcase textual data by arranging words in a visually appealing and informative manner. Check out top
7 Free Word Art Generators
!