Spinner Wheel – Save and Share Your Wheel Online
This Spinner Wheel app, the raffle generator, the picker wheel, is the most colourful way to get a random output from a bunch of options.
Simply add your entries and press the big button in the middle to spin the wheel.
More funs with AhaSlides Word Cloud, or how to brainstorm ideas properly!
Spin for your Audience.
On AhaSlides, players can join your spin, enter their own names into the wheel and watch the magic unfold live! Perfect for a quiz, lesson, meeting or workshop.
AhaSlides Spinner Wheel – The Overview
No. of spins for each spinner wheel game?
Unlimited
Free users can use spinner wheel creator?
Yes
Can free users save the Wheel in free mode?
Yes
Edit the description, and name of the wheel?
Yes
Number of AhaSlides topic-related wheels?
At least 12
Check out AhaSlides free-mode wheel
Ready-to-use templates?
Yes, they're free for all users. Check out Free Templates
Number of entries can be put to a wheel?
10.000
Delete/ add entries to the wheel while playing?
Yes, you can add, edit and delete entries
This wheel spinner, is actually an alternative to spin the wheel app, uses advanced code and a random number generator to ensure the fairest possible result. Outcomes are 100% random and are influenced by nothing beyond the algorithm that runs it.
You can use this random picker for absolutely anything you have in mind. The best uses for it are trivia, for teaching purposes, raffles, and project kickoff meetings, also one of the free alternatives to Google Form as a survey, best to make decisions when you just don't know the right path to take.
Looking for some free spinner wheel examples? Click on the name to go straight to a pre-loaded wheel! This spinner wheel is literally a replacement for roulette games, as it's healthier and easier to access at home!
Looking for some inspiration? 💡 Definitely, you can use this random picker, as a mystery wheel for truth or dare spinner online. Check out how to use this spinner wheel for MLB team wheel, random category generator wheel, virtual team meeting games, or to be a simple ice breaker for a social or work event.
AhaSlides Spinner Wheel – How to Use
While the spinner wheel can be used for many different purposes, to custom spinner wheel as giveaway spin wheel, to pick a winner wheel or to be the wheel randomizer, the way you create your entries, spin the wheel and show the result is always the same.

1. Create your Entries
You can add your own entries to the wheel above by typing them into the 'entry box' on the left-hand side of the wheel. Entries must contain fewer than 25 characters and can be uploaded to the wheel by pressing the Add button or by hitting Enter on your keyboard.
2. Review your List
When you're finished inputting all your entries, check them out in the list below the entry box. The most recent entry will be shown at the top of the list and the section above the list, labelled Entries, will show the number of entries you have inputted.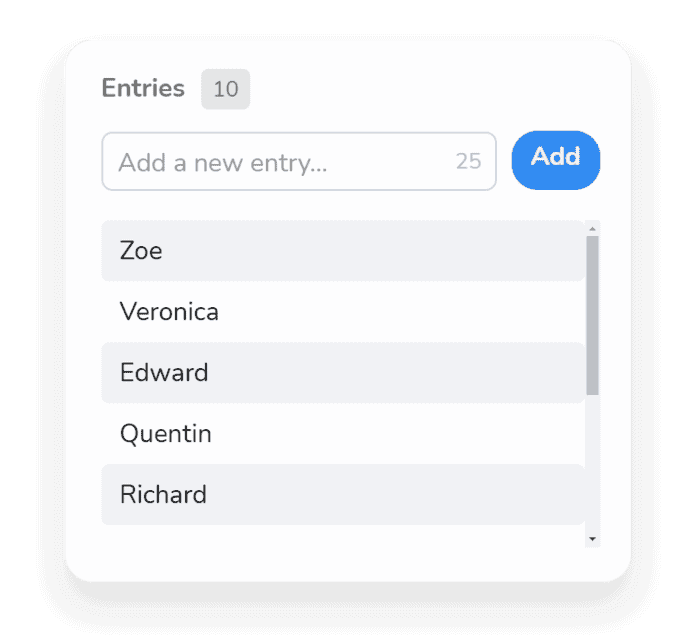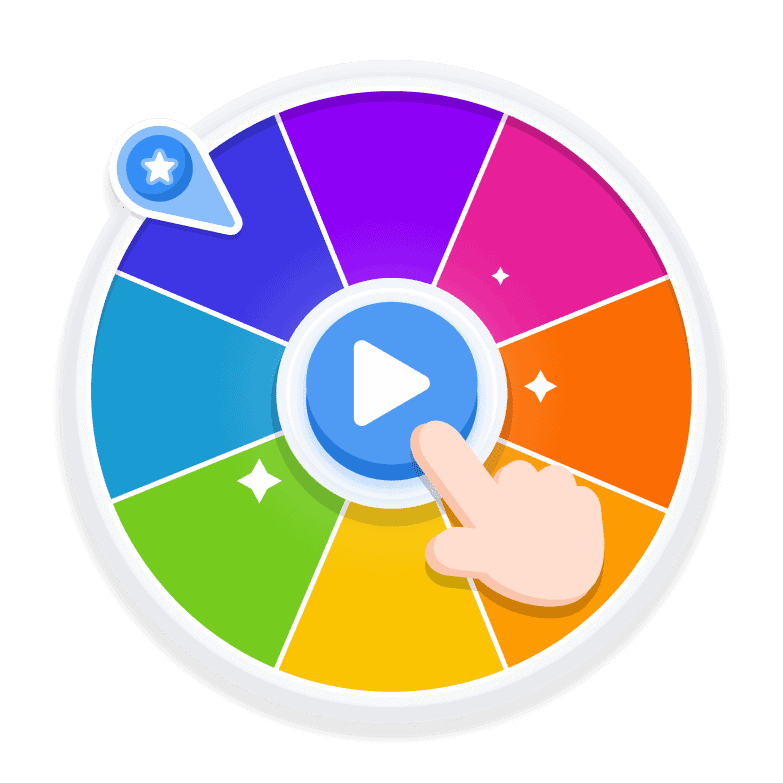 3. Spin the Wheel!
With all entries uploaded to your wheel, it's time to spin! Simply click the button in the centre of the wheel to spin it, then wait for it to land on one of your entries.
4. Delete Entries
If you want to remove an entry after the spinner wheel has landed on it, hover over the name in the entry list and click the delete icon.
Still don't know how it works? Try out our Free Spinner Wheel now!

Wanna Make it Interactive?
Let your participants add their own entries to the wheel! Find out how to make a spinning wheel…
More Stuff can do with Random Spinner Wheel
This spinner wheel is one of 18 slide types on AhaSlides, a piece of software that helps you create interactive presentations, lessons, seminars and live quizzes.
Using the spinner wheel on AhaSlides gives you so many more avenues for customisation, as well as the opportunity to up the engagement by having participants join the show directly!
1. Invite participants to join
You can create your own game show audience by inviting anyone to join your wheel spin for free. Once they enter your unique room code into their phones, they'll be able to watch the picker wheel magic unfold on the presenter's screen and will see the results displayed live on their phones.
2. Have participants fill in their names
Don't have time to manually add the names of your participants? No problem. Once they join your room, they'll be prompted to pick a name and an avatar that will be automatically uploaded to the wheel.
3. Add a heading
Write a heading just above the random wheel spinner to relay the point of the wheel. For example, if you're using the wheel to pick participants to answer a question, you can write something quirky like 'who knows their physics?' or 'tick tock it's maths o'clock'.
4. Change the background and font
To spin the wheel online, you should customize it first. It's all about the spectacle with the random picker wheel. AhaSlides lets you change the background behind your wheel to any image and colour you want, and also lets you select a different font. There's an in-built image library to source your images from, and even a dark mode.
Need help with the spinner wheel? 💡 Check out this article in our knowledge base for more information.
Free Spinner Wheel Generator Examples
Need an instant online spinner wheel to go? We've got some fabulous presets for use right here!
AhaSlides Spinner Wheel Templates
General Template
Animals Quiz Series
Classroom Quiz Templates
Fun Wheel Templates
Frequently Asked Questions
How many entries can I add into this spinner wheel?
AhaSlides spinner wheel can support up to 10,000 entries (that's more than any other spinner wheel on the web!) You may notice that if you have more than 60 entries, the words will disappear from the wheel and the segments will no longer grow thinner with each added entry. This is simply to save space on the wheel and allow for the huge number of entries to fit without issue.
Can I write foreign characters or use emojis in this spinner wheel?
Sure you can! We don't discriminate at AhaSlides 😉 You can type any foreign character or paste any copied emoji into the random picker wheel. Be aware that foreign characters and emojis can look different on different devices.
Can I use an ad blocker when spinning the wheel?
Certainly. Using an ad blocker doesn't affect the performance of the spinner wheel at all (because we don't run adverts on AhaSlides!)
Is it possible to rig the wheel spinner?
Nope. There are no secret hacks for you or anyone else to make the wheel spinner show a result more than any other result. The whole operation from smart to finish is 100% random and cannot be influenced.
Is there any way to have two spinner wheels running at the same time?
The easiest way to do this is to have two separate windows side-by-side, both open to this page. You can press spin on both wheels at roughly the same time, though obviously the one you spin first will be slightly ahead of the other. Note that the wheel is mobile-friendly, so it's possible to have synchronised spins if you spin a wheel on both your desktop and phone.
Does AhaSlides update this random generator wheel?
We're always busy working on updates for the wheel. We have plans to add many more features and many more ways to customise the wheel in the future! All updates will be logged in our changelog below.
Does this spinner wheel have a dark mode version?
It does! The dark mode randomiser wheel isn't available here, but you're able to use it with a free account on AhaSlides. Simply start a new presentation, select the Spinner Wheel slide type, then change the background to a dark colour. Your spinner wheel will automatically update in dark mode, and will look something like this 👇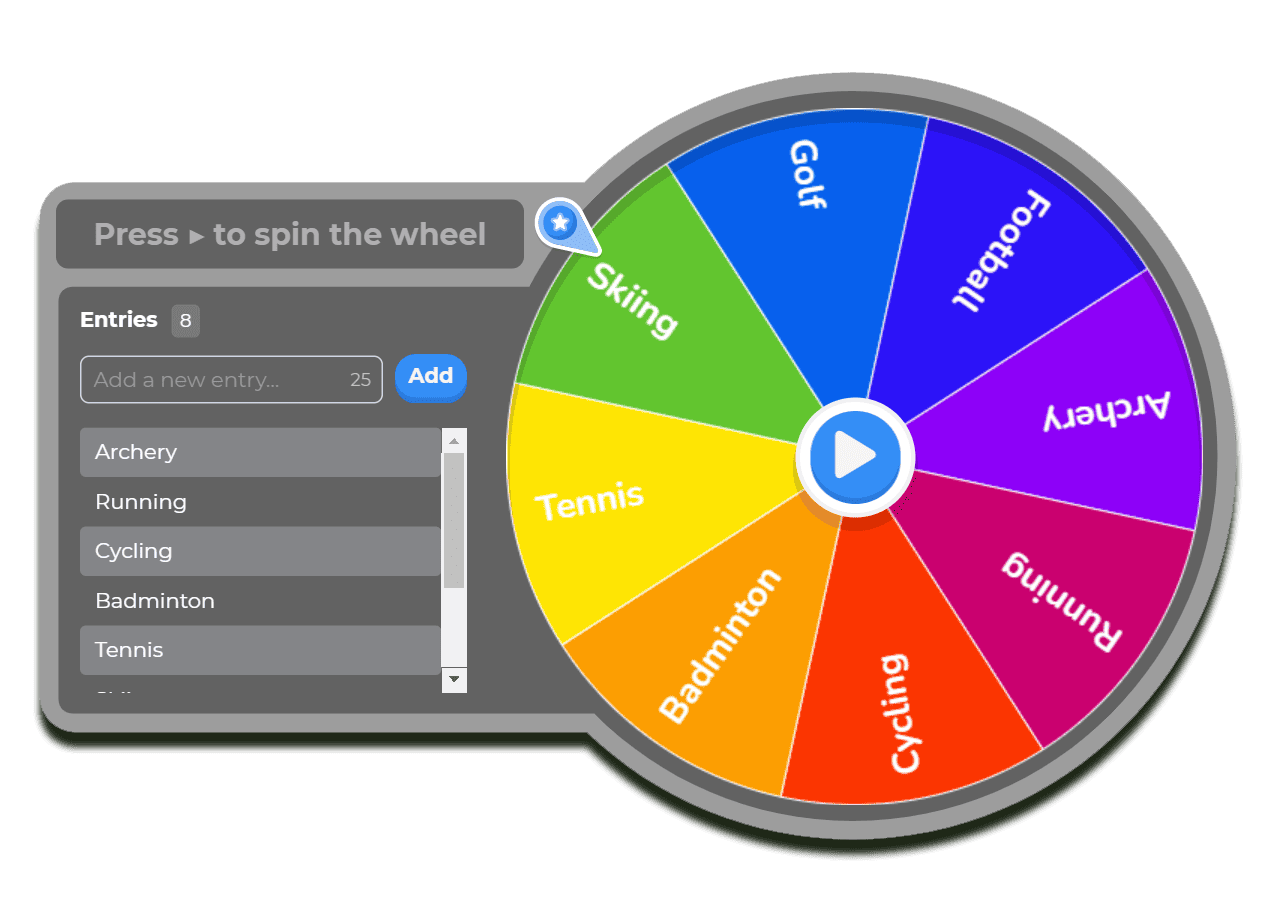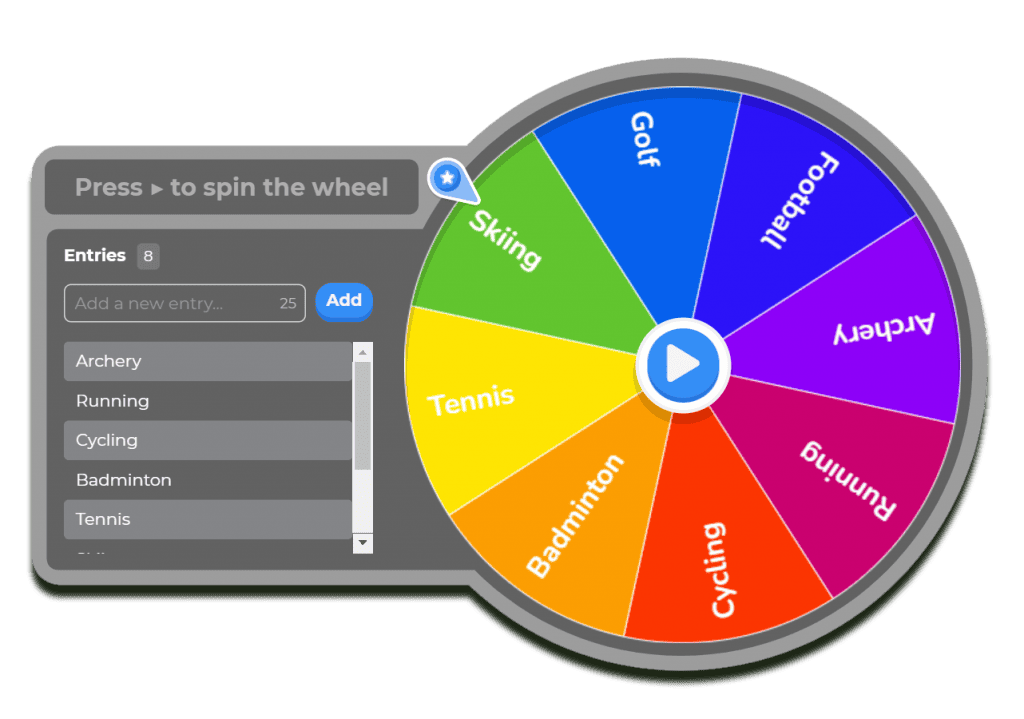 History of this Spinner Wheel
AhaSlides is all about making presentations of any kind fun, colourful and engaging. That's why we decided in May 2021 to develop the AhaSlides Spinner Wheel 🎉
The idea actually started outside the company, at Abu Dhabi University. It started with the director of Al-Ain and Dubai campuses, Dr Hamad Odhabi, a long-term fan of AhaSlides for its ability to improve engagement amongst students under his care.
He put forward the suggestion of a random wheel spinner to give him the ability to select students by chance. We loved his idea and we immediately got to work. Here's how it all played out…
12th May 2021: Created the first draft of the spinner wheel, including the wheel and the play button.
14th May 2021: Added the spinner pointer, entry box and the entry list.
17th May 2021: Added the entry counter and the entry 'window'.
19th May 2021: Refined the final look of the wheel and added ending celebration pop-up.
20th May 2021: Made the spinner wheel compatible with AhaSlides' in-built profanity filter.
26th May 2021: Refined the final version of the audience view of the wheel on mobile.
27th May 2021: Added the ability for participants to add their name to the wheel.
28th May 2021: Added the ticking sound and celebration fanfare.
29th May 2021: Added the 'update wheel' feature to allow new participants to join the wheel.
30th May 2021: Made final checks and released the spinner wheel as our 17th slide type.
We'll keep all updates to the spinner wheel logged above. Check back here to see what's new!
The Spinner Wheel in Game Shows
Randomiser wheels such as this have a long history of realising and dashing dreams across TV. They are also to be addressed as roulette wheel spinner, online roulette wheel spinner or roulette wheel generator.
They were especially popular amongst 70s American game shows, when viewers quickly got hooked on the intoxicating whirlpool of light and sound that could bring vast riches to ordinary people.
The spinner wheel spun into our hearts from the early days of the smash hit Wheel of Fortune. Its ability to enliven what was essentially a televisual game of Hangman, and retain viewer interest to the present day, really told of the power of random wheel spinners and ensured that gameshows with wheel gimmicks would continue to flood in throughout the 70s.
In that period, The Price is Right, Match Game and The Big Spin became masters in the art of spin, employing enormous picker wheels to select numbers, letters and amounts of money in a random fashion.
Though most wheel spinners spun their course in 70s-inspired TV shows, there are occasional examples of ones that have been thrust back into limelight. Mainly the short-lived Spin the Wheel, produced by Justin Timberlake in 2019, and a 40-foot wheel which is by far the most ostentatious in TV history.
Want to read more? 💡 John Teti's excellent and brief history of TV spinner wheel – the random spinner is certainly worth a read.
Where can you use Spinner Wheel? Tools for Educators might do, let's check those out!