Looking for a free wheel of names? Do you see the Wheel of Names that doesn't work for you? Still, looking for the Alternative to the Wheel of Names? Need tools that are simpler, more fun, and easier to customize? There are more than five alternatives to this online tool: software, websites, and apps.
Don't hesitate to explore the top Alternative to Wheel of Names that help you face life's decisions in this article.
Overview
| | |
| --- | --- |
| When was AhaSlides Spinner Wheel Found? | 2019 |
| Can you pick winner on the Wheel of Names? | Yes, one spin solves thing |
| Is 'Wheel of Names' real? | Yes, the 'Wheel of Fortune TV Show' |
Overview of Wheel of Names
Table of Contents
More Fun Tips
Even after trying this wheel, it's still unsuitable for your needs! Check out the six best wheels below! 👇
Random Name Picker by Classtools
This is a popular tool for teachers in the classroom. You no longer have to worry about choosing a random student for a contest or choosing who will be on the board to answer today's questions. Random Name Picker is a free tool to draw a random name quickly or to pick multiple random winners by submitting a list of names.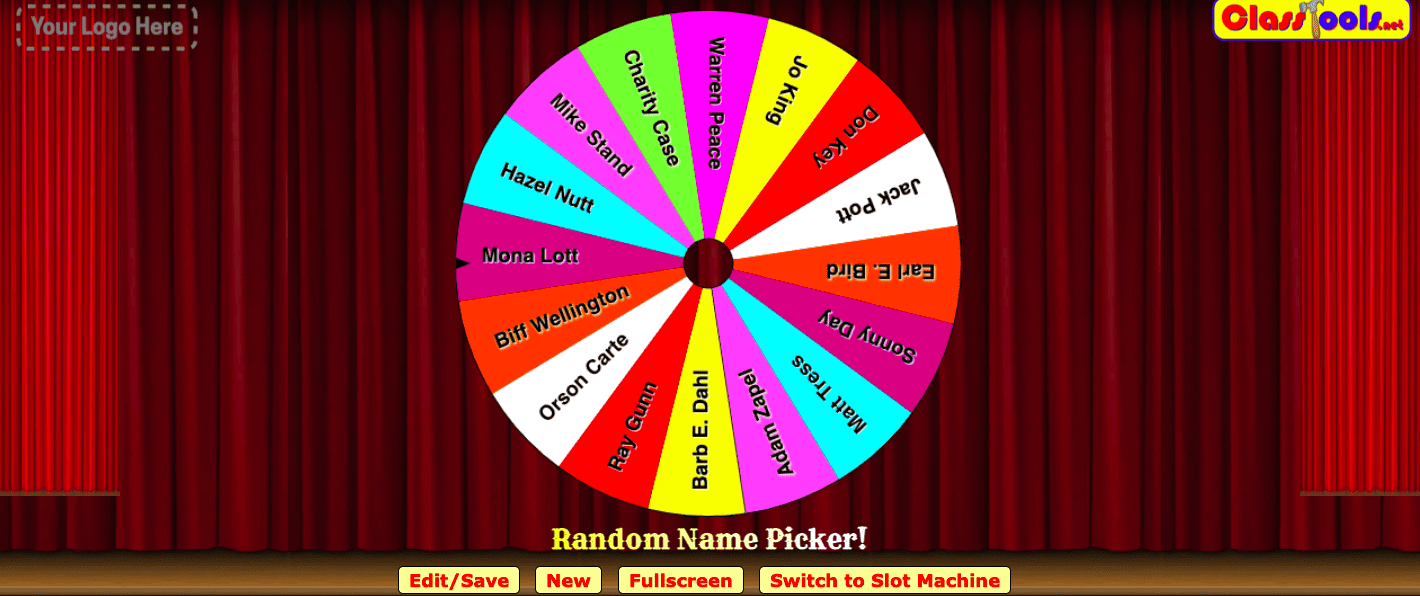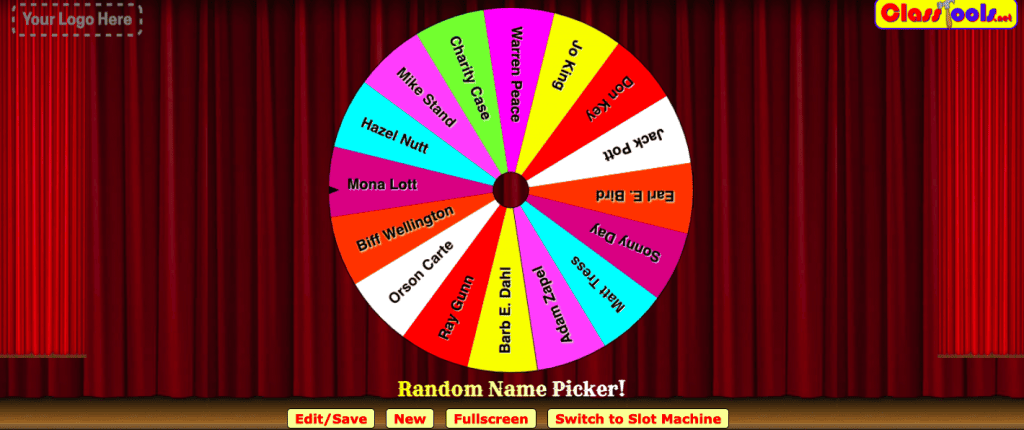 However, the limitation of this tool is that you will encounter ads that jump out of the middle of the screen quite often. It's frustrating!
Wheel Decide
Wheel Decide is a free online spinner that allows you to create your digital wheels for decision-making. It also uses fun group games like Puzzle, Catches Words, and Truth or Dare. In addition, you can also adjust the colour of the wheel and the rotation speed and add up to 100 options.
Picker Wheel
Picker Wheel with different functions and customizations for other events, not just for classroom use. You need to enter the input, spin the wheel and get your random result. In addition, it also allows you to adjust the recording time and rotation speed. You can also customize the start, spin, and end sound, change the wheel color, or change the background colour with some of the themes provided.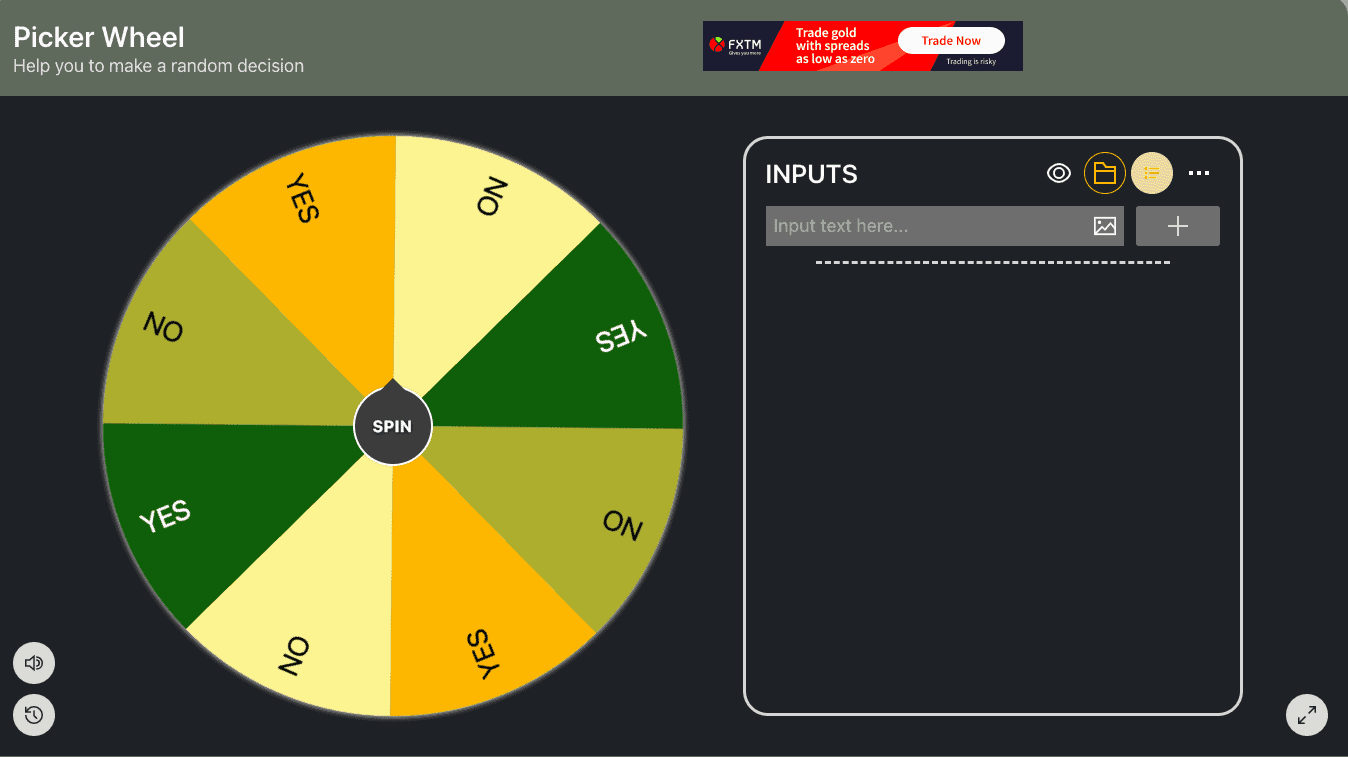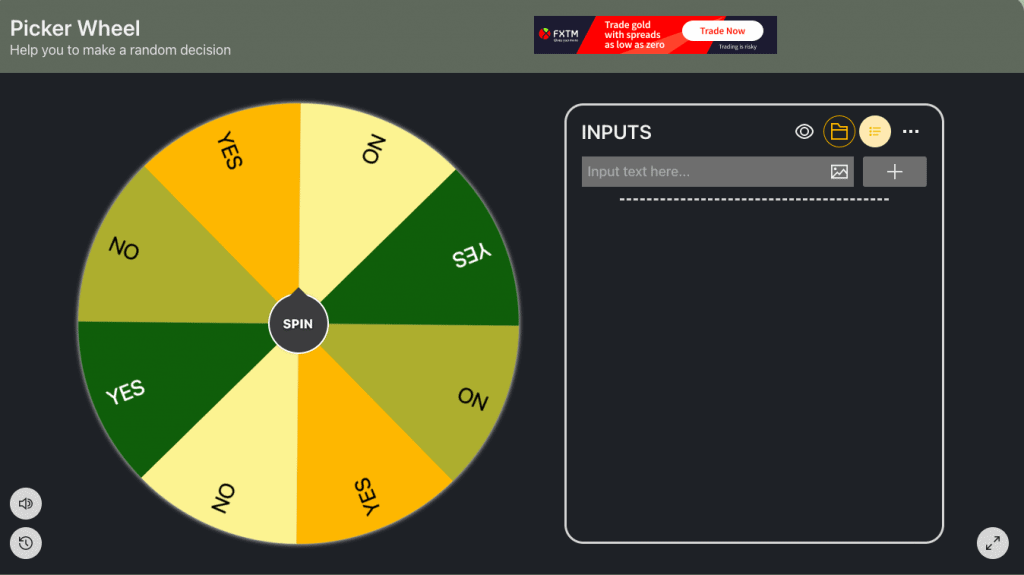 However, if you want to customize the wheel color and background color with your color. Or add your own logo/banner. You will have to pay to become a premium user.
Tiny Decisions
Tiny Decisions is like an app to dictate, asking others to take on challenges that they have won. It's fun to use with friends. Challenges can include: what to eat tonight, the app randomly spinning 1 dish for you, or who is the penalized drinker. The app also features random number selection for sweepstakes from 0 to 100000000.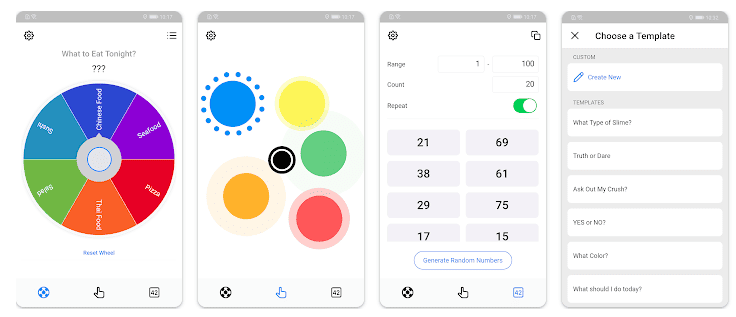 Random Spin Wheel
Another easy tool to make random selections. Spin your own wheel to make decisions about awarding prizes, naming winners, betting, etc. With Random Spin Wheel, you can add up to 2000 slices to the wheel. And configure the wheel to your liking including theme, sound, speed, and duration.
AhaSlides – Best Alternative To Wheels of Names
AhaSlides is one of the best best spin the wheel app! Spinner Wheel by AhaSlides is the best picker tool available, with the following outstanding advantages: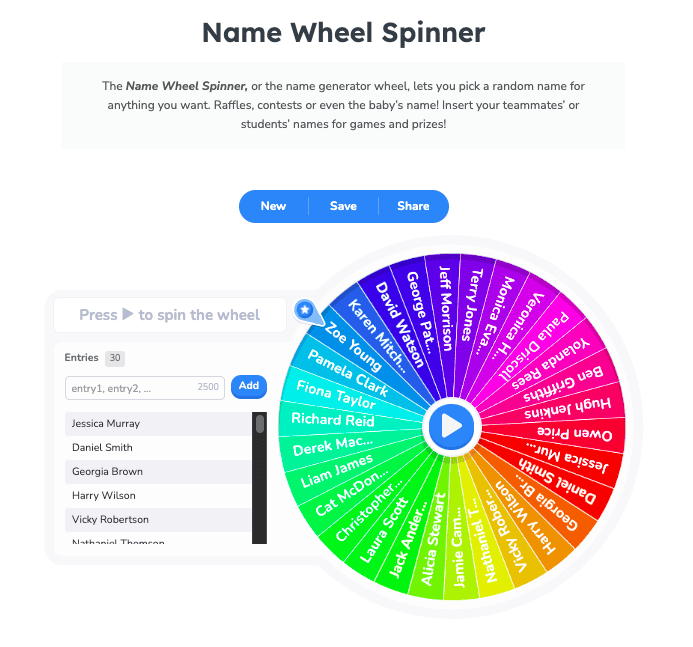 Up to 10,000 Entries. This spinning wheel can support up to 10,000 entries – more than any other name picker on the web. With this spinner wheel, you can freely give all options. The more the better!
Feel Free To Add Foreign Characters Or Use Emojis. Any foreign character can be entered or pasted any copied emoji into the random selection wheel. However, these foreign characters and emojis may display differently on different devices.
Fair Results. On the spinning wheel of AhaSlides, there is no secret trick that allows the creator or anyone else to change the outcome or choose one selection more than the others. The entire operation from start to finish is 100% random and unaffected.
Dark Mode Version. For those who are familiar with dark mode settings from phones to web browsers, even to apps like Facebook or Instagram, this Dark Mode Spinner Wheel is for you. You can use it with a free account on AhaSlides. Start a new presentation, choose the Spinner Wheel slide style, then change the background to dark. Your spin wheel will automatically update in dark mode and will look something like this.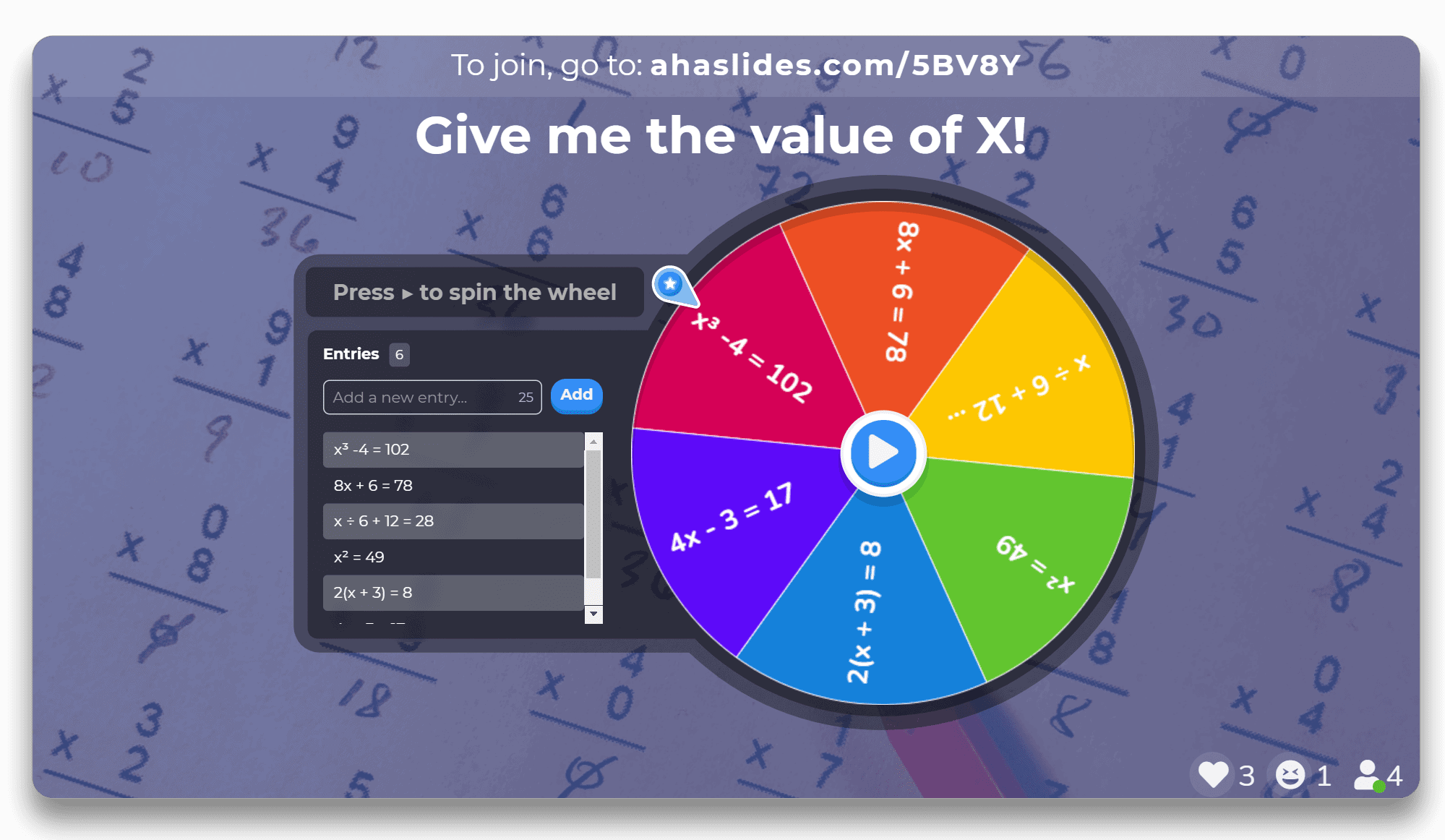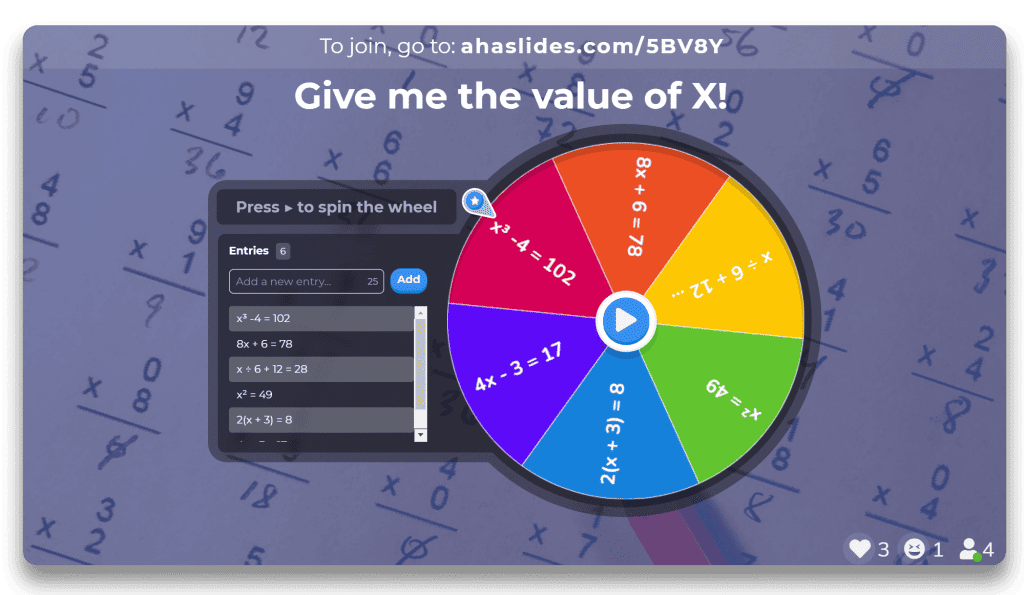 You can fully use this spinning wheel for multi-purpose like quizzes, teaching purposes, lottery, and project kick-off meetings, it is also one of the free alternatives to Google Form. Use it to make decisions when you don't know the right path.
Other Games Like Spin The Wheel
Let's use an alternative to the Wheel of Names we just introduced to create fun and exciting games with some ideas below:
Games for School
Use an alternative to the Wheel of Names to make a game to get students active and engaged with your lessons:
Harry Potter Random Name Generator – Let the magic wheel choose your role, find your house, etc in the fantastic wizarding world.
Alphabet Spinner Wheel – Spin a letter wheel and get students to give the name of an animal, country, or flag or sing a song starting with the letter the wheel lands.
Random Drawing Generator Wheel – Grab the wheel to kick-start your students' creativity regardless of their drawing expertise!
Games for Work
Use an alternative to Wheel of Names to make a game to get remote employees connected.
Ice Breakers – Add some icebreaker questions on the wheel and spin. This one is the best get-to-know-me game.
Prize Wheel – The people of the month spins a wheel and wins one of the prizes on it.
Games for Parties
Use an alternative to Wheel of Names to make a spinner wheel game for livening up get-togethers, online and offline.
Truth And Dare – Write either 'Truth' or 'Dare' across the wheel. Or write specific Truth or Dare questions on each segment for players.
Yes or No Wheel – A simple decision-maker that does not need a flipped coin. Just fill a wheel with yes and no choices.
What's for Dinner? – Try our 'Food Spinner Wheel' different food options for your party, then spin!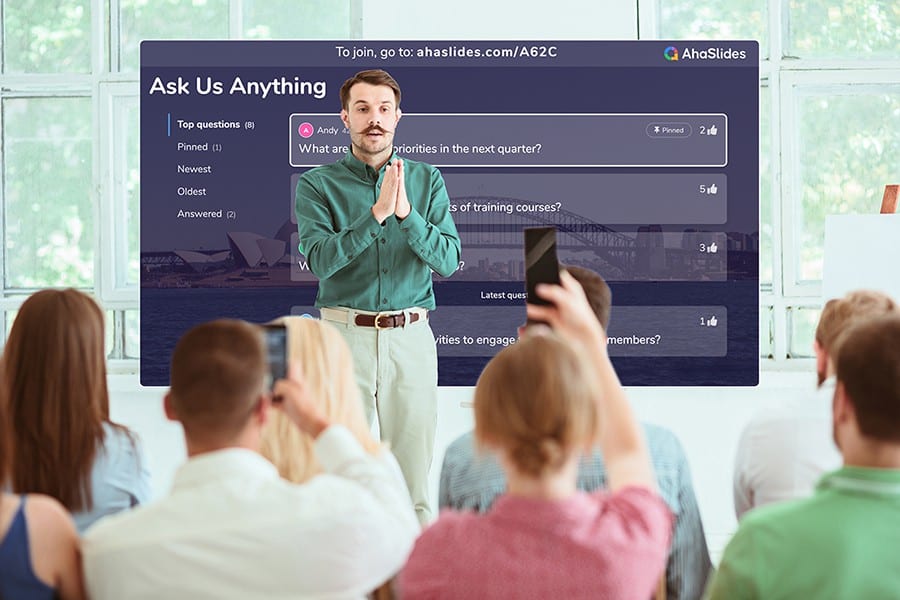 Start in seconds.
Add more funs with the best free spinner wheel available on all AhaSlides presentations, ready to share with your crowd!
🚀 Grab Free Quiz☁️
FAQ
Frequently Asked Questions
---
Got a question? We've got answers.
The Wheel of Names serves as a random selection tool or a randomizer. Its purpose is to provide a fair and impartial way to make random choices or selections from a list of options. By spinning the wheel, one option is randomly selected or chosen. Besides the Wheel of Names, there are many other replaceable tools with much more convenient options, like AhaSlides Spinner Wheel, where you can input your wheel directly to a presentation, to present in class, at work or during gatherings!
"Spin the Wheel" is a popular game or activity where participants take turns spinning a wheel to determine an outcome or win a prize. The game typically involves a large wheel with different sections, each representing a specific outcome, prize, or action. When the wheel is spun, it spins rapidly and gradually slows down until it stops, indicating the selected section and determining the result.

Initially, the spinning wheel wasn't made to help people decide but to play a significant role in revolutionizing the textile industry and transforming the way the fabric was produced. In the 18th century, the invention of the spinning wheel, specifically the spinning jenny, marked a crucial milestone in the Industrial Revolution, as it helped to produce clothes and to process many types of fabrics.
Key Takeaway
The appeal of a spinning wheel is in the thrill and excitement because No one knows where it will land and what the outcome will be. So you can enhance this by using a wheel with colours, sounds, and lots of fun and unexpected choices. But remember to keep the text in the selections as short as possible to make it easy to understand.