Spinner Wheel | Google Spinner Alternative in 2024
AhaSlides Free Spinner Wheel is an exciting way to get a random output from many options. It is an alternative tool to the Google Spinner and Picker Wheel, which functions as a raffle generator or a randomizer wheel – perfect for games that test your luck!
Simply add your entries and press the big button in the middle to spin the wheel. Try more fun and engaging tools with AhaSlides' Customized Wheel, Word Cloud, Random Drawing Generator Wheel, and other Brainstorming tools!
About Aha Spinner Wheel – Overview
| | |
| --- | --- |
| No. of spins for each wheel spinner generator? | Unlimited |
| Free users can use spinner wheel creator. | Yes |
| Can free users save the Wheel in free mode? | Yes |
| Edit the caption and name. | Yes |
| Ready-to-use templates? | Yes, they're free, download free templates |
| No. of entries can be put to a wheel? | 10.000 |
| Delete/ add entries to the wheel while playing? | Yes, add, edit and delete entries |
Spinner Wheel – The AhaSlides Overview
Spin for your Audience.
On AhaSlides, players can join your spin, enter their own names into the wheel and watch the magic unfold live! Perfect for a quiz, lesson, meeting or workshop.
What is AhaSlides Spinner Wheel?
This free spinner wheel by AhaSlides is actually an alternative to spin the wheel app and roulette wheel spinner games, which all use advanced code and a random number generator wheel to ensure the fairest possible result. All outcomes are 100% random and are influenced by nothing beyond the algorithm that runs it.
You can use this random picker for absolutely anything to keep it thrilling! The best uses for it are trivia games, teaching engagement, raffles, and project kickoff meetings – one of the free alternatives to Google Form as a survey, so you can easily make decisions when things get a bit rough and you need the power of your team to come to a decision. 
Looking for some free spinner wheel examples? Click on the name to go straight to a pre-loaded wheel! You have free access to AhaSlides' template wheels and your audience can even enter their names on the wheels themselves.
When to Use AhaSlides' Spinner Wheel
Yes or No 👍👎 Spinner Wheel
Some tough decisions just need to be made via the flip of a coin, or in this case, the spin of a wheel. The Yes or No Wheel is the perfect antidote to overthinking and a great way to make a decision efficiently.
Wheel of Names 💁‍♀️💁‍♂️
The Wheel of Names is a random name generator wheel when you need a name for a character, your pet, a pen name, identities in witness protection, or anything! There's a list of 30 anglocentric names that you can use. Picker Wheel is also another competitor of Spinner Wheel.
Alphabet Spinner Wheel 🅰
The Alphabet Spinner Wheel (also known as the word spinner, Alphabet Wheel or Alphabet Spin Wheel) is a random letter generator that helps with classroom lessons. It's great for learning a new vocabulary that starts with the random generated letter.
Food Spinner Wheel 🍜
Unable to decide what and where to eat? There are endless options, so you often experience the paradox of choices. So, let the Food Spinner Wheel decide for you! It comes with all the choices you'd need for a varied, flavourful diet. Or, in Vietnamese words, 'Trua Nay An Gi'
Number Generator Wheel 💯
Holding a company raffle? Running a bingo night? The Number Generator Wheel is all you need! Spin the wheel to pick a random number between 1 and 100.
Harry Potter Generator 🧙‍♂️
You might have taken the Harry Potter House Test but let the spirits of the wizards speak for you. Spin the Harry Potter Wheel to know if you really belong in the heroic house of Gryffindor or in the stealthy house of Slytherin. You can even find a bunch of other Harry Potter name wheels with this Harry Potter spinner wheel theme, such as wheels for students, teachers, founders and families.
Prize Wheel Spinner 🎁
It's always exciting when giving away prizes, therefore the prize wheel app is very important. Keep everyone at the edge of their seats as you spin the wheel and maybe, add a thrilling music to complete the mood!
Zodiac Spinner Wheel ♉
Put your fate in the hands of the cosmos. The Zodiac Spinner Wheel can reveal which star sign is your true match, or who you should be staying away with because the stars don't align.
Random Drawing Generator Wheel
This drawing randomizer provides ideas for you to sketch or make an art of. You can use this wheel anytime to kick-start your creativity or practice your drawing skills.
Looking for some inspiration? 💡 Definitely, you can use this random picker, as a mystery wheel for truth or dare spinner online. Check out how to use this spinner wheel for MLB team wheel, random category generator wheel, virtual team meeting games, or to be a simple ice breaker for a social or work event.
Make Your Own Wheel
---
While the spinner wheel can be used for many different purposes, including customizing the wheel to be a giveaway spin wheel; picking a winner by spinning the wheel of names – the process of creating all these type of wheels and entering your entries into the wheel is always the same.

01
Create Your Entries
You can add your own entries to the wheel above by typing them into the 'entry box' on the left-hand side of the wheel. Entries must contain fewer than 25 characters and can be uploaded to the wheel by pressing the Add button or by hitting Enter on your keyboard.
02
Review your List
When you're finished inputting all your entries, check them out in the list below the entry box. The most recent entry will be shown at the top of the list and the section above the list, labelled Entries, will show the number of entries you have inputted.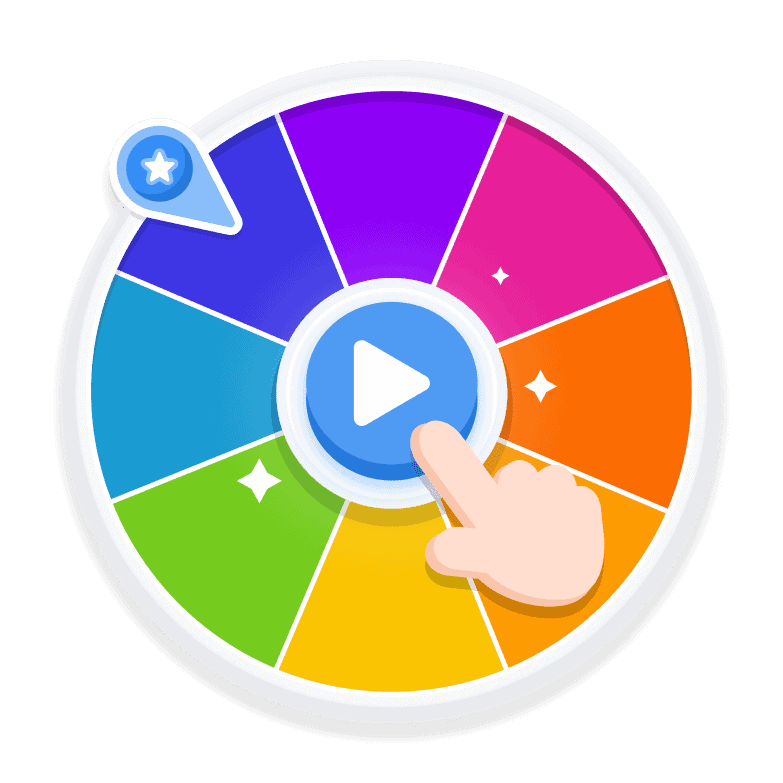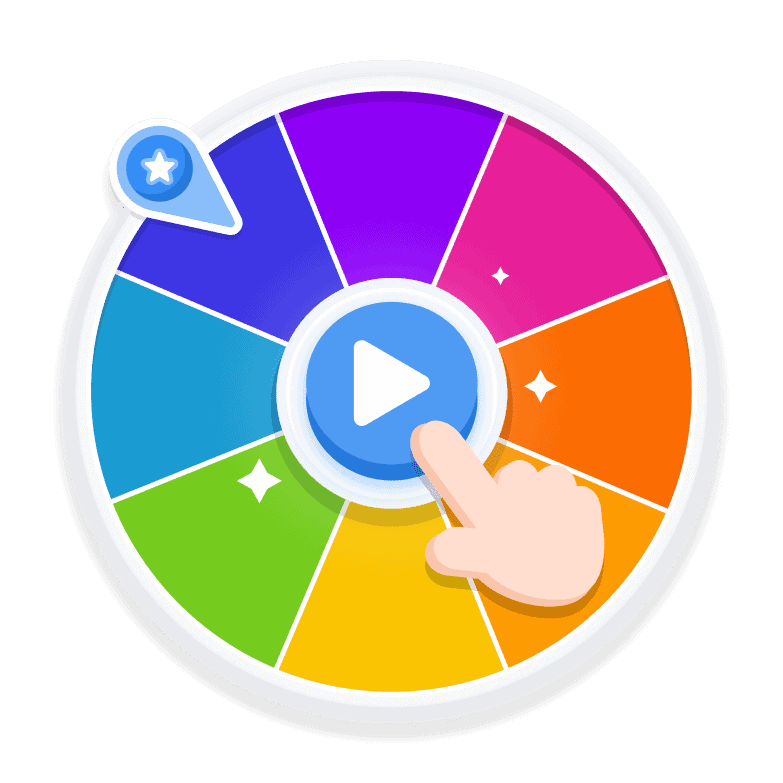 03
Spin The Wheel
With all entries uploaded to your wheel, it's time to spin! Simply click the button in the centre of the wheel to spin it, then wait for it to land on one of your entries.
04
Delete Entries
If you want to remove an entry after the spinner wheel has landed on it, hover over the name in the entry list and click the delete icon.

Wanna Make it Interactive?
Check our Free Spinner Wheel now and try it for yourself! Let your participants add their own entries to the wheel! Find out how to make a spinner wheel…
AhaSlides Random Spinner Wheel Features
It's easy to make a spinning wheel online, but a customizable spinning wheel is definitely not something something else!
This wheel spinner app is only one of AhaSlides' many engagement tools for interactive presentations and brainstorming sessions
Using AhaSlides' spinner wheel gives you so many more avenues for customization, as well as the opportunity to up the engagement by having participants join the show directly!
1. Invite participants to join this interactive spinner
As this spinner (wheel) is web-based, your audience can join and try their luck by entering the specific code of this cool wheel into their phones. By joining, they can participate in the spinning wheel game and can directly see the results displayed on their devices.
2. Have participants fill in their names
Don't have time to add the names of your participants manually? No problem. Once they join your room, they' can fill in their name, with an avatar that will be automatically uploaded to the wheel.
3. Add a heading
Write a heading just above the random wheel spinner to relay the point of the wheel. For example, if you're using the wheel to pick participants to answer a question, you can directly write the question above to keep them on track or add something light and fun that will take away the tension of recitation, such as 'who knows Shakespeare the best' or 'tick tock it's maths o'clock.'
4. Customize your spin the wheel generator background and font
Make your spinner wheel eye-catching and vibrant by customizing it according to the theme or your liking. With AhaSlides, you can change the background of the wheel using any image and color you want, and there are various fonts you can try. There's an in-built image library to source your images from, and even a dark mode feature.
Need help with the spinner wheel? 💡 Check out this article in our knowledge base for more information.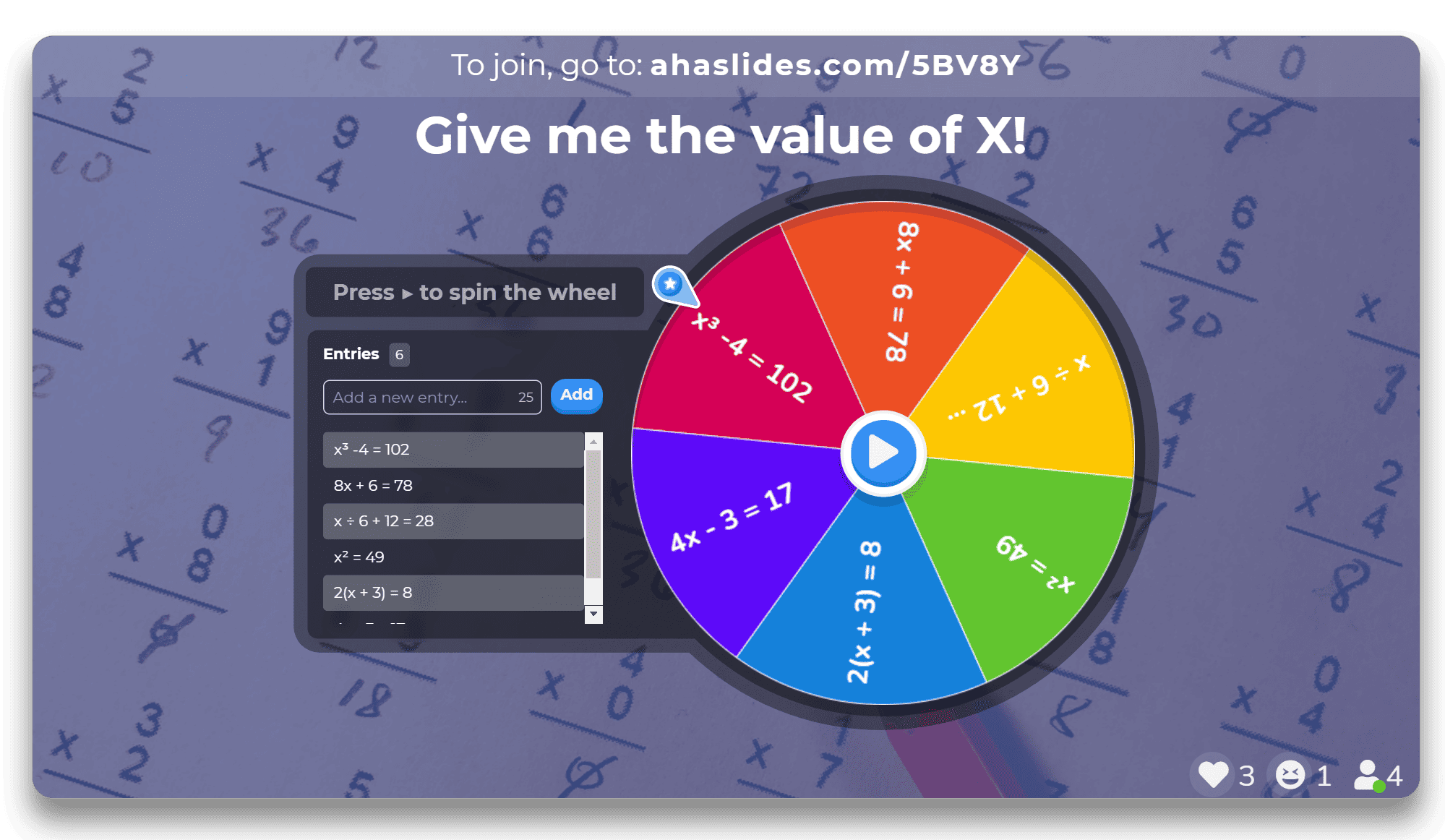 Create Spin The Wheel
And get your live audience on the edge of their seats with the spinning wheel!
Free Spinner Wheel Generator Examples
Need an instant online spinner wheel to go? We've got some fabulous presets for use right here!
AhaSlides Spinner Wheel Templates
Fun Wheel Templates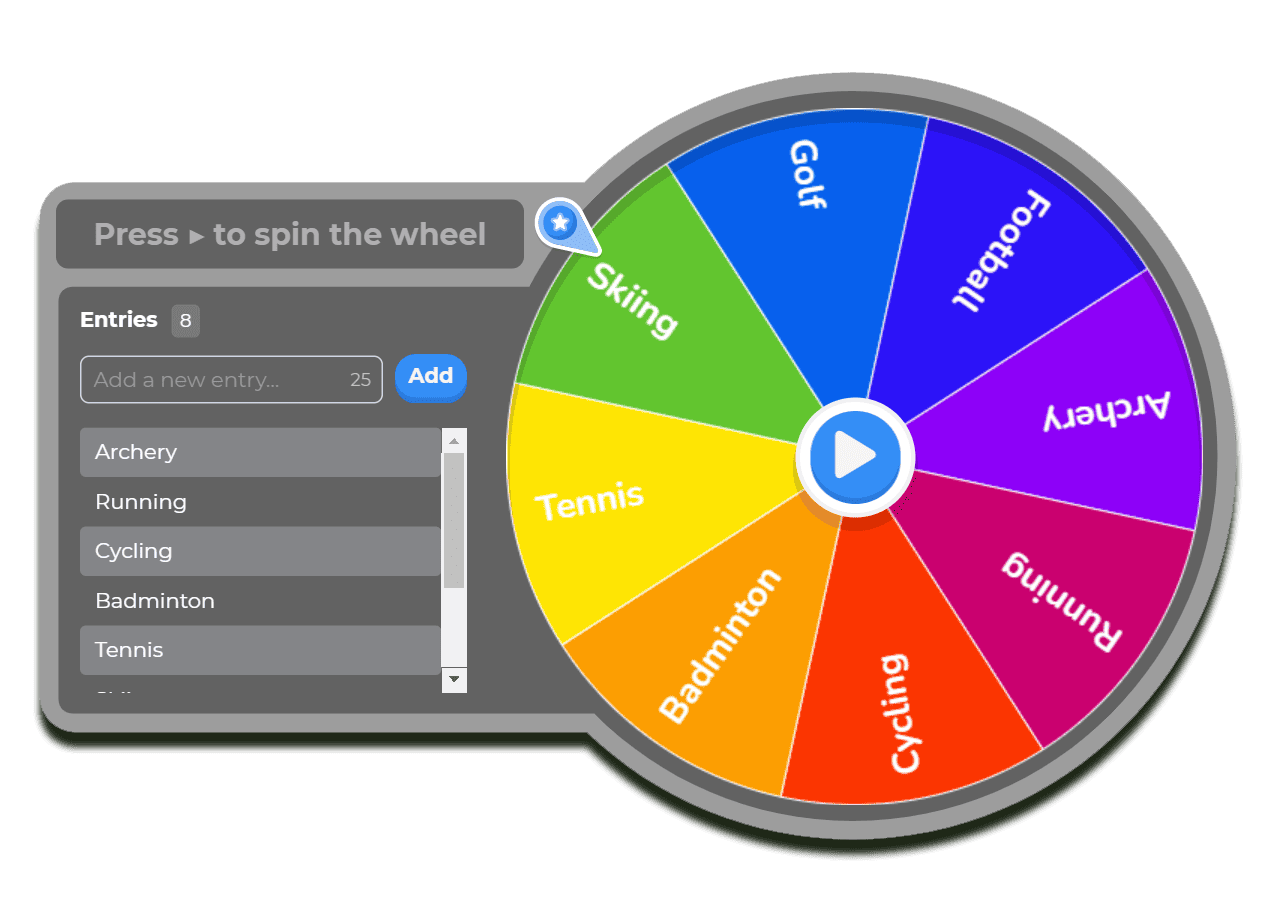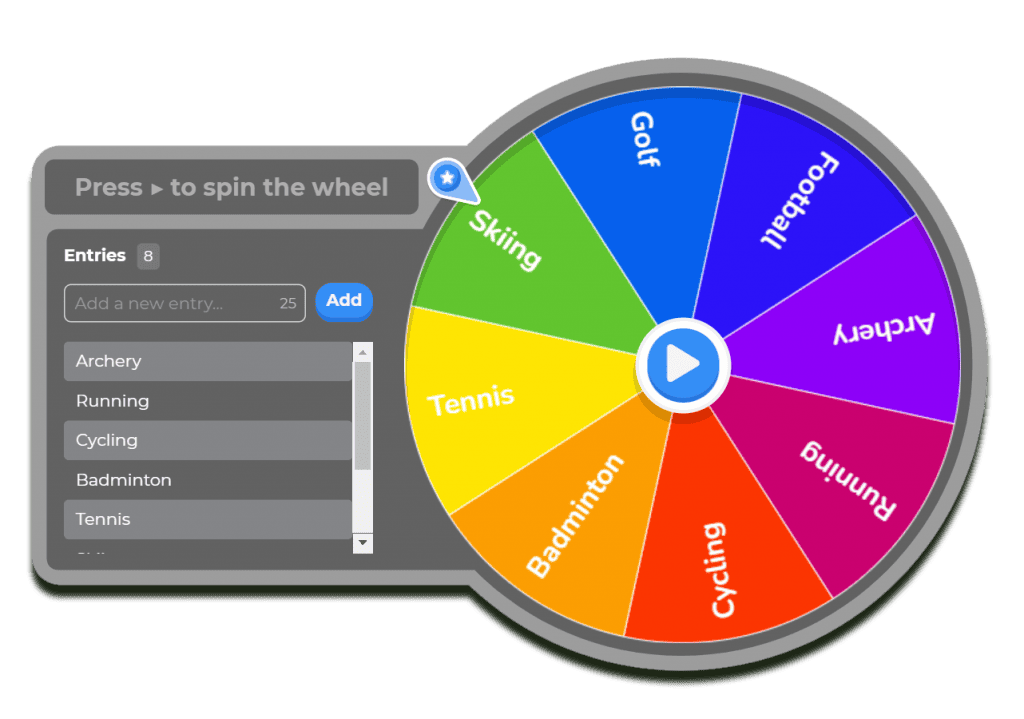 History of Spin Wheel Picker
AhaSlides is all about making presentations of any kind fun, colorful, and engaging. That's why we decided in May 2021 to develop the AhaSlides Spinner Wheel 🎉
The idea actually started outside the company, at Abu Dhabi University. It started with the director of Al-Ain and Dubai campuses, Dr Hamad Odhabi, a long-term fan of AhaSlides for its ability to improve engagement amongst students under his care.
He put forward the suggestion of a random wheel spinner to give him the ability to select students by chance. We loved his idea and we immediately got to work. Here's how it all played out…
12th May 2021: Created the first draft of the spinner wheel, including the wheel and the play button.
14th May 2021: Added the spinner pointer, entry box and the entry list.
17th May 2021: Added the entry counter and the entry 'window'.
19th May 2021: Refined the final look of the wheel and added ending celebration pop-up.
20th May 2021: Made the spinner wheel compatible with AhaSlides' in-built profanity filter.
26th May 2021: Refined the final version of the audience view of the wheel on mobile.
27th May 2021: Added the ability for participants to add their name to the wheel.
28th May 2021: Added the ticking sound and celebration fanfare.
29th May 2021: Added the 'update wheel' feature to allow new participants to join the wheel.
30th May 2021: Made final checks and released the spinner wheel as our 17th slide type.
We'll keep all updates to the spinner wheel logged above. Check back here to see what's new!
Spinner Wheel in Game Shows
Randomizer wheels such as this have a long history of realizing and dashing dreams across TV. Who'd have thought that we can use this to make our daily activities at work, school, or home more fun and stimulating?
Spinner Wheels were trendy amongst American game shows in the 70's, and viewers quickly got hooked on the intoxicating whirlpool of light and sound that could bring vast riches to ordinary people.
The spinner wheel spun into our hearts from the early days of the smash hit Wheel of Fortune. Its ability to enliven what was essentially a televisual game of Hangman, and retain viewer interest to the present day, really told of the power of random wheel spinners and ensured that game shows with wheel gimmicks would continue to flood in throughout the 70s.
In that period, The Price is Right, Match Game, and The Big Spin became masters in the art of spin, employing enormous picker wheels to select numbers, letters, and amounts of money in a random fashion.
Though most wheel spinners spun their course in 70s-inspired TV shows, there are occasional examples of ones that have been thrust back into limelight. Mainly the short-lived Spin the Wheel, produced by Justin Timberlake in 2019, and a 40-foot wheel, which is by far the most ostentatious in TV history.
Want to read more? 💡 John Teti's excellent and brief history of TV spinner wheel – the random spinner is certainly worth a read.
Key Takeaways
Spinner Wheels continues to be one of the most thrilling elements of game shows, captivating audiences with their unpredictability and potential for big wins. It has become such an integral part of entertainment that it has transcended the boundaries of game shows. It is now a feature of modern online games and mobile apps, used in various ways to engage and entertain.
AhaSlides is one such platform that has incorporated spinner wheels into its interactive presentation software. Whether it's for a trivia game, a random prize selection, or simply adding an element of surprise, AhaSlides' Spinner Wheel brings the excitement of game shows right to your fingertips.
Frequently Asked Questions
Can I write foreign characters or use emojis in this spinner wheel?
Sure you can! We don't discriminate at AhaSlides 😉 You can type any foreign character or paste any copied emoji into the random picker wheel. Be aware that foreign characters and emojis can look different on different devices.
Can I use an ad blocker when spinning the wheel?
Certainly. Using an ad blocker doesn't affect the performance of the spinner wheel at all (because we don't run adverts on AhaSlides!)
Is it possible to rig the wheel spinner?
Nope. There are no secret hacks for you or anyone else to make the wheel spinner show a result more than any other result. The operation is 100% random and cannot be influenced.
Is there any way to have two spinner wheels running at the same time?
The easiest way to do this is to have two separate windows side-by-side, both open to this page. You can press spin on both wheels at roughly the same time, though obviously the one you spin first will be slightly ahead of the other. Note that the wheel is mobile-friendly, so it's possible to have synchronised spins if you spin a wheel on both your desktop and phone.
Does this spinner wheel have a dark mode version?
It does! The dark mode randomiser wheel isn't available here, but you're able to use it with a free account on AhaSlides. Simply start a new presentation, select the Spinner Wheel slide type, then change the background to a dark colour. Your spinner wheel will automatically update in dark mode, and will look something like this 👇