Ever wonder how to create word cloud in Microsoft Powerpoint? How to create a word cloud in powerpoint? Is Possible to create word cloud in PowerPoint? Create a Word Cloud in PowerPoint, a PowerPoint Word Cloud is one of the most simple, visual and effective ways of getting any audience on your side.
If you're looking to turn a disinterested audience into one hanging off your every word, a live word cloud generator that updates with participant responses is one of the easiest ways. With the steps below, you could create word cloud in ppt within 5 minutes…
Overview
| | |
| --- | --- |
| When was AhaSlides Word Cloud available? | Starting from 2019 |
| Another name of word cloud? | Word Bubbles |
| How many people can join a word cloud? | Unlimited |
| | |
Overview of Powepoint Word Cloud
Table of Contents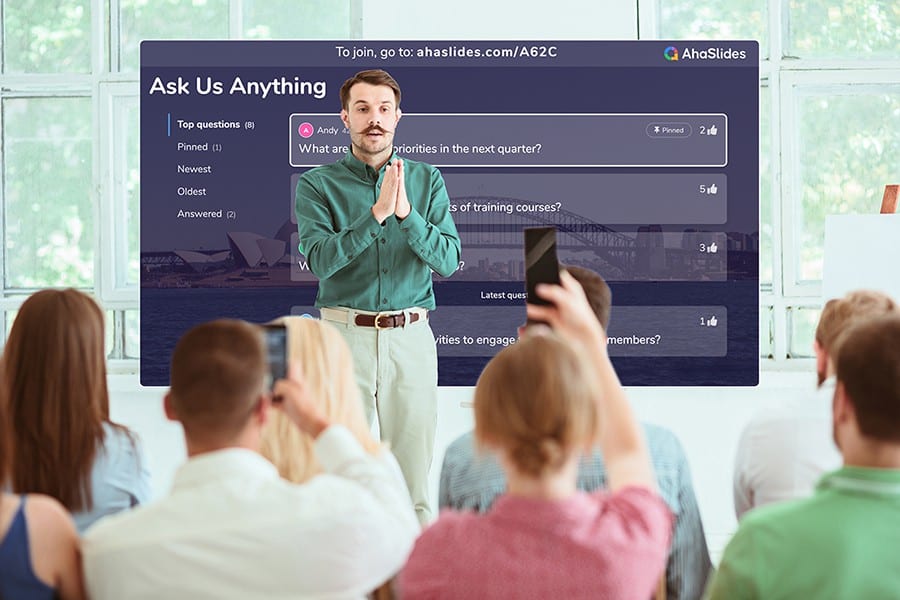 Live Word Clouds win the audience!
Let your audience in. Ask a word cloud question in your PowerPoint presentation and watch the responses fly!
🚀 Get Free WordCloud☁️
Tips for Better Engagment
Create a PowerPoint Word Cloud
Below is the free, no-download way to make a live Word cloud for PowerPoint. Follow these five steps to win some super easy engagement from your audience, to see how to create word cloud in PowerPoint!
Step 1: Create a Free AhaSlides Account
Sign up to AhaSlides for free in under 1 minute. No card details or downloads are required – just your name and email address!
Step 2: Import your PowerPoint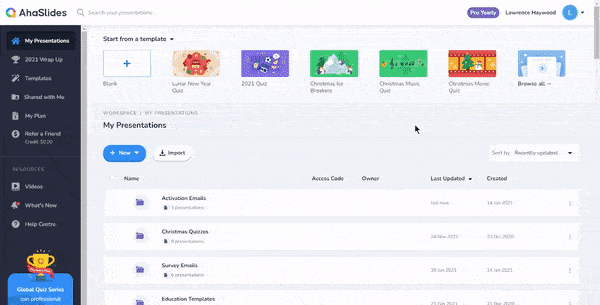 On the dashboard, click the button labelled 'Import'. Upload your PowerPoint file (you will have to export it in PowerPoint first). Once your presentation has been uploaded, you will see each slide in the AhaSlides editor.
Step 3: Add your Word Cloud
Click on the 'New Slide' button and choose 'Word Cloud' from the menu. This will insert a word cloud directly after the slide you had selected. You can move your word cloud slide by dragging and dropping it to any position in your presentation.
Even on AhaSlides' free plan, there's no limit to how many word clouds you can have in one presentation!
Step 4: Edit your Word Cloud
Write the question at the top of your PowerPoint word cloud. After that, choose your setting preferences; you can choose how many entries each participant gets, turn on profanity filter or add a time limit for submission.
Head to the 'Customise' tab to change the look of your word cloud. Change the background, theme and colour, and even embed some audio that plays from participants' phones while they're responding.
Step 5: Get Responses!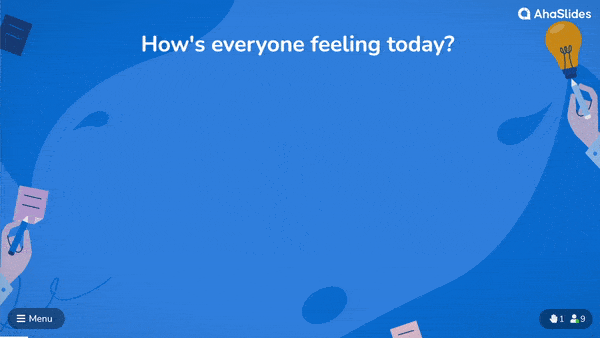 Press the 'Present' button to show your presentation's unique access code. Your participants type this into their phones to interact with your live PowerPoint word cloud.
Present your presentation as normal. When you reach your word cloud slide, participants can answer the question at the top of it by typing their resonses into their phones. Those words will appear on the word cloud, with the most popular answers appearing more significant and more centrally in the cloud.
💡 Get so much more with AhaSlides. Insert multiple choice polls, brainstorming activities, Q&A sessions and even live quizzes into your PowerPoint presentation. Check the video below!
5 PowerPoint Word Cloud Ideas
Word clouds are super versatile, so there are a lot of uses for them. Here are 10 ways to get the most out of your word cloud for PowerPoint.
Breaking ice – Whether virtual or in-person, presentations need icebreakers. Asking how everyone is feeling, what everyone is drinking or what people thought of the game last night never fails to loosen participants up ahead of (or even during) the presentation.
Gathering opinions – A great way to start a presentation is by setting the scene with an open-ended question. Use a word cloud to ask what words come to mind when they think about the topic you're going to talk about. This can reveal interesting insights and give you a great segue into your topic.
Voting – While you can use a multiple-choice poll on AhaSlides, you can also do open-ended voting by asking for replies in a visually striking word cloud. The largest response is the winner!
Checking to understand – Ensure everyone follows along by hosting regular word cloud breaks. After each section, ask a question and get responses in word cloud format. If the right answer looms much larger than the rest, you can safely move on with your presentation!
Brainstorming – Sometimes, the best ideas come from quantity, not quality. Use a word cloud for a mind dump; get everything your participants can possibly think of down onto the canvas, then refine from there.
Free Word Cloud Templates
---
Looking for word cloud powerpoint template free? Word clouds for every occasion. Take word cloud examples from the AhaSlides library and put them in your PowerPoint for free!
Benefits of a Live Word Cloud for PowerPoint
If you're new to the world of PowerPoint word clouds, you might be wondering what they can offer you. Trust us, once you've experienced these benefits, you won't go back to monologue presentations…
64% of presentation participants think interactive content, like a live word cloud, is more engaging and entertaining than one-way content. A well-timed word cloud or two could differentiate between attentive participants and those bored out of their skulls.
68% of presentation participants find interactive presentations to be more memorable. That means that your word cloud won't just make it a splash when it lands; your audience will continue to feel the ripple for a long time.
10 minutes is the usual limit that people have when listening to a PowerPoint presentation. An interactive word cloud can increase this massively.
Word clouds help your audience to have their say, which makes them feel more valued.
Word clouds are highly visual, which is proven to be more attractive and memorable, especially helpful for online webinar and events. Learn how to Run a Free Zoom Word Cloud effectively with AhaSlides now!
FAQ
Frequently Asked Questions
---
Got a question? We've got answers.