In light of the COVID-19 pandemic and lockdowns everywhere, LMS has been a go-to for many teachers. It's great to have ways to bring all the paperwork and processes you do at school to an online platform.
Google Classroom is one of the most well-known LMS. However, the system is known to be a bit hard to use, especially when many teachers are not techies and not every teacher needs all of its features.
Here are the top 3 Google Classroom alternatives and 4 multi-feature alternatives to support your teaching.
What is a Learning Management System?
Almost every school or university nowadays either has or is about to get a learning management system, which is basically a tool to handle all aspects of teaching and learning. With one, you can store, upload content, create courses, assess students' study progress and send feedback, etc. It makes the transition to e-learning easier.
Google Classroom can be considered an LMS, which is used to host video meetings, create and monitor classes, give and receive assignments, grade and give real-time feedback. After lessons, you can send email summaries to your student's parents or guardians and inform them about their upcoming or missing assignments.
6 Problems with Google Classroom
Google Classroom has been fulfilling its mission: to make classrooms more effective, easier to manage and paperless. It seems like a dream comes true for all teachers… right?
Well, there are several reasons why people might not want to use Google Classroom, or might switch to a new bit of software after giving it a go, or read this article to find some Google Classroom alternatives!
Limited integration with other apps – Google Classroom can integrate with other Google apps but it doesn't allow users to add more apps from other developers.
Lack of advanced LMS features – Many people don't consider Google Classroom an LMS, but rather just a tool for class organisation, because it lacks features like tests for students. Google continues to add more features so maybe it's starting to look and function more like an LMS.
Too 'googlish' – All the buttons and icons are familiar to Google fans, but not everyone likes using Google services. Users have to convert their files to Google format to use on Google Classroom, for example, converting a Microsoft Word doc to Google Docs.
No automated quizzes or tests – Users can't create automated quizzes or tests for students on the site.
Privacy violation – Google tracks users' behaviours and allows ads on their sites, which also affects Google Classroom users.
Age limitations – It's complicated for students under 13 years old to use Google Classroom online. They can only use Classroom with a Google Workspace for Education or Workspace for Nonprofits account.
The most important reason is that Google Classroom is too difficult to use for many teachers and they don't actually need some of its features. People don't have to spend a fortune to buy the whole LMS when they only want to do a couple of casual things in class. There are many platforms to replace certain features of an LMS.
Top 3 Google Classroom Alternatives
1. Canvas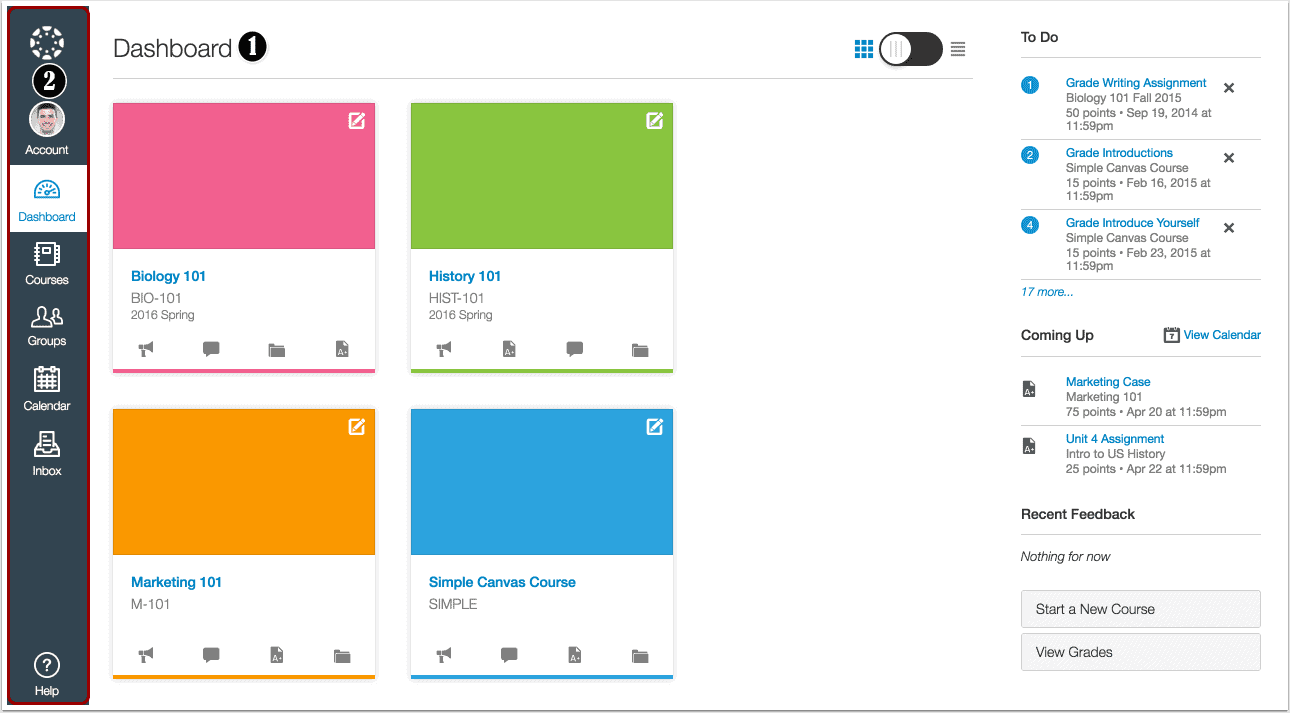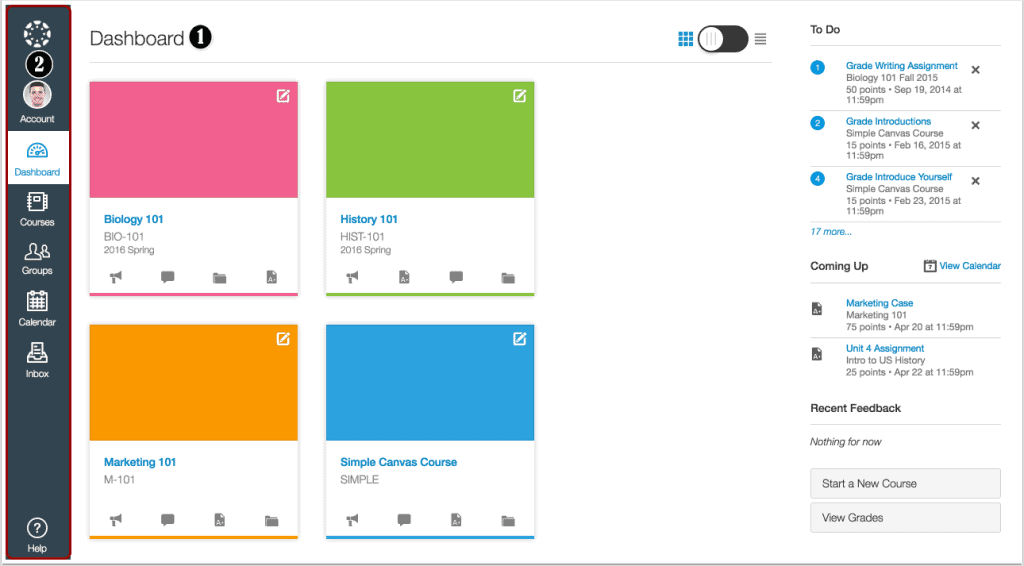 Canvas is one of the best all-in-one learning management systems in the edtech industry. It helps connect teachers and students online with video-based learning, collaboration tools and interactive activities to make lessons more engaging. Teachers can use this tool for designing modules and courses, adding quizzes, speed grading and live chatting with students remotely.
You can easily create discussions and documents, organise courses faster compared to other edtech apps and share content with others. This means that you can conveniently share courses and files with your colleagues, students, or other departments in your institutions.
Another impressive feature of Canvas is modules, which help teachers divide course content into smaller units. Students can't see or access other units if they haven't finished previous ones.
Its high price does match the quality and features that Canvas offer, but you can still use the free plan if you don't want to splurge on this LMS. Its free plan still allows users to create full courses but limits in-class options and features.
The best thing Canvas does better than Google Classroom is that it integrates a lot of external tools to support the teachers and it's more simple and stable to use. Also, Canvas automatically notifies students about the deadlines, while on Google Classroom, students need to update the notifications themselves.
Pros of Canvas ✅
User-friendly interface – Canvas design is pretty simple, and it's available for Windows, Linux, Web-based, iOS and Windows Mobile, which is convenient for most of its users.
Tools integration – Integrate third-party apps if you can't get what you want from Canvas to make your teaching easier.
Time-sensitive notifications – It gives students course notifications. For example, the app notifies them about their upcoming assignments, so they don't miss deadlines.
Stable connectivity – Canvas is proud of its 99.99% uptime and ensures that the team keep the platform functioning right 24/7 for all users. This is one of the key reasons that make Canvas the most trusted LMS.
Cons of Canvas ❌
Too many features – The all-in-one app that Canvas offers can be overwhelming for some teachers, especially those who are not that good at handling technical things. Some teachers just want to find platforms with particular tools so they can add to their classes for better engagement with their students.
Automatically erase assignments – If teachers don't set the deadline at midnight, the assignments are erased.
Students' messages recording – Any students' messages that teachers don't reply to are not recorded on the platform.
2. Edmodo
Edmodo is another worldwide leader in the edtech field, which is loved by hundreds of thousands of teachers. Teachers and students can gain a lot from this learning management system. Save heaps of time by putting all content on this app, easily create communication via video meetings and chats with your students and quickly assess and grade students' performance.
You can let Edmodo do some or all of the grading for you. With this app, you can collect, grade, and return students' assignments online and connect to their parents. Its planner feature helps all teachers to manage assignments and deadlines effectively. Edmodo also offers a free plan, which allows teachers to monitor classes with the most basic tools.
This LMS system has built a great network and online community to connect teachers, educators, students and parents, which hardly any LMS, including the famous Google Classroom, have done so far.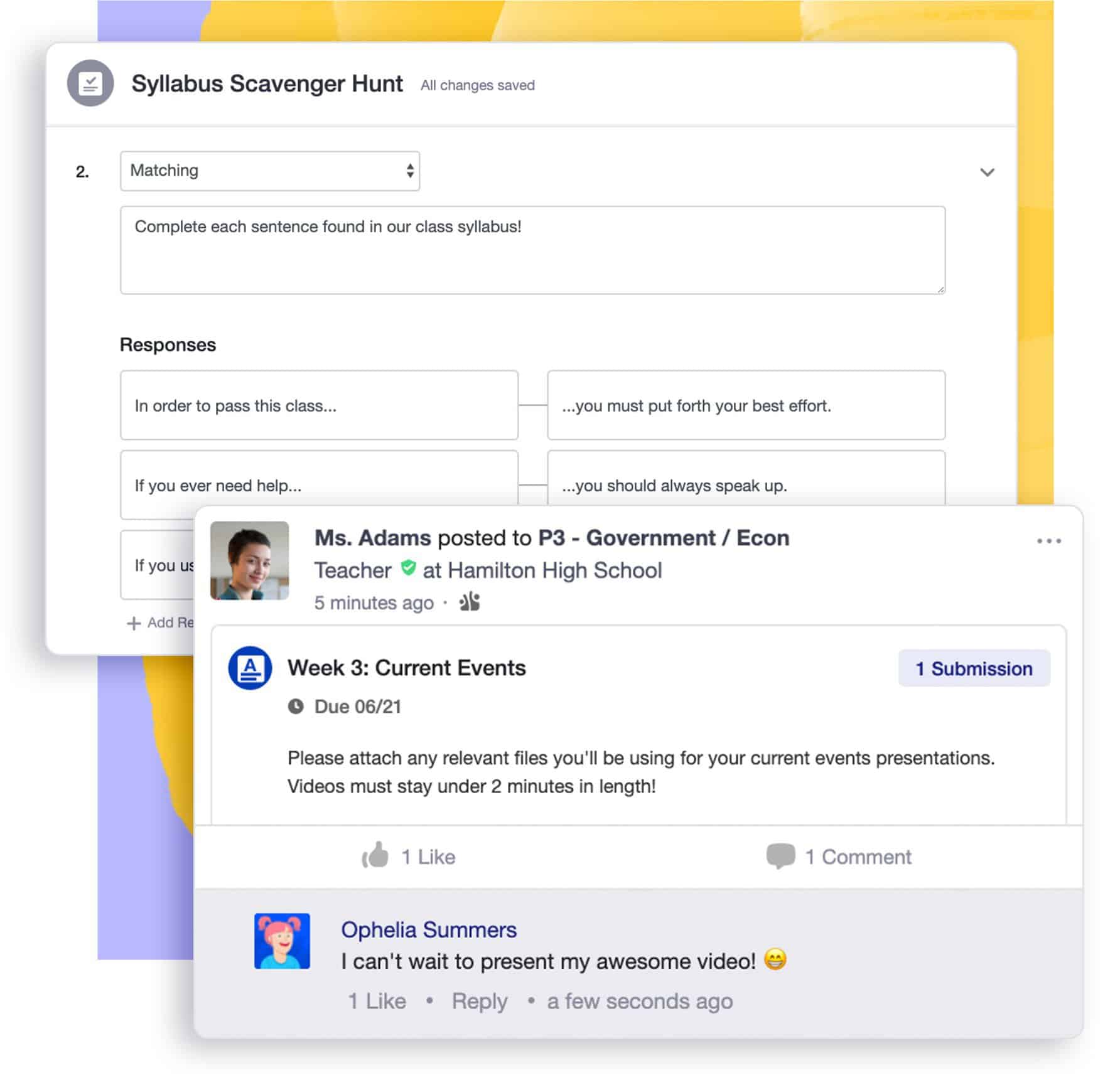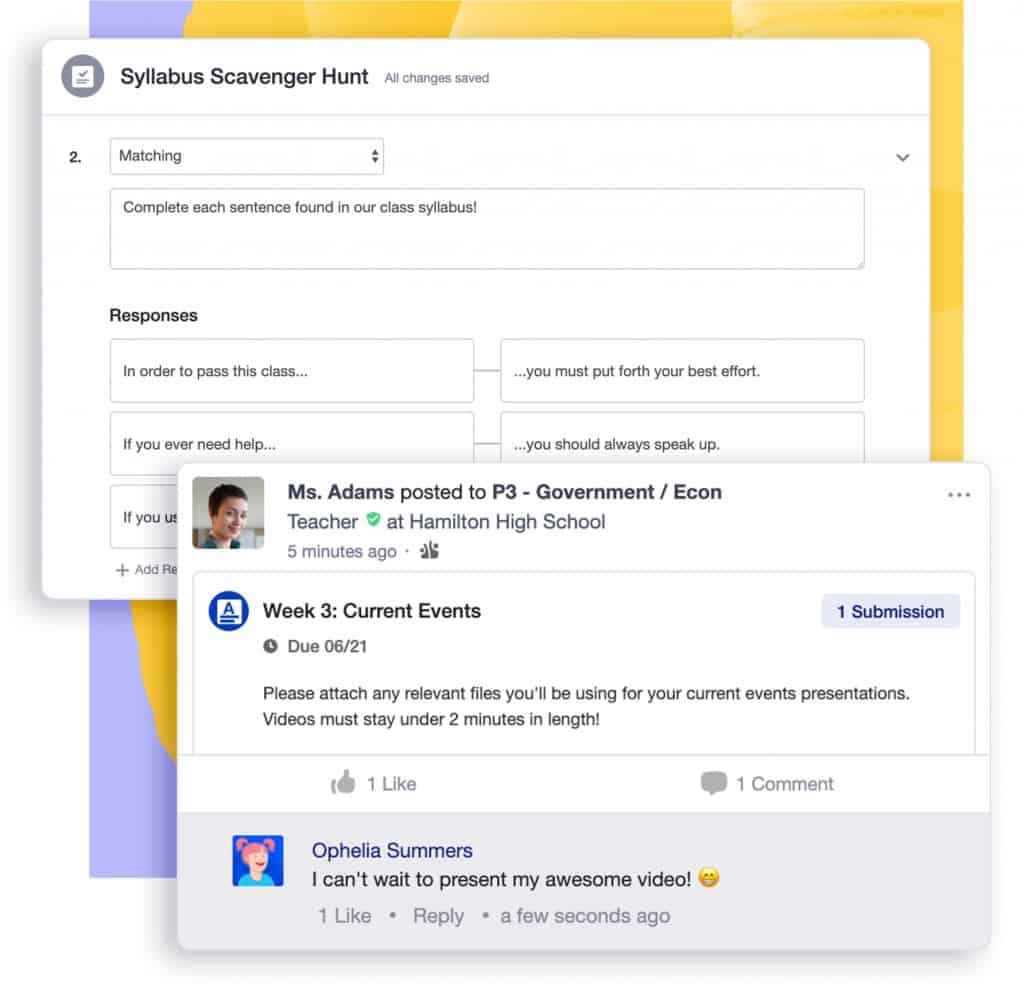 Pros of Edmodo ✅
Connection – Edmodo has a network that connects users to resources and tools, as well as to students, administrators, parents and publishers.
Network of communities – Edmodo is great for collaboration. Schools and classes in an area, such as a district, can share their materials, grow their network and even work with a community of educators worldwide.
Stable functionalities – Accessing Edmodo is easy and stable, reducing the risk of losing connection during lessons. It also has mobile support.
Cons of Edmodo ❌
User interface – The interface is not really user-friendly. It's loaded with many tools and even ads.
Design – Edmodo's design is not as modern as many other LMS.
Not user-friendly – The platform is pretty difficult to use, so it can be a little challenging for teachers.
3. Moodle
Moodle is one of the world's most popular learning management systems, but it's more than just that. It has everything you need on the table to create a collaborative and well-rounded learning experience, from making learning plans and tailoring courses to grading students' work.
This LMS really makes a difference when allowing its users to fully customise the courses, not only the structure and content but also the look and feel of it. It offers a huge range of resources to engage students, whether you use a fully remote or blended learning approach.
One major advantage of Moodle is its advanced LMS features and Google Classroom still has a long way to go if it wants to catch up. Such things include rewards, peer review or self-reflection are old hats to many teachers when delivering offline lessons, but not many LMSs can bring them online, all in one place like Moodle.
Pros of Moodle ✅
Great amount of add-ons – You can integrate many third-party apps to facilitate your teaching process and make it easy to manage your classes.
Free resources – Moodle gives you a lot of great resources, guides and available content, all are free. Moreover, as it has a large online community of users, you can easily find some tutorials on the net.
Mobile app – Teach and learn on the go with Moodle's convenient mobile app.
Multi-languages – Moodle is available in 100+ languages, which is great for many teachers, especially those who don't teach or know English.
Cons of Moodle ❌
Ease of use – With all the advanced features and functionalities, Moodle is not really user-friendly. The administration is pretty difficult and confusing at first.
Limited reports – Moodle is proud to introduce its report feature, which promises to help analyse the courses, but actually, the reports are quite limited and basic.
Interface – The interface is not very intuitive.
4 Best Multi-Feature Alternatives
Google Classroom, like many LMS alternatives, are definitely useful for some stuff, but a bit over the top in other ways. Most of the systems are too pricey and complicated to use, especially for teachers who are not tech-savvy, or for any teachers that don't actually need all the features.
Looking for some free Google Classroom alternatives that are more simple to use? Check out the suggestions below!
4. AhaSlides (For Student Interaction)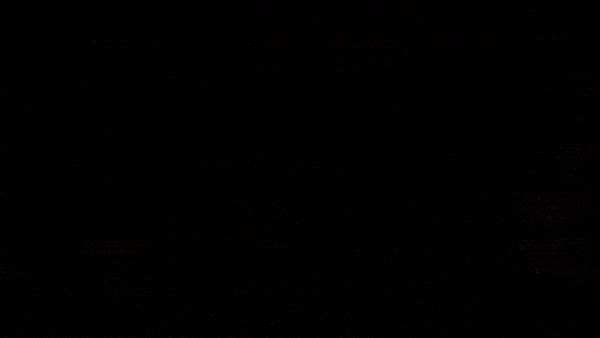 AhaSlides is a platform that lets you present and host many exciting interactive activities to engage better with your students. This cloud-based platform can help you encourage students to express their opinions, and ideas in class during the activities instead of not saying anything because they're shy or afraid of judgement.
It's very user-friendly, easy to set up and to host a presentation with both content slides and interactive slides like open-ended questions, quizzes, polls, Q&As, spinner wheel, word cloud and so much more.
Students can join without an account by scanning a QR code with their phones. Although you can't connect with their parents directly on this platform, you can still export data to see class progress and send it to the parents. Many teachers also like the self-paced quizzes of AhaSlides when giving homework to their students.
If you only teach small classes of under 8 students, AhaSlides offers a free plan with full features. Or you can try the Edu plans at a very reasonable price for more access.
Pros of AhaSlides ✅
Easy to use – Anybody can use AhaSlides and get used to the platforms in a short time. Its features are arranged neatly and the interface is clear with vivid design.
Templates library – Its templates library offers a lot of slides, quizzes and activities suitable for classes so that you can make interactive lessons in no time. It's very convenient and time-saving.
Team play & audio embed – These two features are great to liven your classes and give students more motivation to join the lessons, especially during virtual classes.
Cons of AhaSlides ❌
Lack of some presentation options – Although it offers users full background and font customisation, when importing Google Slides or PowerPoint files onto AhaSlides, all animation is not included. This can be a hassle for some teachers.
5. Microsoft Teams (For a Scaled-Down LMS)
Belonging to the Microsoft system, MS Teams is a communication hub, a collaborative workspace with video chats, document sharing, etc., to boost the productivity and management of a class or school and make the online transition much smoother.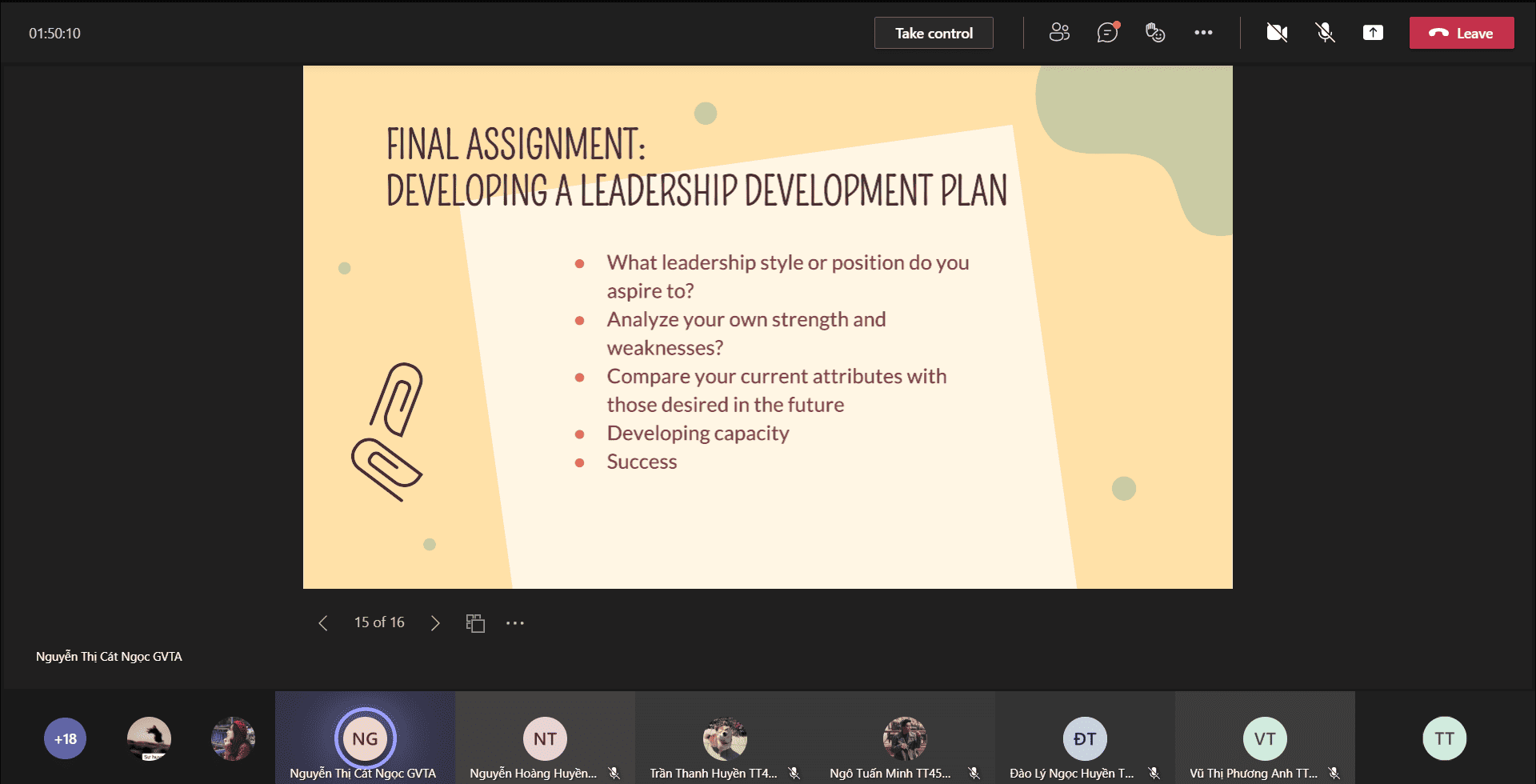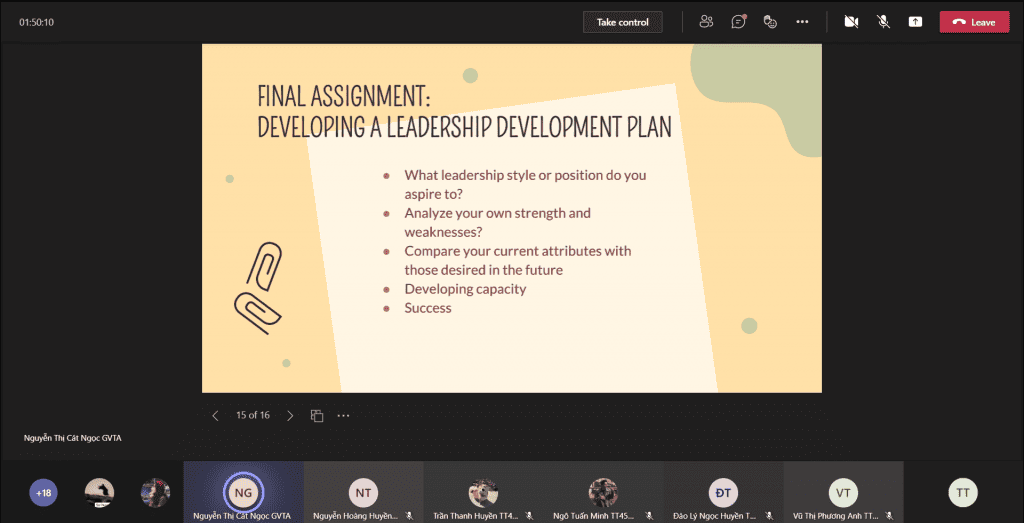 MS Teams has been trusted and used by many educational institutions around the world. With Teams, teachers can host meetings with students for online lessons, upload and store materials, assign & turn in homework, and set reminders for all classes.
It also has some essential tools, including live chat, screen sharing, breakout rooms for group discussions, and apps integration, both internal and external. It's very convenient as you can find and use many useful apps to support your teaching without relying on just MS Teams.
Many schools and universities buy the plans with access to many apps in the Microsoft system, which provides staff and students with emails to sign in on all platforms. Even if you want to buy a plan, MS Teams offers reasonably priced options.
Pros of MS Teams ✅
Extensive apps integration – Many apps can be used on MS Teams, whether from Microsoft or not. This is perfect for multitasking or when you need something more besides what Teams already has to do your work. Teams lets you make video calls and work on other files, create/assess assignments or make announcements on another channel at the same time.
No additional cost – If your institution has already bought a Microsoft 365 license, using Teams won't cost you anything. Or you can use the free plan, which offers enough features for your online classrooms.
Generous space for files, backup and collaboration – MS Teams provides users with huge storage to upload and keep their files in the cloud. The File tab really comes in handy; it's where users upload or create files in each channel. Microsoft even saves and backups your files on Sharepoint.
Cons of MS Teams ❌
Loads of similar tools – The Microsoft system is good, but it has too many apps with the same purpose, confusing users when choosing a tool.
Confusing structure – The huge storage can make it hard to find a particular file among tons of folders. Everything in a channel is uploaded in just one space, and there's no search bar.
Increase security risks – Easy sharing on Teams also means higher risks for security. Everybody can create a team or freely upload files with sensitive or confidential information to a channel.
6. Classcraft (For Classroom Management)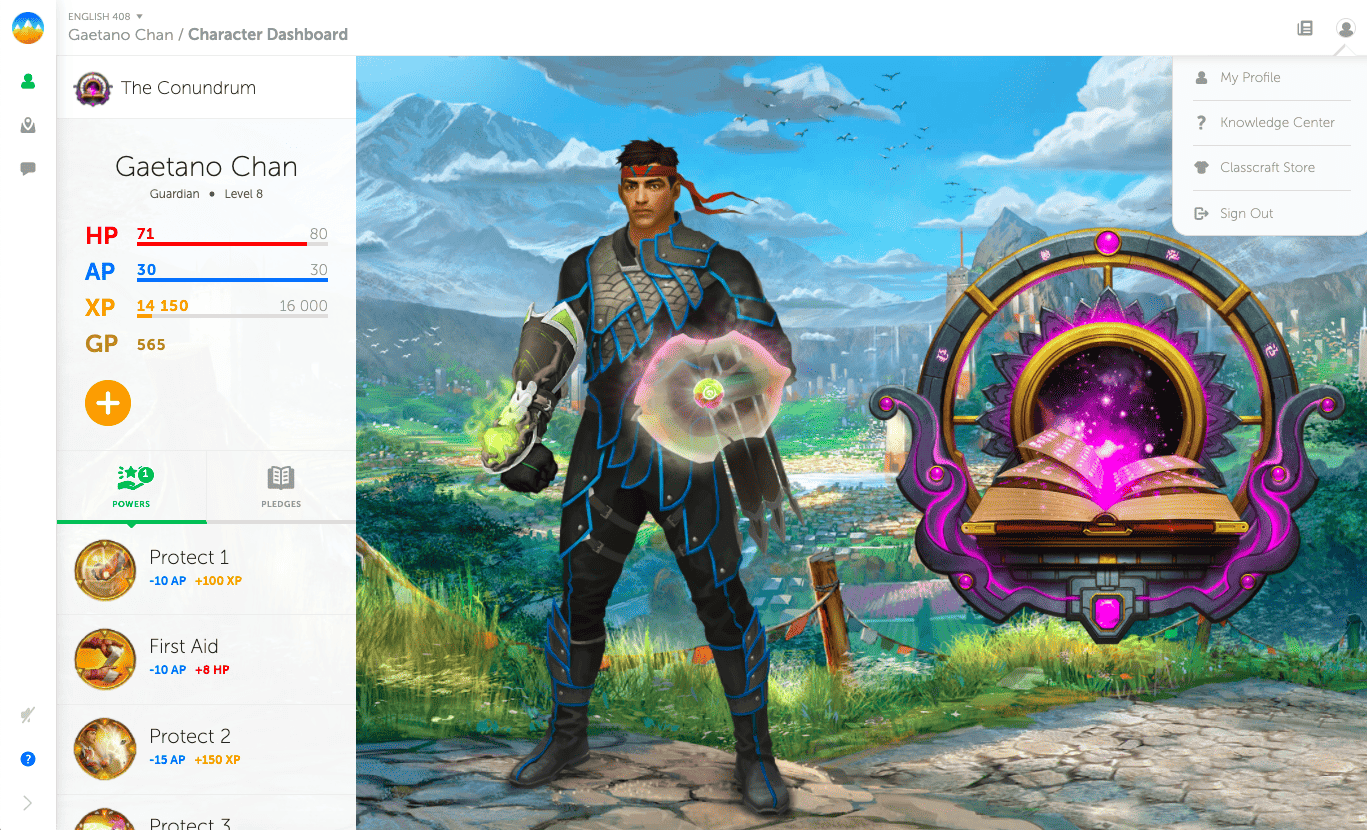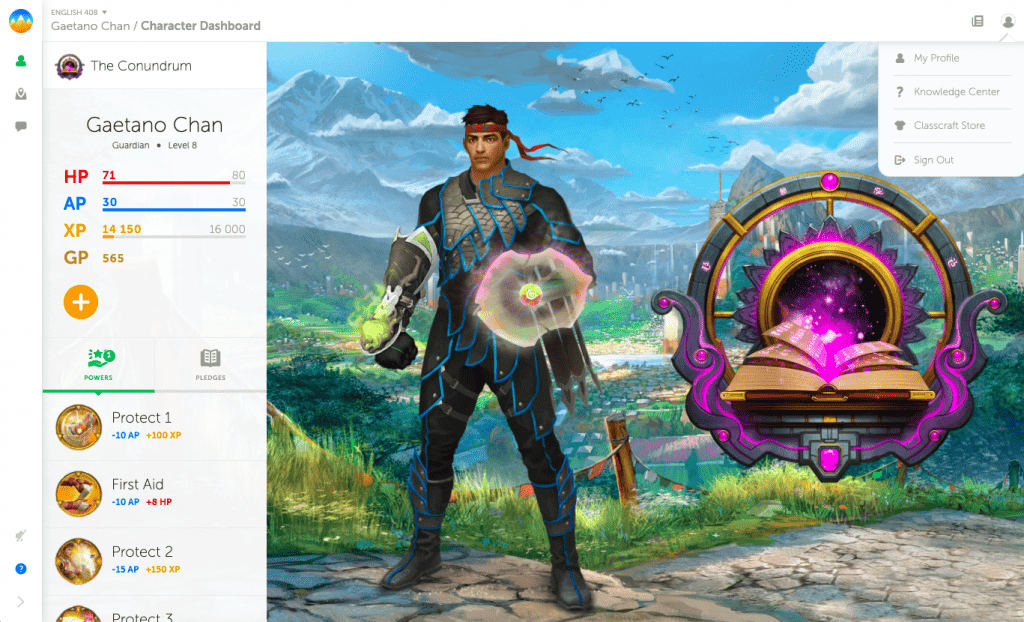 Have you ever thought of letting students play video games while they're studying? Create a learning experience with gaming principles by using Classcraft. It can replace the features that are used to monitor classes and courses on LMS. You can motivate your students to study harder and manage their behaviour with this gamified platform.
Classcraft can go with daily classroom activities, encourage teamwork and collaboration in your class and also give students instant feedback on their attendance, assignments completion and behaviour. Teachers can let students play games to study, award points to encourage them and check their progress throughout the course.
You can design and customise the experience for each of your classes by choosing games based on your students' needs and preferences. The program also helps you teach concepts through gamified storylines and upload assignments from your computers or Google Drive.
Pros of Classcraft ✅
Motivation & Engagement – Even game addicts are addicted to your lessons when you use Classcraft. The platforms encourage more interaction and collaboration in your classes.
Instant feedback – Students receive instant feedback from the platform and teachers have customisation options so it can save them a lot of time and effort.
Cons of Classcraft ❌
Not suitable for every student – Not all students like gaming, and they may not want to do it during lessons.
Pricing – The free plan offers limited features and paid plans are often too expensive.
Site connection – Many teachers report that the platform is slow and the mobile version is not as good as the web-based.
7. Excalidraw (For a Collaborative Whiteboard)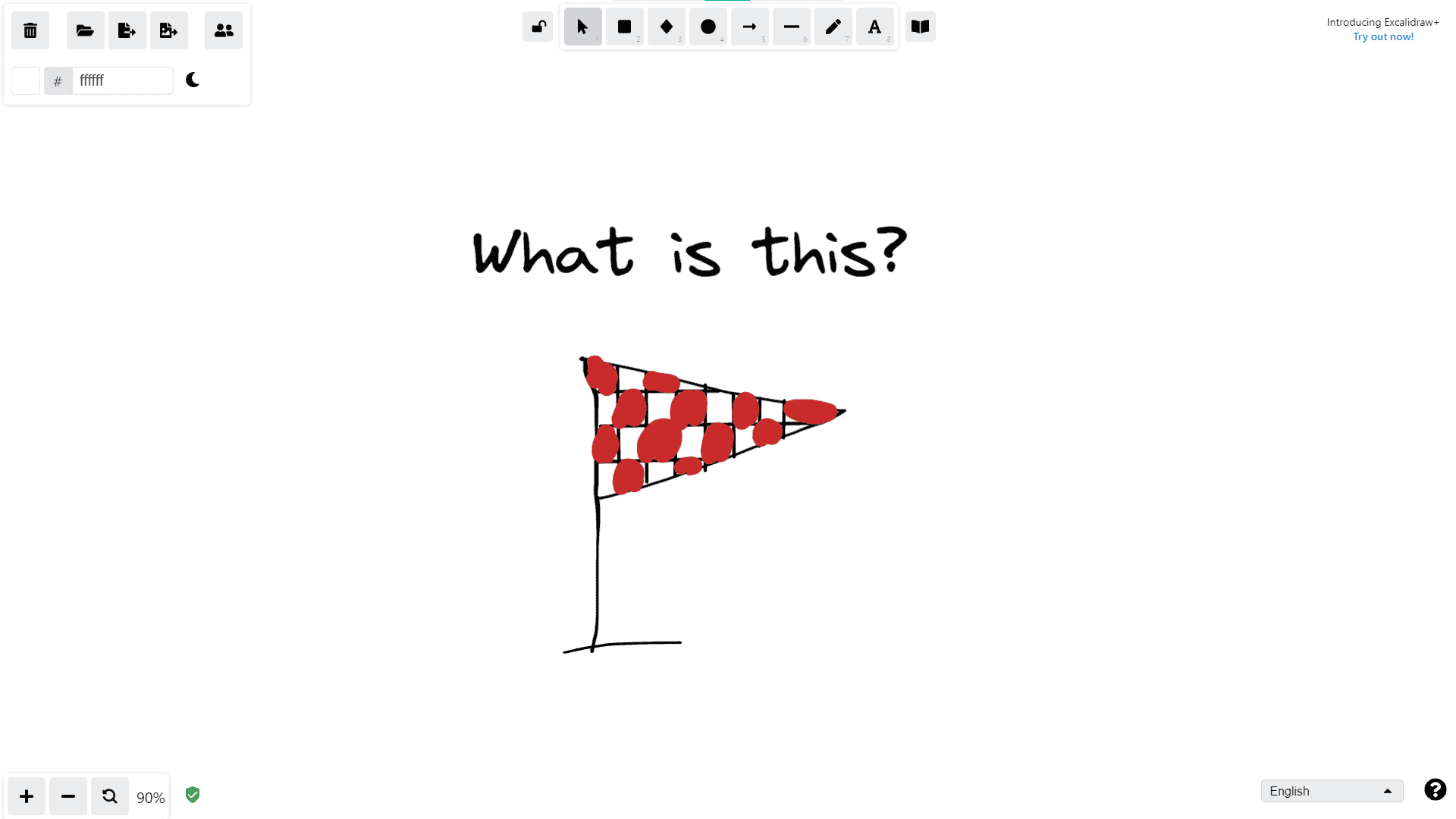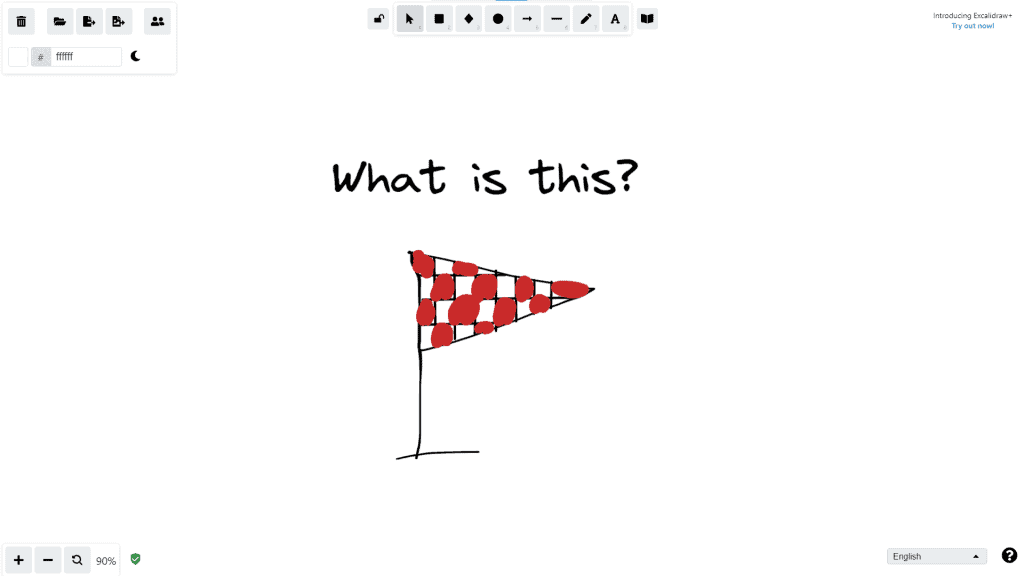 Excalidraw is a tool for a free collaborative whiteboard that you can use with your students during lessons with no sign-up. The whole class can illustrate their ideas, stories or thoughts, visualise concepts, sketch diagrams and play fun games like Pictionary.
The tool is very simple and minimalistic and everybody can use it right away. Its lightning-fast exporting tool can help you save your students' works of art much faster.
Excalidraw is totally free and comes with a bunch of cool, collaborative tools. All you have to do is send your students the join code and start working together on the big white canvas!
Pros of Excalidraw ✅
Simplicity – The platform can't be any more simple, from the design to the way we use it, so it's suitable for all K12 and university classes.
No cost – It's totally free if you only use it for your classes. Excalidraw is different from Excalidraw Plus (for teams and businesses), so don't confuse them.
Cons of Excalidraw ❌
No backend – The drawings are not stored on the server and you can't collaborate with your students unless all are on the canvas at the same time.