When was the last time you were genuinely excited to fill out a survey?
Like most people, your answer to that question is probably 'never'. Surveys are long and boring, right? Well, not really, that's just the Google Forms effect.
It turns out that surveys can be truly interesting and fully engaging. What's more, when given such a survey, most respondents are motivated to complete it without the 1 in 10,000 chance to win a $5 Pret a Manger voucher.
Welcome to the world of free alternatives to Google Forms. We've laid out 3 of the best free form builders to help you break from the mould and start creating forms that dazzle respondents and deliver you responses.
Why get an Alternative to Google Forms?
You can see around an 85% response rate if your survey is 'well-executed'. That means good design and good logic flow to keep respondents interested and motivated.
Lack of design customisation – This is the big kicker for aggrieved Google Forms users. GF has a painful lack of customisation options in terms of design. Sure, you can select a colour, place a header image and change to one of 4 fonts, but that's it. Forms still appear as a long list of white or grey blocks that do nothing to motivate respondents to reach the end of your form.
Basic logic options – Google Forms' logic options are super simple. They only work on dropdown and multiple choice questions and can only skip entire sections, which pales in comparison to the logic flows you can set up with relative ease on Typeform.
Not visual – Despite surely knowing the prowess of visual media, Google employed practically none of it in making Google Forms. Image uploads have a limit of 2MB each, but can only be used within questions, not as backgrounds, which makes every single form made on GF look essentially the same. Also, how a form looks when you make it and how it looks when a respondent sees it can be very different, meaning you constantly have to check the preview.
We're sure you have your own gripes with the platform. Banish them with the list of the best 3 free alternatives to Google Forms below!
1. AhaSlides
👊 Best for: Fun + engaging forms
| | |
| --- | --- |
| Free? | ✔ |
| Monthly paid plans from… | $14.95 |
| Annual paid plans from… | $59.40 |
| One-time plans available? | ✔ |
Main Question Types
Single selection (text and image)
Multiple selection (text and image)
Sliders
Respondent information
Word cloud
Open-ended (text and image)
Quiz
Q&A
Spinner wheel
As a live audience engager for presentations, meetings, lessons and trivia nights, you wouldn't immediately think that AhaSlides is capable of proving a great alternative to Google Forms. Dig a little deeper, though, and you'll find a super simple, fun and effective tool for your forms.
The main draw of AhaSlides is the way it can make a form fun to fill out. Not 'fun' like how your nan would describe a guided tour of Longstanton Spice Museum, but real fun, the kind you get from one of AhaSlides key features – the quiz.
AhaSlides' quiz feature lets users create a self-paced quiz for respondents to complete in their own time. Each question in a quiz is scored, and the end of the quiz shows a leaderboard with the score of every respondent. Adding a quiz is a sure fire way to soar your response rates, as well as get valuable insights from your audience's responses.
Aside from the quiz, you can set up fully customisable slides that cover question types like multiple choice, sliders, word cloud, Q&A etc. Your respondents go through each beautiful looking slide in turn and answer the question in the format offered.
What's more, AhaSlides is live interactive presentation software. Though you can make your survey self-paced, you can even host one live with your respondents over Zoom!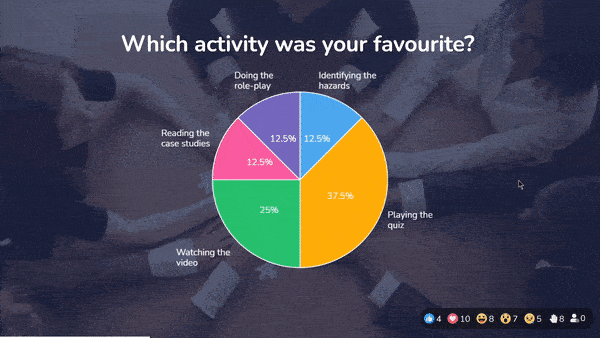 Main Features on the Free Plan
All the standard stuff – multiple choice, open-ended text, sliders… the usual.
Unique question types – Use a word cloud to build a beautiful, informative map of opinions. There's also a spinner wheel for exciting prize giveaways!
Image-friendly – The ability to add images to any question. Users can also submit their own images as responses.
Emoji reactions – Respondents can express their thoughts on your form through positive, negative and neutral emoji reactions.
Full customisation – Change colours and backgrounds, as well as select from fully integrated libraries of images and GIFs, or add your own.
Customisable URL – And don't forget the URL! You can change it to anything you want for free.
Edit together – Collaborate on forms with teammates.
Add your own branding – Change the 'AhaSlides' logo to your own.
Respondent info – Gather whatever info you'd like from respondents before they start your form.
Language change – Choose from 15 languages to display to your respondents.
Analytics report – See your response rate, engagement rate, and the rate of people who nailed your quiz.
Unlimited everything – Everything you get in the free plan, you get unlimited. No restrictions on the number of forms, questions, images or respondents.
What's not allowed on the Free Plan?
AhaSlides has one of the most flexible plans amongst all alternatives to Google Forms. There's a very short list of stuff you can't do on the free plan:
Add audio (Paid) – Embed audio into any question, with playback controls for respondents.
Export results (Paid) – Export form answers to an Excel sheet, PDF or as a set of JPG images.
Change font (Paid) – Choose from 11 fonts
Logo upload (Paid) – Replace the default 'AhaSlides' logo with your own.
Possibly the most prominent con is that AhaSlides doesn't allow for advanced logic flows, like skip logic and branching. It's possible for respondents to skip questions, but those actions must be taken manually.
A Good Free Alternative to Google Forms?
For a free-to-use form tool with intuitive design, heaps of room for customisation and largely unique features like quizzes, word clouds and spinner wheels, AhaSlides proves to be one of the most versatile alternatives to Google Forms.
One fact alone makes it stand out above the rest: it's perfectly possible to have a high-quality form, with unlimited questions, customisation and respondents, for 100% free.
| | | |
| --- | --- | --- |
| Free Plan Offerings | Paid Plan Offerings | Overall |
| ⭐⭐⭐⭐⭐ | ⭐⭐⭐⭐ | 9/10 |
Get more responses with fun forms
Run live and self-paced forms on AhaSlides for free!
2. SurveyLegend
👊 Best for: Software that's similar to Google Forms, but with more customisation.
| | |
| --- | --- |
| Free? | ✔ |
| Monthly paid plans from… | $19 |
| Annual paid plans from… | $170 |
| One-time plans available? | X |
Main Question Types
Single selection
Multiple selection
Dropdown
Matrix
Ranking
Rating
Sliders
Open-ended text
Emojis and thumbs
SurveyLegend's claim to be 'the best question logic creator in the Universe' may be a little hard to verify. Personally, we've never tried a Google Forms alternative from the Andromeda galaxy, but we're sure SurveyLegend stacks up pretty well.
It's one of the more traditional alternatives to Google Forms, especially when viewed after AhaSlides. It's got one function – to help users make varied surveys – and it does it well. It falls a little flat in the fun department, but if you're looking for something conventional, SurveyLegend offers a wealth of different question types and straightforward interface for both surveyors and surveyees.
SurveyLegend boasts proudly of its advanced logic features, which are fairly varied and fairly easy to use. Unfortunately, if you want more than one logic flow in a form, you'll have to shell out for a paid plan.
Main Features on the Free Plan
16 question types – A good variety of questions to choose from, though many of them are very similar.
Add up images – But only up to 6.
Respondent preview – See how respondents will see your form on desktop, tablet or mobile view.
Basic design features – Choose from a theme (comes with 1 background image and 1 font).
Analytics report – Detailed insights into respondent behaviour by country
Customisable URL – Personalise your invitation link.
Instant sharing to social media – Share the invitation link across Facebook, Twitter and LinkedIn within the dashboard.
What's not allowed on the Free Plan?
SurveyLegend is a little restrictive in their free plan, especially when compared to AhaSlides. If you want more than 3 forms, more than 1 logic flow and more than 6 images you'll have to access the 'best question logic creator in the Universe' through the thickest paywall in the Universe.
Several question types (Paid) – Opinion scale, NPS, file upload, thank you page, branding and white label options.
Unlimited forms (Paid) – Maximum of 3 forms for free, 20 forms for $19 p/month, and unlimited forms thereafter.
Unlimited images (Paid) – Maximum of 6 images for free, 30 images for $19 p/month and unlimited images thereafter.
Unlimited logic flows (Paid) Maximum of 1 logic flow for free, 10 logic flows for $19 p/month and unlimited logic flows thereafter.
Data export (Paid) – The ability to export responses to Excel.
Customisation options (Paid) – The ability to change font colour and add a background image of your choosing.
Aside from its restrictions, another con of SurveyLegend is that it displays all questions on one big page, rather than isolating each question like many alternatives to Google Forms do. This may not be a negative to some, but some of the best free form builders like to show each question one-by-one, to pool respondent focus and boost response rates for forms.
A Good Free Alternative to Google Forms?
Overall, SurveyLegend stands up as a decent Google Forms alternative. It works in a similar manner, but has a greater degree of logic flow variation and customisation, even though you have to pay for both. Still, it's got great analytics and an easy-to-use interface, so it could very well be worth a shout.
| | | |
| --- | --- | --- |
| Free Plan Offerings | Paid Plan Offerings | Overall |
| ⭐⭐⭐ | ⭐⭐⭐ | 6/10 |
3. Typeform
👊 Best for: Great-looking forms for very small groups of respondents.
| | |
| --- | --- |
| Free? | ✔ |
| Monthly paid plans from… | $29 |
| Annual paid plans from… | $300 |
| One-time plans available? | X |
Main Question Types
Single selection
Multiple selection
Image selection
Dropdown
Yes/no
Ranking
Rating
Opinion scale
Matrix
Open-ended text
Email, date and phone
For many, Typeform is considered the alternative to Google Forms. It's sleek and professional, and it has a tonne of features that you'd struggle to find elsewhere.
Beyond one-dimensional surveys, Typeform lets you create 'typeforms' for use cases not thought of by many in the business of form building. You can make one for feedback, research, lead capturing, registration, quizzes and so much more. Of course, you can do this on any platform like Google Forms, but the difference here is that Typeform helps you figure out what should be included in each use case through a comprehensive library of templates.
Each template comes with a beautiful look and feel, all of which is customisable to a dizzying degree. There are 1000s of images to pick from the integrated Unsplash library, about 100 fonts to choose from, essentially limitless colour range that can be used differently across questions, answers, buttons, button text and background overlay.
Outside the customisation and ease of use, Typeform has some really in-depth logic flow features. These are pretty advanced, so they take some time to get used to, but the logic map helps you visualise exactly what's going on with your flow, so you don't lose track of the form.
Sounds good? Well don't get too comfortable, here's the BIG caveat: the free plan only allows you to collect a paltry 10 responses per month. This makes the free plan, for everything but the smallest scale forms, essentially just one big advert for a paid plan.
Main Features on the Free Plan
Most question types available – The majority of the more straightforward question types are available to all.
Template library – Dozens of templates for every form use case.
Unlimited images – From the integrated Unsplash library or your own device.
Integrations – Connect with dozens of other platforms, including Google, HubSpot, Notion, Dropbox and Zapier.
Unlimited design features – A frankly crazy amount of customisable options to choose from.
Basic analytics – Response rate and average time to complete, separated by device.
Import form – Take your form from Google Docs or Google Forms.
Clever ways to share – Choose to integrate your first question directly into an email, or turn your whole typeform into a friendly live chat type vibe.
What's not allowed on the Free Plan?
We mentioned that SurveyLegend has a bit of a stricter free plan of the Google Forms alternatives, but Typeform's is downright stifling. At first glance, it seems like a very lenient free plan with the vast majority of its huge trove of features included. But, like we mentioned, the maximum allowance of 10 responses per month makes the free version of Typeform rather useless in most cases.
More than 10 responses p/month – 100 responses p/month for $29, 1,000 responses p/month for $59, 10,000 responses p/month for $99.
More than 10 questions per form – Unlimited questions on every paid plan.
Collaborative editing – Working on the same form together with colleagues or friends.
Some question types – File upload and payment question types.
Customisable URL – You're restricted to the default URL you're given.
A Good Free Alternative to Google Forms?
Typeform is a fairly decent free alternative to Google Forms, if not for the free plan itself, which is limited, but in showing you the potential of a professional form builder that very well may be worth shelling out for.
If you're looking for a free alternative to Google Forms in order to test the waters before diving into the world of form builders, Typeform is a great choice.
| | | |
| --- | --- | --- |
| Free Plan Offerings | Paid Plan Offerings | Overall |
| ⭐ | ⭐⭐⭐⭐⭐ | 6/10 |
Final Review: The Best Alternative to Google Forms
If you're looking to replace your dependency on Google, you've now got 3 free alternatives to Google Forms to choose from. Each offers something a little different depending on the types of forms you want to create:
AhaSlides – This software goes against the Google grain by letting you create fun and fully interactive forms that gather info through visual-focused means. Create beautiful questions with full customisation options, including unique types like word cloud and spinner wheel, then top it all off with a self-paced quiz.
SurveyLegend – A simple bit of free software like Google Forms. It does everything Google Forms does, but with a better interface, more customisation and better logic flows. A lot of features are for paying customers only, but there's enough on the free plan to fulfill basic form needs.
Typeform – If Typeform is the gold standard in form builder software, then its free plan has to be considered the murky brown standard. It serves practically no purpose except to show you the features that you have to pay for. Still, if you do decide to pay, you'll have one of the best form makers in the business.
Goodbye to boring forms.
Give your respondents excitement and engagement with AhaSlides.
---
Try us free!