Gallery walk activities are among the most effective educational strategies when it comes to creating engaging discussions within classroom settings.
For students, it's an opportunity to discuss ideas in a more intimate, supportive setting rather than a bigger, anonymous class. It provides an opportunity for educators to assess the depth of student learning of specific concepts and to confront misconceptions. The concept of Gallery Walk Activities will be fully described in this article.
The Concept of Gallery Walk Activities
In Gallery Walk activities, the students are divided into small groups, moving through different stations and completing each station's task. Starting from answering the assigned questions, sharing answers with each other, discussing, giving feedback, debating whose response is better, and voting for the best answer.
Today, there is an increase in having a virtual gallery tour that is not restricted to a physical location. In remote learning, students from all around the world can participate in a virtual class and teachers can conduct virtual gallery walk activities.
Tips for Better Engagement
The Advantages of Gallery Walk Activities
Applying Gallery Walk activities in teaching and learning brings many benefits. Here are the key advantages of this technique:
#1. Boost Creativity
Gallery Walk involves the process of discussing their concepts and learning what other people think, which can expand their perspectives. Not mention to giving others feedback reflects critical and analytical thinking, where they cannot just accept other ideas or won't easily fall into groupthink. Children might see themselves and their peers as knowledgeable individuals who can direct and mold their own and their peers' learning through gallery walks. Thus, more innovative and creative ideas are produced.
#2. Increase active engagement
According to a study done by Hogan, Patrick, and Cernisca (2011), students perceived gallery walks as promoting more significant involvement than lecture-based classes. Gallery walks also strengthen the dynamics and collaboration between students, which leads to an increase in students' participation and deeper levels of engagement (Ridwan, 2015).
#3. Develop higher-order thinking skills
Actually, joining the gallery walk activities requires the use of higher-order thinking skills like analysis, evaluation, and synthesis when faculty choose the proper level of abstraction when designing questions. Thus, students taught with gallery walks experienced much deeper learning compared to students taught by the conventional method.
#4. Prepare for workforce skills
The Gallery Walk experience is relevant to the workplace. Students can develop employable skills and be prepared for their future jobs such as teamwork, and communication because they are what they have experienced in gallery walking activities during school time. Those are all necessary skills in the competitive labor market like today.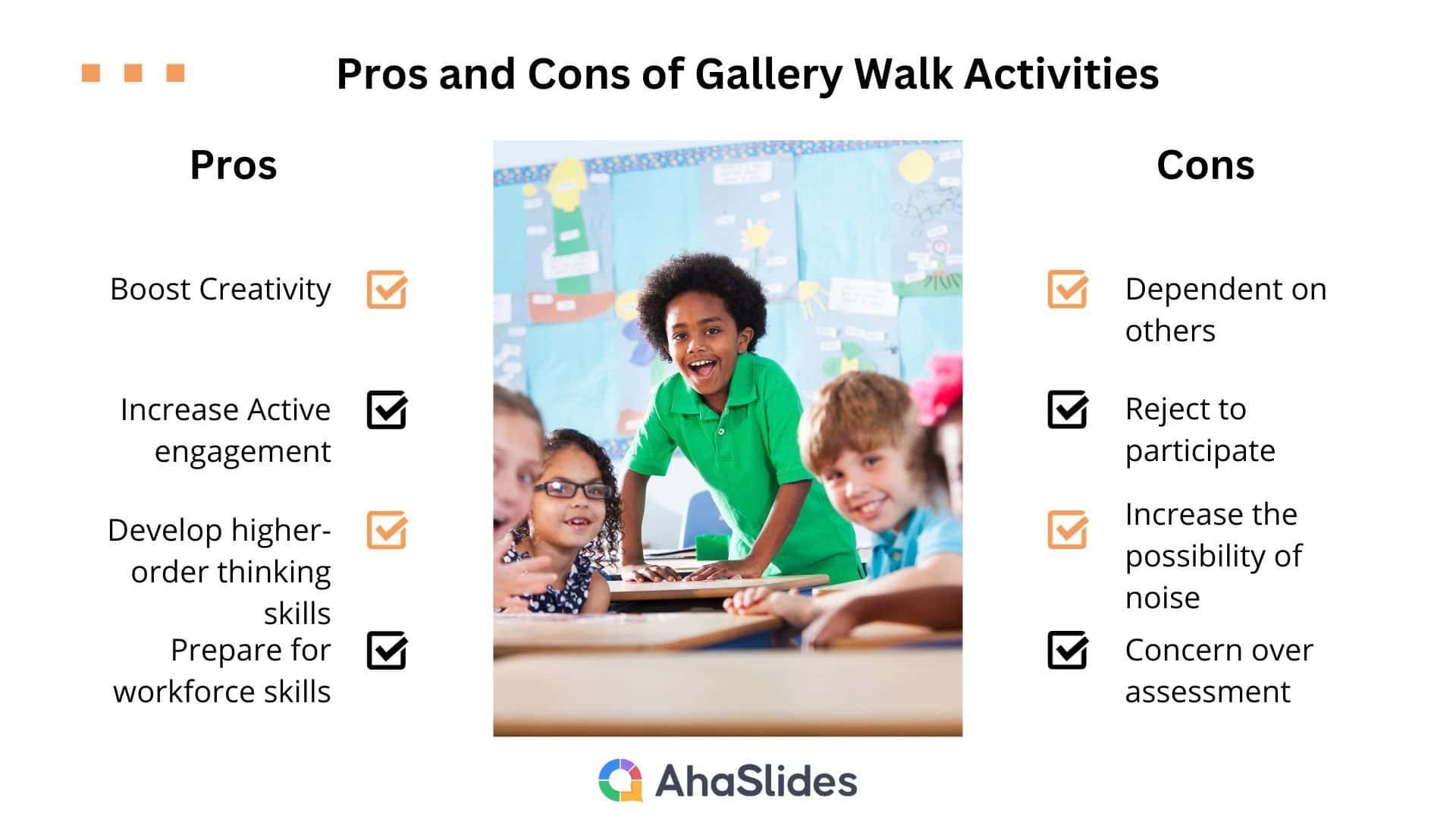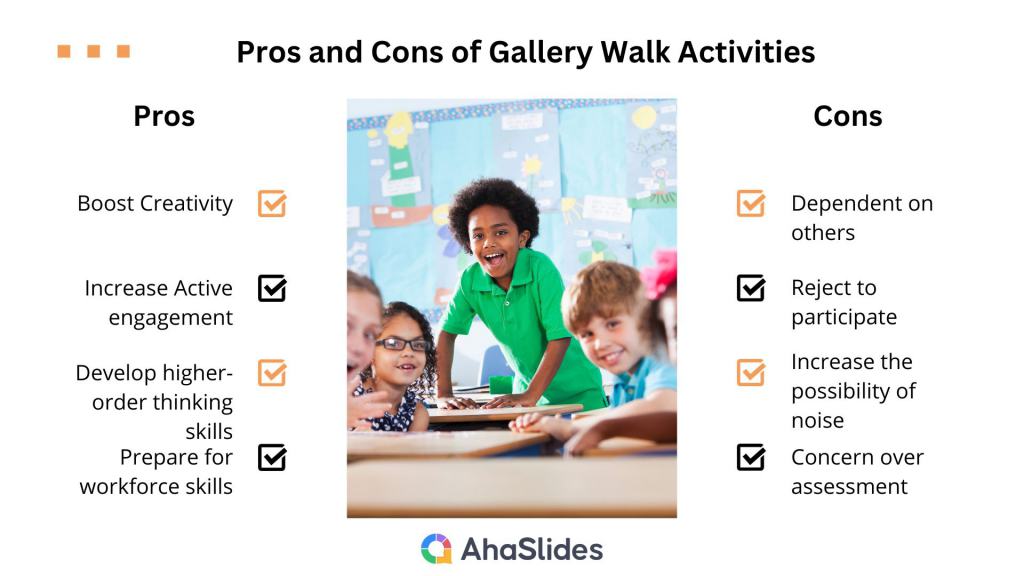 The Disadvantages of Gallery Walk Activities
Although Gallery Walk brings many benefits, there exist limitations. But fear not, there are some solutions provided to help you prevent it from happening.
#1. Dependent on others
Some pupils in the group might not actively participate in knowledge construction. To some extent, this can be solved by giving certain duties to students in each group and then requesting them to rotate the roles when they arrive at the next station. During the activity, the teacher might also ask the students some evaluative questions to bring them back to the task.
#2. Reject to participate
On the other hand, some students prefer to learn individually and hence may not want to participate in discussions. For these learners, the teacher can mention the benefits of teamwork and how it can be helpful for them in the future.
#3. Increase the possibility of noise
While gallery walk activities can boost energy and focus among students, poor classroom management might lead to a high level of noise and lower students' concentration, especially if students are talking in groups.
#3. Concern over assessment
The evaluation may not be just. This issue can be addressed by the teachers by having evaluation rubrics in advance and making the students familiar with it. Surely, there are some questions in the head of a student, such as, how will I be graded fairly? In a group no less?
Best Ideas for Gallery Walk Activities
Here are some gallery walk examples that teachers can incorporate into classroom activities:
Brainstorming Session: Give a situational question and ask students to brainstorm. Using Wordcloud to ignite their creativity if they are vocabulary games.
Live Q&A: During the Gallery Walk, you can have a live Q&A session where students can ask questions about the displayed content.
Live Polls: An anonymous poll can help students comfortable sharing their opinions.
Real-time Feeback: The instant survey can be in the form of written comments or short reflections. It should be done anonymously if it is related to giving feedback on others' answers.
Scavenger: A scavenger-style gallery walk like asking students to solve puzzles can be a good idea.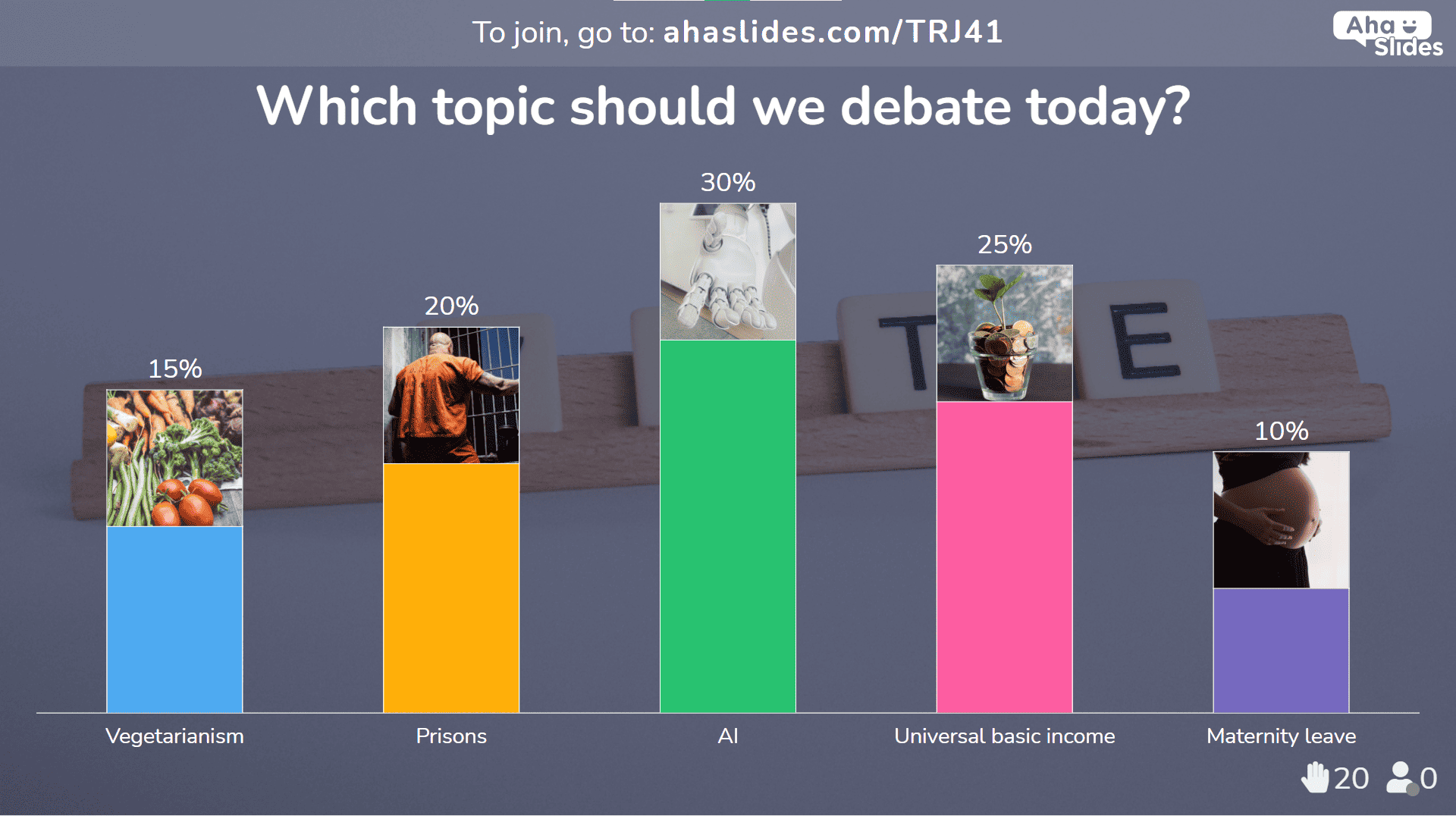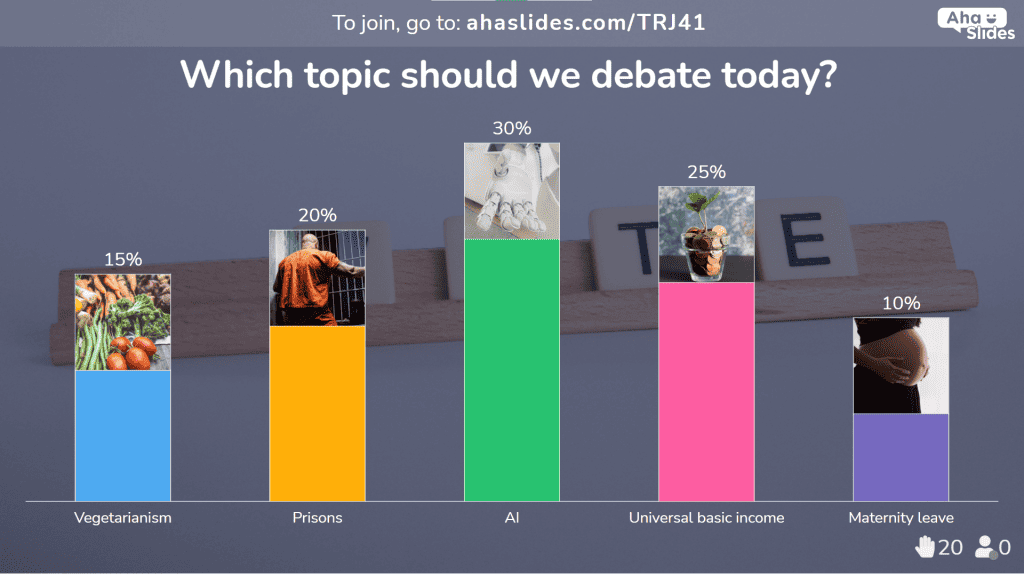 Tips for Building Effective Gallery Walk Activities
Gallery Walks are an excellent inquiry-based activity that is simple to set up and carry out. Check out some of my suggestions for a successful Gallery Walk in your social studies lesson.
Group participants into compact units.
Assign a particular section of the topic to each group.
Be certain that everyone understands the poster's language and graphics in order to successfully communicate the information.
Give the groups some time to work together to concentrate on the important elements that will be shared at each station.
Utilize any free space you can find in the room or corridor.
Give clear instructions on the order of the rotation and at which station each group will begin.
Each station needs a speaker, so choose one.
After all groups have visited each location, devise a quick activity to serve as a debriefing.
💡Don't know what tools to optimize gallery walk activities in the classroom. Don't worry. All-in-one presentation tools like AhaSlides can solve all of your concerns right now. It offers all the advanced features you need and ready-to-use templates.
Frequently Asked Questions
What is an example of a gallery walk activity?
The method is applied in almost all subjects, mathematics, history, geography,…A gallery tour about the elements of the cell could be set up in a science classroom by a teacher. Each gallery tour point might ask students to describe how each aspect of the cell links to the others, assisting them in understanding how cells function as a system.
What is the meaning of gallery walk activity?
A gallery walk is an active teaching strategy that lets students walk around the classroom to read, analyze, and evaluate classmates' work.
What is the objective of the gallery walk activity?
Gallery Walk pulls students out of their seats and actively engages them in synthesizing key concepts, reaching consensus, writing, and public speaking. In Gallery Walk, teams rotate around the classroom, writing answers to questions and reflecting on the responses of other groups.