Want to play fun games and quizzes in the classroom, why don't you try the World Geography Games? Geography is a broad topics where you can free to explore and create a range of Geography topic related games and quizzes. Here we give you best available World Geography games ideas to play with your friends and challenge your students.
English Geography Vocabulary Challenges
If you are an English educators or learners, you may see a lot Fill the blank quizzes in daily homework and exams. Similarly, you also can create from a simple to complicated Geography vocabulary Fill in the blank quizzes for whatever purposes you want. The 10 following quizzes is designed for you, free to use, easy to edit and replace.
1. Ar…h…pel…go (archipelago: series of islands that are connected under water)
2. …lat…au (plateau: large elevated region with a flat top)
3. Sava……a (savanna: massive grasslands of Africa)
4. …amp…s (pampas: massive grasslands that are found in South America)
5. Mon…nso…n (monsoon: massive rain storms from the Indian Ocean that strike Southern Asia)
6. D…fore…tation (Deforestation: the malicious act of cutting down trees and clearing forests for human use)
7. He…isph…re (Hemisphere: half of a sphere and since the earth is a sphere it means half the earth)
8. M…teorol…gy (Meteorology: a subbranch of physical geography that involves the study of the atmosphere)
9. Dr……ght (Drought: a prolonged time with less than average rainfall which can negatively affect living conditions)
10. …rri…ation (Irrigation: a well-engineered manner of watering agriculture is known as irrigation)
World Geography Games – Map Quizzes
World Geography Map Games is quite fun interesting platform for you to have an attempt to train and practice map skills from different locations around the world. Depending on your interest, you many find many quizzes about lakes, oceans, mountains, islands… One of the most popular map game is identify US states. However, you also can use AhaSlides to create your map games for using in class for free.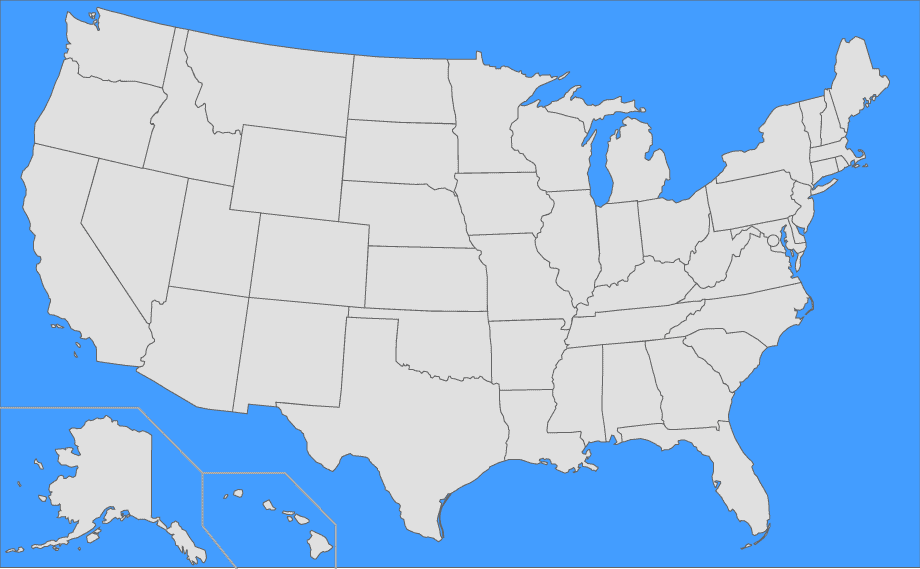 Flags Games
Though each country has its own national flag, there are many flags look a bit similar and easy to make people confusing. Some Flags use the same color scheme but in different arrangement. Some has use the same pattern, one of the most popular item used is stars. Distinguishing and remembering all the flags is quite challenging but you also can absolutely practice Flag guessing games to master your memory skills.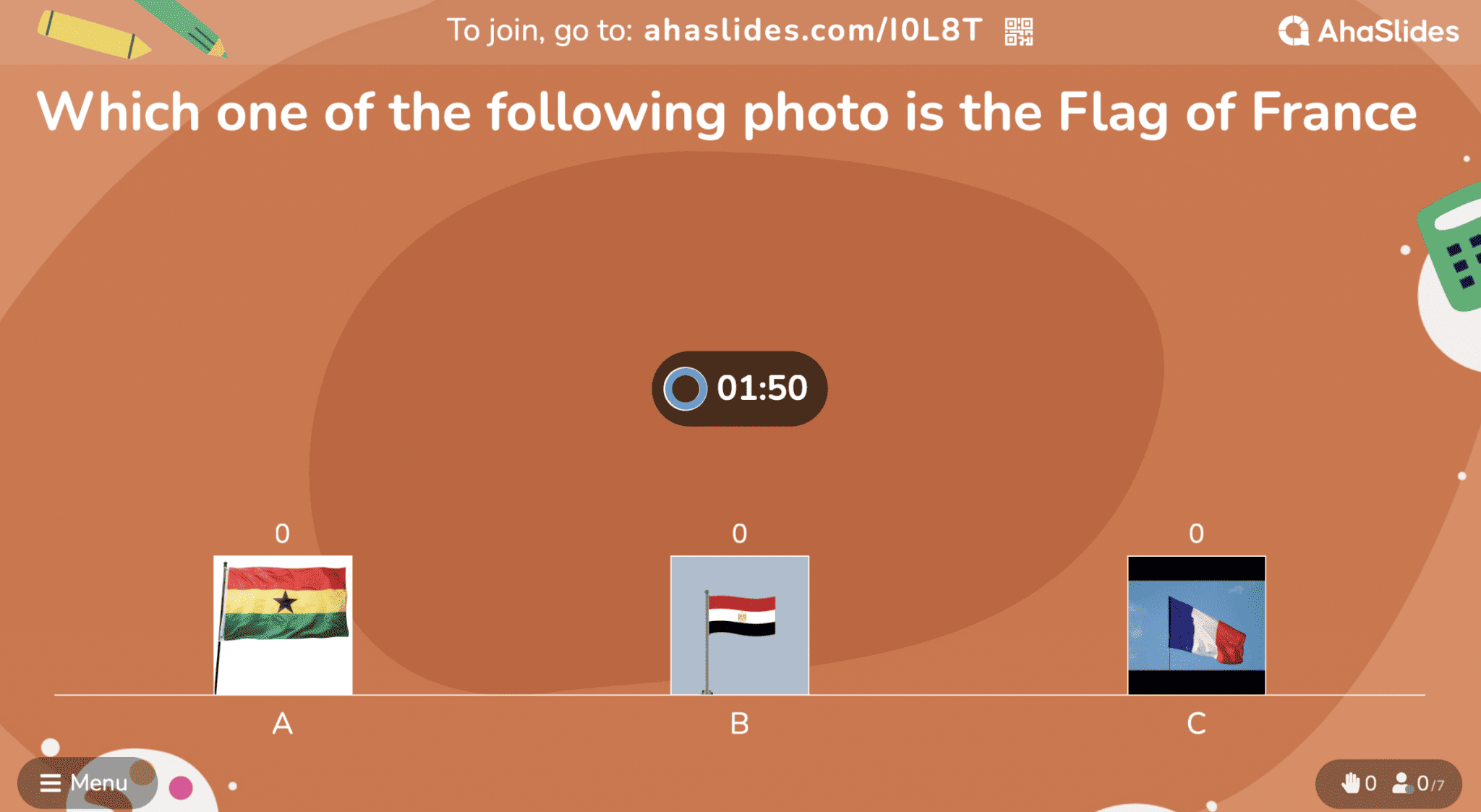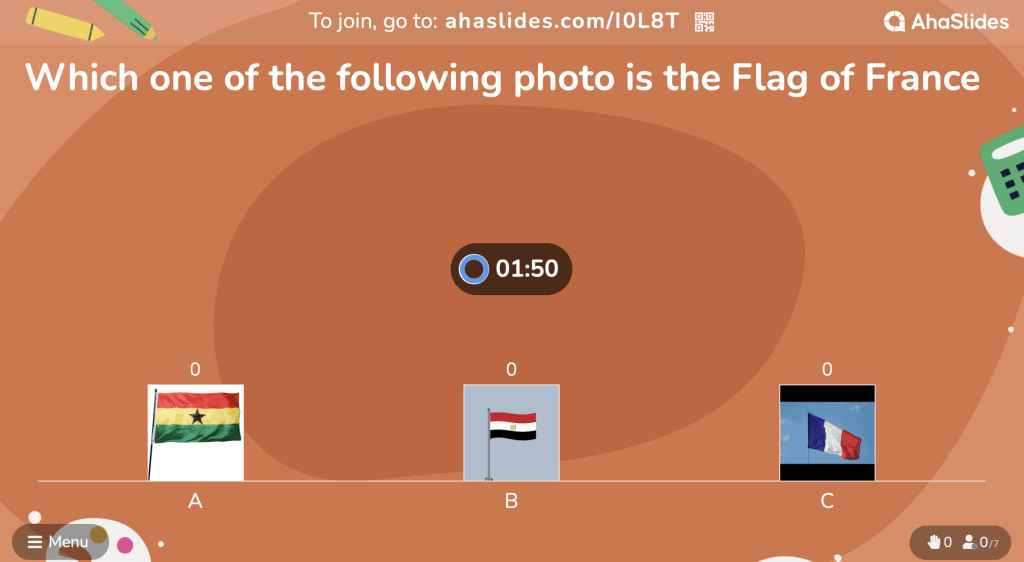 Geography Treasure Hunt Games
People love treasure hunting game for many reasons, one of obvious reason is that it is interactive games and stimulate positive emotions and brainstorming. It consumes a bit time and effort to create a fun and thrilling treasure hunt game both online and offline. For online version, you can use ẠhaSlides interactive slides to create treasure hunt challenge. Simply input pictures and information about the places that you want your classmates or students to discovery, set the rule and ask other to follow the hint to find out the correct answer. To make it for interesting, you should choose world ancient heritage sites which are famous for many mysteries and legends.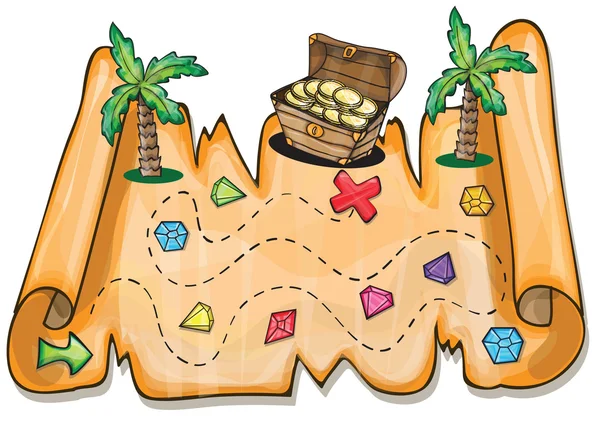 World Geography Games Quizzes
Do you know many students find Geography difficult to study? It is not totally true, if we can have better access studying Geography in more fun and attractive, there will be no longer that hard. A best way to learn is doing the quizzes frequently. Make the quizzes is a part of journey exploring and you are the traveller, put what you want to learn attached with well-known destinations and sites or great people is amazing learning method. If you don't know how to start, you can take a look on AhaSlides Geography trivia quizzes.
Takeaways
If you are struggling creating new fun games and quizzes for different classroom activities, you can think of World Geography Games. With these best 5 World Geography Games idea above, your classmates and students will so happy and excited to join. Create your own quizzes and games is easy and simple, especially with AhaSlides useful and handy features.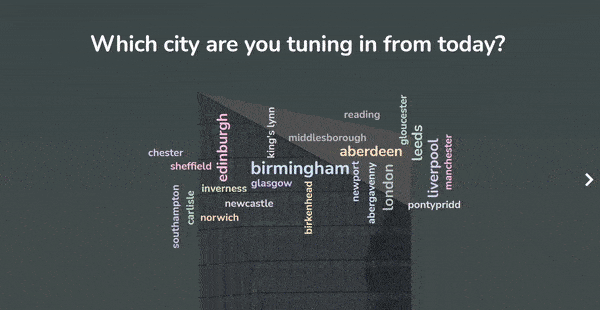 Start in seconds.
Get any of the above examples as templates. Sign up for free and take what you want from the template library!
🚀 Free Quiz Templates