Moving beyond traditional static PowerPoint slides, multimedia presentations employ a powerful blend of images, audio, video and interactivity to illuminate your talk in the best way possible.
In this blog post, we'll explore a variety of multimedia presentation examples that can make abstract concepts come alive while strengthening vital communication abilities.
Table of Contents
More Alternatives with AhaSlides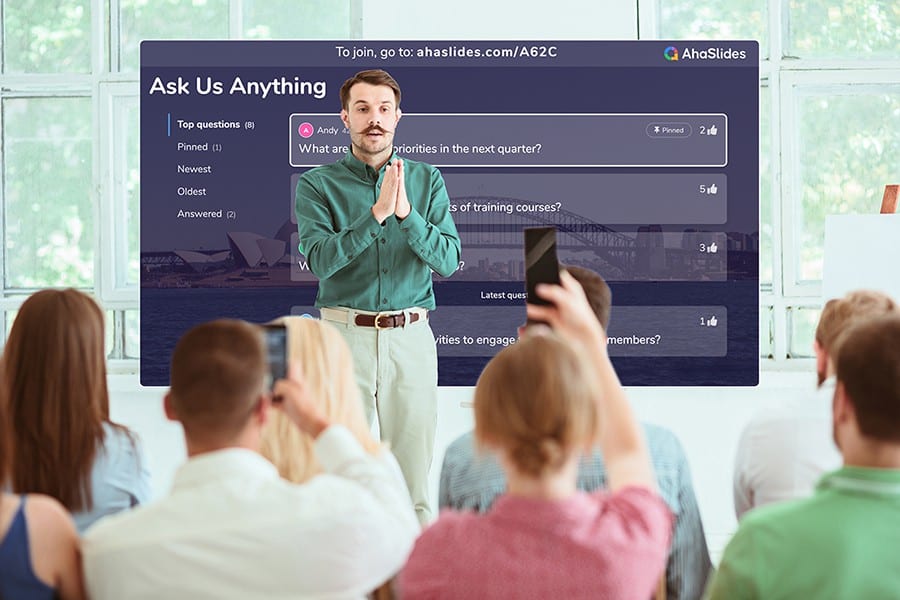 Looking for More Fun During Gatherings?
Gather your team members by a fun quiz on AhaSlides. Sign up to take free quiz from AhaSlides template library!
🚀 Grab Free Quiz☁️
What is a Multimedia Presentation?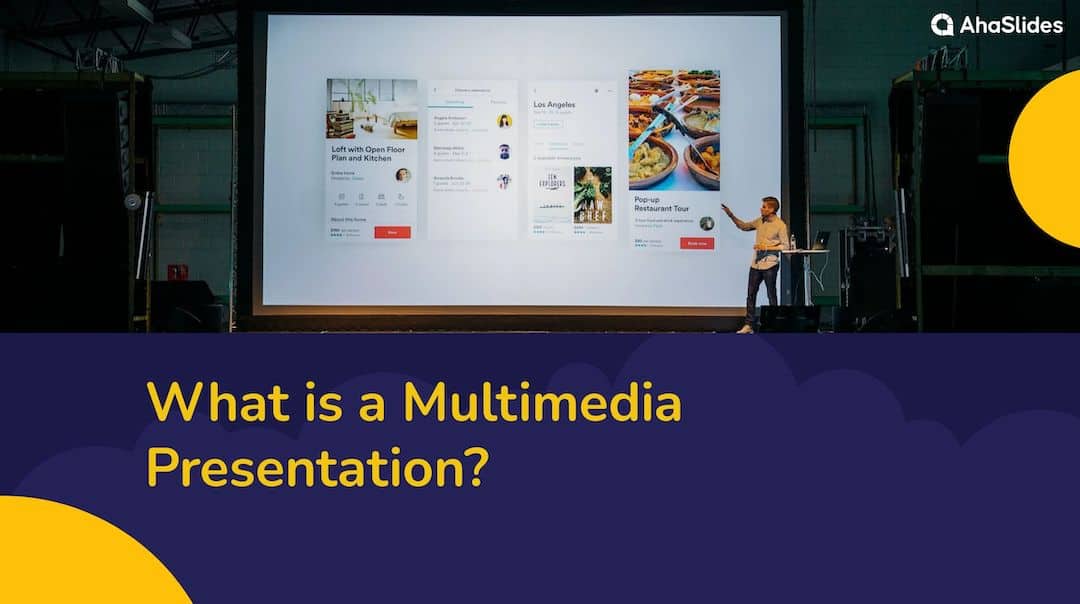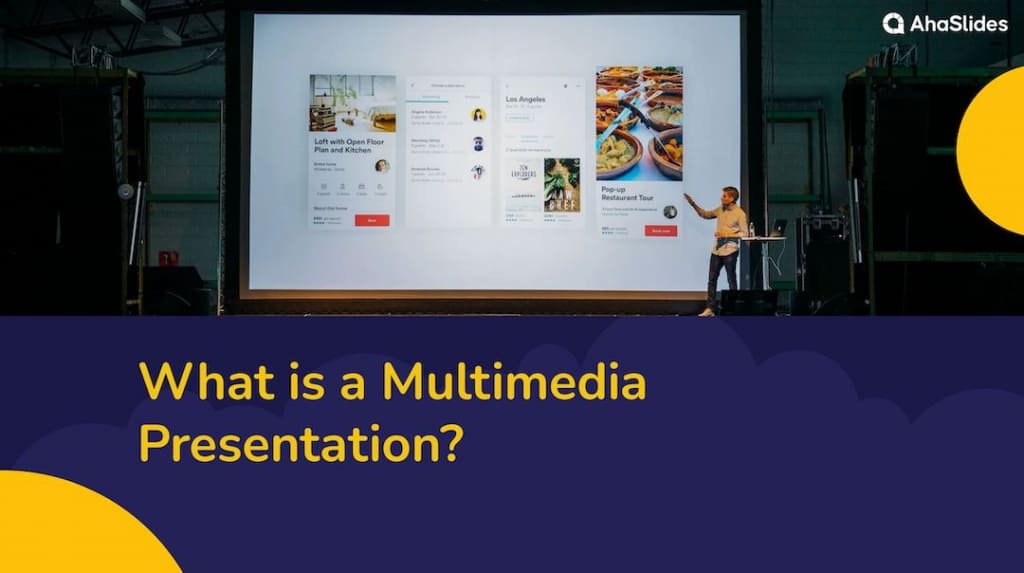 A multimedia presentation is a presentation that uses multiple digital media formats and interactive elements like images, animations, video, audio, and text to convey a message or information to an audience.
Unlike a traditional slide-based presentation, it incorporates various media types like interactive slides, quizzes, polls, video clips, sounds, and such. They engage the audience's senses beyond just reading slides of text.
They can be effectively used in classrooms to enhance students' interests, business presentations, employee onboarding or conferences.
How to Create a Multimedia Presentation
Making a multimedia presentation is simple with these 6 simple steps:
#1. Determine your goal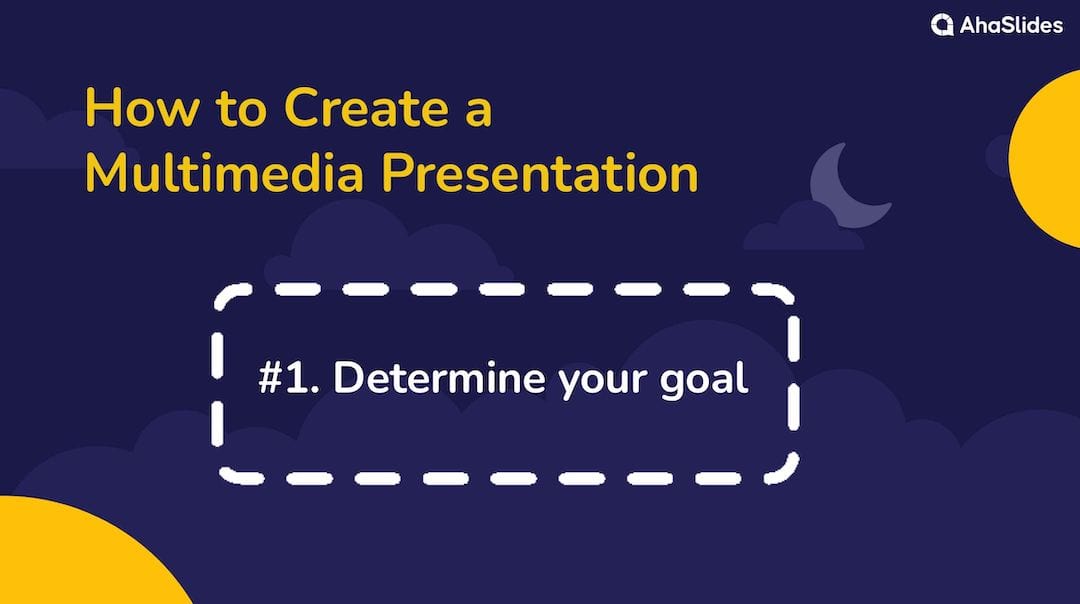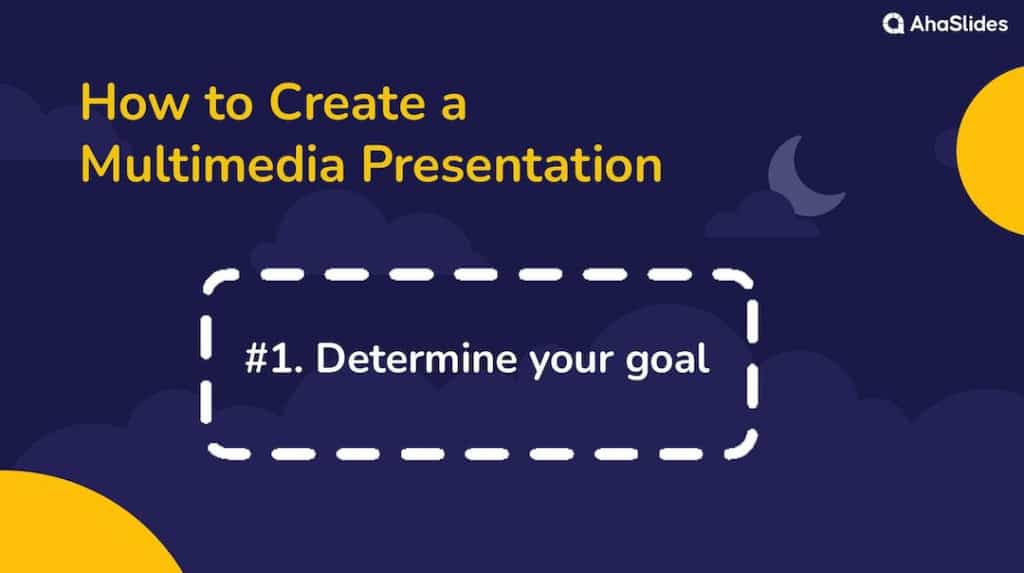 Clearly define the purpose of your presentation – Is it to inform, instruct, motivate, or sell an idea?
Consider your audience, their backgrounds and prior knowledge so you can choose a focused concept or idea to present rather than try to cover too much.
Draw in viewers' attention with a few words about what they will learn, and a 1-2 sentence summary of your central idea or argument to make your message clear.
You can start with an intriguing question related to your topic that snags their curiosity from the outset, such as "How might we design more sustainable cities?"
#2. Choose a presentation platform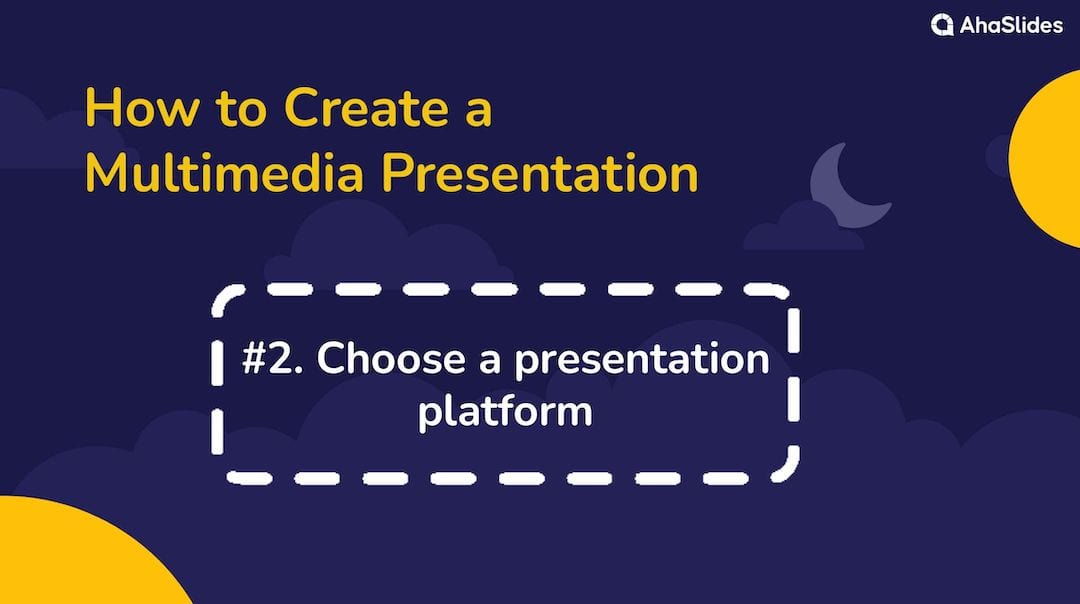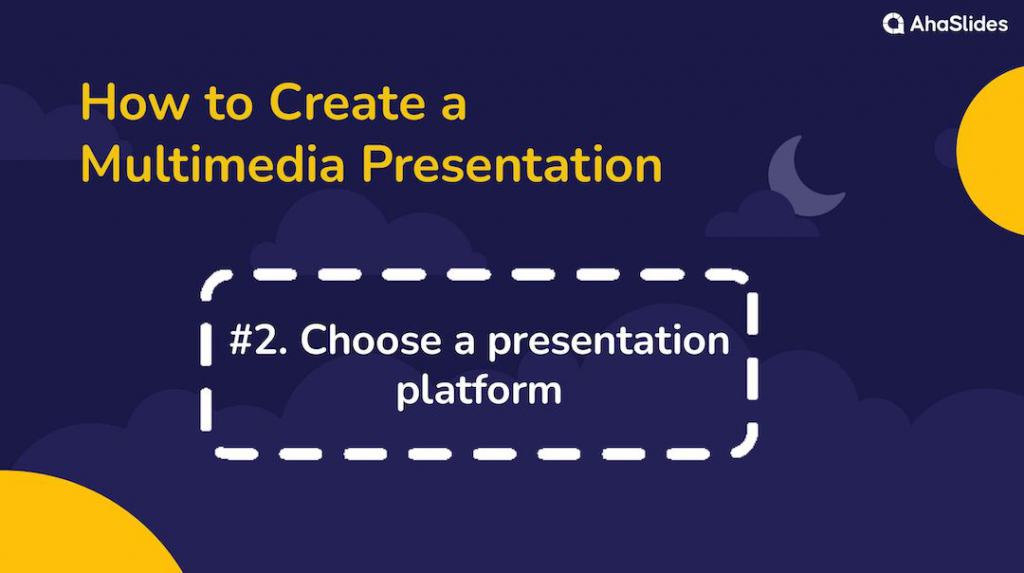 Consider your content – What media types will you use (text, images, video)? Do you need fancy transitions? A Q&A slide to address all the concerns?
If you are presenting remotely or some parts of the presentation require the use of the audience's devices, check if your platform and file type can display properly cross-device. Test on different devices to see how the presentation looks across varying screen sizes/resolutions.
Things like templates, animation tools, and interactivity levels vary greatly between options, so you'll also need to evaluate each of them.
Communicate Effectively with AhaSlides
Make your presentation genuinely fun. Avoid boring one-way interaction, we'll help you with everything you need.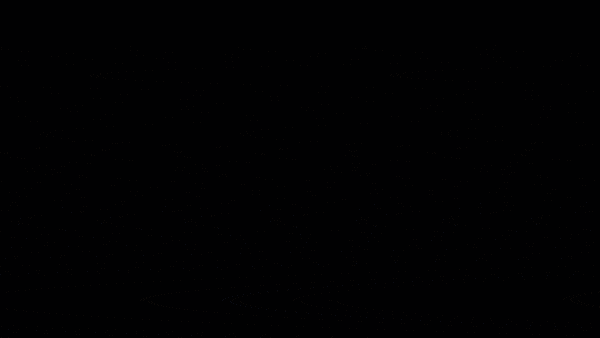 #3. Design slides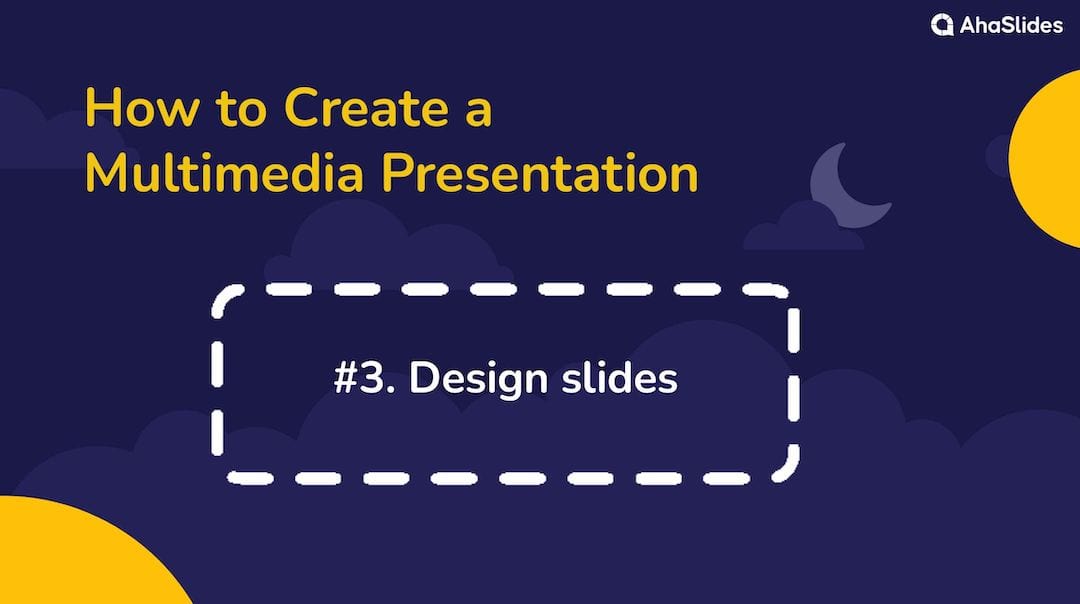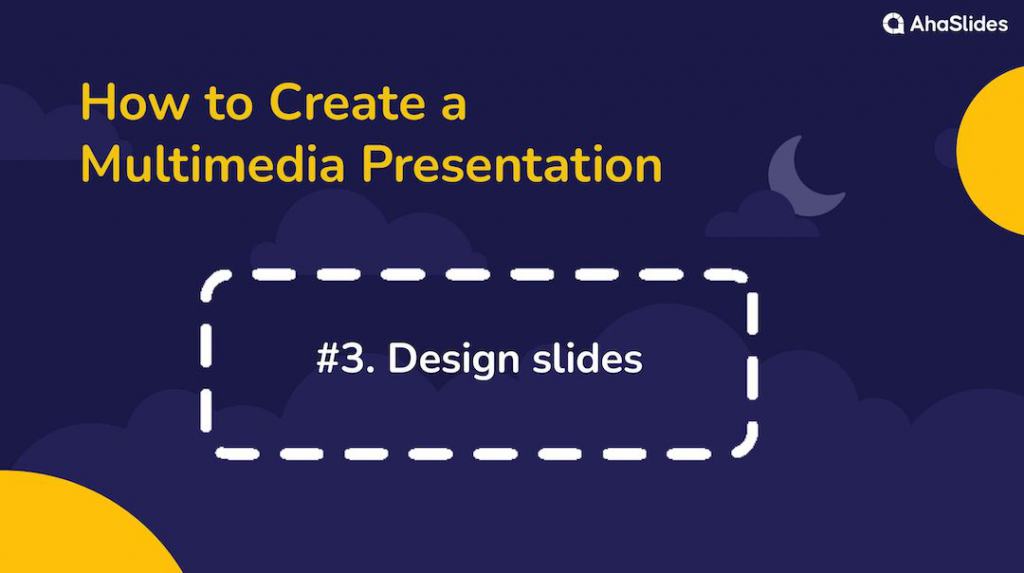 After you've laid out the content, it's time to move to the design. Here are the general components for a multimedia presentation that "wow" the audience:
Layout – Use consistent formatting with placeholders for consistency. Vary 1-3 content zones per slide for visual interest.
Colour – Choose a limited colour palette (max 3) that coordinates nicely and won't be distracting.
Imagery – Include high-resolution photos/graphics that help illustrate points. Avoid clip art and credit sources if possible.
Text – Keep wording concise using a large, easy-to-read font. Multiple short bullet points are better than walls of text.
Hierarchy – Differentiate headings, subtext, and captions using size, colour, and emphasis for visual hierarchy and scannability.
White space – Leave margins and don't cram content by utilising negative space for ease on the eyes.
Slide background – Use backgrounds sparingly and ensure readability with sufficient colour contrast.
Branding – Include your logo and school/company marks professionally on template slides as applicable.
#4. Add interactive elements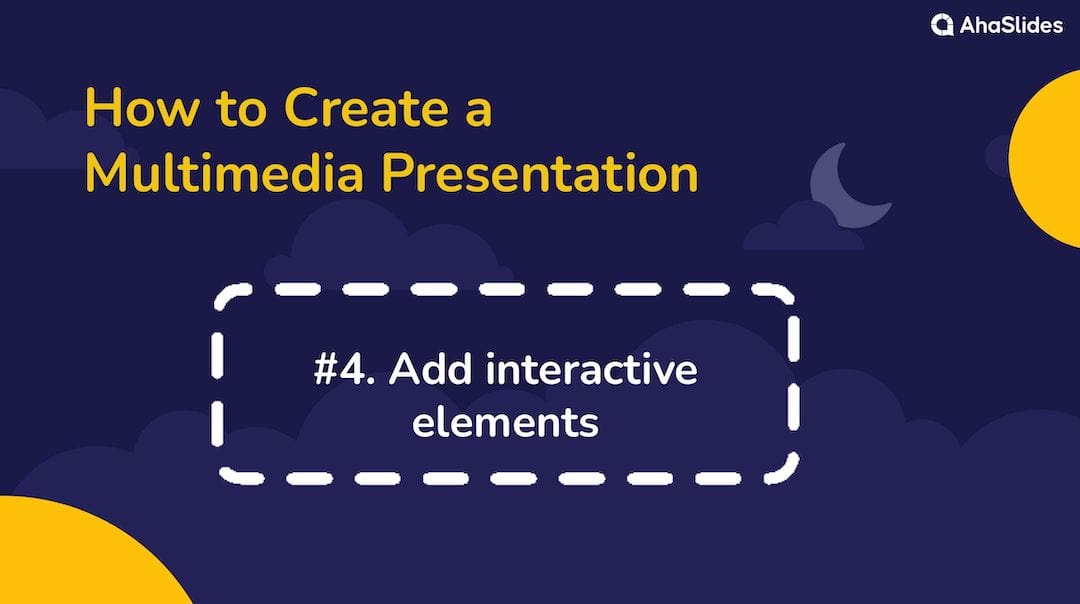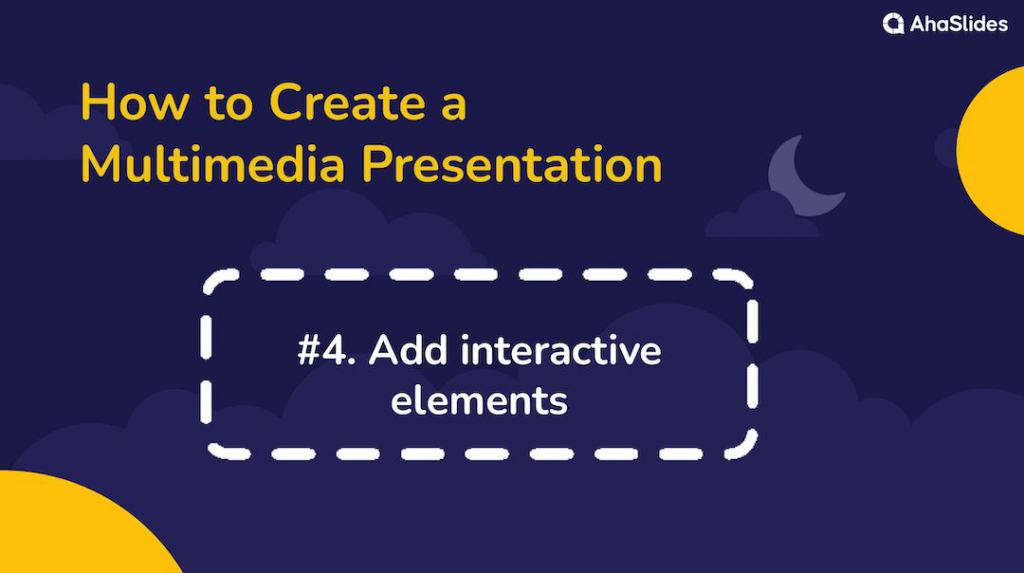 Here are some engaging ways to include interactive elements in your multimedia presentation:
Spark debates with polling: Pose thought-provoking questions and let viewers "vote" on their choices in AhaSlides' real-time polls. See the results revealed and compare viewpoints.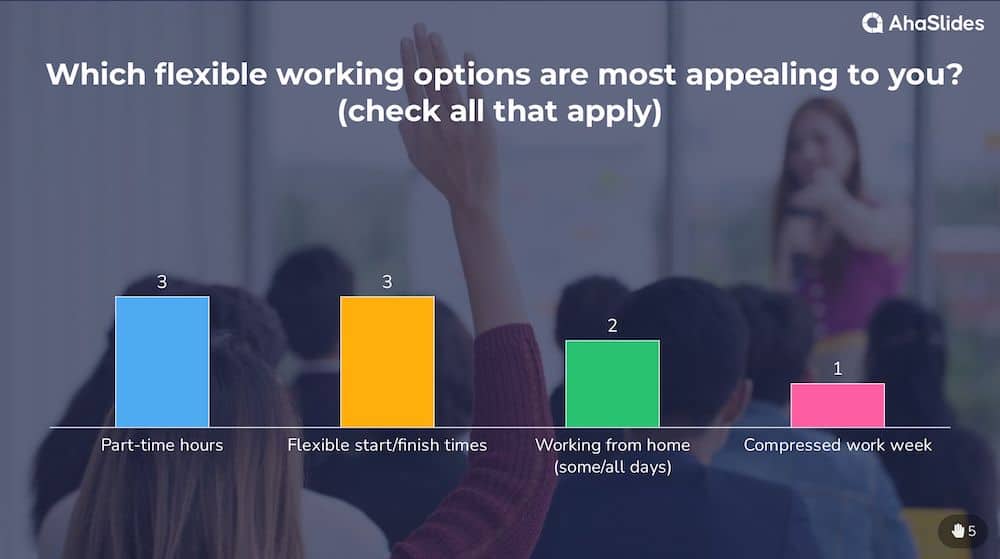 Stimulate discussions with breakouts: Pose an open question and split viewers into random "discussion groups" using breakout rooms to exchange perspectives before reconvening.
Level up learning with games: Make your content competitive and fun through quizzes with leaderboards, scavenger hunt-style slide activities with prizes, or interactive case study simulations.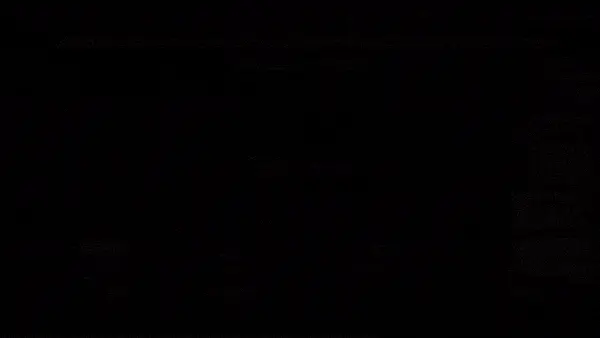 Getting hands-on with interactive polls, collaborative exercises, virtual experiences and discussion-based learning keeps all minds fully engaged throughout your presentation.
#5. Practice delivery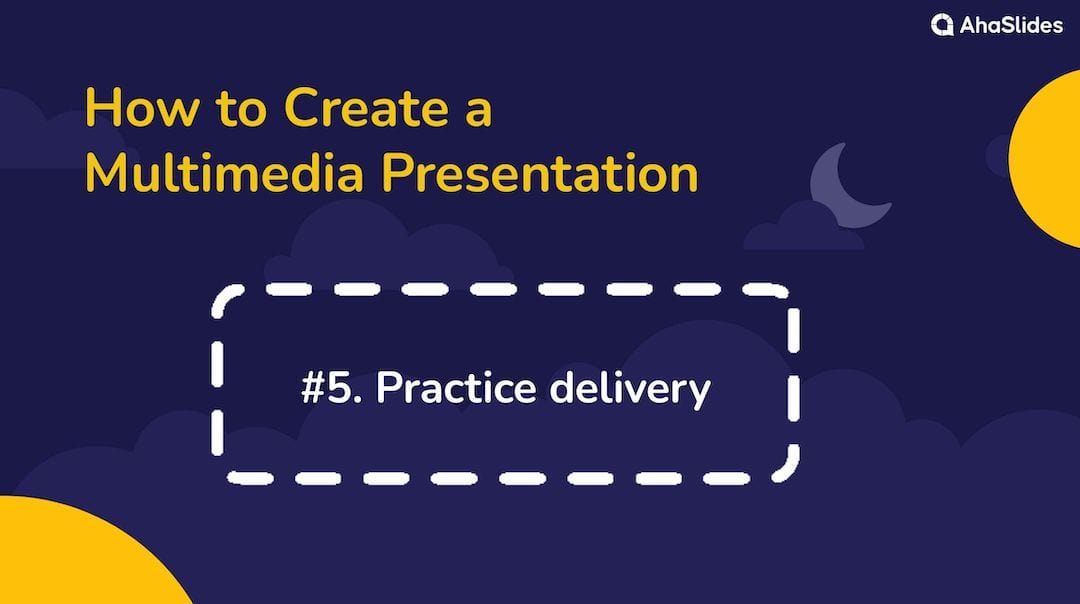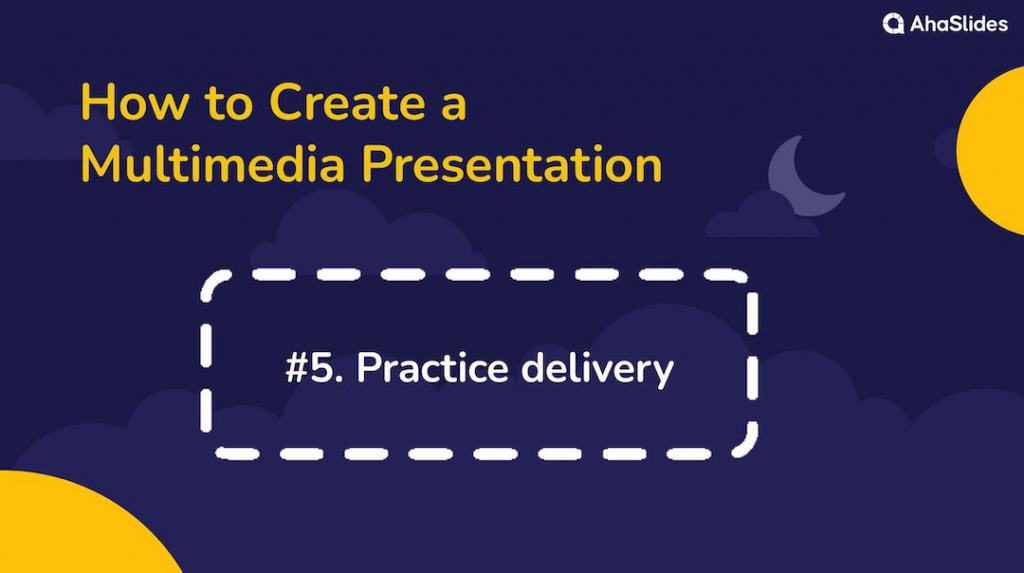 Smoothly moving between slides and media elements is critical. Practice your flow and use cue cards if needed to cover all the vital points.
Run through your presentation from start to finish with all technology (audio, visuals, interactivity) to troubleshoot.
Solicit reviews from others and integrate their recommendations into your delivery approach.
The more you rehearse out loud, the more confidence and composure you'll have for the big show.
#6. Gather feedback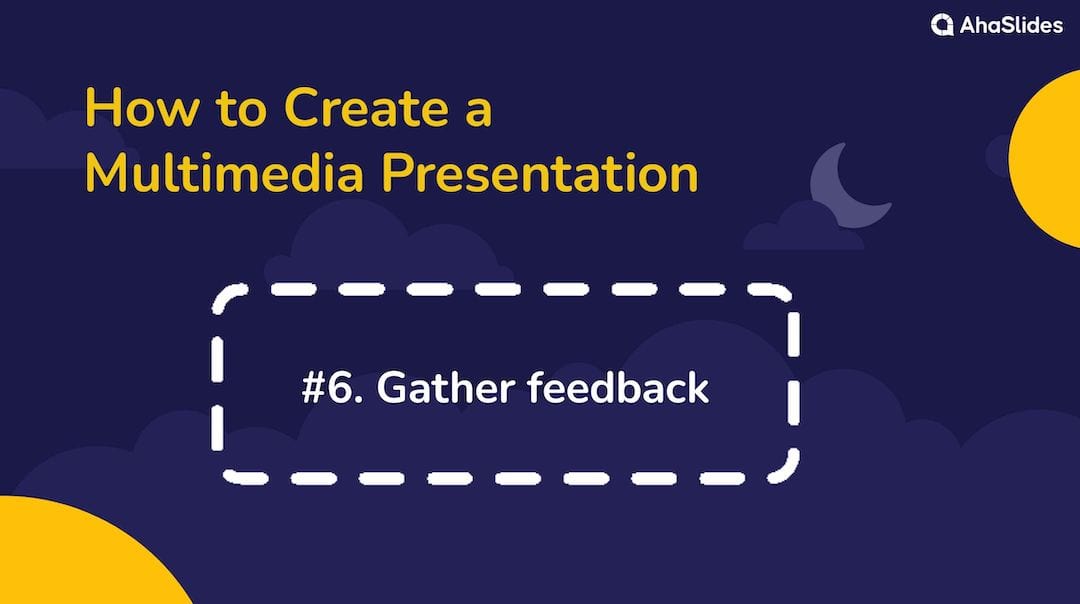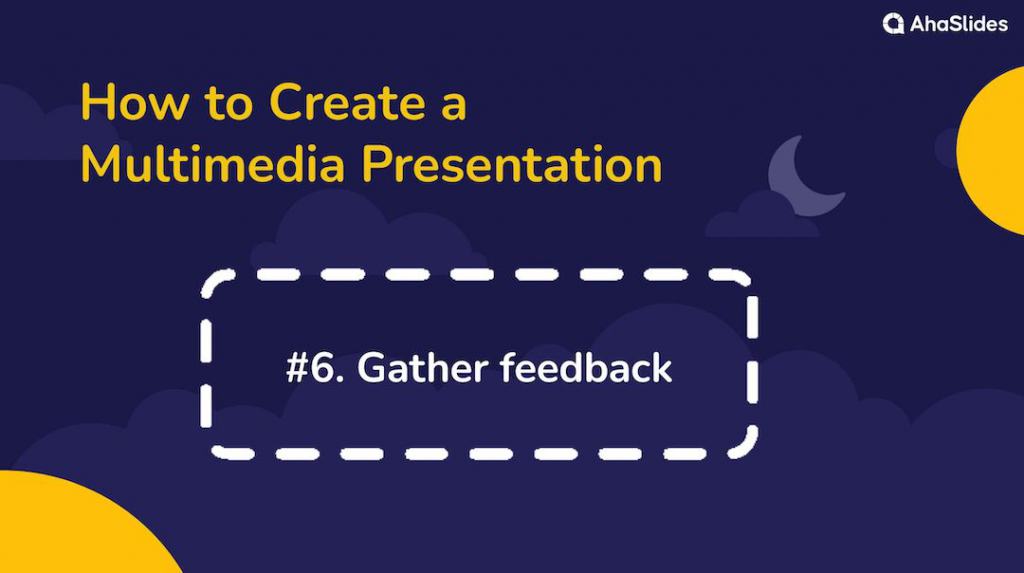 Pay attention to looks of interest, boredom, and confusion expressed through body language.
Pose live polling questions during the presentation on understanding, and engagement levels.
Track what interactions like Q&A or surveys reveal about interest and comprehension, and see which slides viewers interact with most post-event.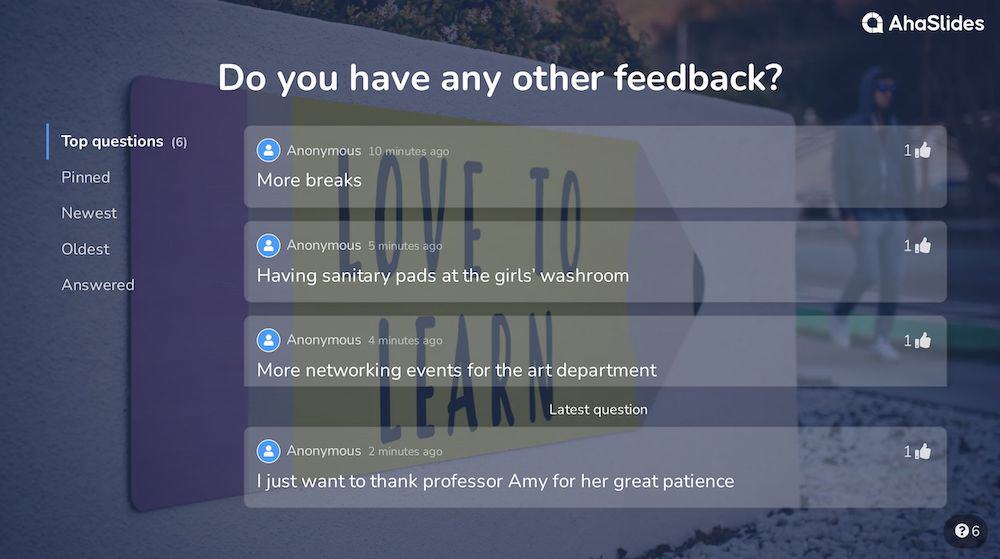 The audience feedback will help you refine your skills as a presenter over time.
Multimedia Presentation Examples
Here are some multimedia presentation examples that spark creativity and generate discussions you should check:
Example #1. Interactive Poll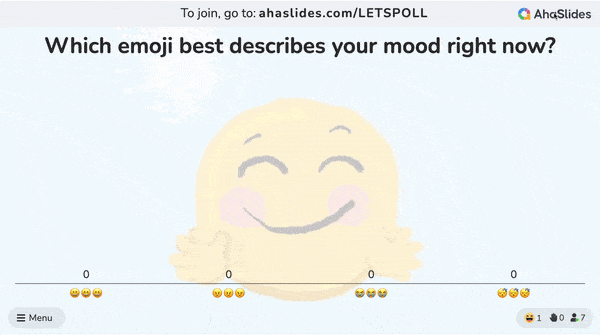 Polls enhance interactivity. Break up blocks of content with a quick poll question to encourage participation.
Polling questions can also spark discussion and get people invested in the topic.
Our polling tool can help the audience interact through any device. You can create a lively presentation on AhaSlides alone, or integrate our polling slide to PowerPoints or Google Slides.
Example #2. Q&A section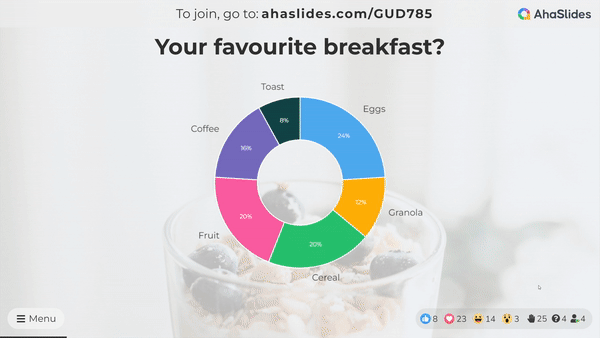 Asking questions makes people feel involved and invested in the content.
With AhaSlides, you can insert the Q&A throughout the presentation so the audience can submit their questions anonymously at any time.
The questions you've addressed can be marked as answered, leaving room for upcoming questions.
A back-and-forth Q&A creates a more lively, interesting exchange versus one-way lectures.
Example #3: Spinner wheel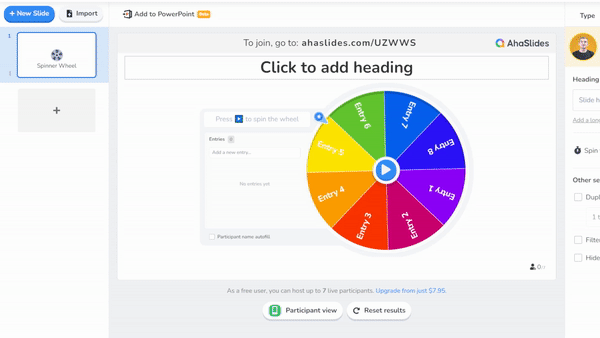 A spinner wheel is useful for game-show style questions to test understanding.
The randomness of where the wheel lands keeps things unpredictable and fun for both the presenter and the audience.
You can use AhaSlides' spinner wheel to pick questions to answer, designate a person, and raffle draw.
Example #4: Word cloud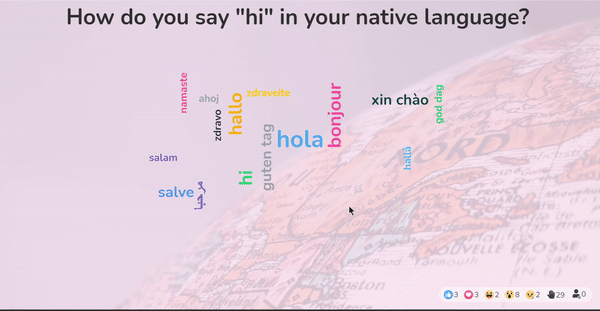 A word cloud lets you pose a question and lets the participants submit short-word answers.
The size of the words correlates to how frequently or strongly they were emphasised, which can spark new questions, insights or debate among attendees.
The visual layout and lack of linear text work well for those who prefer visual mental processing.
AhaSlides' word cloud feature lets your participants submit their answers through their devices with ease. The result is displayed instantly on the presenter's screen.
Key Takeaways
From interactive polls and Q&A sessions to animated slide transitions and video elements, there are countless ways to incorporate engaging multimedia components into your next presentation.
While flashy effects alone won't save a disorganised presentation, strategic multimedia use can bring concepts to life, spark discussion and create an experience people will remember long after.
Frequently Asked Questions
What is an example of a multimedia presentation?
An example of a multimedia presentation can be embedded GIFs for a more lively animated slide.
What are the 3 types of multimedia presentation?
There are three main types of multimedia presentations: linear, non-linear and interactive presentations.