What are the Visual Presentation Examples? For many people, delivering a presentation is a daunting project, even before it turns to hybrid and virtual displays due to the pandemic. To avoid the Death By PowerPoint phenomenon, it is time to adopt new techniques to make your presentations more visual and impressive.
This article tries to encourage you to think outside of the slide by providing essential elements of a successful visual presentation, especially for the new presenter and those who want to save time, money, and effort for the upcoming presentation deadline.
Table of Contents
How AhaSlides Supports a Good Visual Presentation
As mentioned before, you need a presentation tool to make your presentation more visual and engaging. The art of leveraging visual elements is all intended visual aids make sense and kick off audiences' imagination, curiosity, and interest from the entire presentation.
The easiest way to create interaction between the presenter and the audience is by asking for rhetorical and thought-provoking quizzes and quick surveys during the presentation. AhaSlides, with a range of live polls, interactive questions, image questions, creative fonts, and integration with streaming platforms can help you to make a good visual presentation in just a second.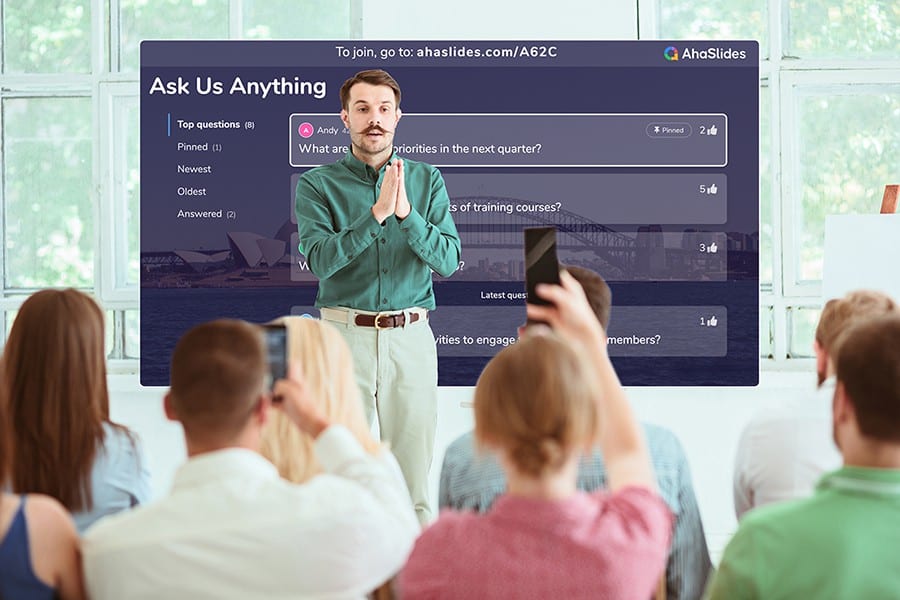 Start in seconds.
Get free templates for your next interactive presentation. Sign up for free and take what you want from the template library!
🚀 Grab Free Account
Overview
| | |
| --- | --- |
| What are visual presentation examples? | Infographics, photographs, videos, diagrams, graphs, and charts. |
| Why do presenters use presentation aids? | Presentation aids allow the audience to understand clearly and easily the information. |
What is The Visual Presentation?
So, what are the visual presentation examples? When providing as much information as possible, many presenters think that text-heavy slides may help, but by contrast, they may lead to distraction. As we explore the characteristics of good presentations, illustrations and graphics play an important role to deliver compelling content and turn complex concepts more clearly, precisely, and instantly to understand. A Visual presentation is the adoption of a range of visual aids on presentation to ensure information is easier to understand and memorize.
In addition, visual aids can also help to keep presenters on track, which can be used as a cue for reviving a train of thought. They build better interaction and communication between presenters and the audience, making them notice more deeply what you are saying.
What is Visual Presentation Examples Types?
Some possible visual presentations include infographics, charts, diagrams, posters, flipcharts, whiteboards, and video presentation examples.
An infographic is a collection of different graphic visual presentations to represent information, data, or knowledge intended more visually quickly and clearly to grab the audience's attention.
To illustrate quantitative data effectively, it is important to make use of graphs and charts. For both business use and research use, graphs and charts can show multiple and complex data in a way that is easy to understand and memory.
When it comes to presenting information systematically and logically, you can use diagrams. A diagram is a powerful tool for effective communication and brainstorming processes. It also is time-saving for people to read and collect information.
A Poster, especially a research project poster, provides brief and concrete information about a research paper straightforwardly. The audiences can grab all important data and knowledge and findings through posters.
A flipchart and whiteboard are the most basic presentation aids and work best to supplement lecture slides. Excellent whiteboard and flipchart composite of well-chosen words, and clear diagram will help to explain complex concepts.
A video presentation is not a new concept, which is a great way to spread ideas lively and quickly attract the audience's attention. The advantages of a video presentation lie in its animation and illustration concepts, fascinating sound effects, and user friendly.
In addition, we can add many types of visual aids in the presentations as long as they can give shapes and form words or thoughts into visual content. Most popular visual aids include graphs, statics, charts, and diagrams that should be noted in your mind. These elements combined with verbal are a great way to engage the listeners' imagination and also emphasize vital points more memorable.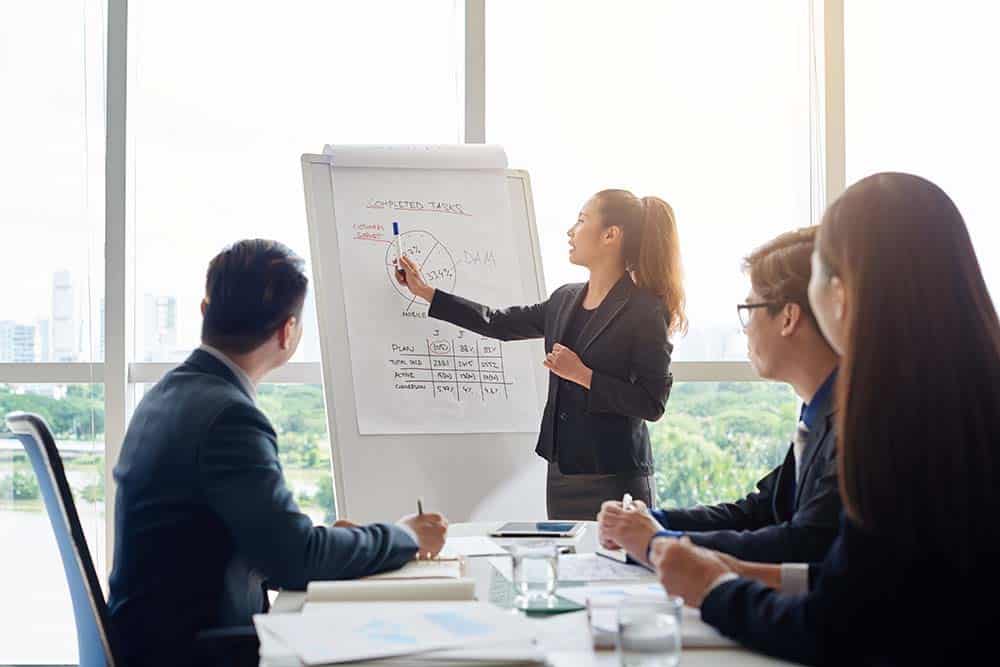 How to Create a Visual Presentation?
It is simply to create more visual presentations than you think. With the development of technology and the internet, you can find visual presentation examples and templates for a second. PowerPoint is a good start, but there are a variety of quality alternatives, such as AhaSlides, Keynote, and Prezi.
When it comes to designing an effective visual presentation, you may identify some key steps beforehand:
Visual Presentation Examples – Focus on your topic
Firstly, you need to determine your purpose and understand your audience's needs. If you are going to present in a seminar with your audience of scientists, engineers, business owners… They are likely to care about data under simple charts and graphs, which explain the results or trends. Or if you are going to give a lecture for secondary students, your slides should be something fun and interesting, with more colourful pictures and interactive questions.
Visual Presentation Examples – Animation and Transition
When you want to add a bit of excitement to a slideshow and help to keep the listener more engaged, you use animation and transition. These functions help to shift the focus of audiences between elements on slides. When the transition style and setting are set right, it can help to give fluidity and professionalism to a slideshow.
Visual Presentation Examples – Devices for interactivity
One of the approaches that improve communication between audiences and the use of visual aid is using technology assistance. You don't want to take too much time to create well-designed visual aids while ensuring your presentation is impressive, so why not leverage a presentation app like AhaSlides? It properly encourages participant engagement with interactive visual features and templates and is time-saving. With its help, you can design your presentation either formally or informally depending on your interest.
Visual Presentation Examples – Give an eye-catching title
Believe it or not, the title is the most essential part of attracting audiences at first sight. Though don't "read the book by its cover", you still can put your thoughts into a unique title that conveys the topic while piquing the viewer's interest.
Visual Presentation Examples – Play a short video
Creative video presentation ideas are always important. "Videos evoke emotional responses", it will be a mistake if you don't leverage short videos with sound to reel in and captivate the audience's attention. You can put the video at the beginning of the presentation as a brief introduction to your topic, or you can play it as a supplement to explain difficult concepts.
Visual Presentation Examples – Use a prop or creative visual aid to inject humour
It is challenging to keep your audience interested and engaged with your audience from the whole presentation. It is why to add a prop or creative visual aid to pull your audience's focus on what you say. Here are some ideas to cover it:
Use neon colour and duotones
Tell a personal story
Show a shocking heading
Use isometric illustrations
Go vertical
Visual Presentation Examples – Rehearsal and get feedback
It is an important step to make your visual presentation really work out. You won't know any unexpected mirrors may come out on D-day if you don't make the rehearsal and get feedback from a reliable source. If they said that your visual image is quality or the data is overwhelming, or the pictures are misunderstood, you can have an alternative plan in advance.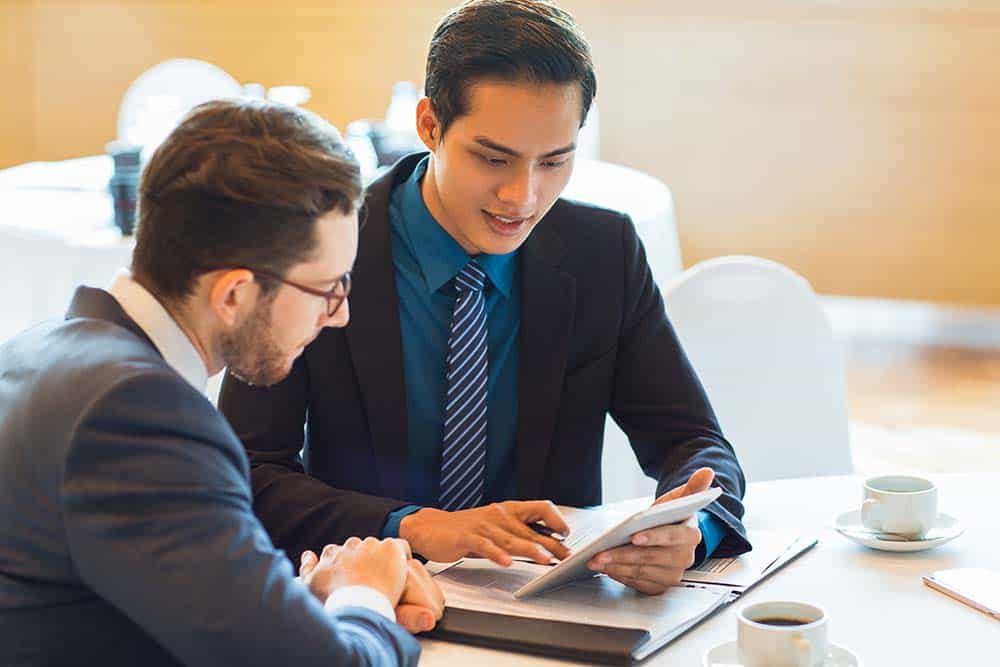 What Makes a Good Presentation Visual?
Incorporate visual or audio media appropriately. Ensure you arrange and integrate suitable data presentation in your slides or videos. You can read the guidelines for visual aids applications in the following:
Choose a readable text size about the slide room and text spacing in about 5-7 doubted-spaced.
Use consistent colour for overall presentation, visual aids work better in white yellow and blue backgrounds.
Take care of data presentation, and avoid oversimplification or too much detail.
Keep the data shown minimum and highlight really important data points only.
Choose font carefully, keep in mind that lowercase is easier to read than uppercase
Don't mix fonts.
Printed text is easier to read than handwritten text.
Use the visual to emphasize punctuation in your verbal presentation.
Say no to poor-quality images or videos.
Visual elements need to be strategic and relevant.
FAQ
Frequently Asked Questions
---
Got a question? We've got answers.
To make an effective visual aid, you must follow principles of design, including contrast, alignment, repetition, and proximity.
Simple ads helps to keep things clear and understandable, so the message can be communicated effectively.
To encourage learning process and make it easier and more interesting, so students would want to engage to lessons more.