It's a joy to celebrate your love!
Looking for your perfect wedding games that express your happiness and exhilaration? So, what are some great wedding games ideas to play in the Wedding?
These 18 Wedding games ideas will definitely liven up your greatest event and entertain the guests! There are numerous outdoor and indoor wedding games waiting for you to pick up. Adding some fun games to your wedding reception can be an excellent way to create long-lasting memorable moments that every guest can't stop talking about.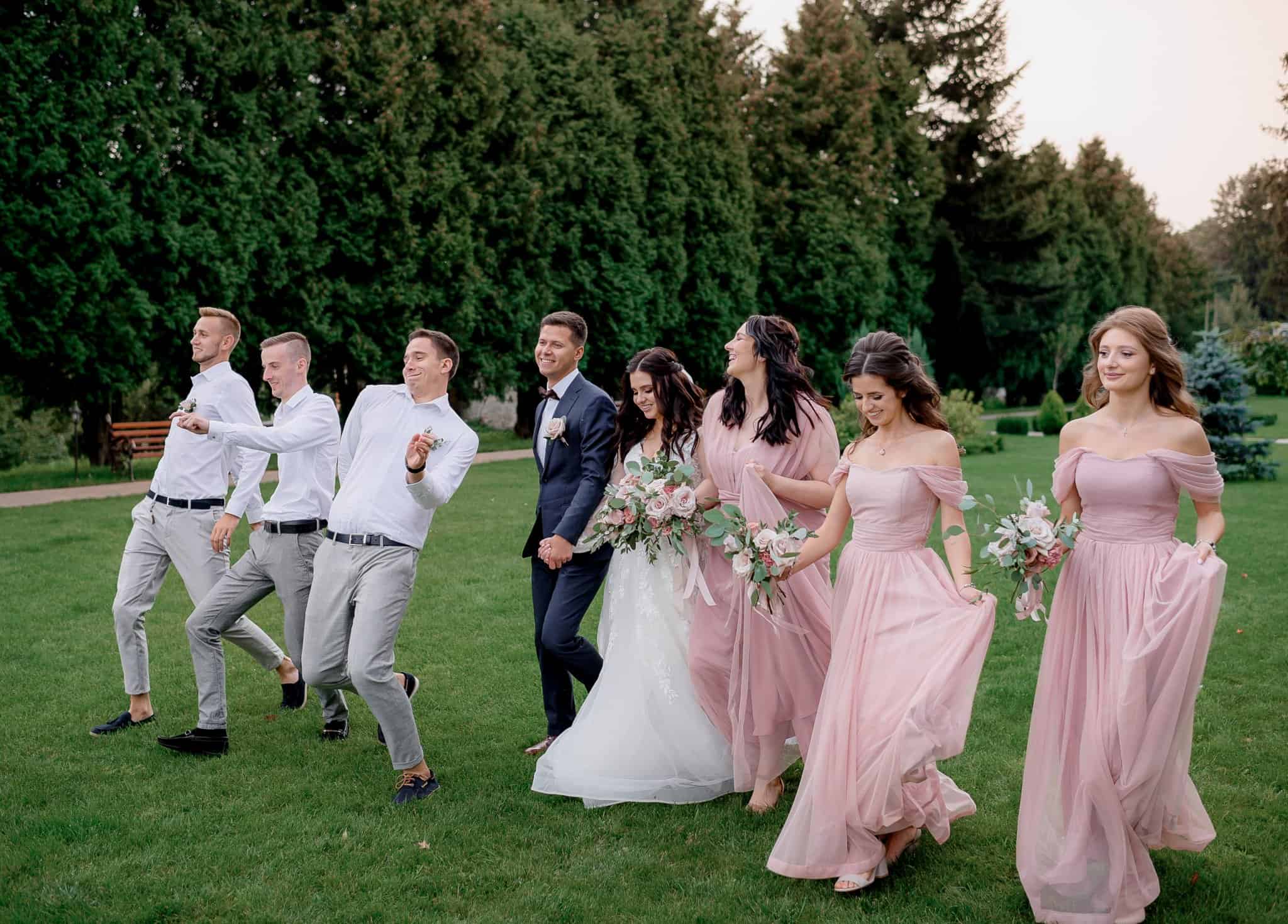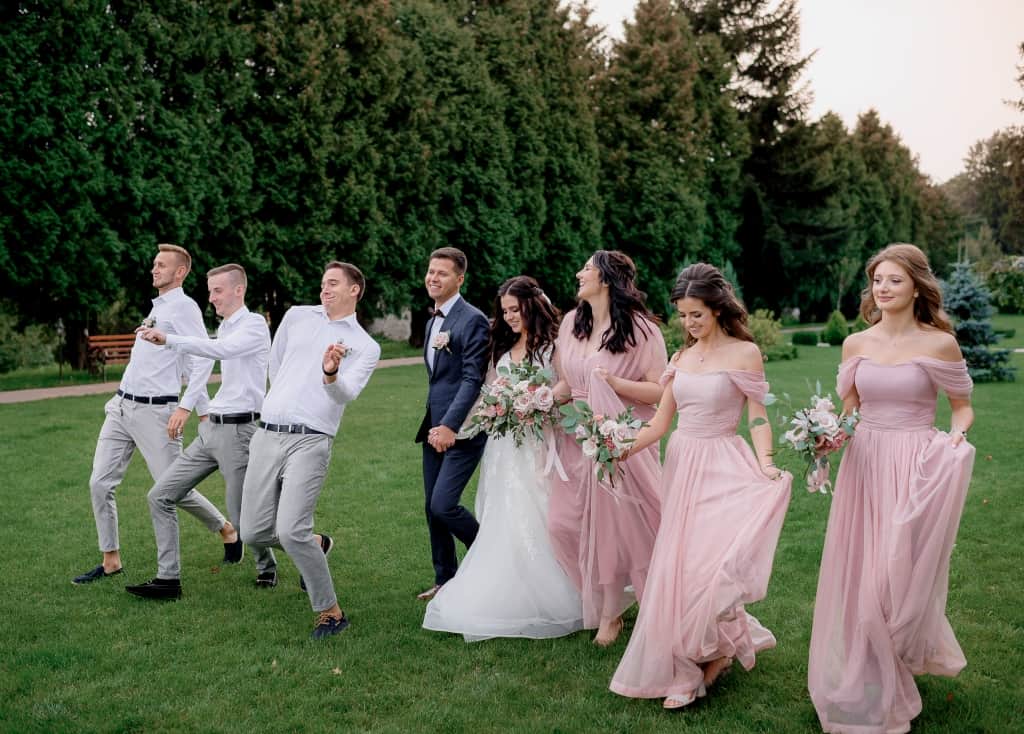 Table of Contents
Tips for Better Engagement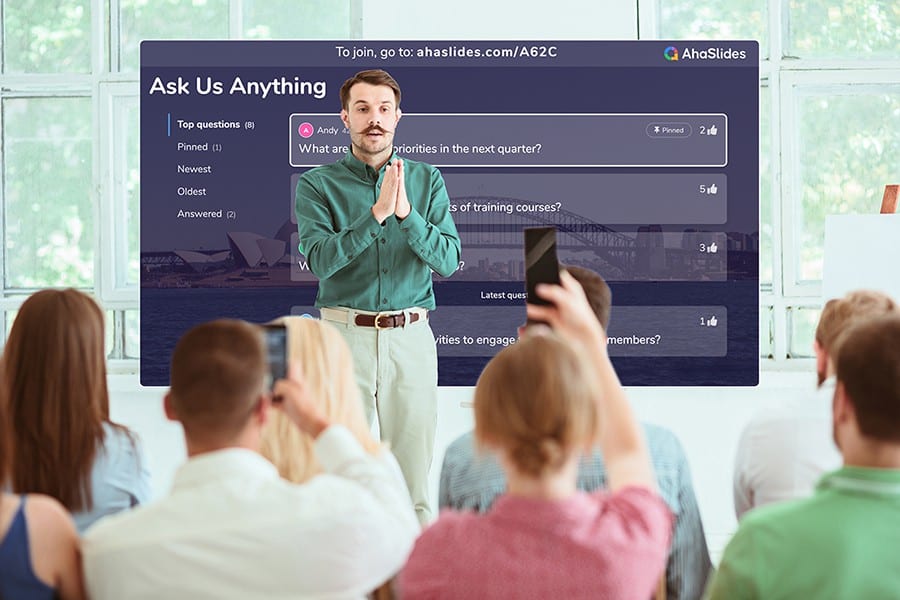 Make Your Wedding Interactive With AhaSlides
Add more fun with best live poll, trivia, quizzes and games, all available on AhaSlides presentations, ready to engage your crowd!
🚀 Sign Up for Free
Overview
| | |
| --- | --- |
| How many games should be played in a wedding? | 2 – 4 games, depending on the length of the wedding. |
| When should you play games at a wedding? | Either when the party starts or after the meal. |
Overview of wedding games.
#1. Wedding Trivia
One of the top wedding games ideas that every groom and bridal loves to add to their wedding is Wedding Trivia. Preparing trivia questions about you and your partner won't take much effort. Questions can include where you were engaged, favorite activities, inquiries related to your wedding venue, and more.
Tips: Don't forget to utilize presentation tools like AhaSlides to customize your wedding trivia, shoe game questions, or newlyweds games, and invite everyone to join with just a click.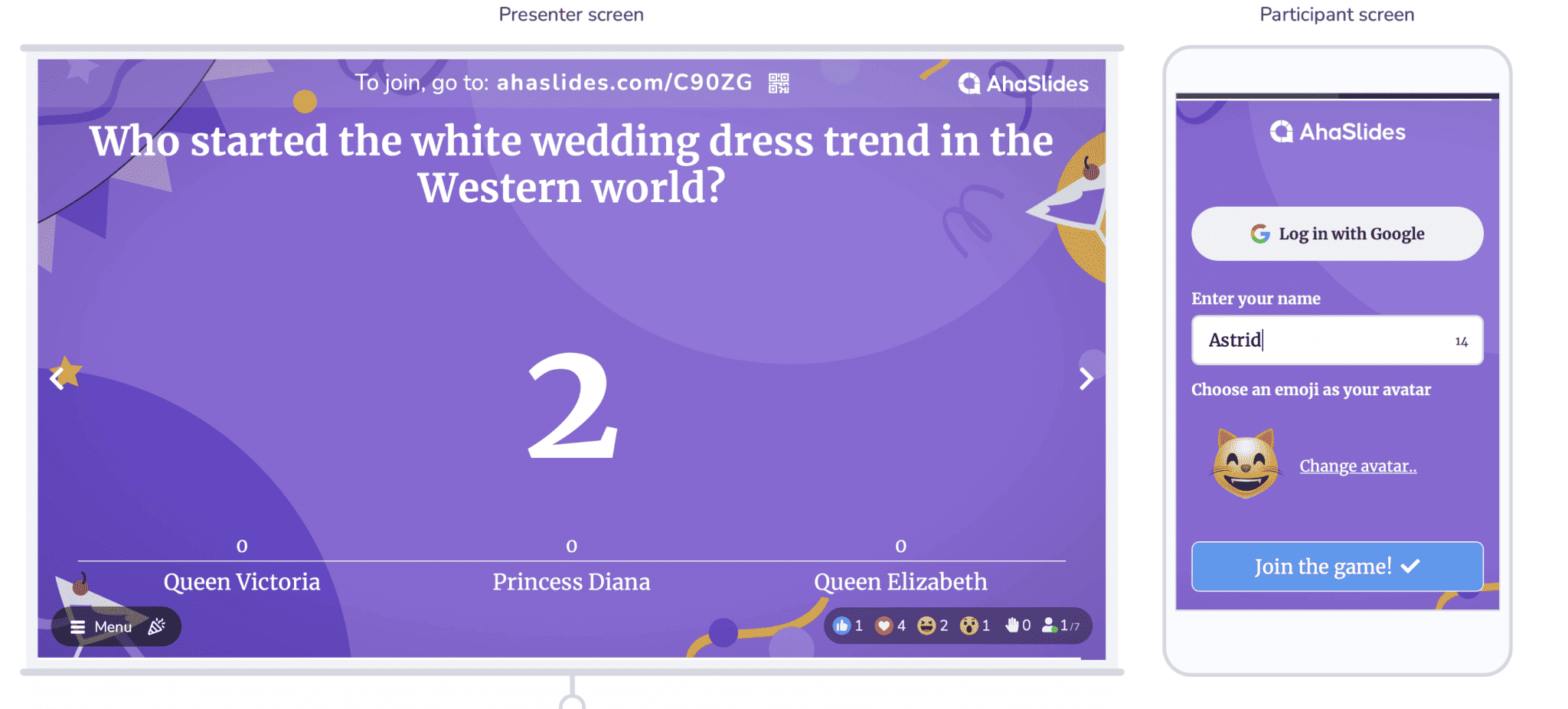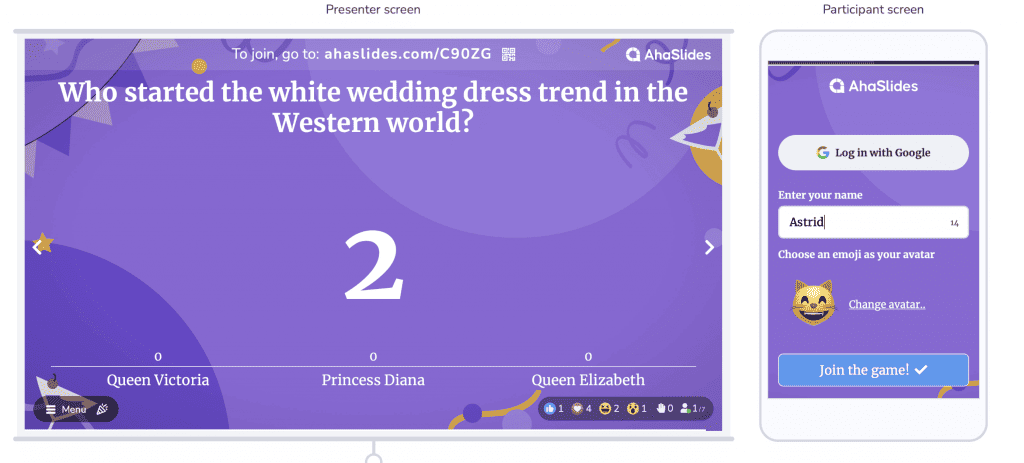 #2. Wedding Olympics
Are you a fan of the Olympics? It can be the greatest wedding game idea ever! You can organize a series of mini-games or challenges, such as ring toss, bean bag toss, or a three-legged race. Then, assign teams and record scores to determine the winners of the wedding Olympics.
#3. Photo Scavenger Hunt
How to get everyone snapping? Wedding games ideas like Photo Scavenger Hunt can encourage interaction among guests and capture unique and memorable moments. Guests can create teams by using the same camera like an instant camera or their smartphone, to capture wedding moments following the list of specific moments or objects related to the wedding, which the newlyweds provide.
#4. Wedding Bingo
One of the best wedding game ideas, the Bridal shower bingo game edition can satisfy any guest without age limits. The easiest way is to design customized bingo cards featuring wedding-related words or phrases. Guests can mark off squares as they spot these elements throughout the evening.
#5. Giant Jenga
Looking for wedding reception game ideas for guests? How can we forget Giant Jenga, one of some super fun wedding games ideas to shake up the atmosphere? You can set up a giant Jenga tower for guests to play during the reception. As the tower grows taller and more precarious, it creates a sense of anticipation and friendly competition among your guests.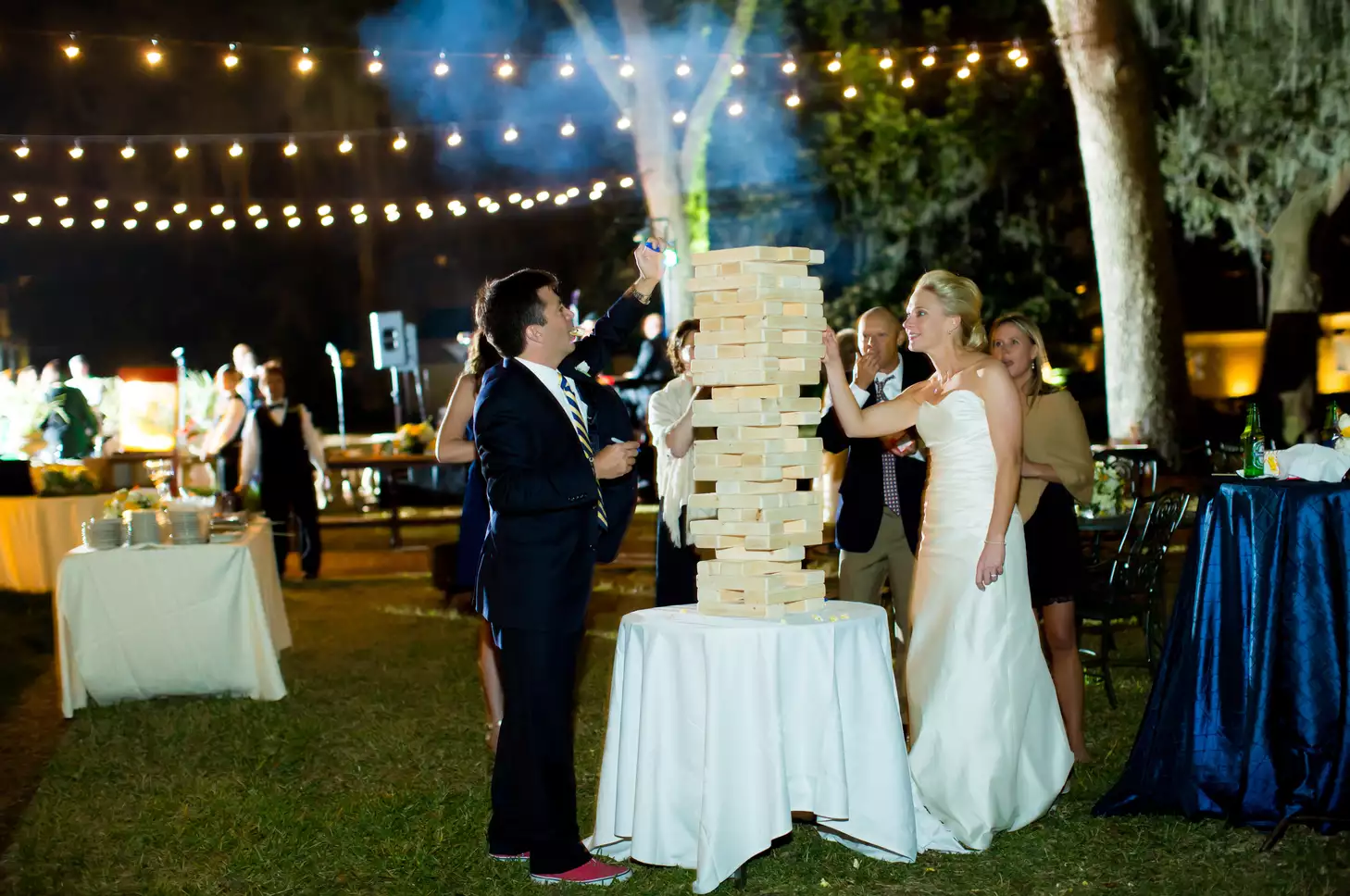 #6. Blindfolded Wine Tasting
Blindfolded wine tasting is one of the uniquely interactive and lively wedding games that encourages guests to explore their senses. With eyes covered, participants rely solely on taste, smell, and texture to identify different wines. Who knows, there might be some hidden sommelier in your midst without noticing it!
#7. Wedding Table Games
For indoor weddings, wedding games ideas like Table Games can be a great addition to keep guests entertained. Some good wedding reception table games can plan out wedding versions like tic-tac-toe, monopoly, Scattergories, Yahtzee, Scrabble, dominoes, poker, etc.
#8. Wedding Lawn Games
Wedding lawn games are fantastic wedding games ideas for any outdoor wedding celebration. These games offer a perfect blend of entertainment and enjoyment for guests of all ages. From classic favorites to unique twists, wedding lawn games such as cornhole, bocce ball, croquet, and ladder toss, are always popular choices for wedding fun activities due to their easy preparation.
#9. Tug of War
Who says wedding games cannot be physically engaging? Outdoor Wedding games ideas like Tug of War can be a competitive and spirited game that creates an entertaining spectacle for both participants and spectators. Set up small teams and find a suitable outdoor spot with enough room for the teams to face each other.
#10. Who Am I?
How to make everyone connect with each other? The answer is simple, try wedding games ideas like "Who Am I". As one of the most fun wedding games for guests, it can be a fantastic icebreaker for your celebration. What to do: Print out or stick pictures of famous couples on the backs of guests as they arrive. Throughout the reception, guests can ask yes-or-no questions to figure out who they are.
#11. Pictionary: Wedding Edition
Pictionary: Wedding Edition is a customized version of the classic drawing and guessing game that adds a wedding theme to the gameplay. How to prepare: Provide large easel pads or whiteboards and have guests draw wedding-related phrases or moments. Others can guess the answers, making it a hilarious and engaging game. Don't forget to rotate the roles of drawer and guesser within each team for each round, allowing everyone to participate and showcase their drawing skills.
#12. The Wedding Shoe Game
What is the best groom and bridal shower game? Apparently, when it comes to love wedding games, the Wedding Shoe game is the greatest. This wedding game idea allows the couple to showcase their knowledge of each other while engaging the guests. It needs a host to ask a series of questions about the couple, and they raise the shoe that corresponds to their answer. For example, "Who is more likely to get lost?" or "Who takes longer to get ready in the mornings?" can be a starting Shoe Game question.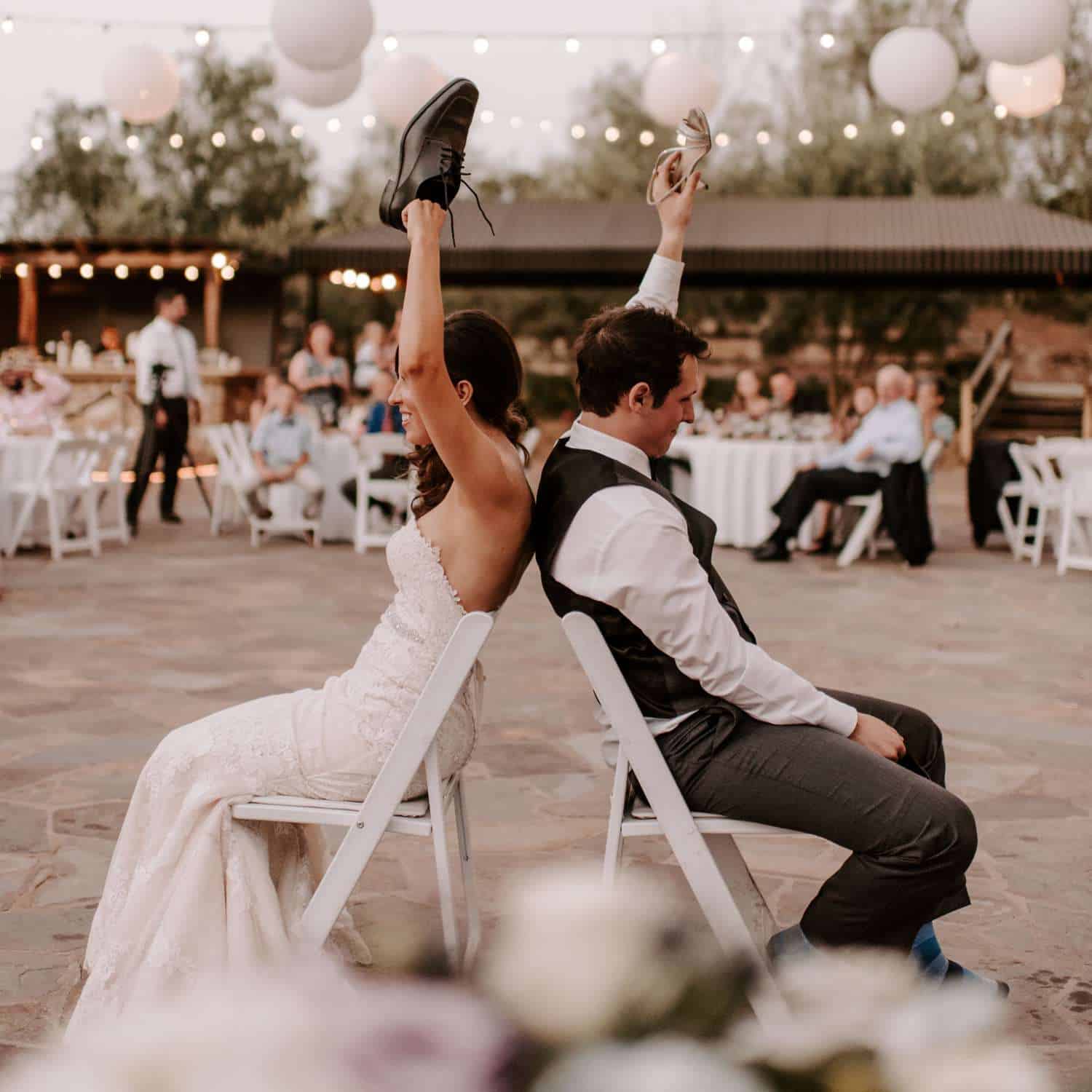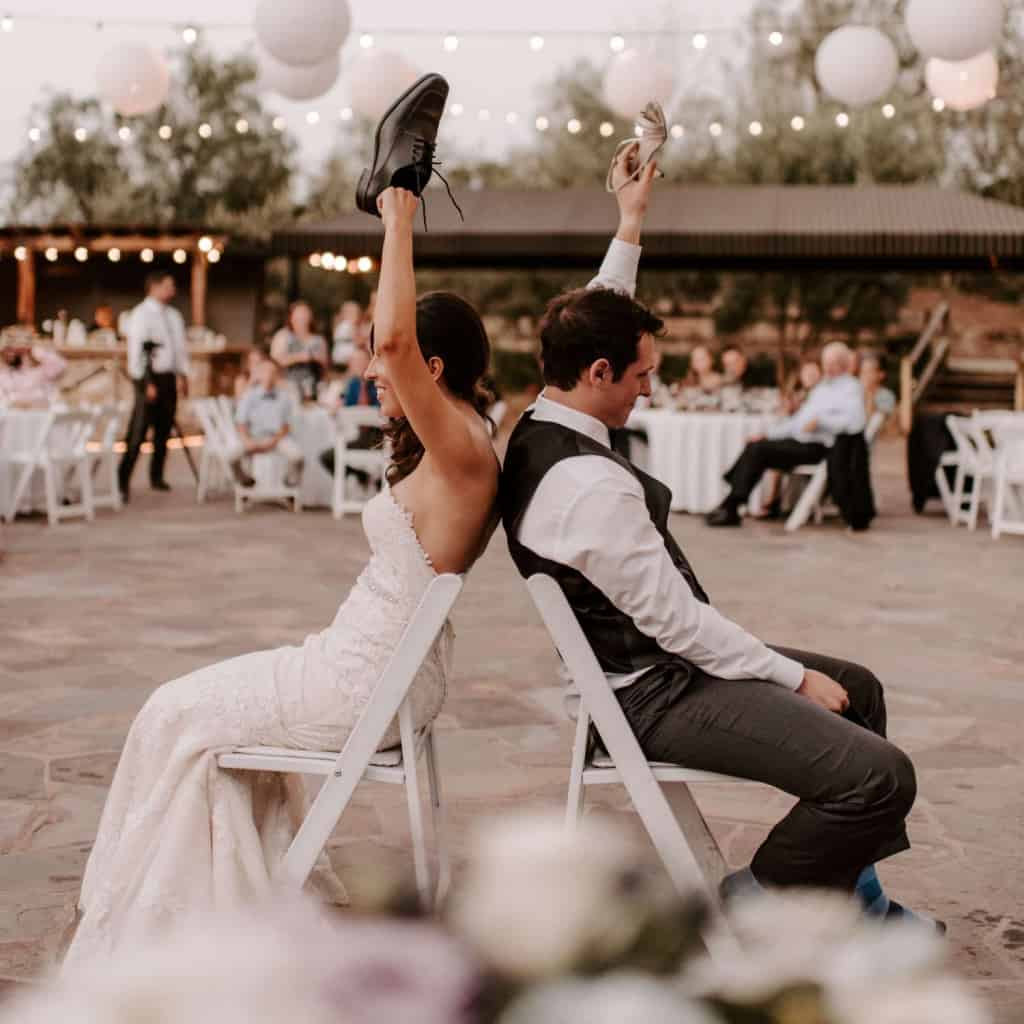 #13. Name That Tune
Who doesn't love music? A fun wedding cannot miss a game like Name That Tune. The host can prepare a playlist of popular wedding-themed and love songs. Arrange a host or a DJ to play short snippets of songs from the playlist. To add more excitement, you can introduce bonus rounds or challenges such as humming, dancing, or describing the song without using any lyrics.
#14. Hula Hoop Contest
Another fun wedding games ideas is Hula Hoop Contests. Let's set up a hula hoop challenge area where guests can compete to see who can hula hoop the longest. It's a light-hearted and active game that encourages friendly competition. Emphasize that participants must keep the hula hoop moving around their waist without using their hands to assist. If a hula hoop drops or falls, the participant is out of the contest.
#15. Beer Pong
Beer Pong can be one of the unique wedding games ideas that brings a fun and social element to the celebration. The game involves setting up cups in a triangle formation on each end of a table, with players taking turns trying to throw a ping pong ball into their opponent's cups. If successful, the opposing team drinks the contents of the cup.
#16. Musical Bouquet
Do you remember playing musical chairs during childhood? Consider it as a funny one in wedding reception game ideas for guests. Here it comes to a similar principle but with using a bouquet as a replacement. In musical bouquet challenges, people sit or stand firmly in a circle and pass around the given bouquet. When the music stops, those who have a bouquet in their hands will be eliminated. The challenge continues with each round, removing one participant at a time until only one person remains, emerging as the victor.
Frequently Asked Questions
How can I have fun at my wedding reception?
There are several ways to make your reception vibrant. Depending on your budget, you can try the following suggestions:
Have a Photo Booth
Get Fire Performers
Use a Glitter Bar
Arrange a Fireworks Display
Play Giant Jenga
Go On a Treasure Hunt
How can I make my wedding more interactive?
Following these 6 ways to make your wedding interactive and engaging:
Let everyone dance and sing together
Have a fun wedding guest book
Make light refreshment looks fun and lovely
Allow for fun IceBreakers
Prepare kid-friendly activities and games to keep them busy
Ask guests to sign their name and slip it through a slotted picture frame
How can I make my ceremony fun?
If you want your ceremony more joyful and fun, here are some recommendations;
Serve drinks before the ceremony, especially cocktails
Hire a DJ to play at your wedding ceremony to liven up the atmosphere
Have fun with the ring bearer
Mad Lib with your guests
Do you need games at a wedding?
Sure, offering wedding games to play is the best way to keep guests of all ages entertained while newlyweds are busy with other stuff such as during those moments when you and your wedding party are occupied with photography, meet-and-greets, or outfit changes.
Key Takeaways
Now that you're armed with some decent wedding game ideas, let's get started to plan your dream wedding ceremony. For couples that want to minimize the cost of wedding games, the mentioned frolics are the perfect fit. What's more? With a phone and a screen, and the AhaSlides app, you can make your wedding more fun and a one-of-a-kind life event than ever.