Hosting a corporate event is a huge thank you to employees for their hard work and dedication throughout the year. Therefore, these events should be fun and creative with activities that employees, their families, or even potential clients and shareholders can participate in.
If you are worried because you can't think of any corporate events ideas, don't worry! The activities below will come to your rescue.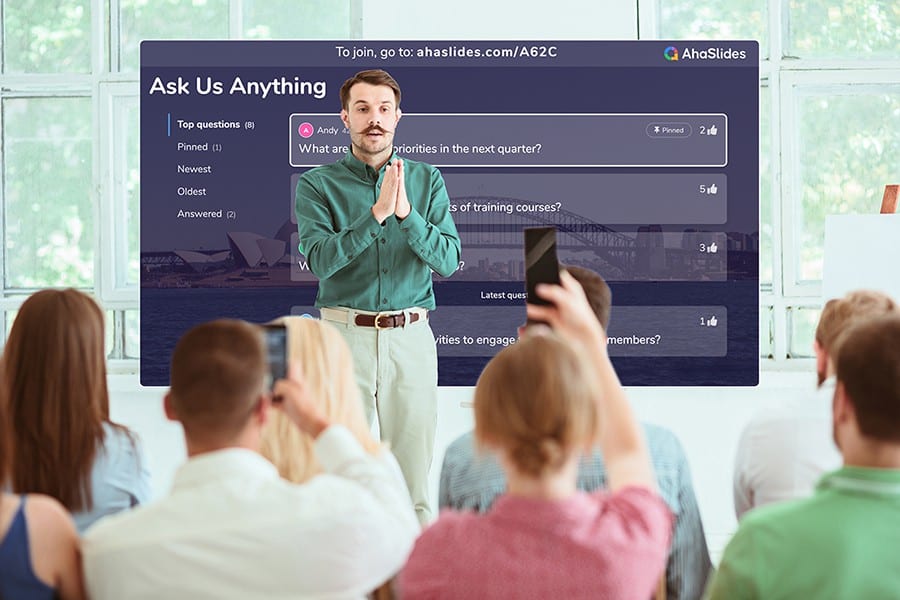 Start in seconds.
Get free templates for your corporate events! Sign up for free and take what you want from the template library!
🚀 To the clouds ☁️
Need More Inspiration?
Team Building – Corporate Events Ideas
1/ Human Knot
Human Knot is a famous game with each group playing with only 8 – 12 members to avoid "knots" that are too simple or too complicated. This game is interesting in that a team has to learn how to communicate effectively with each other and strengthen teamwork skills such as problem-solving skills, cooperation skills, and breaking down barriers as well as shyness between them.
2/ The Traps
Some people have trouble trusting others. Some find it difficult to ask for help. "The Traps" is a game to promote team trust, help members open up when working together, and practice communication skills.
The rules of the game are very simple, you just need to place "traps" (balls, water bottles, pillows, eggs, fruits, etc) scattered on the ground. Players of each group have to take turns blindfolded to get through these "traps". And the rest of the team will have to use words to guide their teammates from the starting line to the finish line without touching the traps.
The member who touches the obstacle has to return to the starting line. The first team to have all members successfully cross the minefield wins.
3/ Escape Rooms
Also, a popular game in team building activities as it requires team members to work together to win. Because every clue, fact, or information from the smallest must be linked together to give the final answer. All members of the team will observe, discuss and give the most reasonable answer to get out of the room as quickly as possible.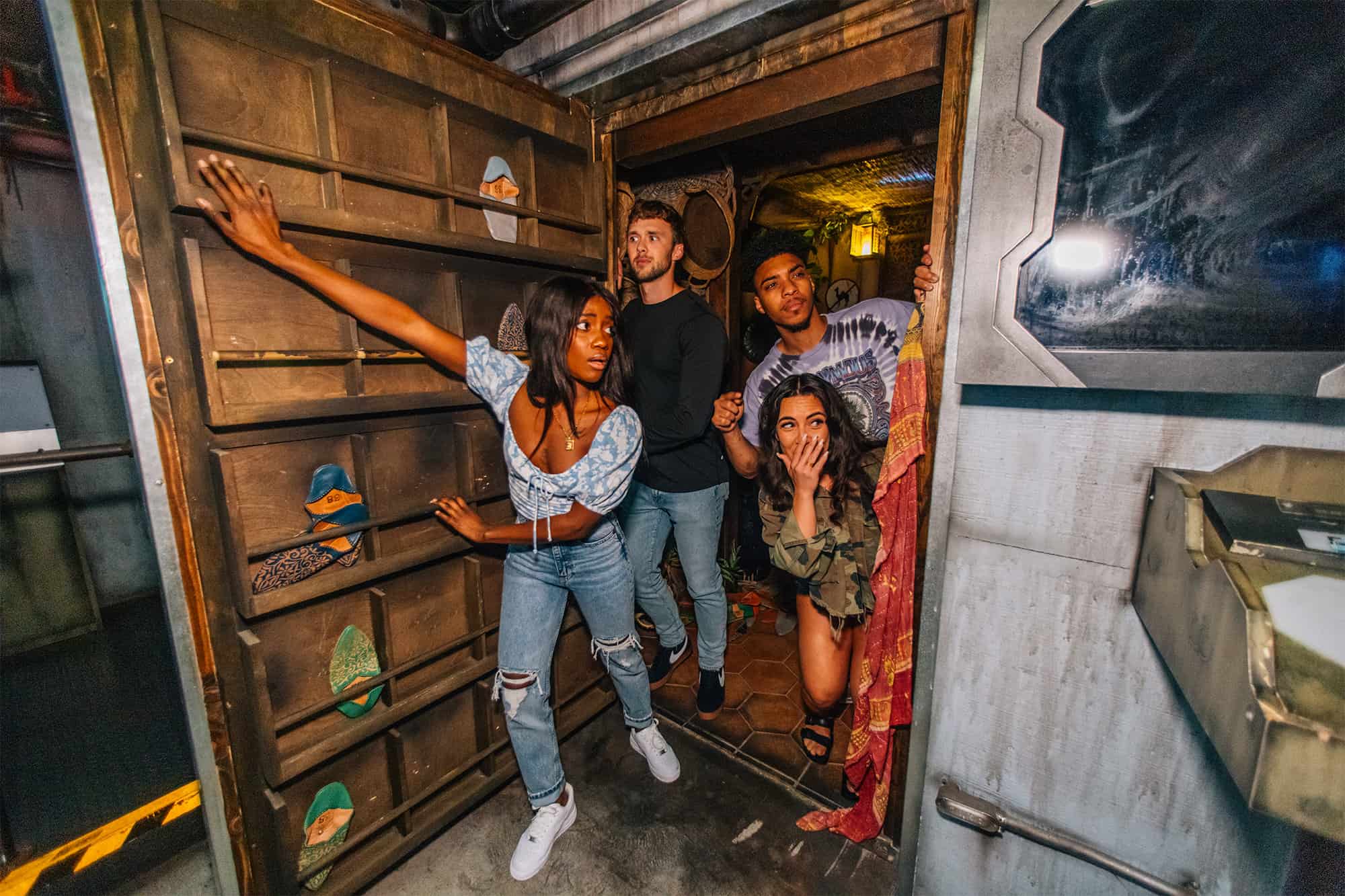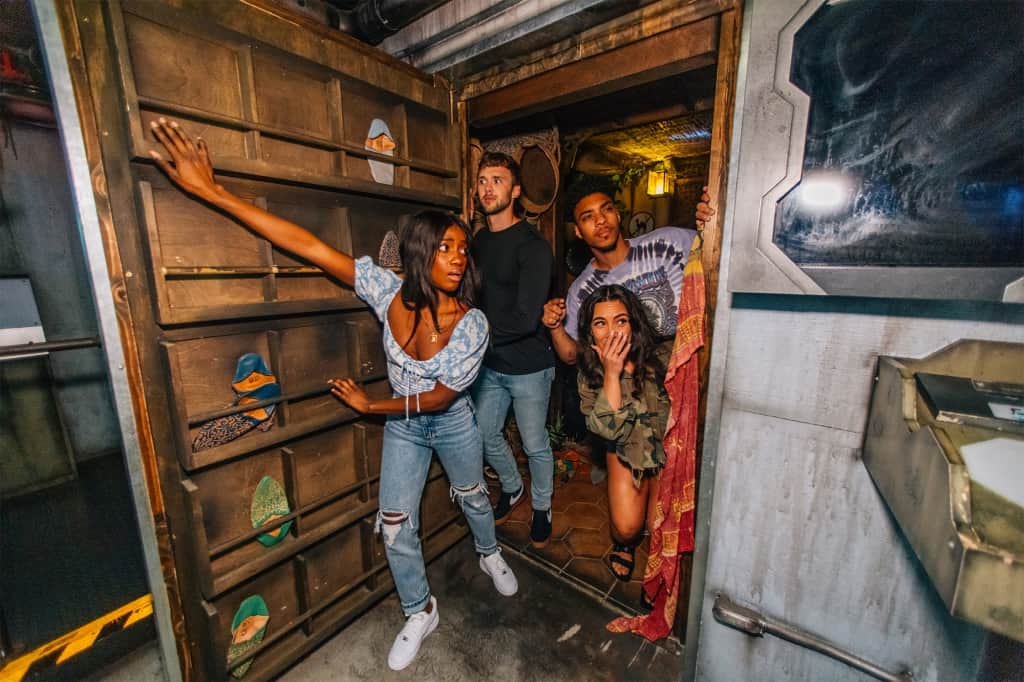 4/ Product Creation
This is a team-building activity that is not too time-consuming and costly. Each team will consist of 5-8 people and will be given a bag of random ingredients. The task of each team is from those materials, they have to create a product and sell it to the judges. The value of this activity is not only the creative spirit of the team but also the cultivation of strategic skills, teamwork, and presentation skills.
Because each team will have to present their product, explaining every detail, why they built this product, and why the customer should choose it. Prizes will be given to the best and most innovative products.
Work Social Events – Corporate Events Ideas
1/ Sports Day
People can only reach their fullest potential when their mental needs and physical needs are balanced. Therefore, sports day is an opportunity for all employees to promote health training – a need that is rarely focused on in the workplace.
During sports day, the company can organize for employees team-based activities such as football, volleyball or running tournaments, etc.
These sports activities will help everyone to go out together, get to know each other, and interact effectively.
2/ Barking Party
What could be more fun than a day when the staff showed off their baking talents with a baking party? Everyone will come together to contribute a homemade cake or you can have the employees compete in teams. The team with the most favorite cakes will be the winner.
This is an interesting activity for everyone to exchange, de-stress with sweet flavors, and exchange cake recipes with each other.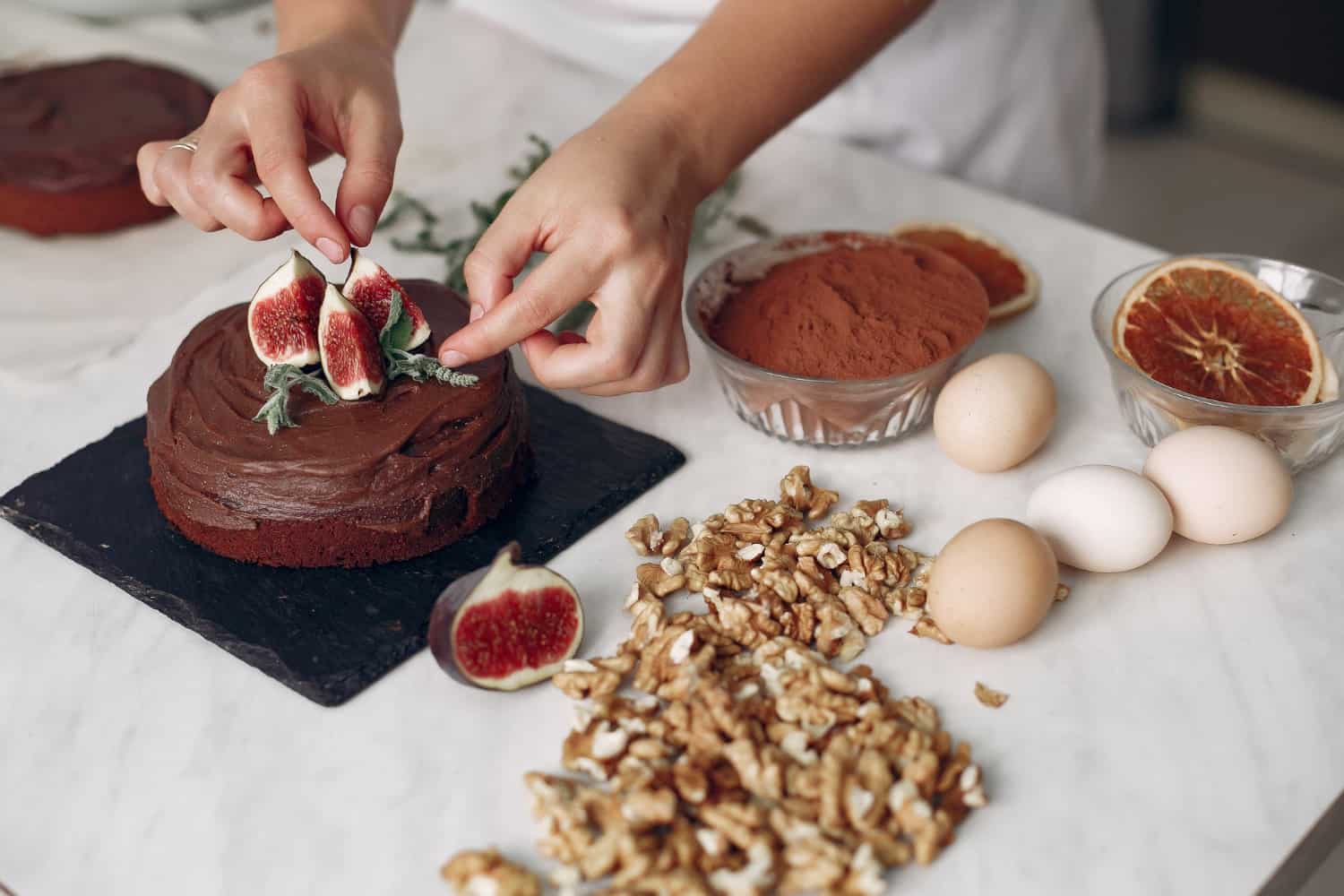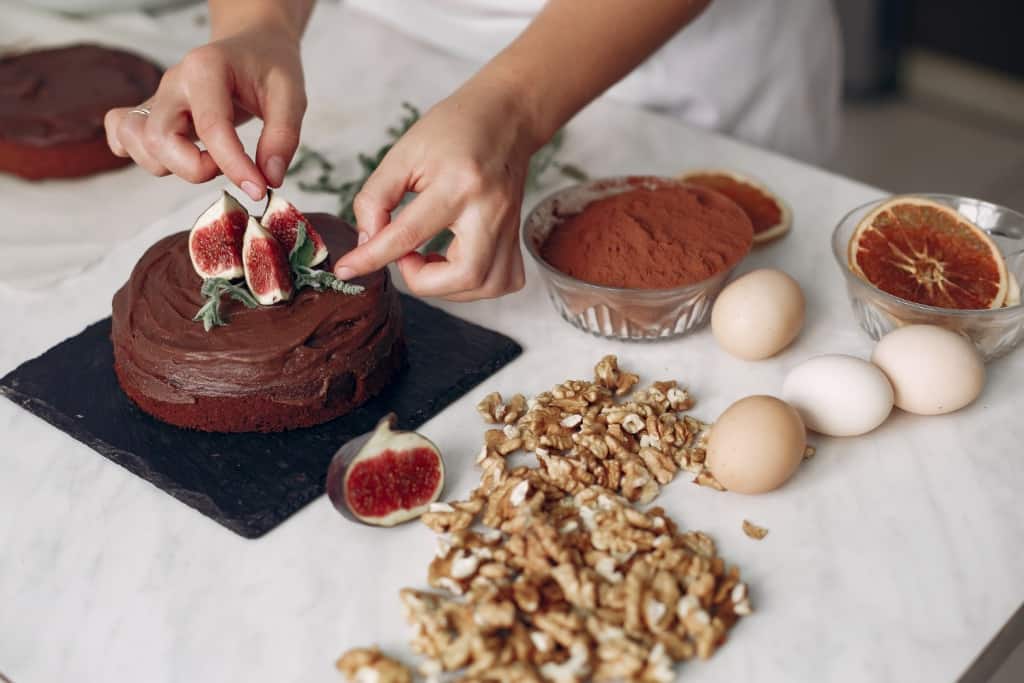 3/ Office Trivia Night
One of the best ideas for team building is office trivia night. You can make this office night a wonderful and memorable experience. The special thing is that office trivia night can be applied not only to a regular office model but also to a remote office model with support from video call platforms and a library of templates available today.
Some ideas for office trivia night that you cannot miss are:
4/ Farm Work Volunteering
Volunteering on a farm is a memorable and meaningful activity for a company. Everyone will have the opportunity to try a day of farming to help others with tasks such as taking care of animals, feeding, washing cages, harvesting, packing fruit, or repairing fences or cages for animals.
This is also an opportunity for employees to return to nature, away from urban life and electronic devices.
Fun Activities – Corporate Events Ideas
1/ Company Picnics
Company picnics don't have to be extravagant to be successful. Simple ideas like each person bringing a simple item such as a sandwich, juice, bread, apple pie, etc are enough to create an extensive menu. As for activities, people can play tug of war, rowing, or ping pong. As long as the picnic is full of elements to bond the group, it is activities to exchange, chat and play games together.
These picnics are a great way to help employees enjoy some fresh air and sunshine.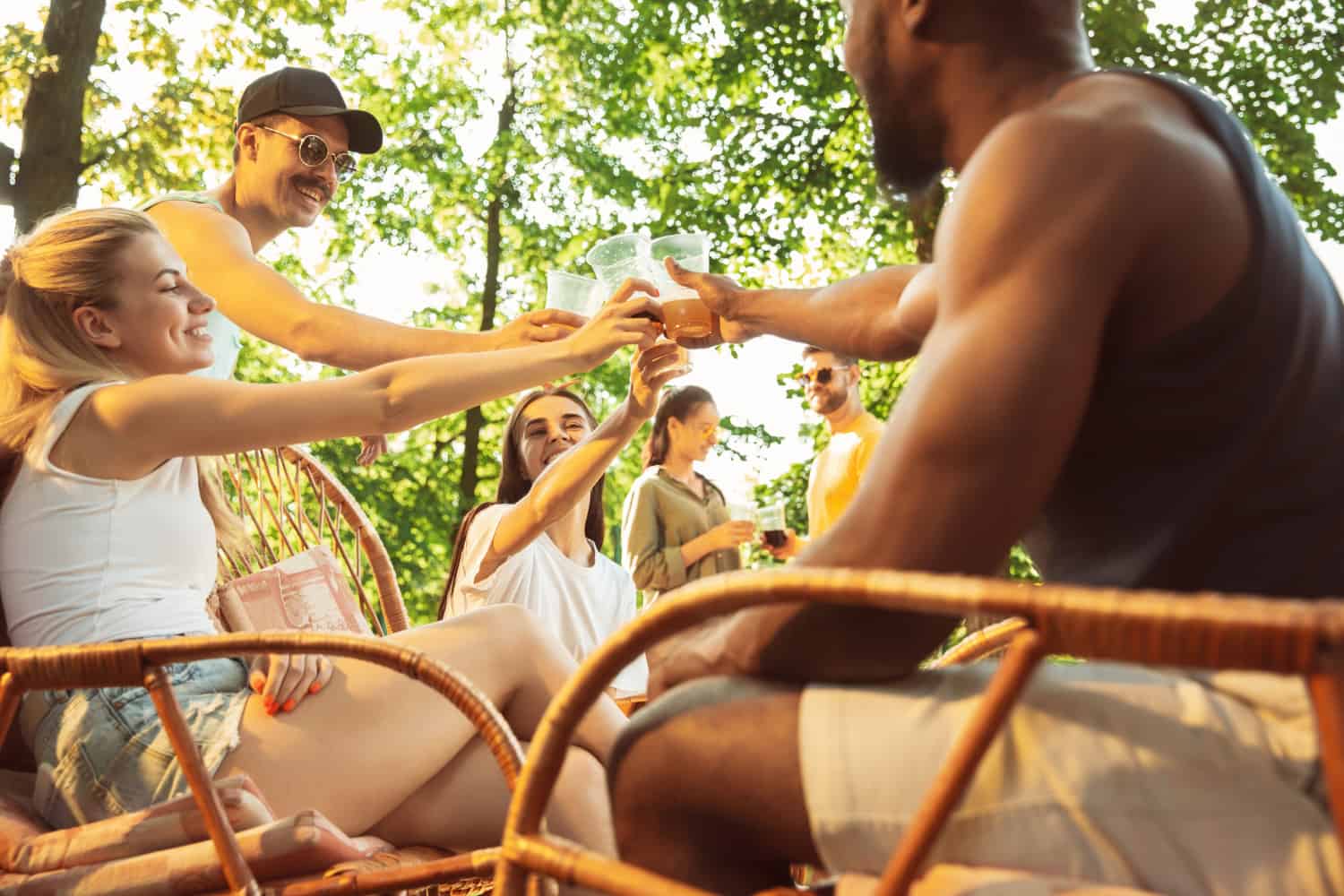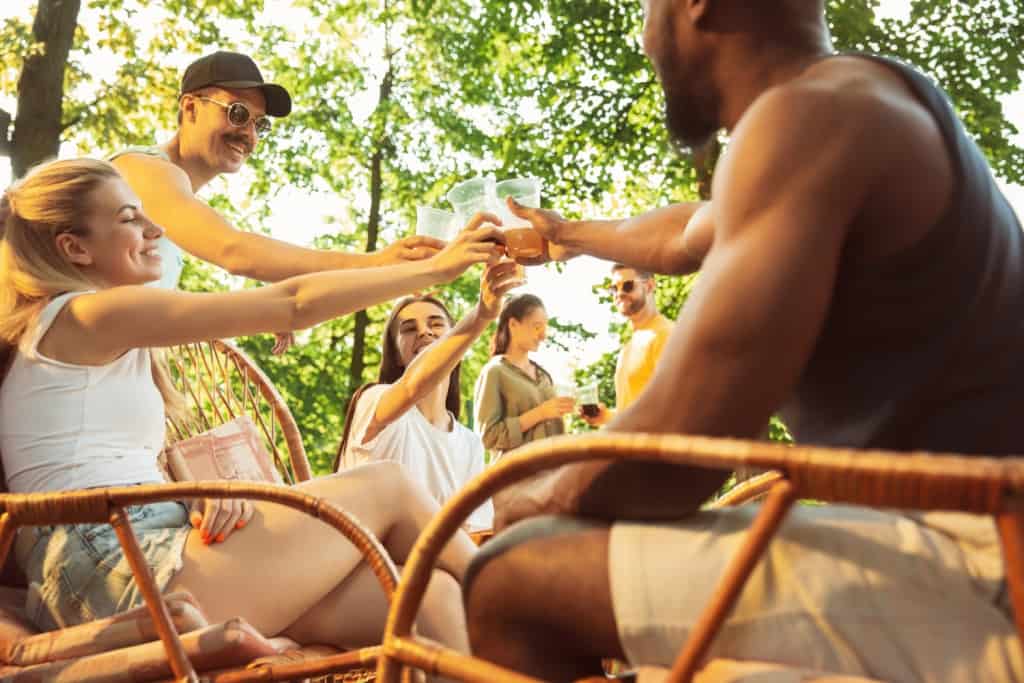 2/ Company Hangout
But where to hang out? The answer is…anywhere is fine.
It doesn't take much planning like picnics. The company's going out is much more random. The aim is to help office workaholics get out of the office and has a happier view of the world around them. Company friends can randomly arrange for them to hang out at:
Puppet Theater
Amusement park
Chamber Theater
Paintball gun
Museums
Through these events, maybe your colleagues will discover many similarities in interests, music or painting tastes, etc, thereby developing into a deeper relationship.
3/ Bring Your Pet Day
What makes it especially important to organize a pet day at the office is that pets can break the ice and are a good common ground for forming a bond between two people who don't know each other very well.
In addition, allowing employees to bring pets to the office will help them no longer worry about the condition of pets at home. Therefore, it will promote concentration, and creativity, reduce stress, and improve the mood of the entire office, thereby bringing higher work performance.
4/ Cocktail Making Class
What do you think when the whole company has a day to learn how to make and enjoy famous cocktails? Just like cooking lessons, learning to make cocktails will require a professional bartender to guide your staff and then leave them free to create their own recipes.
This is a meaningful activity to help people get rid of stress completely, share personal interests, and open up more intimate conversations.
Holiday Corporate Events Ideas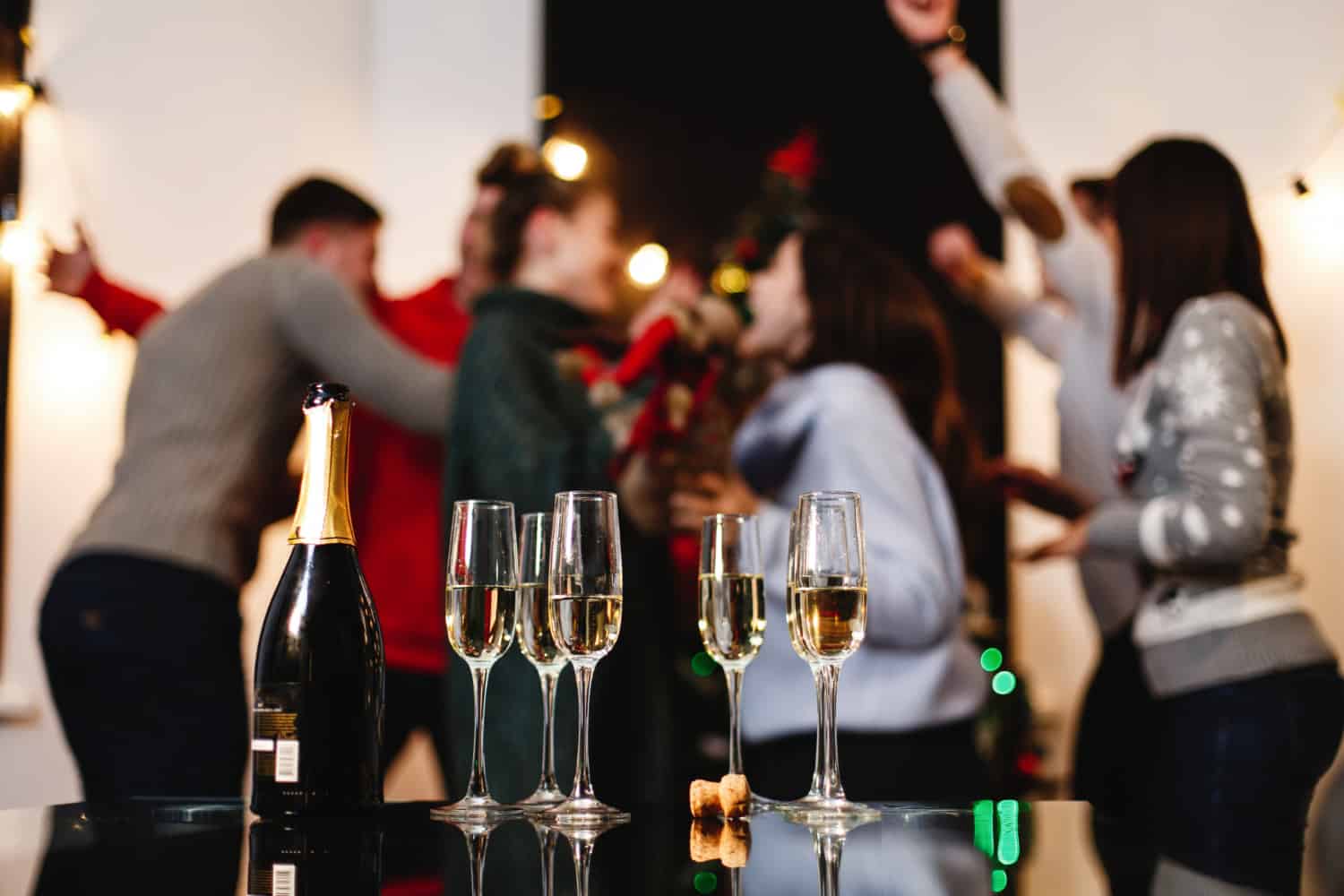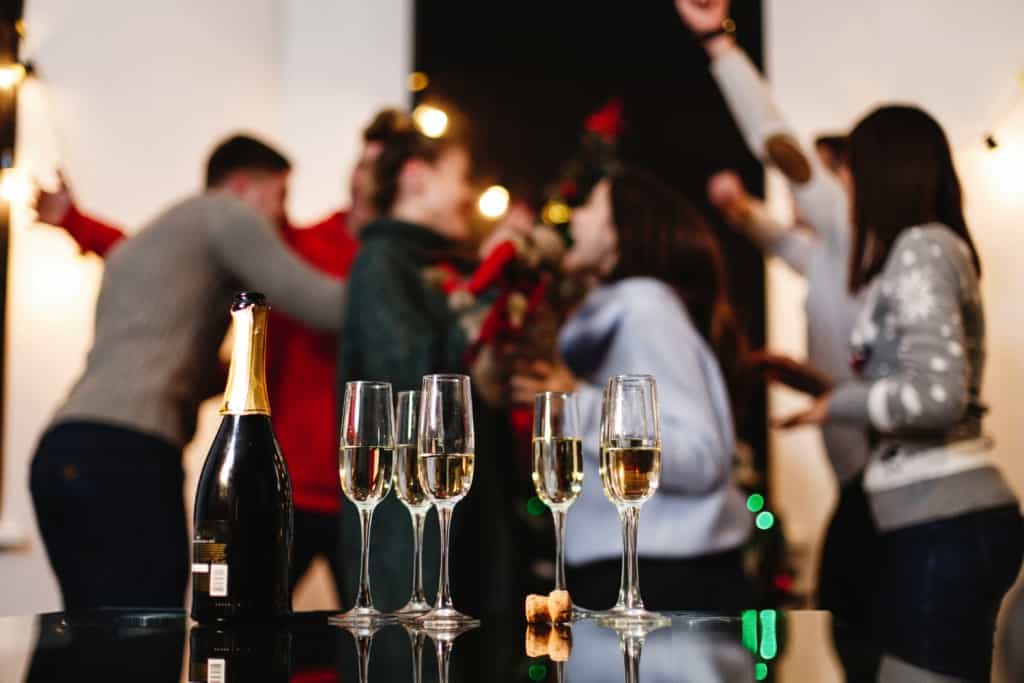 1/ Office Decoration
What's better than decorating the office together before the festive season? Surely no one wants to work in an office space full of fatigue and dullness, and devoid of any color. Your employees will be more excited than anyone else because they are the ones who spend more than 40 hours a week doing their jobs here.
Therefore, redecorating the office is a very fun and meaningful activity to regenerate energy for working more effectively, and reducing stress and pressure at work.
Few decorating ideas for corporate events you could think about, including:
Branding and Logo: Incorporate the company's logo and branding colors throughout the decor. Custom banners, tablecloths, and signage can help reinforce the corporate identity.
Themed Decor: Choose a theme that reflects the event's purpose or industry. For example, if it's a tech conference, a futuristic or cyber-themed decor might work well.
Centerpieces: Elegant and understated centerpieces can be a focal point on each table. Consider using floral arrangements, geometric shapes, or branded items like USB drives or notepads.
Lighting: The right lighting can set the mood for the event. Use soft, warm lighting for a more relaxed atmosphere or vibrant, colorful lighting for a lively feel. LED uplighting can be used to highlight specific areas.
Custom Signage: Create custom signage to direct attendees and provide information about the event schedule, speakers, and sponsors. Consider using digital screens or interactive kiosks for dynamic displays.
Backdrop: Design a backdrop for the stage or presentation area that incorporates the event's theme or branding. A step-and-repeat banner with the company logo is also popular for photo opportunities.
Lounge Areas: Set up comfortable lounge areas with stylish furniture where attendees can relax and network. Incorporate the company's branding into the lounge decor.
Balloon Displays: Balloon displays can be both playful and sophisticated. Use balloon arches, columns, or even balloon walls in company colors to add a touch of fun to the event.
Greenery and Plants: Incorporate greenery and potted plants to bring a touch of nature indoors. It adds freshness and can help improve the overall ambiance.
Interactive Displays: Create interactive displays or digital installations that engage attendees. This could include touchscreen kiosks, virtual reality experiences, or interactive games related to the event.
Corporate Art: Showcase corporate art or company achievements through framed posters or displays. This can add a touch of sophistication and celebrate company milestones.
Projection Mapping: Use projection mapping technology to project dynamic visuals, animations, or messages onto walls or large surfaces for a modern and captivating effect.
Candles and Candleholders: For evening events or formal dinners, candles in elegant holders can create a warm and inviting atmosphere.
Table Settings: Pay attention to table settings, including place cards, quality tableware, and napkin folds that match the event's style.
Interactive Photo Booth: Set up a photo booth with props and backdrops that incorporate the company's branding. Attendees can take photos and share them on social media.
Audiovisual Elements: Incorporate audiovisual elements, such as large screens, LED walls, or interactive presentations, to enhance the overall experience.
Ceiling Decor: Don't forget about the ceiling. Hanging installations like chandeliers, drapes, or hanging plants can add visual interest to the space.
Sustainable Decor: Consider eco-friendly decor options, such as reusable signage, potted plants, or biodegradable materials, to align with sustainability goals.
Please remember to consult with a professional event decorator or designer to bring your vision to life and make sure that the decor aligns with the event's goals and the company's brand.
2/ Office Holiday Party
At this office party, everyone will be able to join the dance and mingle with exciting dances with colleagues. In addition, the company can organize parties according to holiday themes or break with concepts such as a Prom night party, Beach Party, Disco Party, etc.
This is an opportunity for the entire company to wear beautiful, well-organized, and gorgeous outfits, different from the usual office wear. And to avoid a boring company party, you can organize a costume contest. It's a chance for everyone to have moments of comfort and laughter. Moreover, enjoying delicious food and drinks, chatting, and watching performances will be more memorable.
3/ Gift Exchange
What do you think about people exchanging gifts? It doesn't have to be expensive or beautiful gifts, you can ask people to prepare gifts within a small budget, or a handmade gift is also very interesting.
Exchanging gifts is a way for people to get closer to each other and appreciate each other, developing friendships instead of mere co-worker relationships. You can check out Best Gift Ideas For Employees to bring great surprises to everyone.
4/ Holiday Karaoke
There is nothing better than everyone getting together to enjoy the holiday music. Let's sing along with famous Christmas hits, love songs, or the most popular pop songs today. Who knows, you might have the opportunity to find a hidden singer in the office.
This is an activity that allows your team to release stress, laugh together and make it easier than ever for newcomers to fit in.
How do you throw Successful Corporate Events?
Define the event objective and type of event: There are different types of events as well as ideas for corporate events out there. Therefore, you need to determine what the purpose of your company's event is, and what your company wants to gain from that event before moving on to the next specific steps
Determine the event budget: Since you've determined the type of corporate event you're hosting and the specific purpose, you can start budgeting for the event. A successful corporate event is not only one that resonates well with people but one that doesn't need to cost too much
Find the right event location and time: Depending on the size and type of event, you can now find the right place and time for everyone to participate. Do not forget to survey and field the different locations to see which is the most suitable and affordable place; and finally
Media planning for the event; For an event to be successful and attract many participants with excitement, the communication activities need to take place 2-3 months before the event starts. The better you promote the event (both internally and externally), the higher the rate of the event is responded to and shared.
Key Takeaways
Don't forget that holding events regularly creates a healthy work culture. And there is no shortage of ideas for organizing interesting and engaging events to develop the relationship between the company and its employees, or clients. Hopefully, with AhaSlides 16 corporate events ideas, you can find options that suit your purposes.
Frequently Asked Questions
Here are the frequently asked questions and answers about Corporate events ideas.
What are corporate events?
Corporate events refer to internal events organized by companies or organizations for their employees, clients, and shareholders.
What are some entertainment ideas?
Some corporate entertainment ideas for events including Holiday Karaoke, Gift Exchange, Cocktail Making Classes, Talent Shows, and Office Party.
What to do during Corporate Day Out?
Planning a corporate day out is a great way to foster team building, boost morale, and provide a break from the daily office routine, with few ideas as below: Outdoor Adventure, Sports Day, Cooking Class, Scavenger Hunt, Museum or Art Gallery Visit, Volunteer Day, Escape Room Challenge, Amusement Park, Wine or Brewery Tour, Team-Building Workshops, Outdoor Picnic, Golf Day, Themed Costume Party, Cruise or Boat Trip, Team Sports Tournament, Comedy Club, DIY Craft Workshop, Historical or Cultural Tour, Wellness Retreat and Karaoke Night. Check out AhaSlides tips on Company Outings