Do you feel overwhelmed when it comes to choosing a Wedding gift? Wedding gift ideas don't need to be overly expensive! Thoughtful low-budgeted Wedding gift ideas also make it count.
Check out 40 awesome Wedding Gift Ideas that certainly make newlyweds satisfied.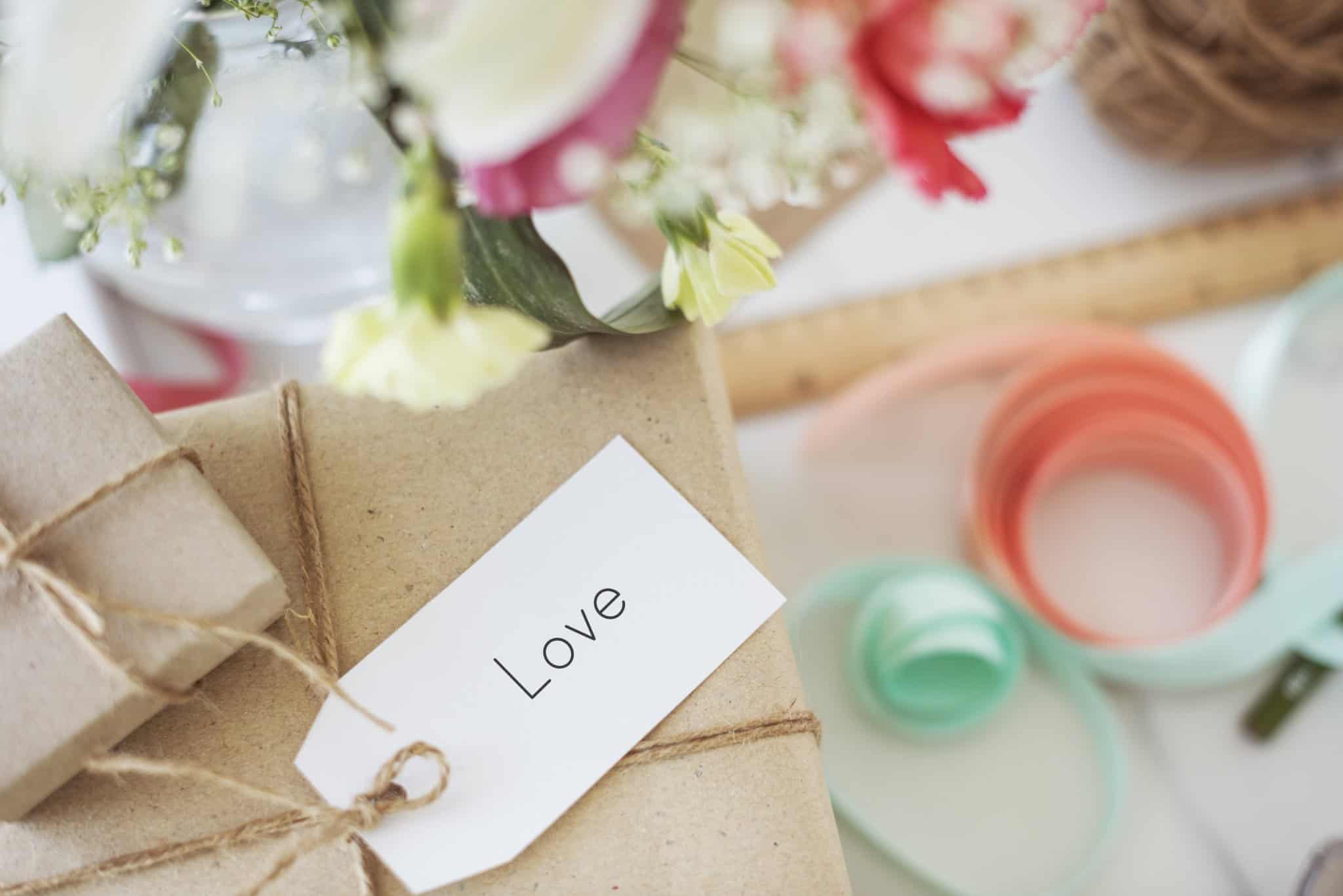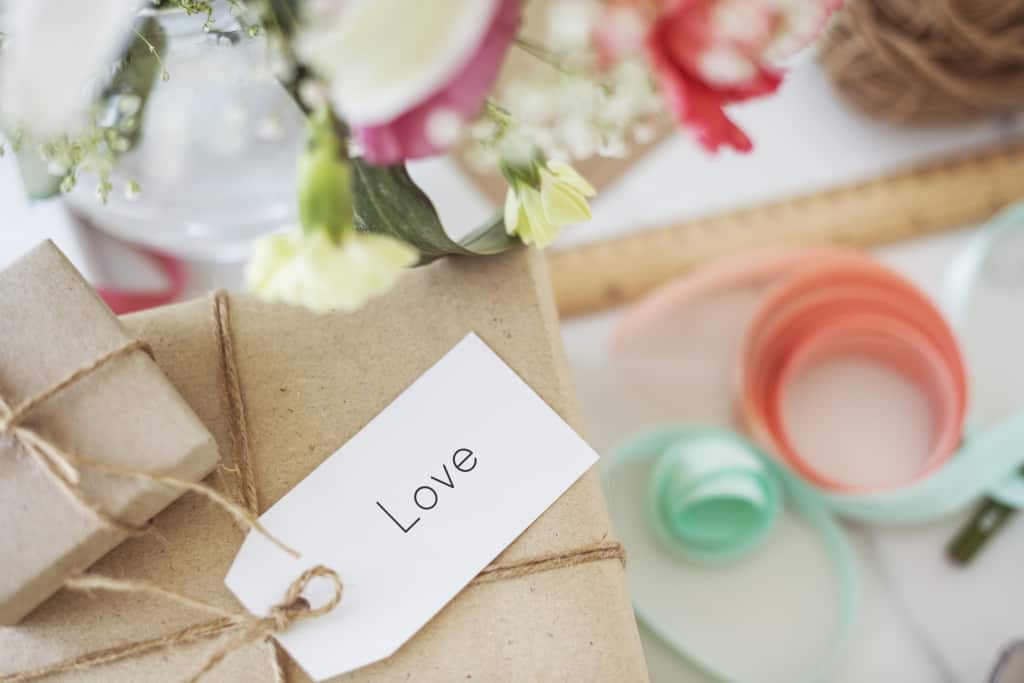 Table of Contents
Tips For Better Engagement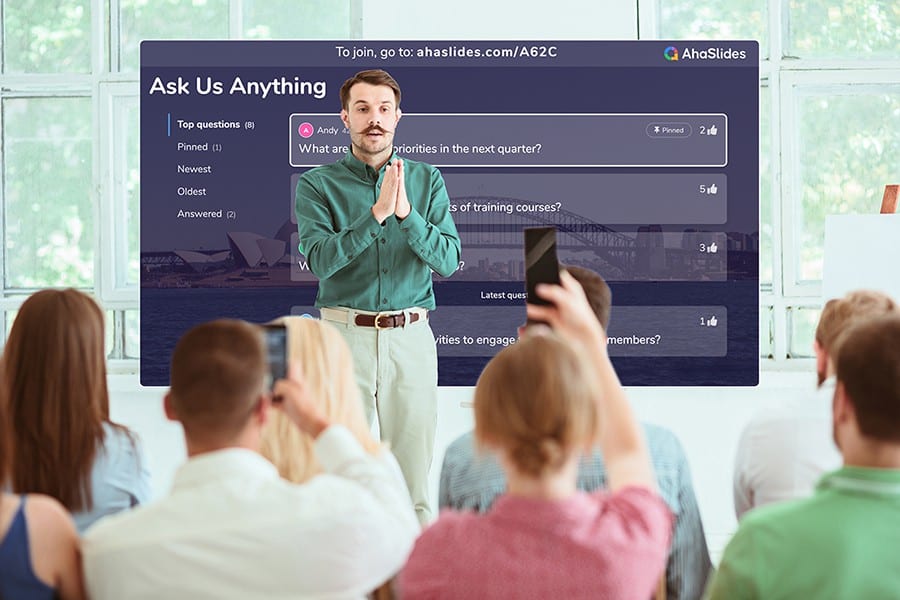 Make Your Wedding Interactive With AhaSlides
Add more fun with best live poll, trivia, quizzes and games, all available on AhaSlides presentations, ready to engage your crowd!
🚀 Sign Up for Free
Overview
| | |
| --- | --- |
| When I should give wedding gifts? | After receiving the wedding invitation, or within three months of the wedding celebration. |
| What percentage of wedding guests don't give gifts? | From 7 to 10%. |
Overview of wedding gift ideas.
Best Wedding Gift Ideas for Newlyweds
What are the best wedding gift ideas to share happiness and joy on your friend's big day? Here are some heartfelt suggestions to help you find the ideal gift and show how much you love them.
#1. Bartesian Premium Cocktail Machine
Treat the newlyweds to a sophisticated Bartesian cocktail experience, making them feel like master mixologists at their wedding after-party. With easy-to-use pods, they can whip up delightful concoctions and celebrate love with every sip of wine.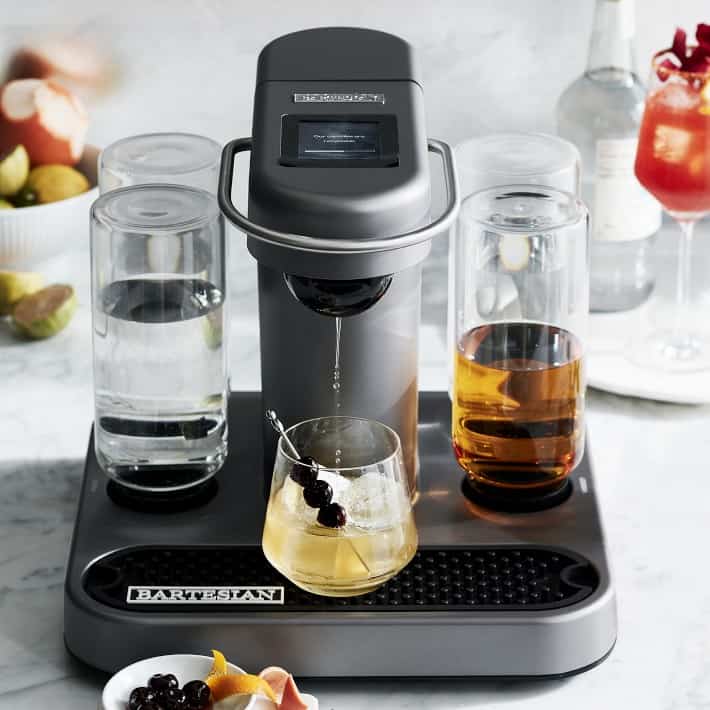 #2. Paravel Cabana Pet Carrier
As the couple embarks on their honeymoon, let them journey together with their furry companion in style. Beautiful wedding gift ideas like The Paravel Cabana Pet Carrier ensure their beloved pet feels cherished and included in this special chapter of their wedding adventure.
#3. Couple Robe and Slippers
An ideal present for newlyweds would be a couple of robes and slippers. Wrap the bride and groom in the ultimate comfort with matching robes and slippers, fostering warmth and intimacy as they begin their lifelong journey together as husband and wife.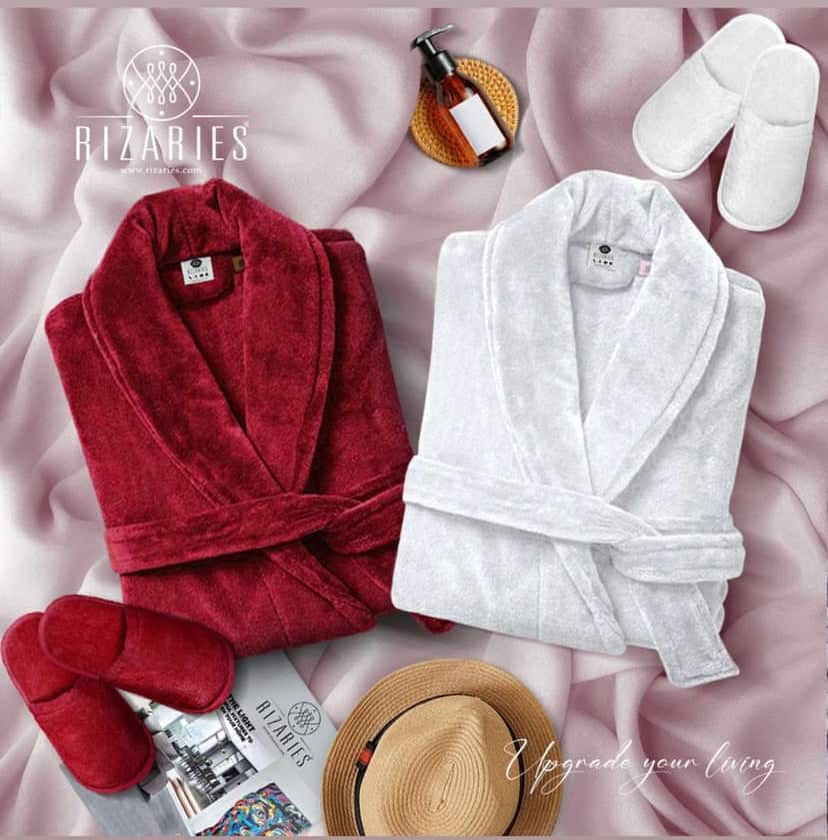 #4. Engraved Champagne Flutes
An elegant set of champagne flutes are luxury wedding gifts for couples feeling extra happy at their wedding ceremony. These pretty keepsakes will remind the couple of their beautiful wedding day and the heartfelt wishes they received.
#5. Kitchen Appliances Pasta and Noodle Maker Plus
How can you forget to present the newlyweds' love with the joy of homemade pasta and noodles? This thoughtful wedding gift adds a touch of romance to their culinary adventures, making their meals together even more special.
Need more romantic wedding gifts for couples? Illuminate their home and hearts with creative wedding gift ideas for bride and groom, like custom photo lamps, to showcase your cherished memories of their wedding day and the love they share. Each night, this sentimental gift will fill their room with a warm and tender glow.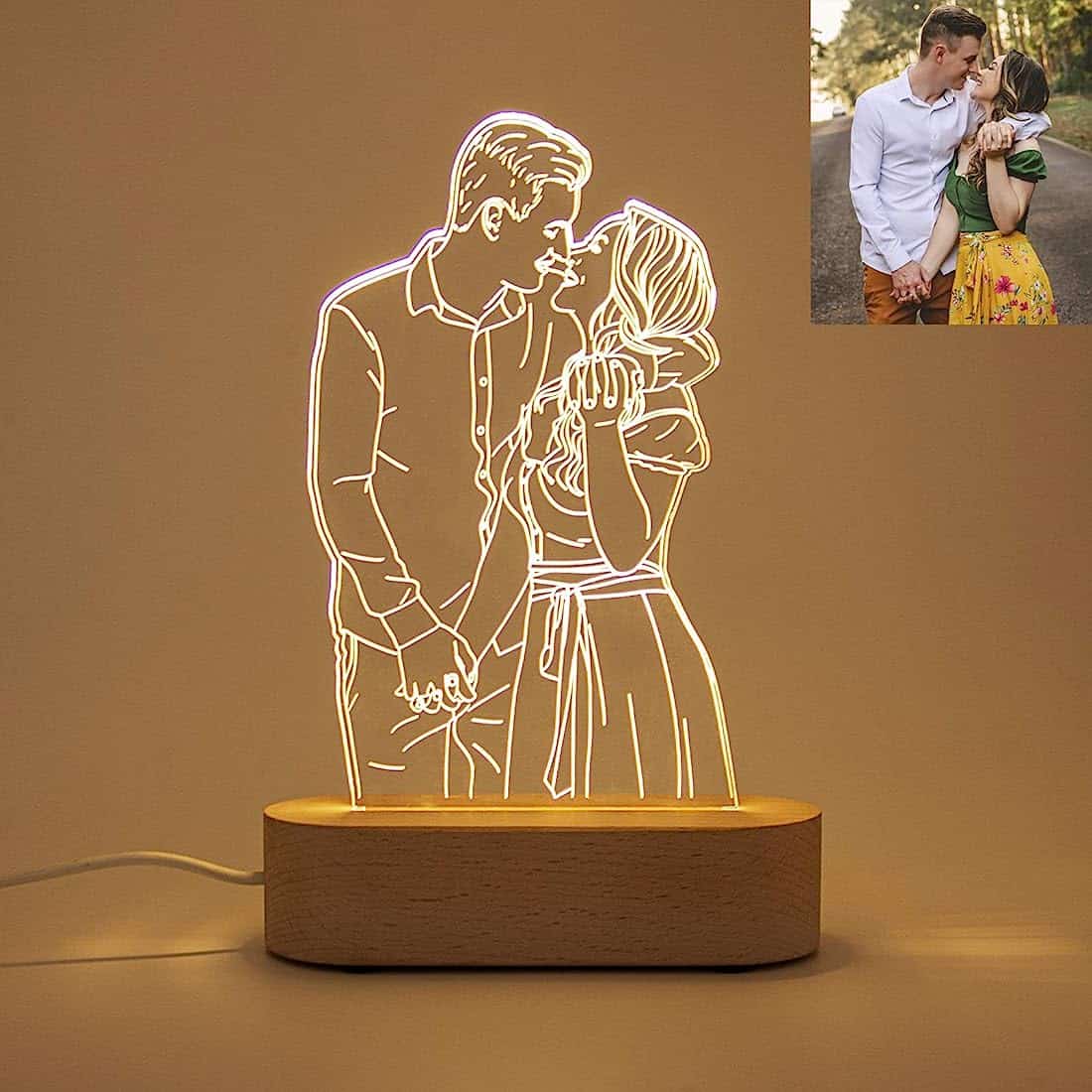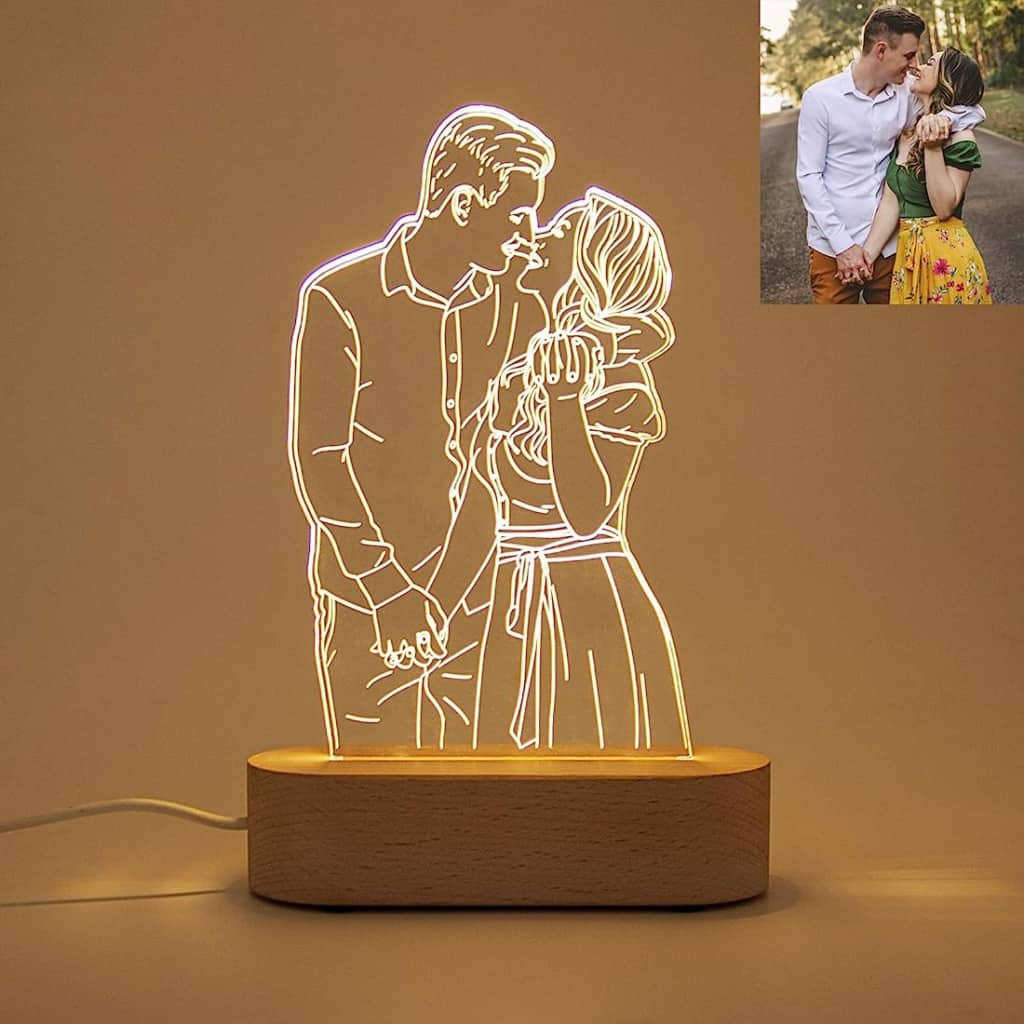 Let the bride's wedding dress and the groom's suit hang in style on adorable and personalized clothes hangers, adding a touch of charm to their pre-wedding preparations and ensuring their wedding attire remains picture-perfect.
All couples love to have this modern and functional helper at their new home. This considerate wedding gift idea like this can resolve newlyweds' post-wedding issues like housework.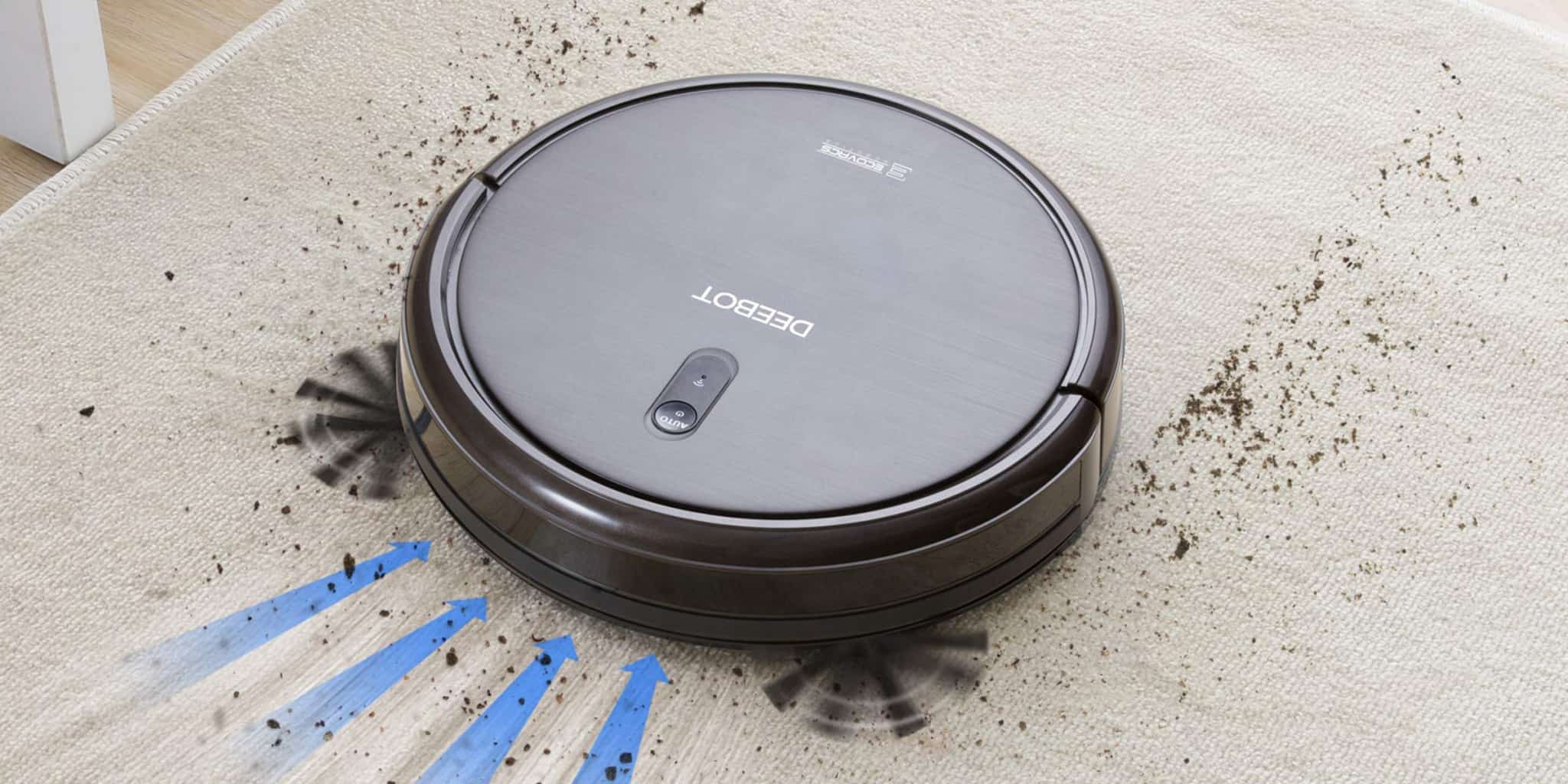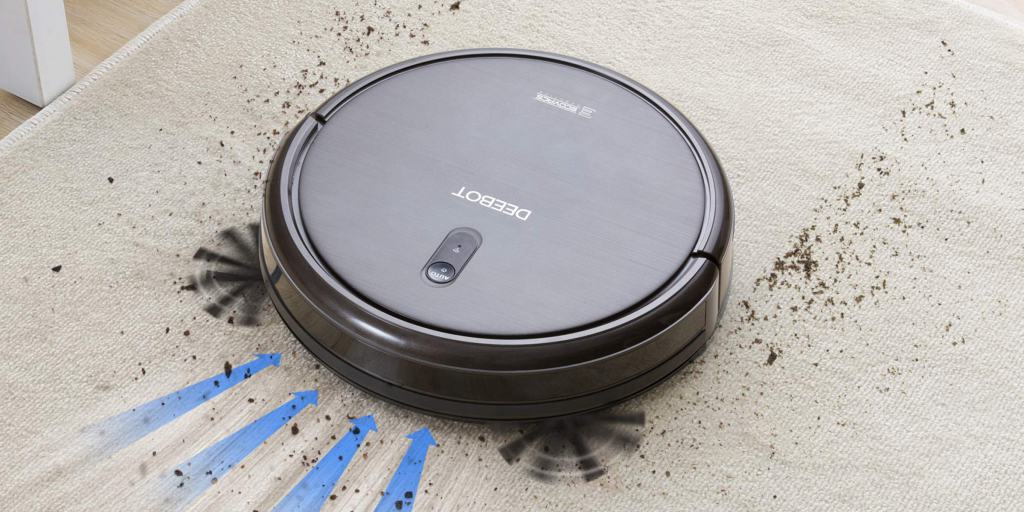 Greet the couple's guests with a personalized fancy doormat, featuring their names and wedding date, creating a heartwarming entryway to their new life together as Mr. and Mrs.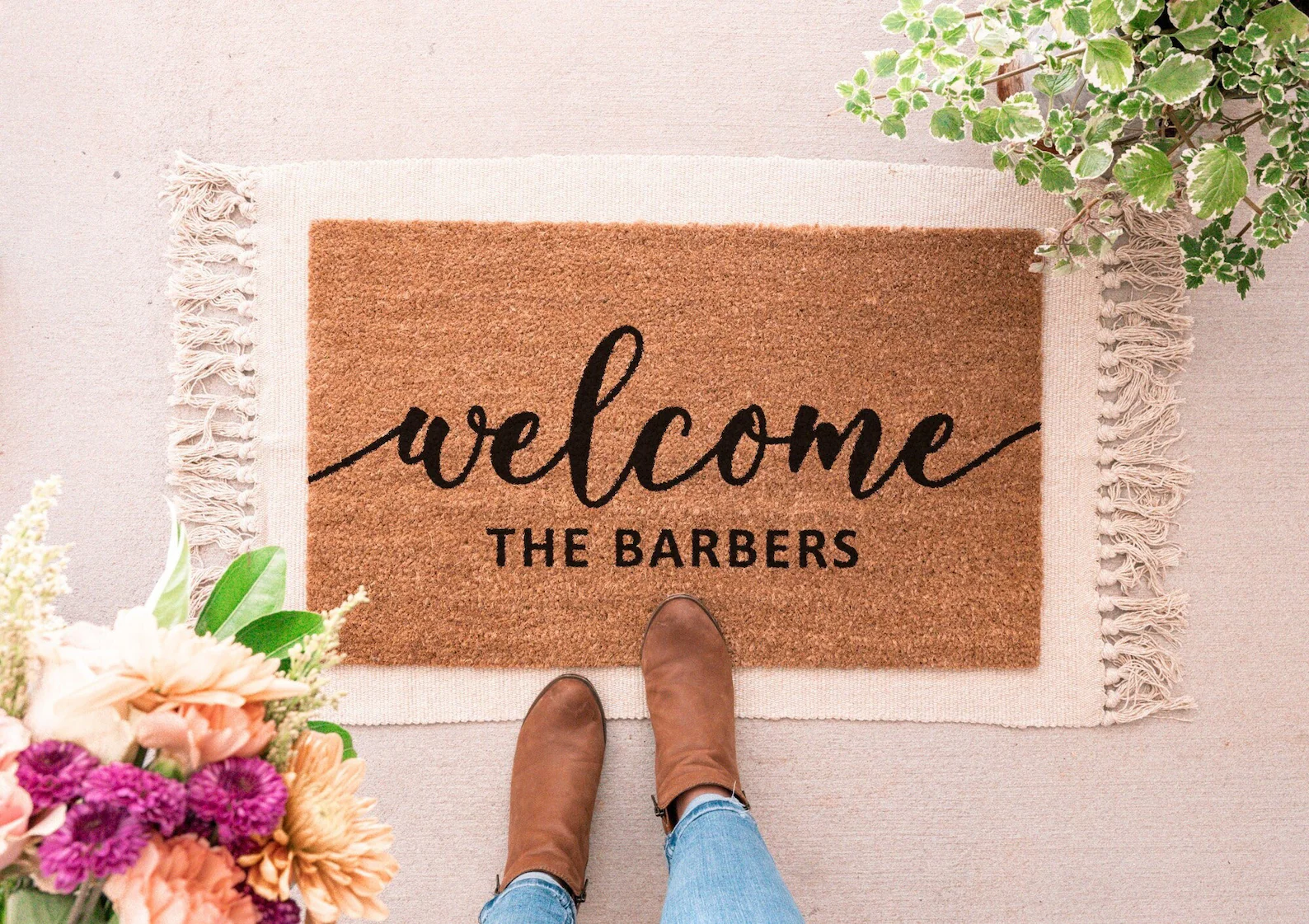 One of the most common wedding gift ideas no couples want to refuse, the Citrus Juicer is the perfect addition to their new home. The newlywed can start their mornings with zest and enthusiasm, as they savor fresh citrus juices together.
Fancy Wedding Gift Ideas for Bride-to-be
Celebrate the bride-to-be's upcoming wedding with these thoughtfully curated and heartwarming wedding gift ideas that will fill her heart with joy and excitement:
#11. Personalized Jewelry
When it comes to the best gift for newlyweds, don't forget jewelry. Adorn the blushing bride with exquisitely crafted and engraved jewelry, symbolizing your enduring love and deepening the bond between you both. Each piece will serve as a cherished memento of her special day and your unwavering support.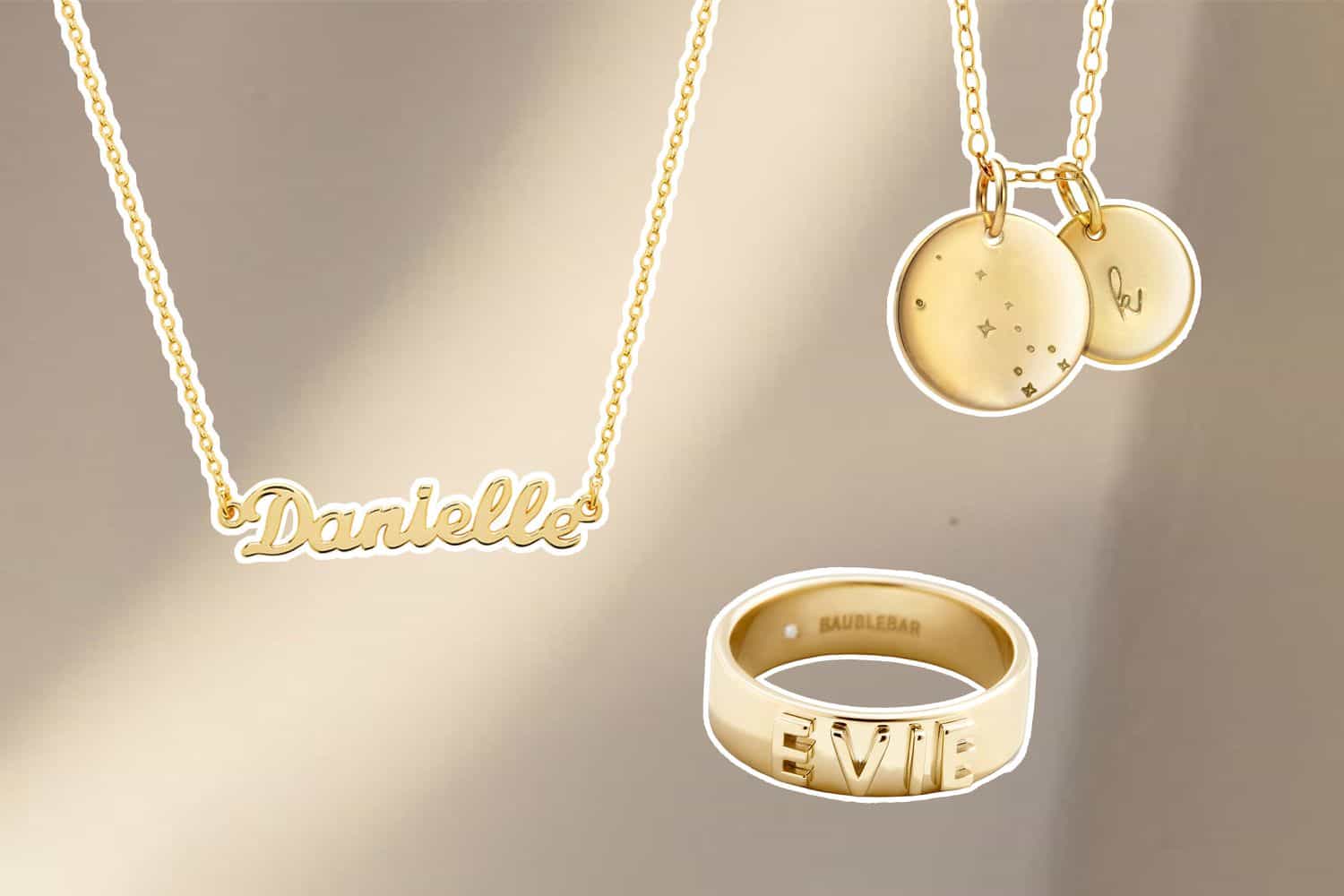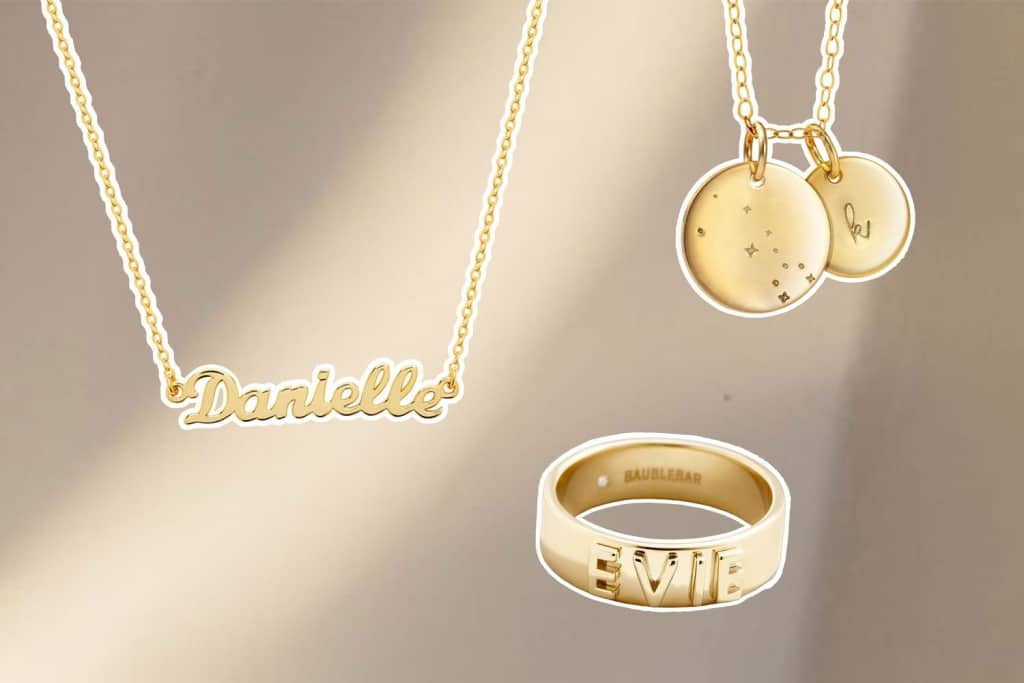 #12. Bridal Subscription Box
Looking for some meaningful wedding gift ideas? A bridal subscription box is a great one. Surprise the bride-to-be with a monthly bridal subscription box, filled with delightful treasures and wedding-themed goodies. Each delivery will remind her of the approaching celebration, filling her heart with anticipation and excitement.
Lingerie is one of the best wedding gift ideas for your bride-to-be bestie ever. Help her feel enchanting and confident with a selection of luxurious lingerie, tailored to accentuate her beauty and make her feel truly radiant on her wedding day.
Pamper the bride with indulgent beauty vouchers, offering her the opportunity to relax and be pampered as she prepares for her big day. She also can use this treatment to escape from the stress and responsibilities of marriage life sometimes.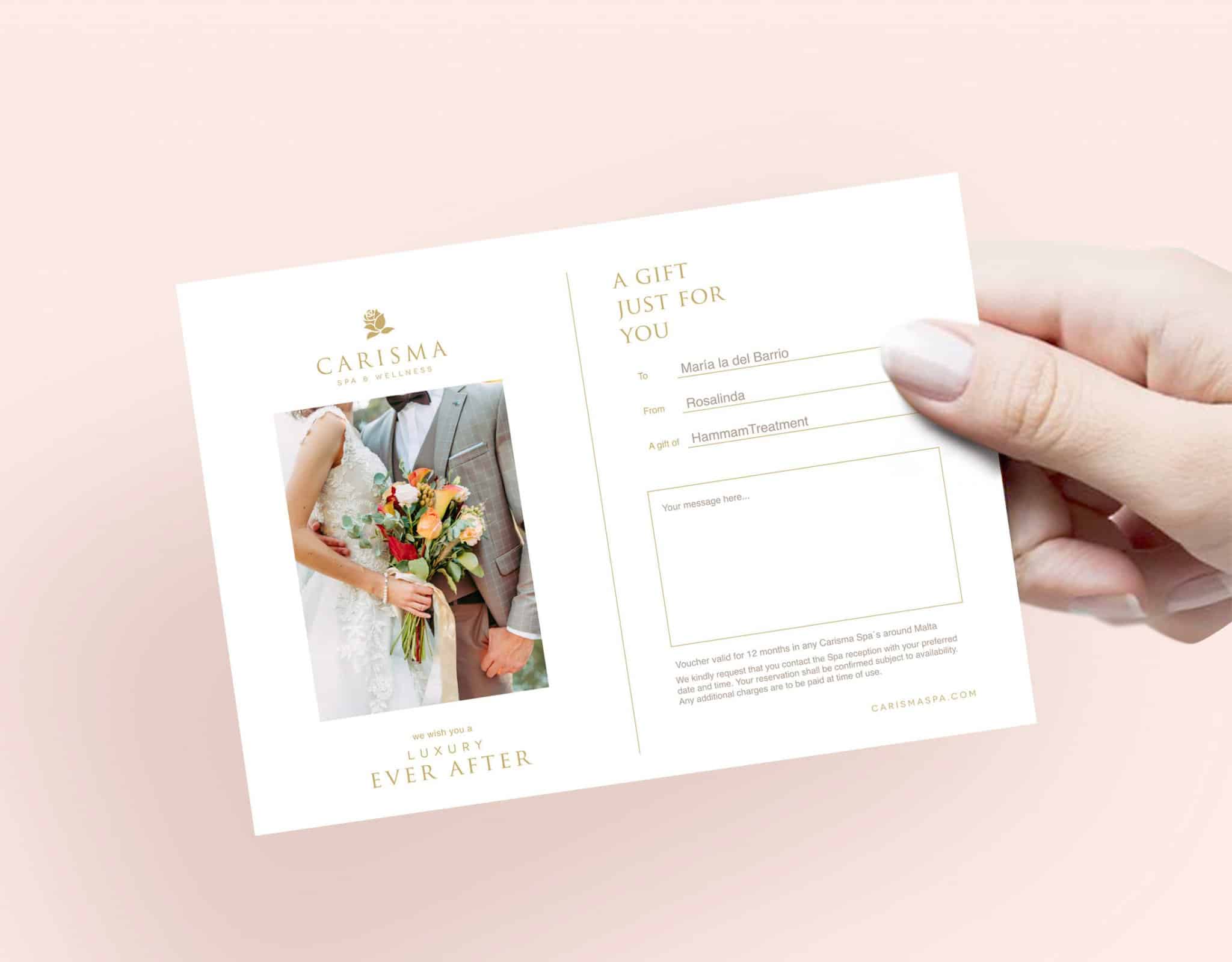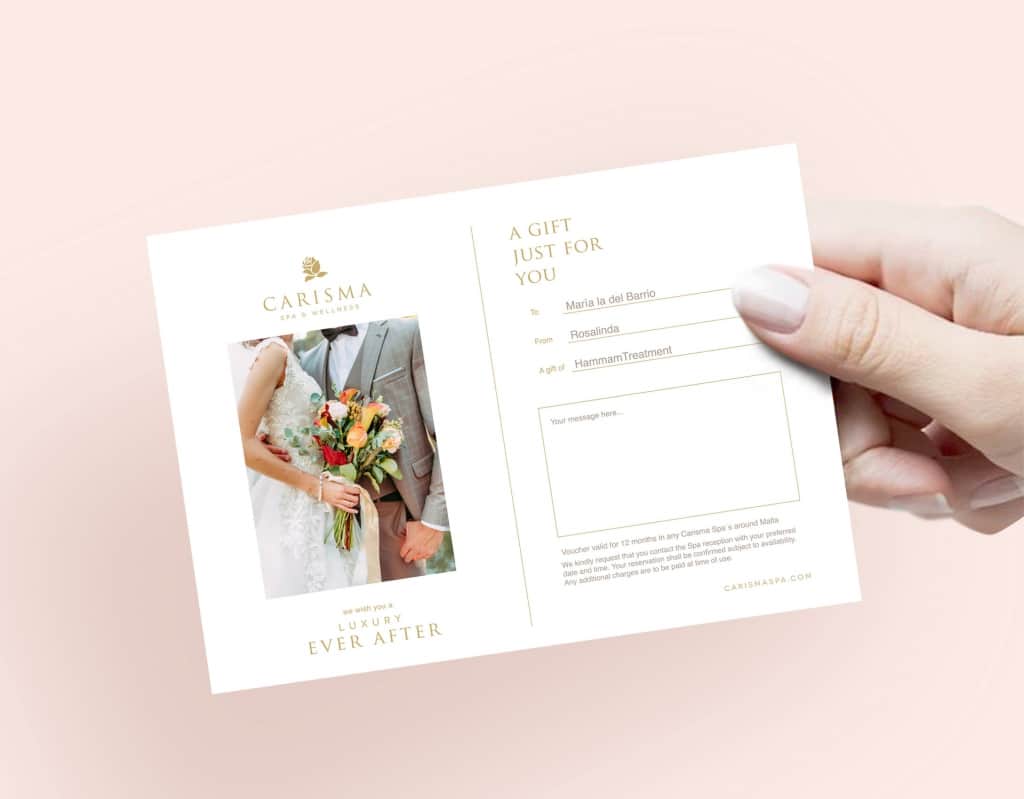 Ceramic Jewelry Trays, and Decorative Trinket Dishes in unique custom can bring more special to the bride-to-be. It is a kind of self-love gift to store her treasured wedding bands and other jewelry.
#16. Personalized Wooden Couple Cup Set
Toast to the couple's love with a personalized wooden cup set, showcasing their names or initials. This unique gift will symbolize unity and togetherness, making them feel even more connected as they start their journey as husband and wife.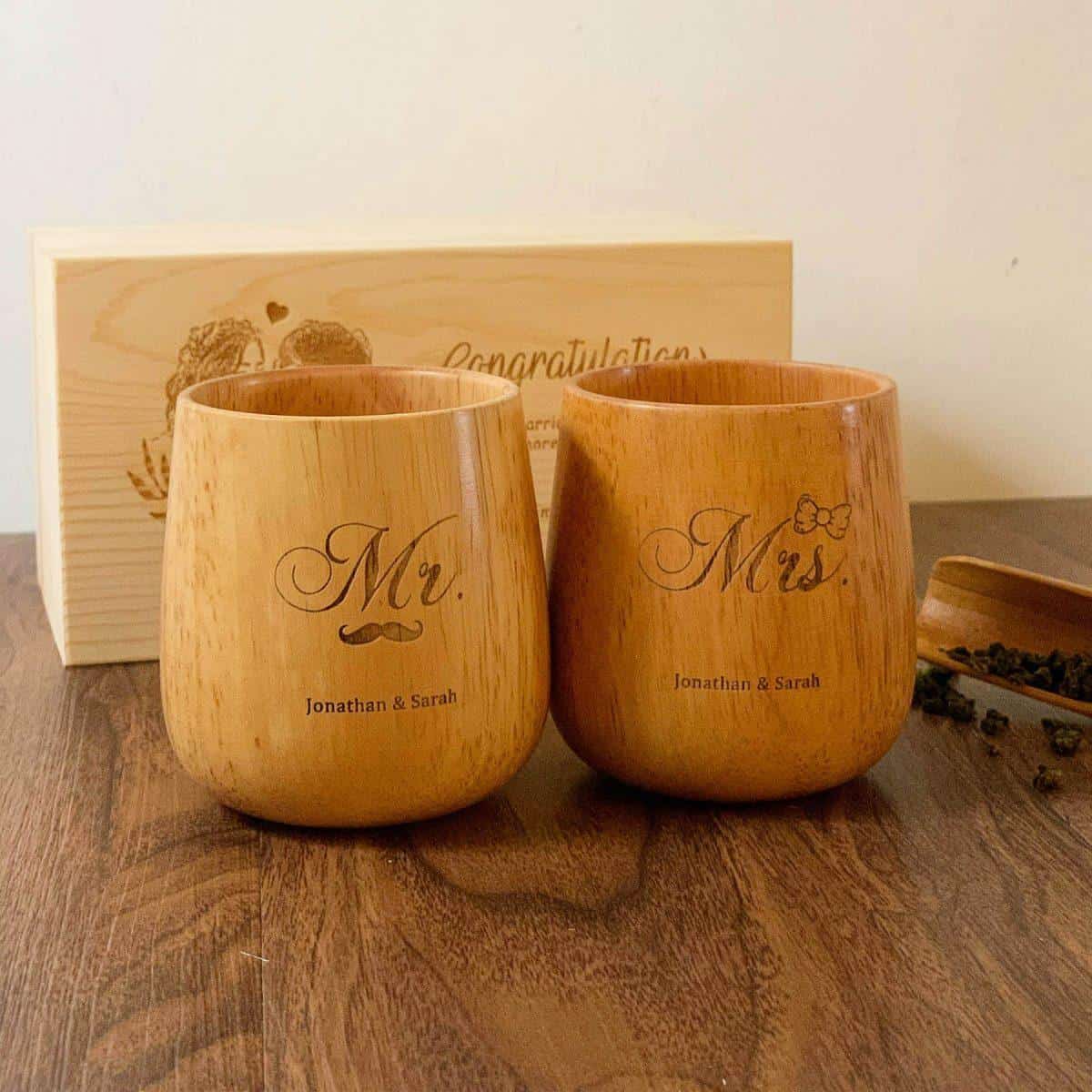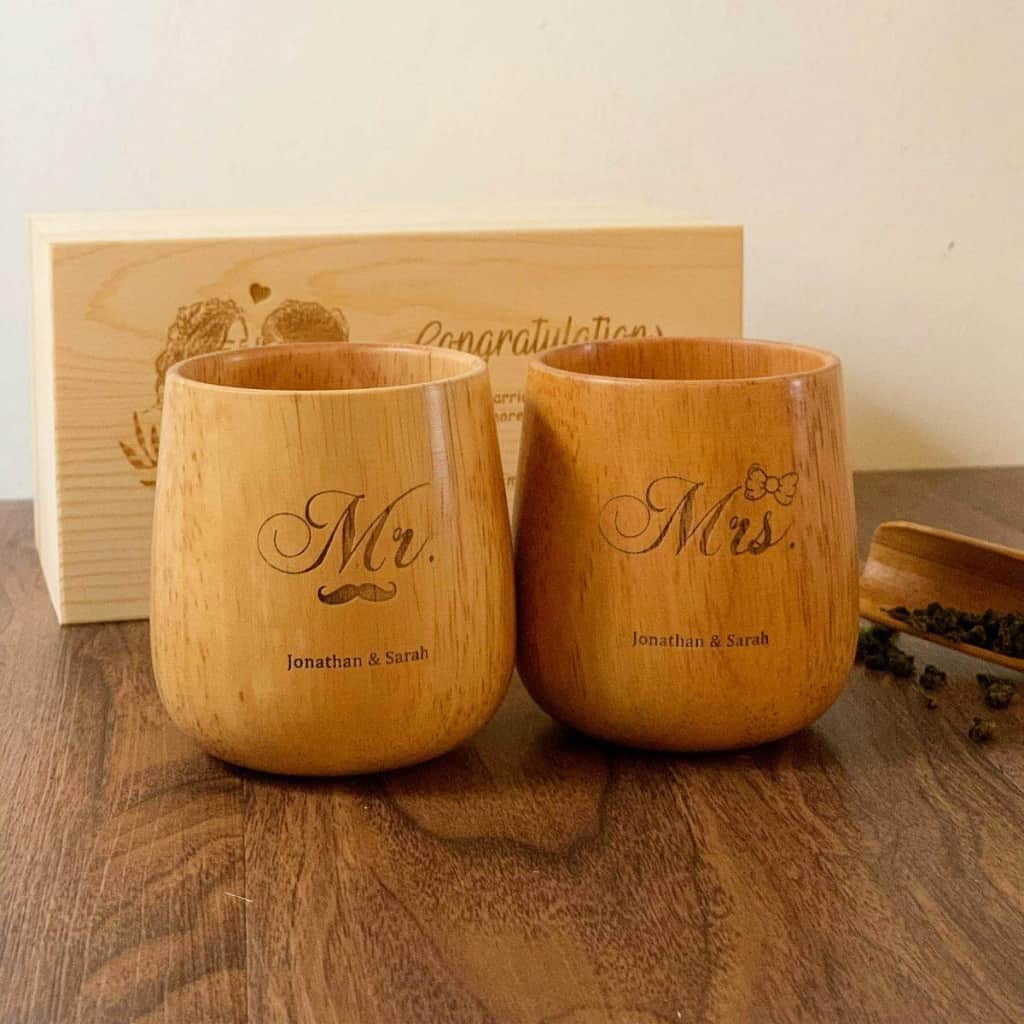 Illuminate the bride's heart with a personalized wedding-themed candle, radiating warmth and love throughout her wedding preparations. The fragrant glow will serve as a constant reminder of your affectionate gesture.
Frame heartfelt memories of your time together, capturing the laughter and joy shared between the bride and groom. This is one of the most thoughtful wedding gift ideas that evoke emotions of nostalgia and appreciation for your enduring friendship.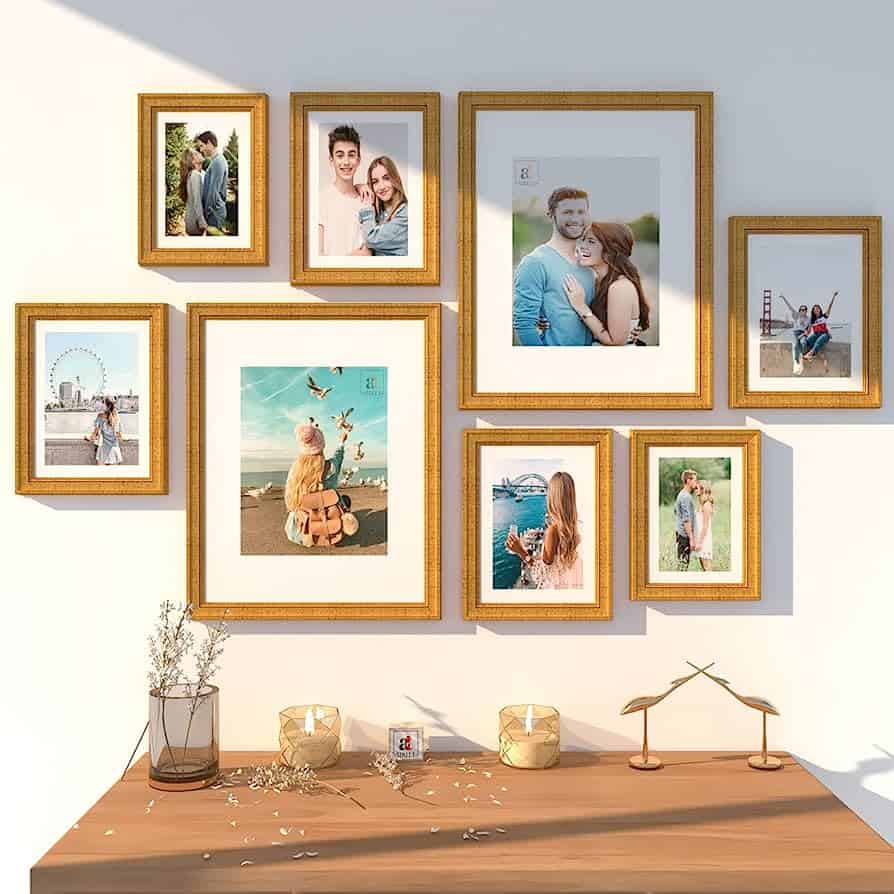 Who always forgets to charge the phone and finds it running low when needed the most? Keep the bride-to-be connected with a chic and practical wireless charger. It is one of the most practical wedding gift ideas to showcase your support and care.
#20. Personalized Planter
Watch the bride's love bloom with a personalized planter, filled with her favorite flowers or plants! Put this meaningful wedding gift idea in your top list of wedding shower gifts because it signifies growth and new beginnings of married life, like growing a tree.
Thoughtful Wedding Gift Ideas for Husband-to-be
Men's minds are as simple as a straight arrow, so fulfilling their dream wedding gift isn't that difficult. Let's explore what are wonderful wedding gift ideas for husbands-to-be.
#21. Fujifilm Instax Mini 11 Instant Camera
What is the best way to capture all the precious moments in life? It can be a cool wedding gift that can be used for honeymoon and upcoming couple travels. The joy of watching the pictures develop in their hands will bring a nostalgic charm to their memories.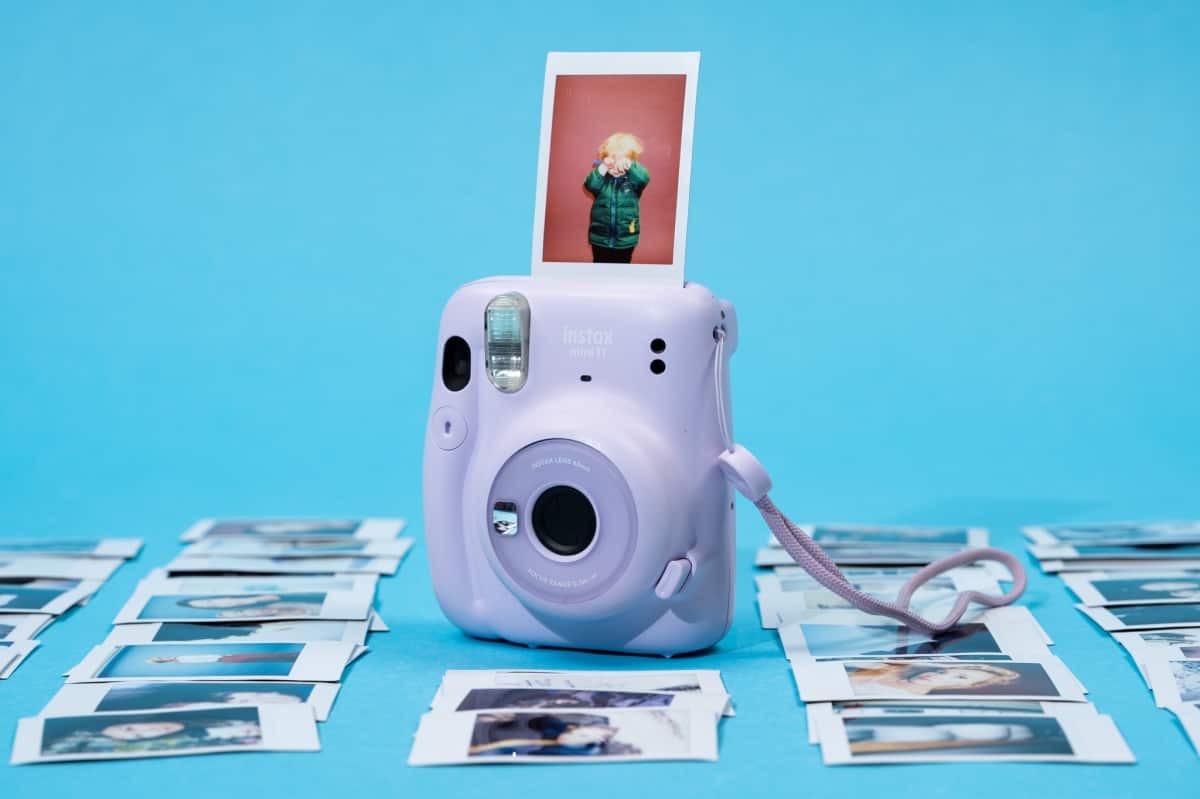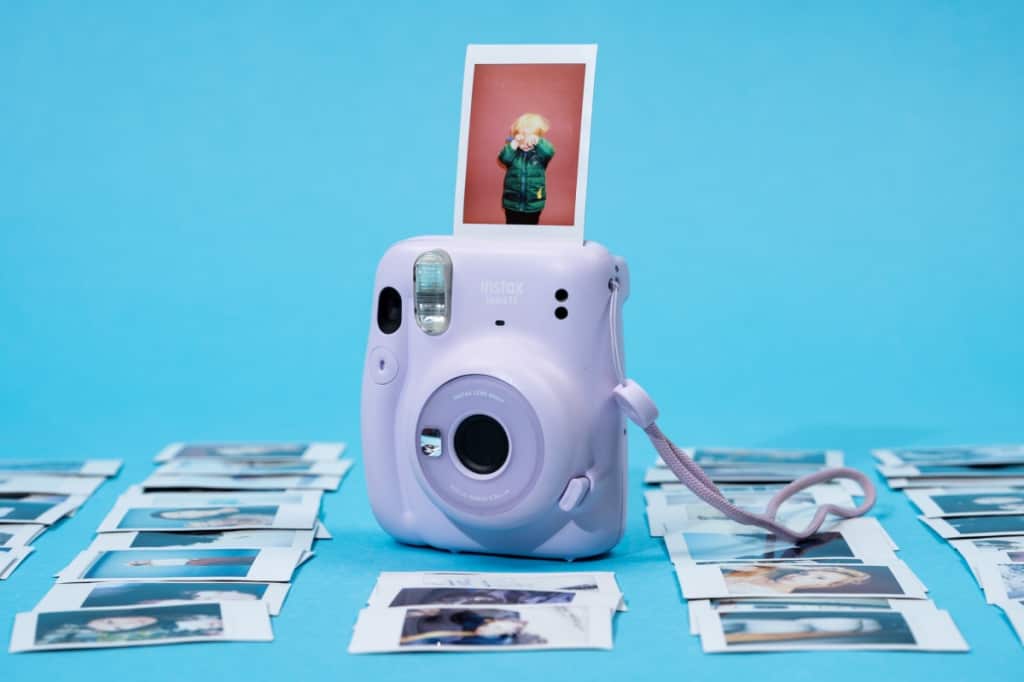 Choosing the perfect cologne for your husband-to-be shows you've taken the time and effort to select a gift that suits your taste and preferences. Whether he wears it for work, social events, or date nights, it becomes a part of his daily routine, constantly reminding him of your love.
#23. SPUR Experiences NBA Tickets
Whether he's an avid basketball fan or simply enjoys the thrill of live games, tickets to an NBA match will create lasting memories and excitement. As his best buddy, this gift can add more joy to his marriage life while embracing his passion for sports.
This practical wedding gift will set a positive tone for a wonderful day ahead. Imagine waking up to the delightful aroma of perfectly toasted bagels or artisanal bread, and your husband-to-be is waiting for you with a yummy breakfast.
#25. High-end Whiskey Set
One of the unique wedding gift ideas is a whiskey set. Complement his whiskey decanter engraved with his name, initials, or a meaningful message with a high-end whiskey bottle and glasses that are flashy and practical. As first-night gift ideas for husband-to-be, you and he can enjoy a romantic moment with the sweet and bitter of wine. Who can resist the allure of a man with whiskey in hand?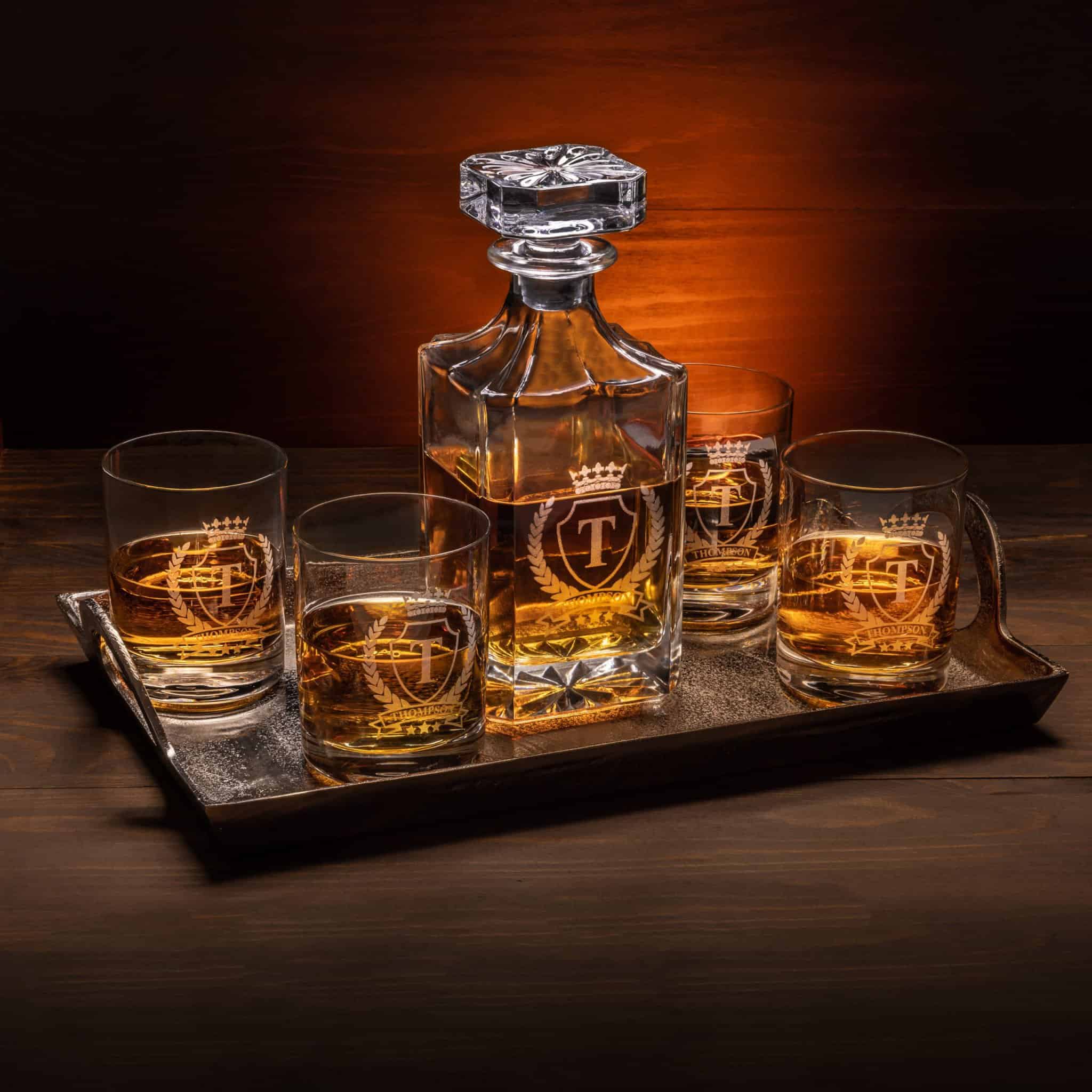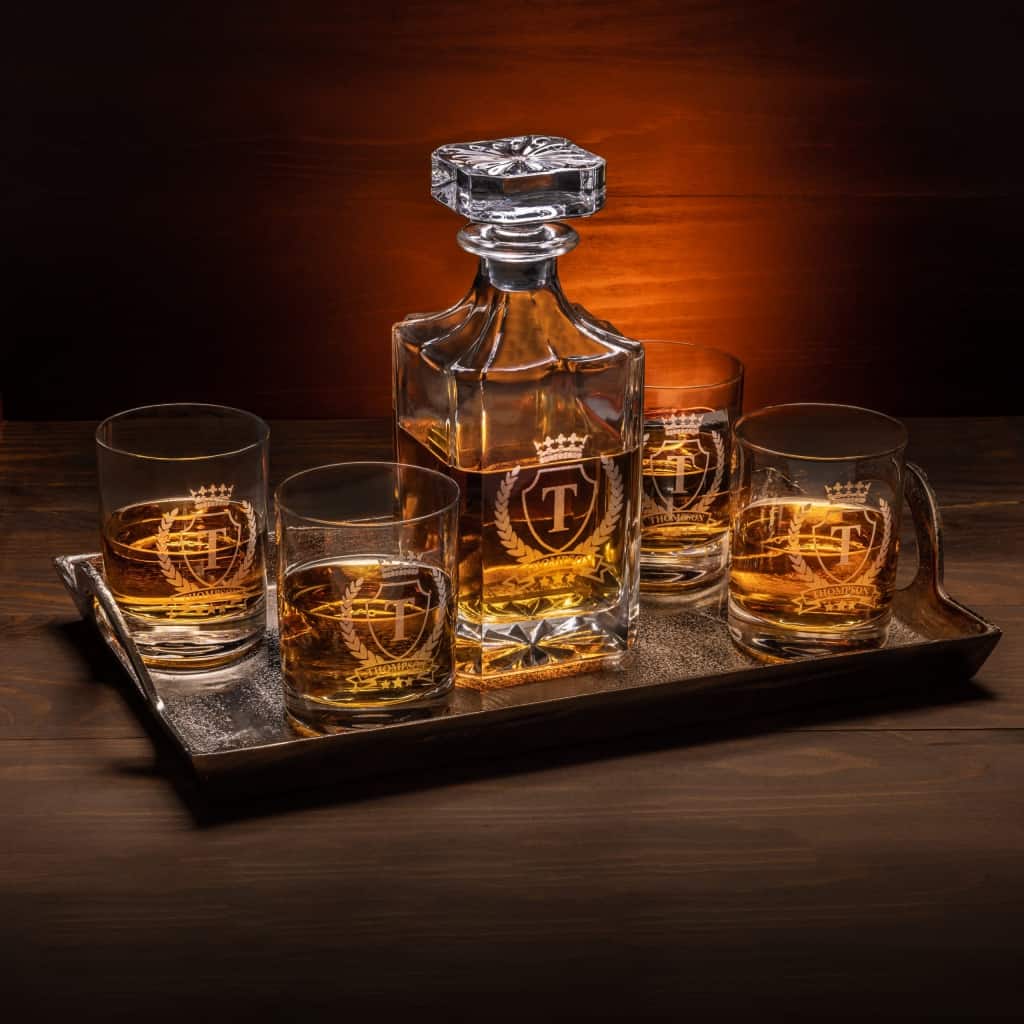 #26. Mini Wine Refrigerator
Are you thinking about expensive gifts for newly married couples? For the wine enthusiast, a mini wine refrigerator is an extraordinary gift that adds style to his home and ensures his wine collection stays perfectly preserved, ready to be savored during intimate moments and celebrations alike.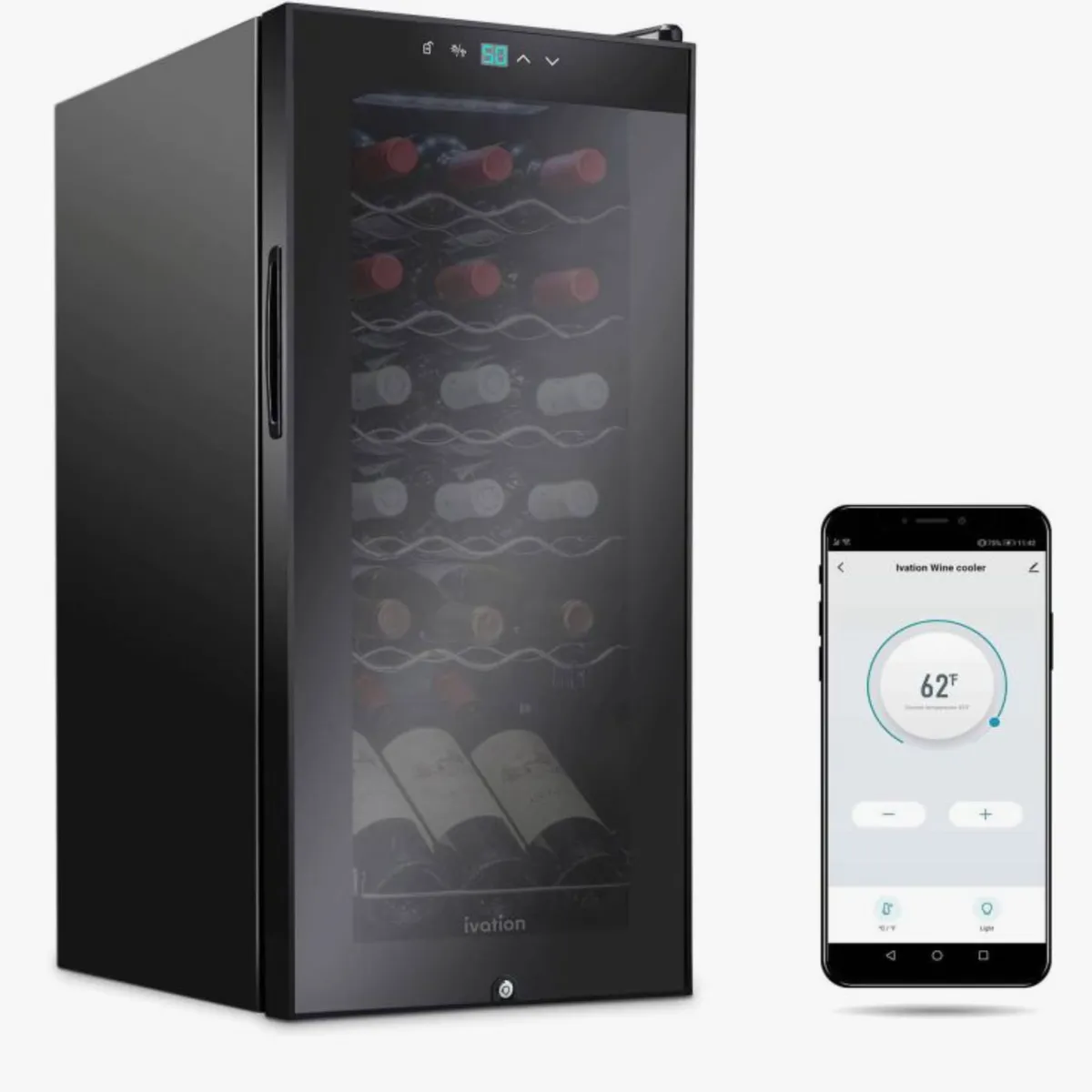 This exquisite gift will be a meaningful accessory on their wedding day that embraces timeless elegance and sentimental charm. The ticking of this beautiful timepiece will remind him of everlasting love.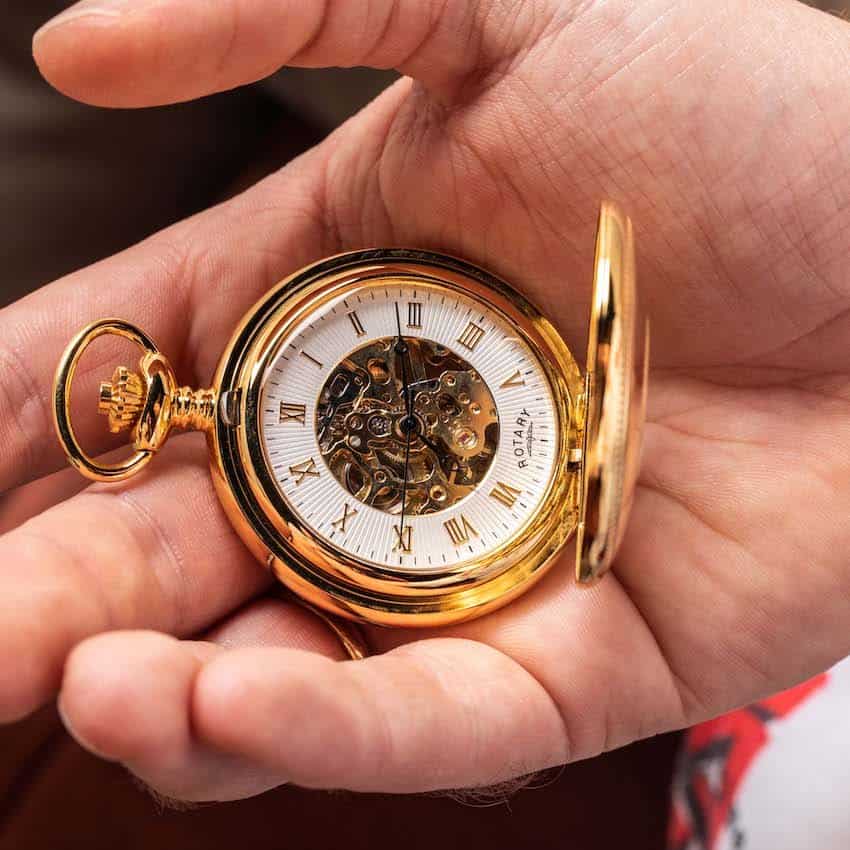 A top-notch wine rack is a perfect fit for new home decor. Add some flashy sense to his lifestyle with a customized wine rack, where he can put away favorite bottles and glasses within reach so they're always ready to toast.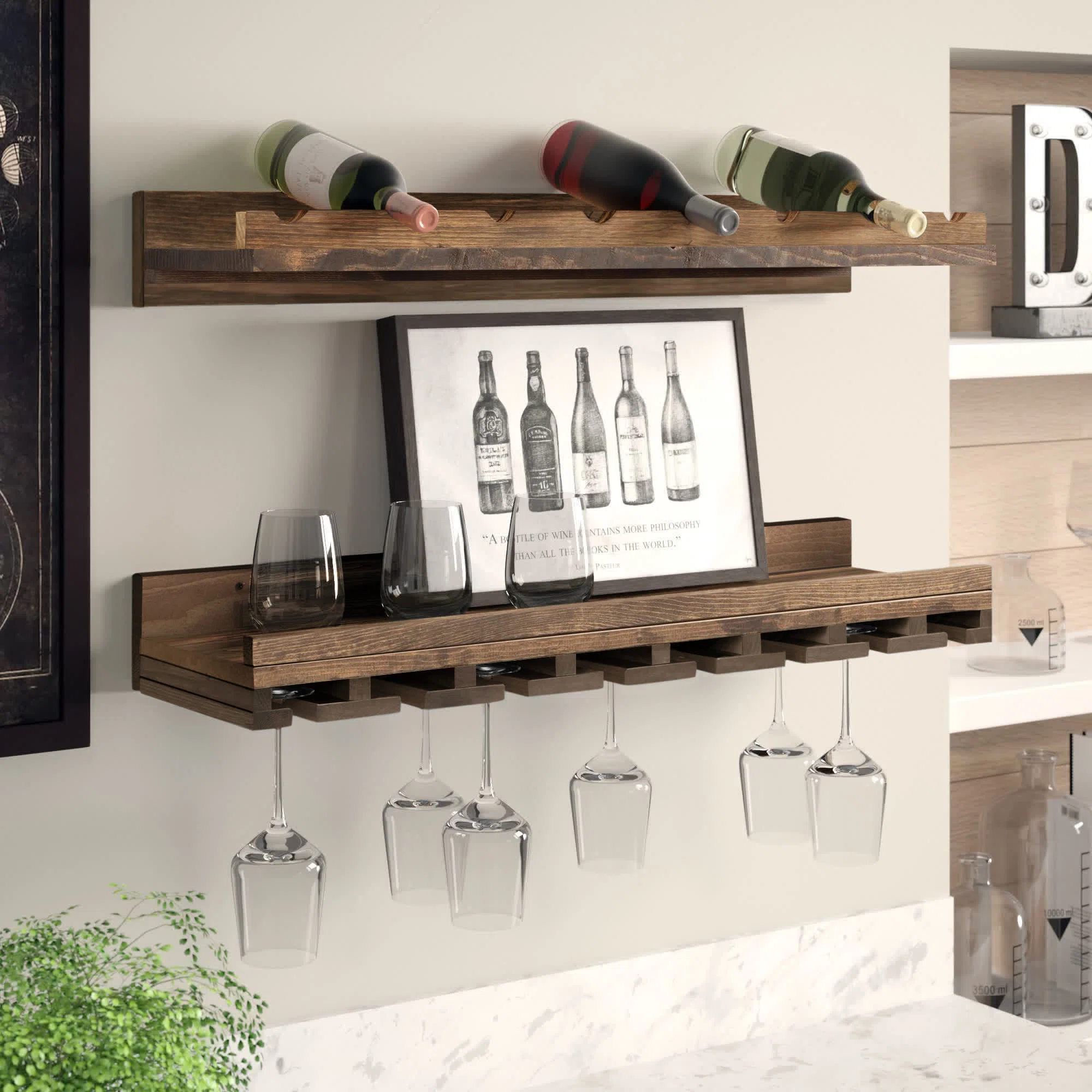 A delightful breakfast cannot miss a cup of brewed coffee with a rich aroma. The world's best coffee set can be a great wedding gift idea. A coffee set curated with premium beans, a high-quality coffee maker, and beautifully crafted mugs will surely bring a touch of luxury to their everyday routine.
#30. Personalized Pin and Tie Clips
Delight him with a personalized pin, a unique accessory that carries a heartfelt message or symbol of your love. Whether he wears it on the lapel of his suit during the wedding or as a special addition to his everyday attire, this pin will be a constant reminder of your love and commitment to one another.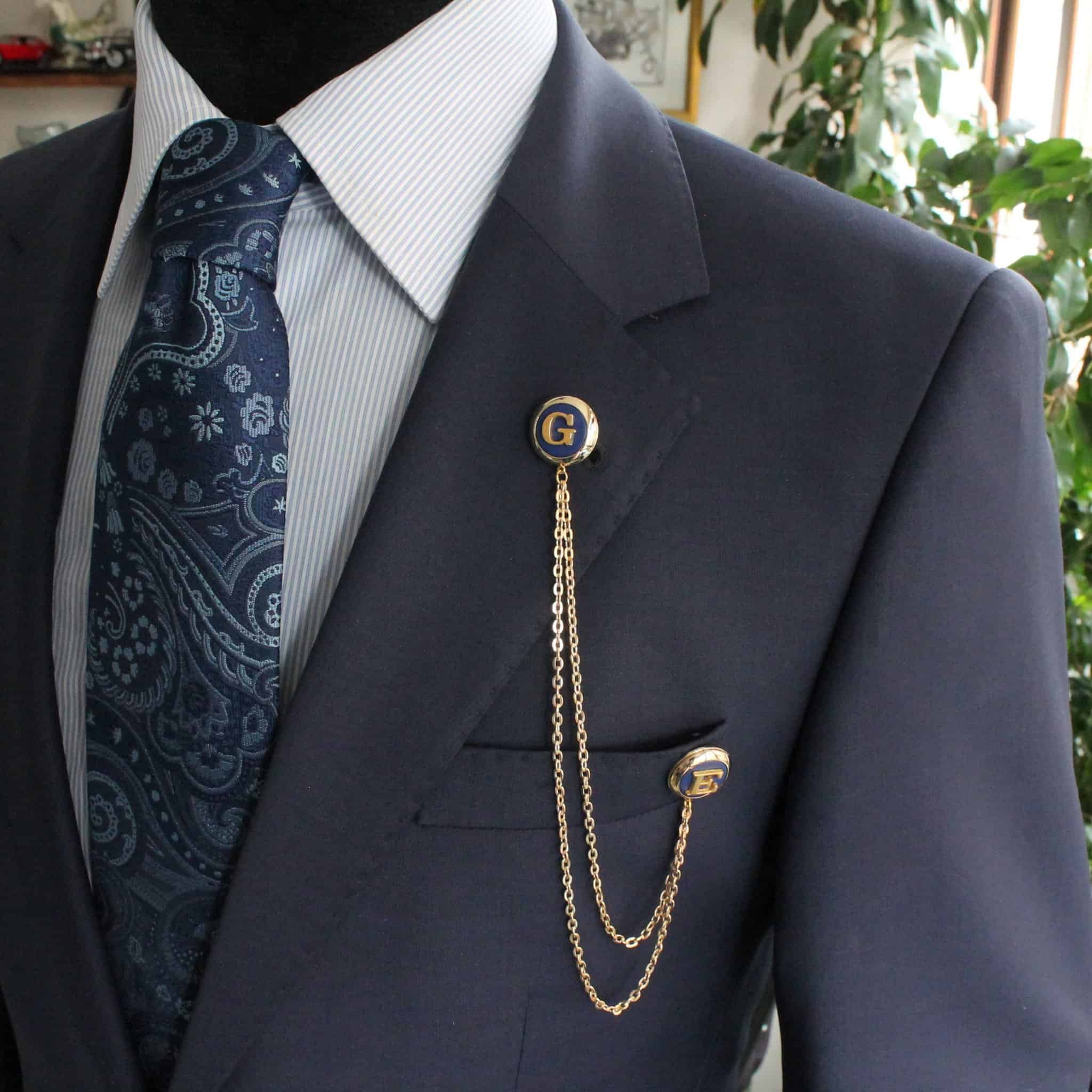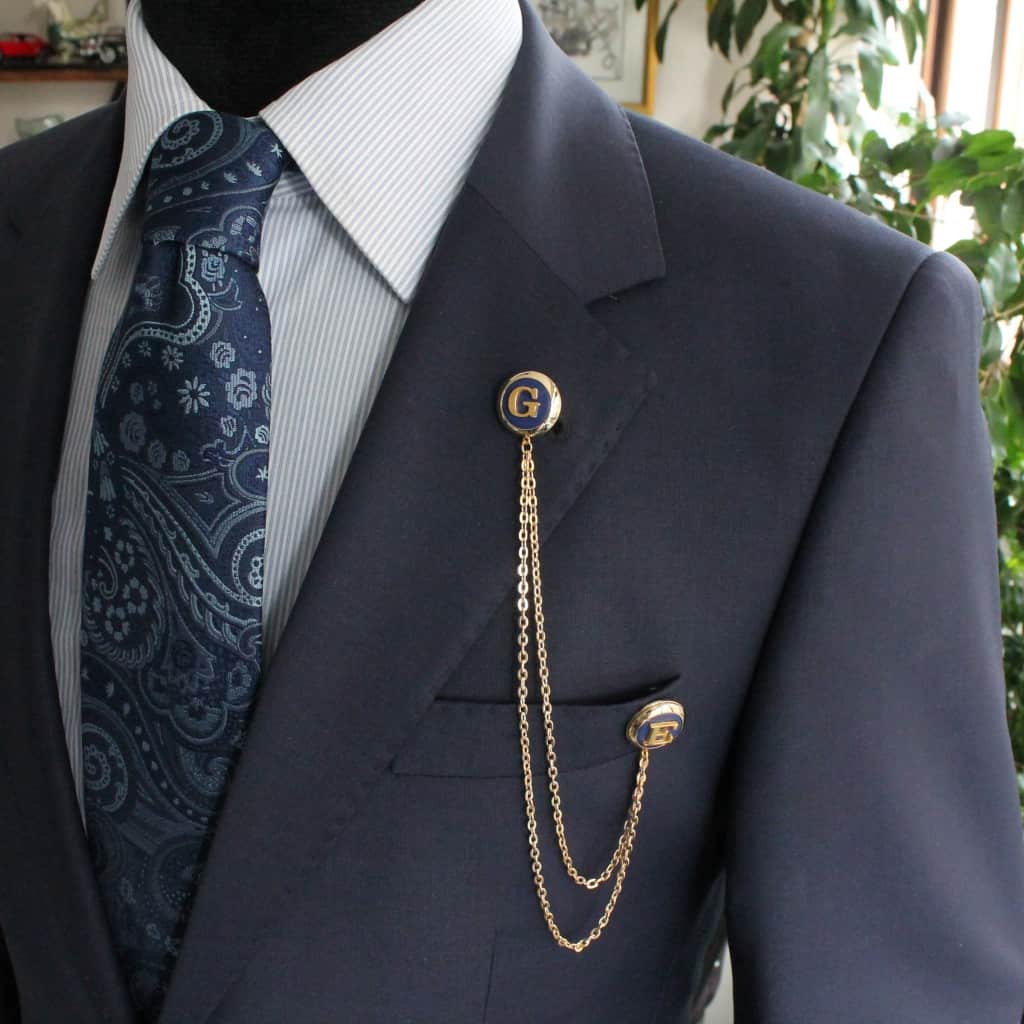 Funny Wedding Gift Ideas for Couples
When looking for funny wedding gifts for newlyweds, surprise them with the following ideas:
#31. Personalized "Mr." and "Mrs." Socks
Personalized "Mr." and "Mrs." socks make for a fantastic and thoughtful wedding gift. The couple can wear these socks on various occasions, and each time they put them on, they'll be reminded of their special day.
Give the groom a playful reminder of his new status with a "Game Over" t-shirt, humorously acknowledging the end of his bachelor days.
#33. Couple Decision Dice
Newlyweds will love this wedding gift so much as it will spark more thrilling and laughing moments in their daily routine. One day, they have no idea how to make their marriage life more exciting and romantic, and this little item will help them so much.
#34. The Married Life" Comic Book
If no one tells you how your life will change after getting married, let this funny comic show you. This crazy wedding gift is sure to give you a hilarious and relatable glimpse into the ups and downs of married life, from the challenges of sharing a bathroom to the joys of morning cuddles.
#35. Tonight Not Tonight Pillow
Married life cannot always be as romantic as the early days of love, so sometimes, the couple needs a hilarious pillow printed Tonight/ Not Tonight to get some rest and relax, which also adds a sense of playfulness to their bedroom decor.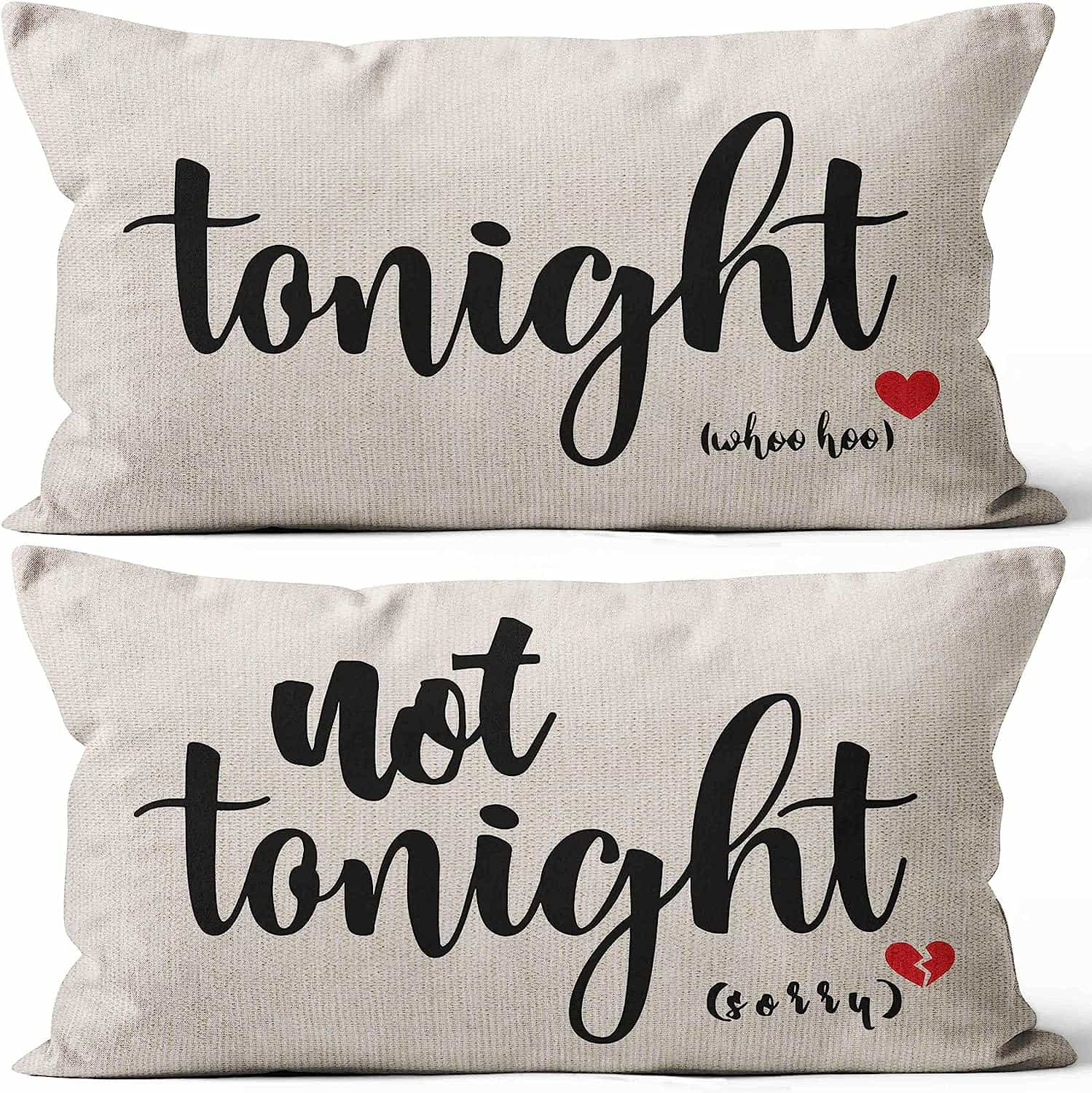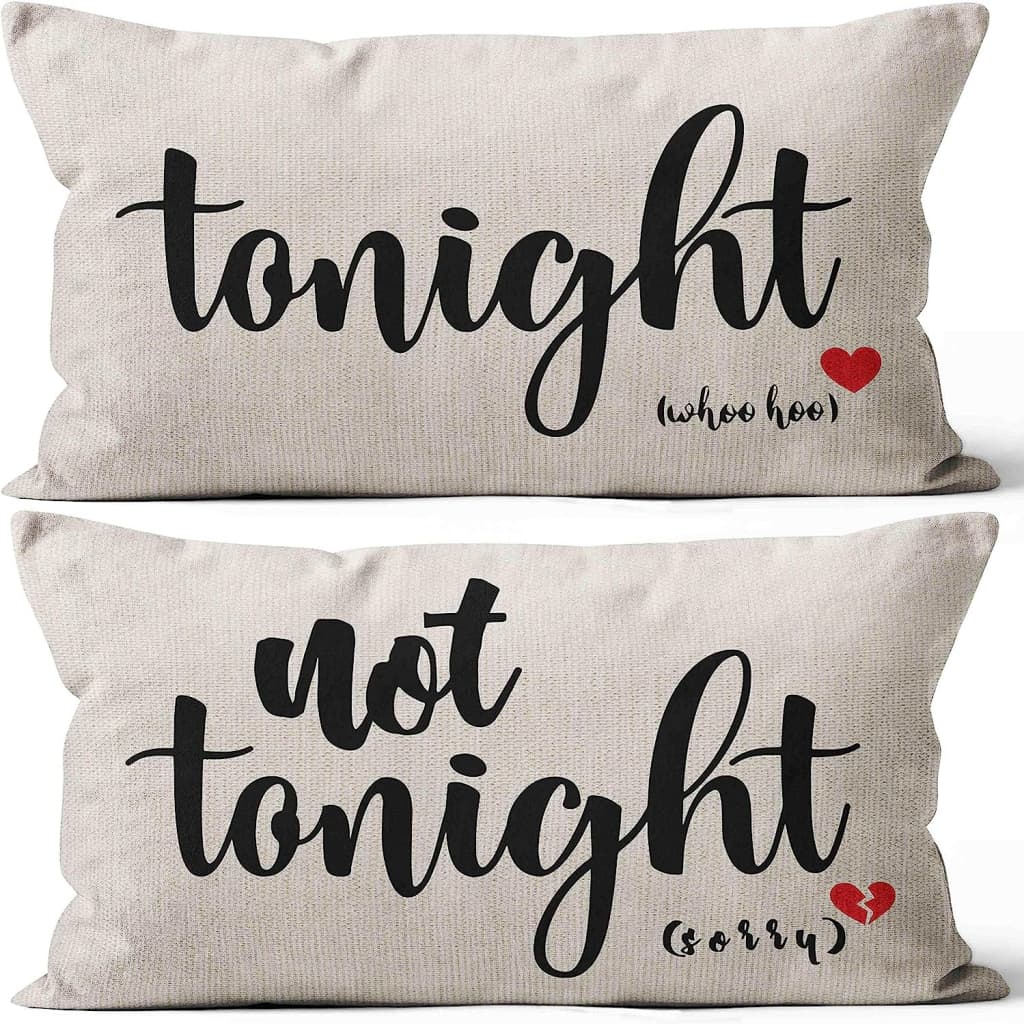 #36. Humorous Photo Canvas Print
More novelty wedding gifts? Nothing much more special than capturing a funny and candid moment of the couple and turning it into a canvas print that will keep them laughing and reminiscing for years to come.
#37. 100 Dates Scratch Off Poster
These carefully and gorgeously designed images to meet your every date need make a perfect wedding gift for couples who have everything, your girlfriend or wife's birthday, your wedding anniversary, and your engagement gift.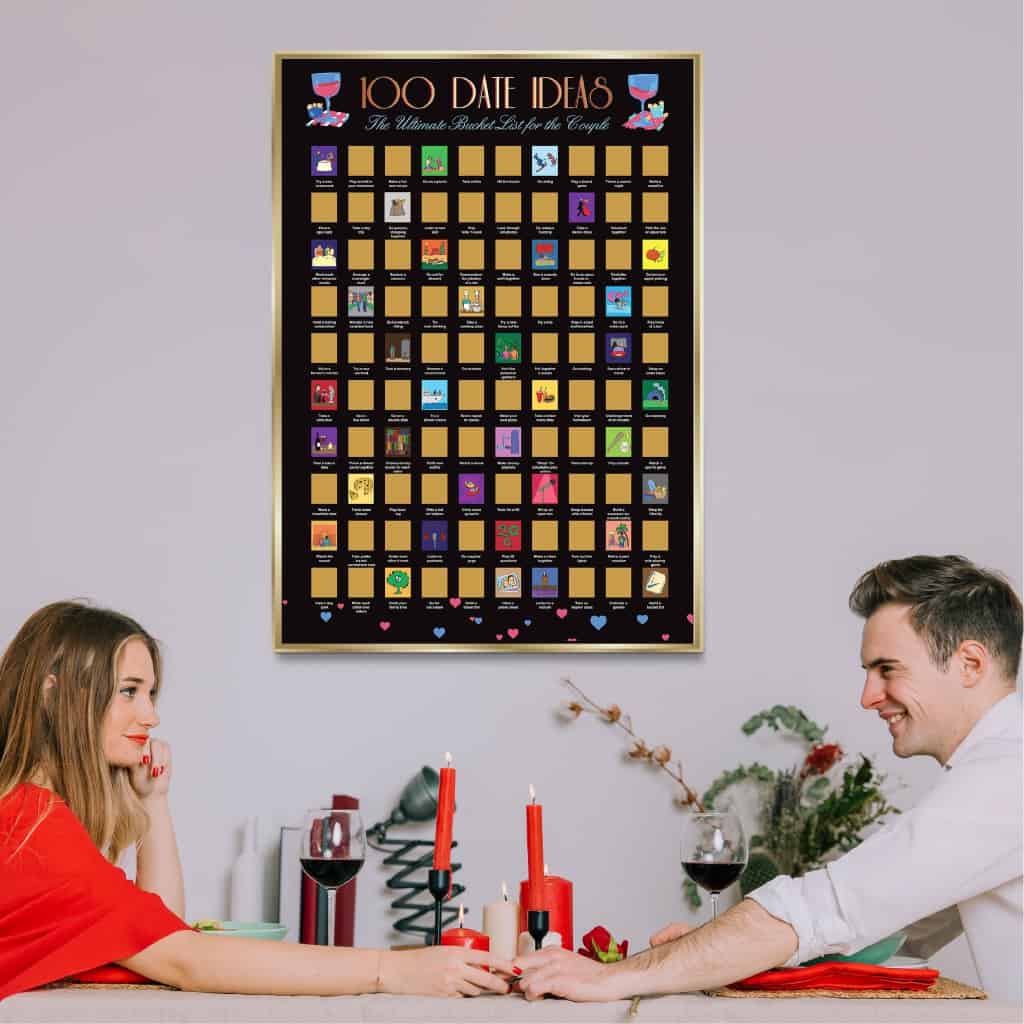 #38. Personalized Couple Pokemon cards
For couples who are fans of Pokemon, Personalized Couple Pokemon cards can be so meaningful. Each card could represent their unique qualities and strengths as a couple, and record every moment of their life, which makes it a truly one-of-a-kind gift for not only the wedding reception but also wedding anniversary gift ideas.
#39. Funny His & Her Apron Set
Add some sweetness to their marriage life with Funny His & Her Apron Set. Cooking can sometimes be messy, but with these aprons, any kitchen mishap becomes a moment to giggle together. Awesome wedding gifts like the Funny His & Her Apron Set will bring your couple so much funny time.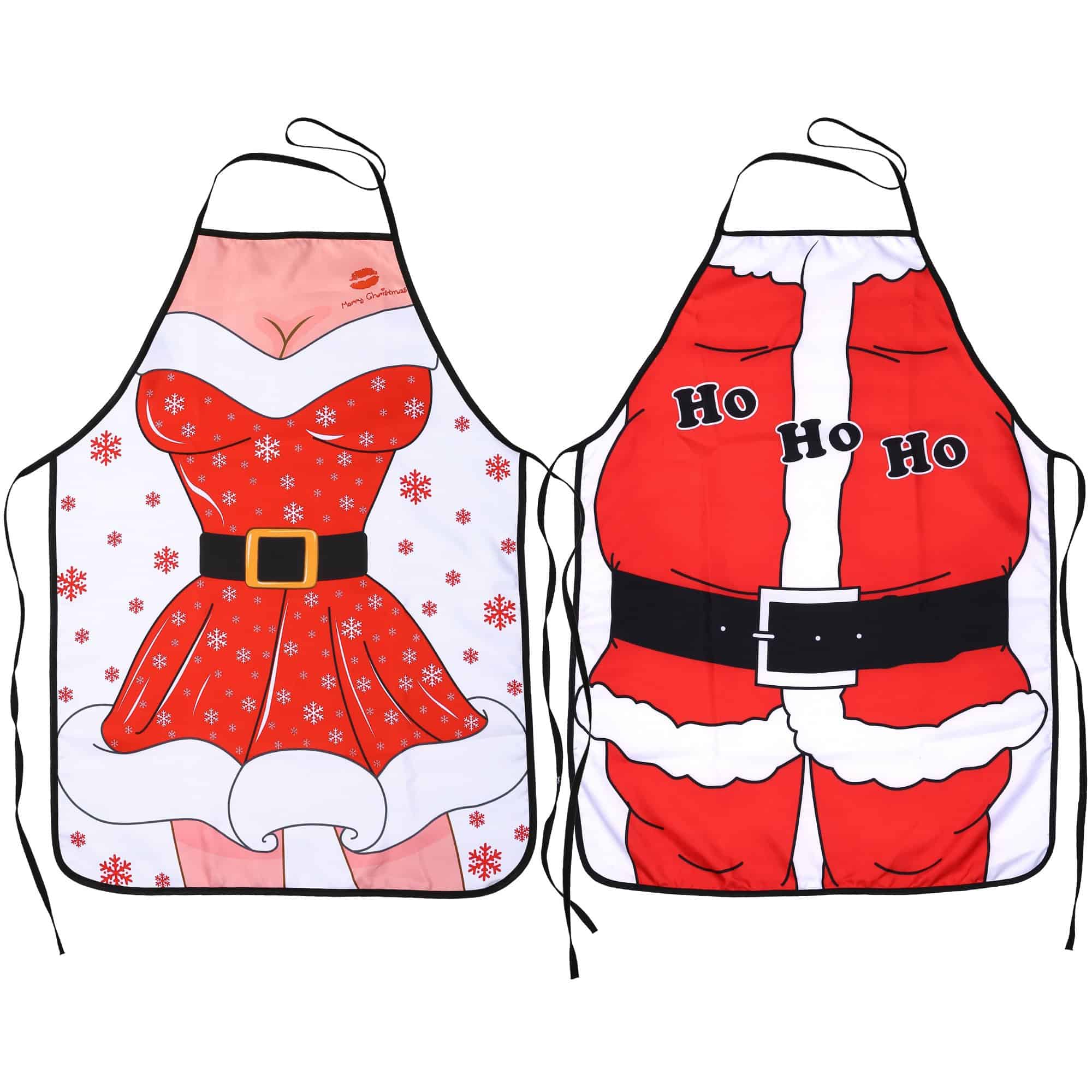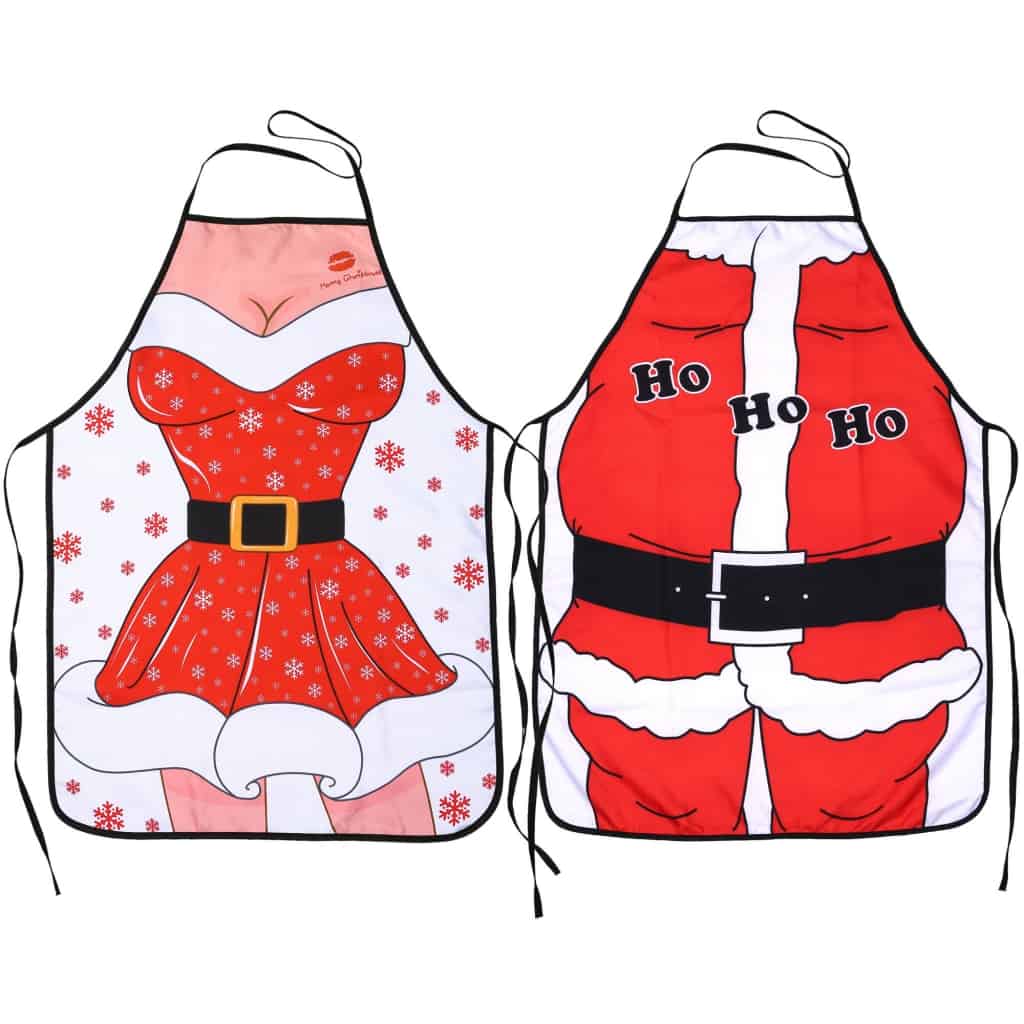 #40. Marriage Survival Kit
Compile a fun and lighthearted "survival kit" that includes items like "patience pills" and "laughter lotion," ensuring they navigate through the ups and downs of married life with humor and grace. Perhaps it is the reason why many people believe that a marriage survival kit is one of the perfect wedding gifts for couples.
Wedding Gift Ideas FAQs
What is considered a good wedding gift?
It's popular to prepare a wedding gift anywhere from $100 to $1,000. A good wedding gift should be a valuable support to the couple, not related to its cost.
What are traditional gifts for marriage?
Crystal vases, Knife blocks & Sets, Glass sets, and Espresso machines are some examples of traditional gifts that couples still love today.
How much should I spend on a wedding gift?
The average person spends 50 to 100 dollars on a wedding gift. However, if the groom or bride is quite close to you, a budget for a wedding gift can be up to 500 dollars.
Why are wedding gifts given?
As a ritual, a wedding gift shows appreciation and best wishes to the newlyweds. And for modern life, these gifts can make it easier for newlyweds to begin their lives together.
Is it fine to give cash as a wedding gift?
Cash gifts are acceptable, especially in Asian countries, where guests present the newlyweds with cash.
Final Thoughts
Hope these ideas helped to make your wedding-present-purchasing that little bit easier. And if you need more wedding anniversary gift ideas, these mentioned ideas can meet your demand as well. Remember, whatever you are going to buy as a wedding gift, a luxurious or low-budget, it should align with the groom and bride's preferences and needs.
Looking for other gift ideas for different occasions, check out AhaSlides right away.