It's hard to imagine any event, any situation, any small part of a person's life can't be improved with a live quiz. Be the one to make that happen with these top 5 free online quiz makers.
Get more Ideas about Quizzes with AhaSlides
#1 – AhaSlides
AhaSlides is interactive software for raising engagement pretty much anywhere you need it. Its substantial quiz features sit alongside several other tools for grabbing attention and creating a fun dialogue with students, colleagues, trainees, customers, and beyond.
As a live online quiz maker, AhaSlides puts a lot of effort into electrifying the quizzing experience. It's a free online multiple choice quiz maker, sure, but it also has cool templates, themes, animations, music, backgrounds and live chat. It gives players a lot of reasons to get excited for a quiz.
The straight-forward interface and a full template library means you can go from free sign-up to completed quiz in a matter of minutes.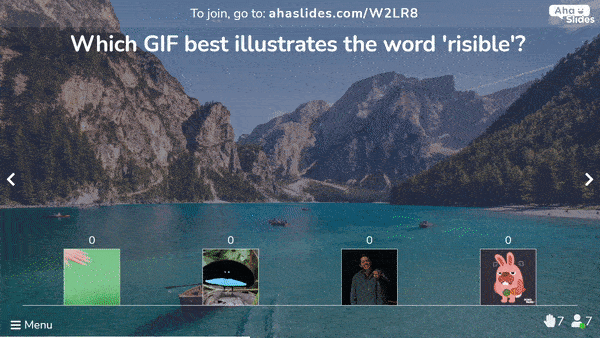 Top 6 Quiz Maker Features
---
Here are 6 reasons why AhaSlides is one of the best free online quiz makers!
Many Question Types
Multiple choice, image choice, checkbox, true or false, type answer, match pairs and correct order.
Quiz Library
Use ready-made quizzes with a bunch of different topics.
Live Quiz Chat
Let players chat with each other while waiting for everyone to join the quiz.
Audio Embed
(paid only)
Place audio directly within a question to play on your device and players' phones.
Player-Paced Quizzes
Allow players to complete the quiz in their own time, without the host.
Top Support
Free live chat, email, knowledge base and video support for all users.
Other Free Features
Teamplay
Background music
Player report
Live reactions
Full background customisation
Manually add or deduct points
Integrated image and GIF libraries
Collaborative editing
Request player info
Show results on phone
No preview mode – Hosts will have to test their quiz by joining it themselves on their own phone; there's no direct preview mode to see how your quiz will look.
Pricing
Free?

✔

up to 7 players
Monthly plans from…
$1.95
Annual plans from…
$23.40
Overall
| | | | |
| --- | --- | --- | --- |
| Quiz Features | Free Plan Value | Paid Plan Value | Overall |
| ⭐⭐⭐⭐ | ⭐⭐⭐⭐⭐ | ⭐⭐⭐⭐⭐ | 14/15 |
Live Quizzes to Lift the Room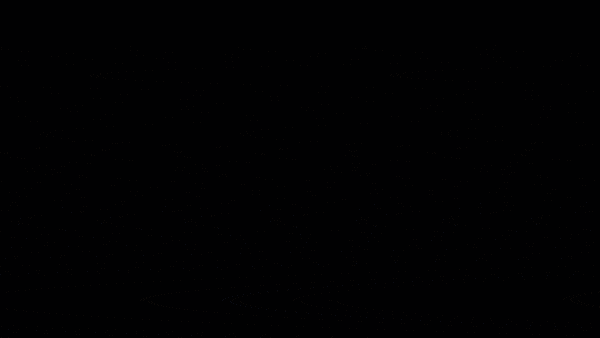 Choose from dozens of pre-made quizzes or create your own with AhaSlides. The joy of engagement, wherever you need it.
#2 – GimKit Live
As well as being one of the top alternatives to Kahoot!, GimKit Live is a great free online quiz maker for teachers, made better by its modest stature in a field of giants. The entire service is operated by 3 full-time staff who earn their living through nothing but plan subscriptions.
Because of the small team, GimKit's quiz features are very focused. It's not a platform swimming in features, but the ones that it does have are well-made and perfectly tailored to the classroom, both on Zoom and in the physical space.
It works differently to AhaSlides in that quiz players proceed through the quiz solo, rather than as a whole group doing each question together. This allows for students to set their own pace for the quiz, but also makes cheating quite easy.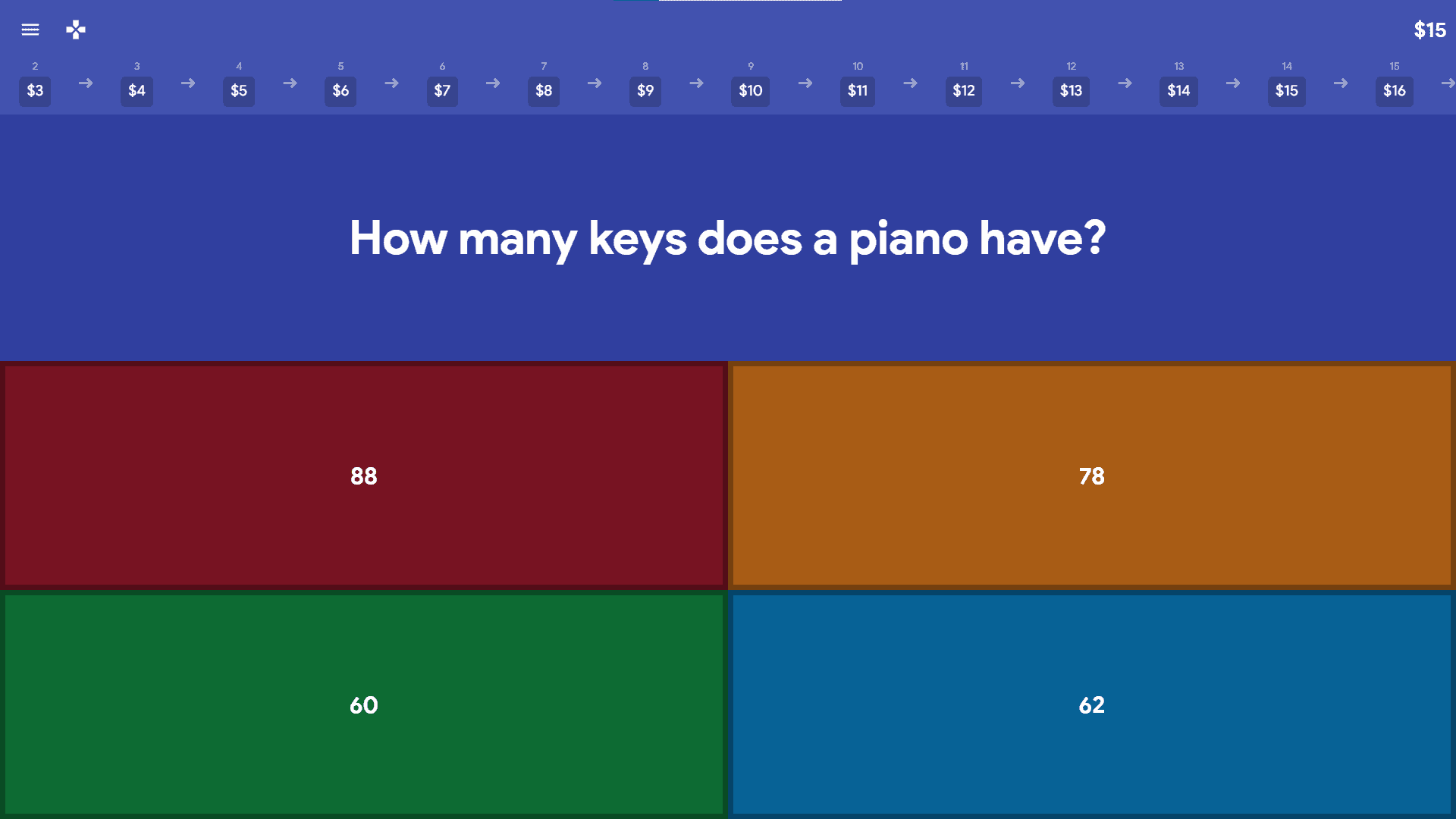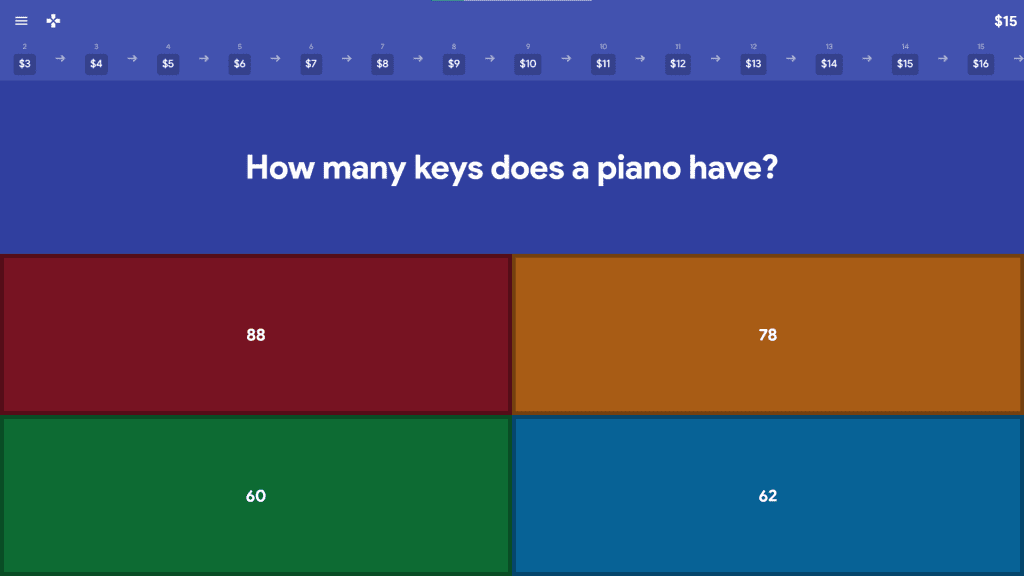 Top 6 Quiz Maker Features
---
Here are 6 reasons why GimKit Live is one of the best free online quiz makers!
Many Game Modes
Over a dozen game modes including classic quiz, team quiz and the Floor is Lava.
Flashcards
Short burst quiz questions in flashcard format. Great for schools and even self-learning.
Money System
Players earn money for each question and can buy power-ups, which do wonders for motivation.
Quiz Music
Background music with a beat that keeps players engaged for longer.
Assign as Homework
(paid only)
Send a link for players to complete the quiz in their own time
Question Import
Take other questions from other quizzes within your niche.
Limited question types – Just the two, really – multiple choice and text input. Not as many varieties as other free online quiz makers.
Tough to stick – If you're using GimKit in the classroom, you may find that students lose interest with it after a while. Questions can get repetitive and the allure of earning money from correct questions soon wanes.
Limited support – Email and a knowledge base. Having 3 members of staff means barely any time for talking with customers.
Pricing
Free?

✔

up to 3 game modes
Monthly plans from…
$9.99
Annual plans from…
$59.88
Overall
| | | | |
| --- | --- | --- | --- |
| Quiz Features | Free Plan Value | Paid Plan Value | Overall |
| ⭐⭐⭐⭐ | ⭐⭐⭐⭐ | ⭐⭐⭐⭐ | 12/15 |
#3 – Quizizz
In the last few years, Quizizz has really established itself as one of the top free online quiz makers out there. It's got a lovely blend of features and pre-made quizzes to ensure that you'll have the quiz you want without too much work.
For younger players, Quizizz is especially appealing. Bright colours and animations can liven up your quizzes, while a thorough report system is helpful for teachers to figure out how to craft the perfect quiz for students.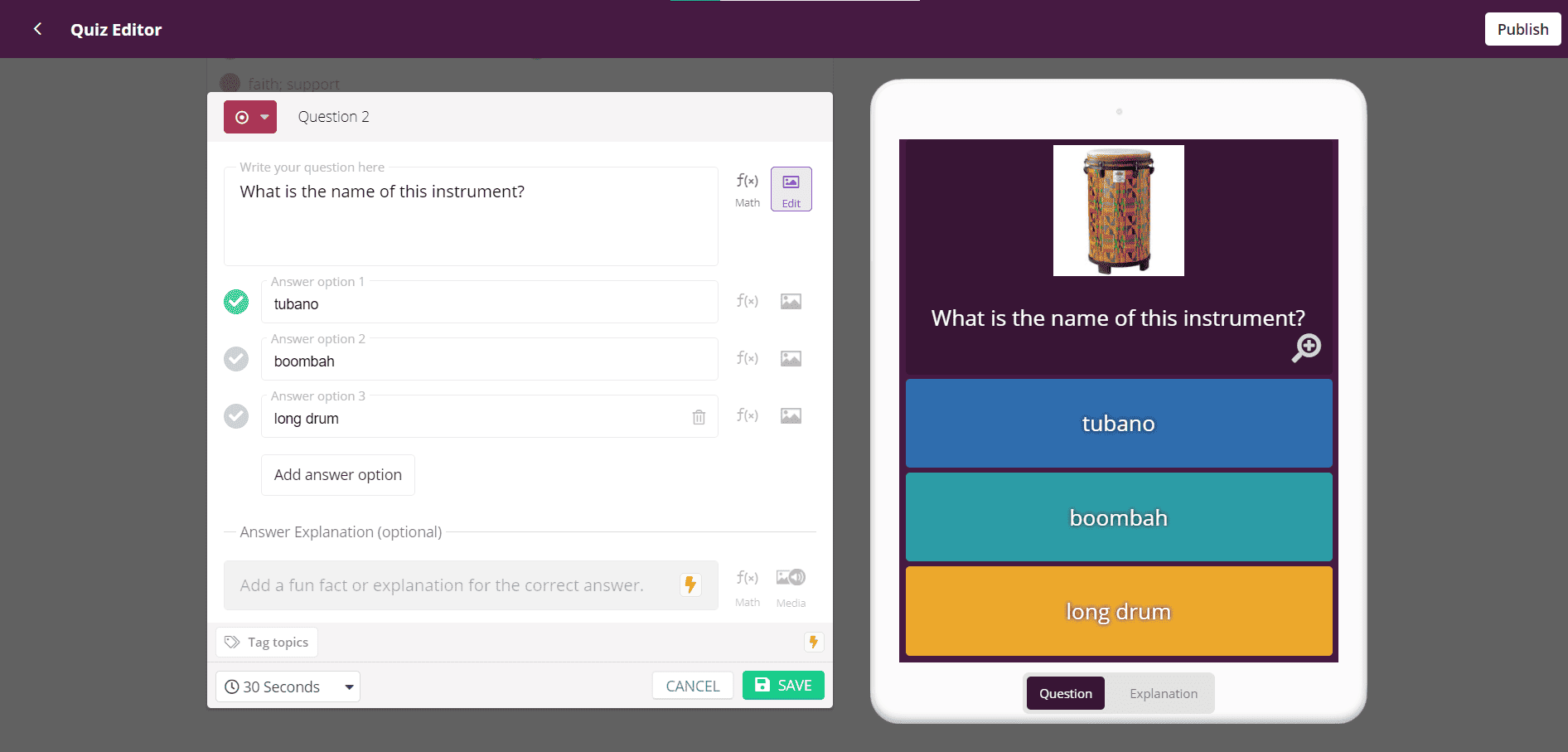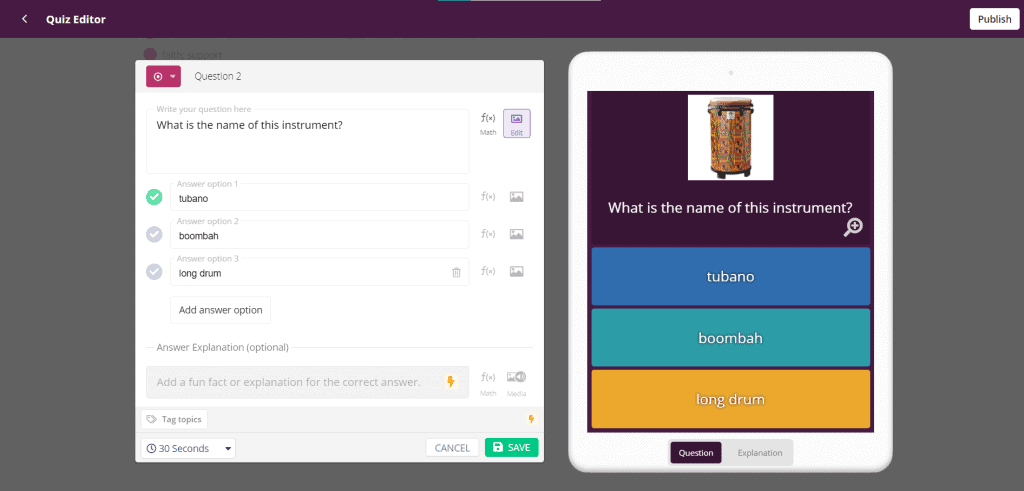 Top 6 Quiz Maker Features
---
Here are 6 reasons why Quizizz is one of the best free online quiz maker, especially for multiple choice for friends.
Great animations
Keep engagement high with animated leaderboards and celebrations
Printable Quizzes
Turn quizzes into worksheets for solo work or homework.
Reports
Get slick and detailed reports after quizzes. Great for teachers.
Equation Editor
Add equations directly into questions and answer options.
Answer Explanation
Explain why an answer is correct, shown directly after the question.
Question Import
Import single questions from other quizzes on the same subject.
Expensive – If you're using an online quiz maker for a group of more than 25, then Quizizz may not be for you. Pricing starts at $59 per month and ends at $99 per month, which quite frankly isn't worth it unless you're using it 24/7.
Lacking in variety – Quizizz has a surprising lack of different quiz question types. While many hosts are okay with multiple choice and typed answer questions, there is a lot of potential for other slide types like matching pairs and correct order.
Limited support – No way to chat live with support. You'll have to send an email or reach out on Twitter.
Pricing
Free?

✔

up to 25 players
Monthly plans from…
$59
Annual plans from…
$228
Overall
| | | | |
| --- | --- | --- | --- |
| Quiz Features | Free Plan Value | Paid Plan Value | Overall |
| ⭐⭐⭐⭐ | ⭐⭐⭐⭐ | ⭐⭐⭐ | 11/15 |
#4 – TriviaMaker
If it's game modes you're after, both GimKit and TriviaMaker are two of the best free online quiz makers out there. TriviaMaker is a step up from GimKit in terms of variety, but it will take users quite a bit more time to get used to how it all works.
TriviaMaker is more of a game show than an online quiz maker. It takes formats like Jeopardy, Family Fortunes, Wheel of Fortune and Who Wants to be a Millionaire? and makes them playable for hangouts with friends or as an exciting subject review in school.
Unlike other virtual trivia platforms like AhaSlides and Quizizz, TriviaMaker doesn't usually allow players to play on their phones. The presenter merely displays the quiz questions on their screen, assigns a question to a person or team, who then guess the answer.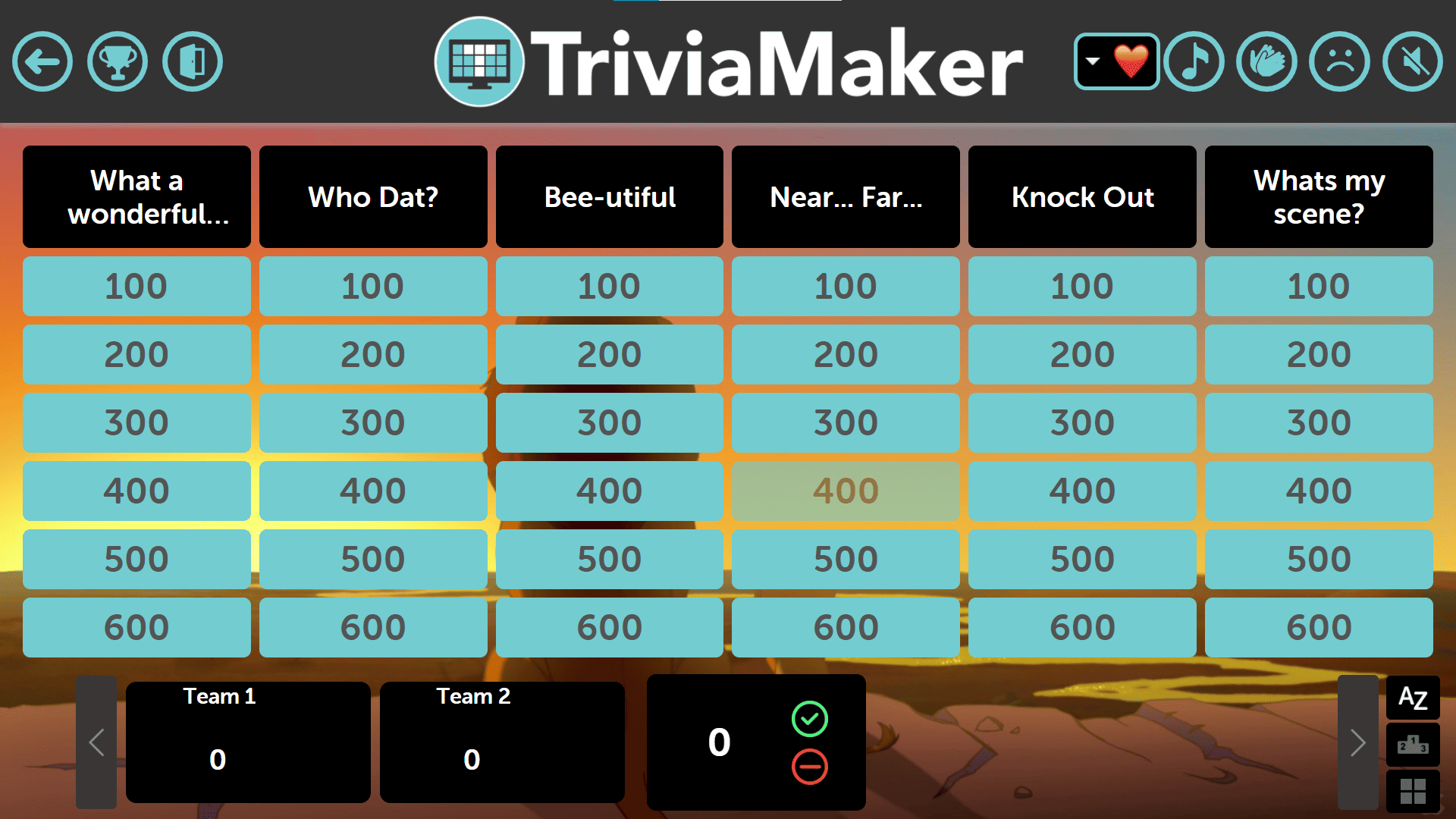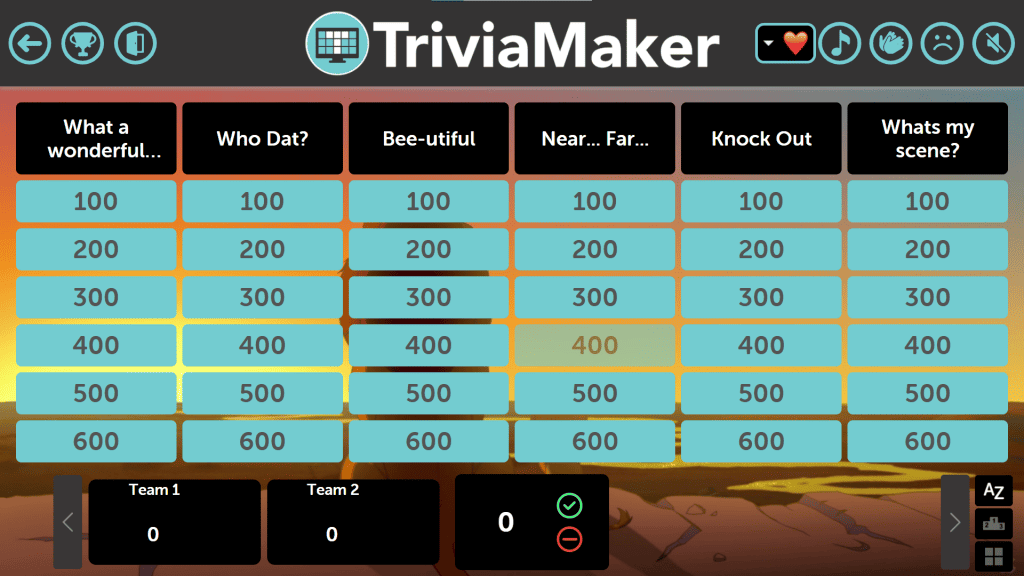 Top 6 Quiz Maker Features
---
Here are 6 reasons why TriviaMaker is one of the best free online quiz makers!
Exciting Games
5 game types, all from famous TV game shows. Some are only for paying users.
Quiz Library
Take pre-made quizzes from others and edit them to your liking.
Buzz Mode
Live quizzing mode, currently in Beta, allows players to answer live with their phones.
Customisation
(paid only)
Change the colour of different elements, background image, music and logo.
Player-Paced Quizzes
Send your quiz to anyone to complete in solo mode.
Cast to TV
Download the TriviaMaker app on a smart TV and display your quiz from there.
Live quiz in development – Much of the excitement of a live quiz is lost when players can't answer questions themselves. At the moment, they must be called upon to answer by the host, but the fix for this is currently in the works.
Poor interface – You'll have a big job on your hand if you want to create quizzes, as the interface can be quite confusing. Even editing an existing quiz is not very intuitive.
Two team maximum for free – On the free plan, you're only allowed a max of two teams, as opposed to 50 on all paid plans. So unless you want to get the wallet out, you'll have to make do with two enormous teams.
Pricing
Free?

✔

up to 2 teams
Monthly plans from…
$8.99
Yearly plans from…
$29
Overall
| | | | |
| --- | --- | --- | --- |
| Quiz Features | Free Plan Value | Paid Plan Value | Overall |
| ⭐⭐⭐ | ⭐⭐⭐⭐ | ⭐⭐⭐ | 10/15 |
#5 – ProProfs
If you're looking for an online quiz maker for work, or even a fun alternative to Google Forms, ProProfs could be the one for you. It has a big library of surveys and feedback forms for employees, trainees and customers.
For teachers, ProProfs is a little tougher to use. It brands itself as 'the world's simplest way to create online quizzes', but for the classroom, the interface is not too friendly and ready-made templates are seriously lacking in quality.
Question variety is good and reports are detailed, but ProProfs has some big aesthetic problems which may put off a lot of younger students and employees from playing.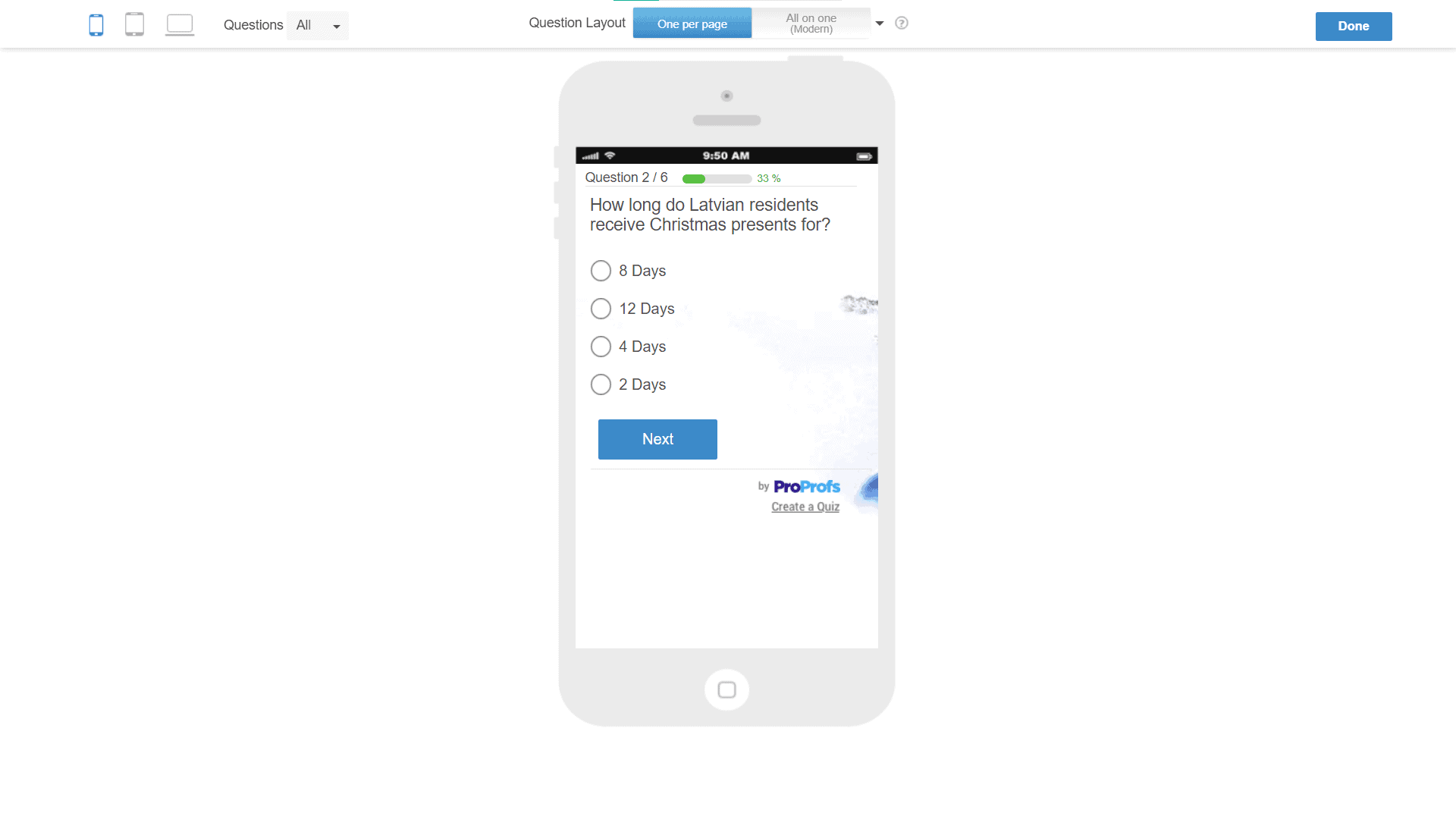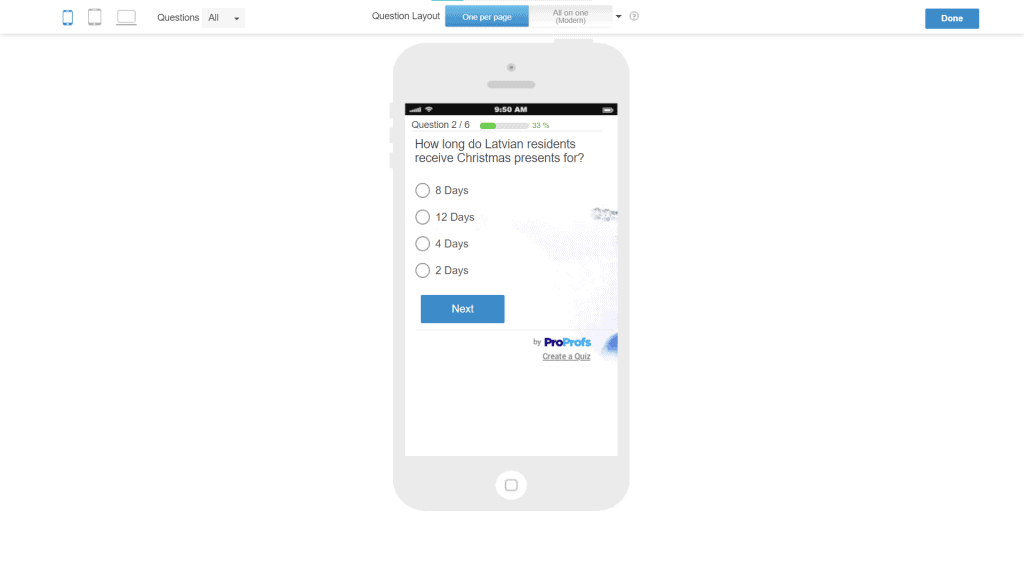 Top 6 Quiz Maker Features

Here are 6 reasons why ProProfs is one of the best free online quiz makers!
Personality Quizzes
A separate type of quiz that gives a final result based on options chosen in the quiz.
Question Import
(paid only)
Take some of 100k+ questions across the quiz back catalogue.
Customisation
Change fonts, size, brand icons, buttons and much more.
Multiple Instructors
(premium only)
Allow more than one person to collaborate on making a quiz at the same time.
Reports
Track the top and bottom players to see how they answered.
Live Chat Support
Speak to a real human if you get lost making or hosting your quiz.
Low quality templates – Most quiz templates are only a few questions long, are simple multiple choice and are pretty questionable in their quality. Take this question, for example: How long do Latvian residents receive Christmas presents for? Does anyone outside of Latvia know that?
Poor interface – Very text-heavy interface with haphazard arrangement. Navigation is painful and has the look of something that hasn't been updated since the 90s.
Aesthetically challenging – This is a polite way to say that questions just don't look that good on the host's or players' screens.
Confusing pricing – Plans are based on how many quiz takers you will have, rather than by standard monthly or annual plans. Once you have hosted more than 10 quiz takers, you will need a new plan.
Pricing
Free?

✔

up to 10 quiz takers
Plans per quiz taker per month
$0.25
Overall
| | | | |
| --- | --- | --- | --- |
| Quiz Features | Free Plan Value | Paid Plan Value | Overall |
| ⭐⭐⭐ | ⭐⭐⭐ | ⭐⭐⭐ | 9/15 |