Pub quizzes are no less than a worldwide institution. Beloved by all, but speaking from personal experience, an absolute pain in the backside to arrange.
That's why we're pouring out the trivia for you. Every week in our AhaSlides on Tap series we're giving you 40 pub quiz questions and answers, all in one concise delivery, straight to your cellar hatch.
Here's week 3. This round's on us.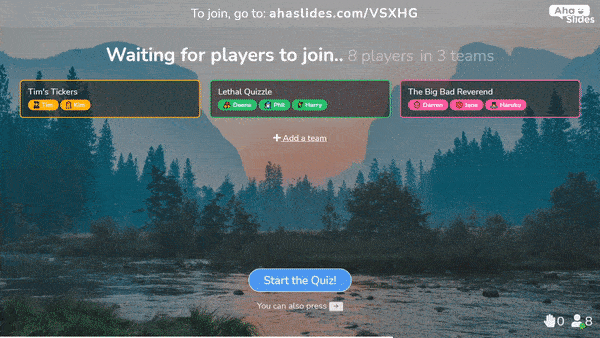 40 questions, 0 effort, 100% free.
Pub quizzes work better with AhaSlides. Download all 40 questions and run your whole quiz for free!
Let's Get Quizzical…
What's this Free Download?
What if we told you that you could get all 40 pub quiz questions and answers, and the means to host your quiz, instantly?
We're talking about the future of pub quizzes here. No more paper waste, no dodgy handwriting, no ambiguous answers and no shady dealings when teams mark each other's answers. We're talking software that makes things smooth, transparent, super fun and hugely varied (think multiple choice, image, audio AND open-ended questions).
How does it work? Easy – you ask quiz questions from your laptop and your players answer them with their phones.
Here's your laptop screen 👇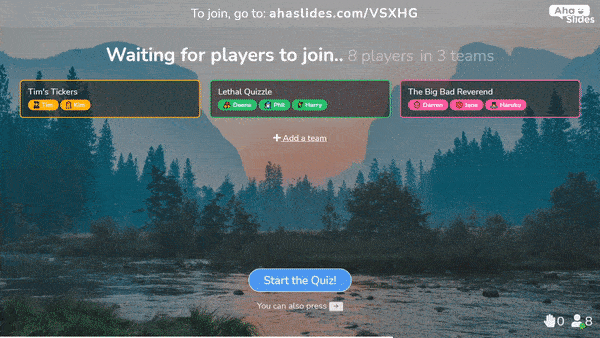 And here are your players' phone screens 👇
This AhaSlides quiz is viewable and playable for free with up to 7 players. If you have more players, you'll have to choose a plan from $2.95 (£2.10) per event – less than half a Carlsberg! Check out the plans on our pricing page.
Your 40 Pub Quiz Questions and Answers
Got a fear of the new? Don't sweat it. Below you'll find all 40 pub quiz questions and answers in good old text form 👇
Round 1: Food of the World 🥐
Where is tom yum from? Sri Lanka // Thailand // Japan // Singapore
Where is tajine from? Morocco // Spain // Mexico // Saudi Arabia
Where is biryani from? Ethiopia // Jordan // Israel // India
Where is phở from? Vietnam // China // South Korea // Cambodia
Where is nasi lemak from? Laos // Indonesia // Palau // Malaysia
Where is kürtőskalács from? Slovakia // Estonia // Hungary // Lithuania
Where is bunny chow from? USA // Australia // South Africa // Myanmar
Where is ceviche from? Panama // Greece // France // Peru
Where is chile en nogada from? Haiti // Mexico // Ecuador // Spain
Where is khachapuri from? Albania // Cyprus // Georgia // Kazakhstan
Round 2: Star Wars ⭐🔫
Which actor is the only one to appear in every single Star Wars movie, exccept for 'Solo: A Star Wars Story'? Carrie Fisher // Mark Hamill // Anthony Daniels // Warwick Davis
What colour are the lightsabers of the Sith? Red // Blue // Purple // Green
Which Star Wars film has this quote: "Always remember, your focus determines your reality."? The Empire Strikes Back // The Phantom Menace // The Force Awakens // Solo: A Star Wars Story
Which stormtrooper wasn't able to complete his mission in 'The Force Awakens?' FN-1205 // FN-1312 // FN-2187 // FN-2705
Which Jedi hates sand, loves Padmé, and is too old to train? Anakin Skywalker // Mace Windu // Qui-Gon Jinn / Luke Skywalker
In The Force Awakens, which character has Darth Vader's damaged mask? Finn // Rey // Kylo Ren // Luke Skywalker
How did Princess Leia get her title of royalty? A mocking nickname from Han Solo // She's the adopted daughter of Bail Organa and Queen Breha // Her sharp aim with a blaster // She's the daughter of Queen Katrina of the Geonosians
What's the name of the most sarcastic droid ever created? K-2S0 // BB-8 // R4-D4 // DAVE
Which Star Wars film has this quote: "They fly now?" Star Wars: Attack of the Clones // Rogue One: A Star Wars Story // Star Wars: The Rise of Skywalker // Solo: A Star Wars Story
What kind of vehicle did Rey live in? AT-ST // Star Destroyer // Mon Calimari // AT-AT
Round 3: The Arts 🎨
What is the name of the painting that features Jesus eating at a long table with all of his disciples? The Last Supper
Which of these famous composers was deaf? Beethoven // Mozart // Bach // Handel
Which of these instruments plays alongside 2 violins and a cello in a traditional string quartet? Harp // Viola // Double bass // Piano
Graffiti comes from the Italian word 'graffiato', meaning what? Wall painting // Scratched // Vandalism // Spray painting
Which classic film has this quote: "Frankly, my dear, I don't give a damn"? Doctor Zhivago // Casablanca // Citizen Kane // Gone with the Wind
Which British artist painted 'The Football Match' in 1949? Henry Moore // L.S. Lowry // Barbara Hepworth // David Hockney
In The Great Gatsby, which Long Island village does Jay Gatsby live in? Southampton // East Village // West Egg // Northwell
In which city might you find Michelangelo's 'David'? Florence // Paris // Toulouse // Madrid
Who was the principal architect of the Eiffel Tower? Frank Lloyd Wright // Victor Hora // Ludwig Mies van der Rohe // Stephen Sauvestre
Which famous ballet includes the characters Prince Siegfried, Odette, and Odile? Swan Lake // The Nutcracker // Cindarella // Don Quixote
Round 4: Music 🎵
Elton John's 1994 hit 'Can you Feel the Love Tonight' featured in which Disney movie? The Lion King // Toy Story // Aladdin // Mulan
Which Blur album came first? Modern Life is Rubbish // Parklife // The Great Escape // The Best of Blur
Which of these women was never a member of the Pussycat Dolls? Kaya Jones // Nicole Scherzinger // Kesha // Ashley Roberts
Who is often referred to as the King of Latin Pop? Ricky Martin // Luis Fonsi // Romeo Santos // Enrique Inglesias
Which of these 4 boy bands sold the most records? Jackson 5 // Backstreet Boys // NSYNC // Boyz II Men
Questions 6 – 10 are audio questions and can only be played on the quiz.
How to Use this Quiz on AhaSlides
Setting up and playing this pub quiz on AhaSlides is super simple. You can do it all in the 6 quick steps below:
Step #1 – Download the quiz for free
You can claim all 40 questions and answers for your pub quiz in just one click. There's not even a sign-up necessary until you want to present your quiz at the pub.
Step #2 – Look through the questions
Scroll down through the left-hand column and check out all of the slides (headings, questions and leaderboard slides).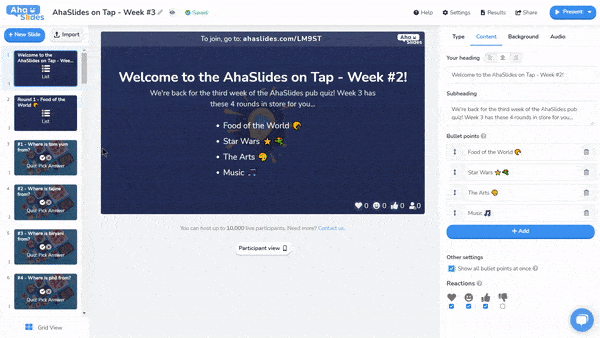 Once you select a slide, you'll see the following information across the 3 columns of your screen:
Left column – Vertical list of all slides in the quiz.
Middle column – What the slide looks like.
Right column – All information and settings about the selected slide.
Step #3 – Change anything
Once you download all 40 pub quiz questions and answers – they're 100% yours! You can change them to make them easier or harder, or even add your own from scratch.
Change the question 'type' – You can convert any multiple choice question into an open-ended question in the 'type' tab in the right-hand column.
Change the time limit or scoring system – Both can be found in the 'content' tab in the right-hand column.
Add your own! – Click 'new slide' in the top left corner and create your own question.
Stick a break slide in – Insert a 'heading' slide when you want to give time for players to come to the bar.
Step #4 – Test it out
On a handful of devices, join your quiz using the unique URL at the top of each slide. Progress through a few questions and leaderboard slides on your laptop while you and your fellow testers answer on the other devices.
Step #5 – Set up the teams
On the night of your quiz, gather the names of each team that's taking part.
Head to 'settings' ➟ 'quiz settings' ➟ check 'play as team ➟ click 'set up'.
Enter the number of teams and the maximum number of participants in each team ('team size').
Choose the team scoring rules.
Enter the team names.
When the players are joining the quiz on their phones, they'll be able to select the team they're playing for from a dropdown list.
Step #6 – Showtime!
Invite all of your players to join your quiz room via your unique URL code.
Press the 'present' button.
Proceed through the questions with all the poise and charm that you have always brought to the quiz master role.
Need some Inspiration? 💡
BeerBods, one of the biggest craft beer clubs in the UK, regularly attracted 3,000+ people to their online pub quizzes in 2020. Here's a clip of them running their trivia nights on AhaSlides 👇
Want more Pub Quiz Questions and Answers?
Check out the other trivia night questions and answers across the AhaSlides on Tap series. There's always more coming every week, so stay tuned!
If you're looking for specific quizzes, we've got a bunch here 👇
(Please note that there may be some minor crossover between questions in these quizzes and ones in this article).
🍺 We'll be back next week with AhaSlides on Tap #4! 🍺