Want to make a DIY Spinner Wheel yourself? "Everyone can be an artist", a well-known quote from Joseph Beuys, a belief of everyone has a unique way of looking at the world and creating unique artwork. Like that, no wonder why your DIY Spinner Wheel can be a masterpiece.
So how to make a spin wheel physically? Just need some techniques and available materials, and you can easily create the perfect one while having fun. Make a one DiY Spinner Wheel but you can use it for different wheel-spinning games, why not?
Here, AhaSlides instruct you on the handmade DIY Spinner Wheel step by step.
Overview
| | |
| --- | --- |
| When was spinner wheel found? | 500 and 1000 A.D |
| Where was spinner wheel found? | India |
| What was the name of first spinning wheel? | Charkha |
Overview of DIY Spinner Wheel
Tips for Better Engagement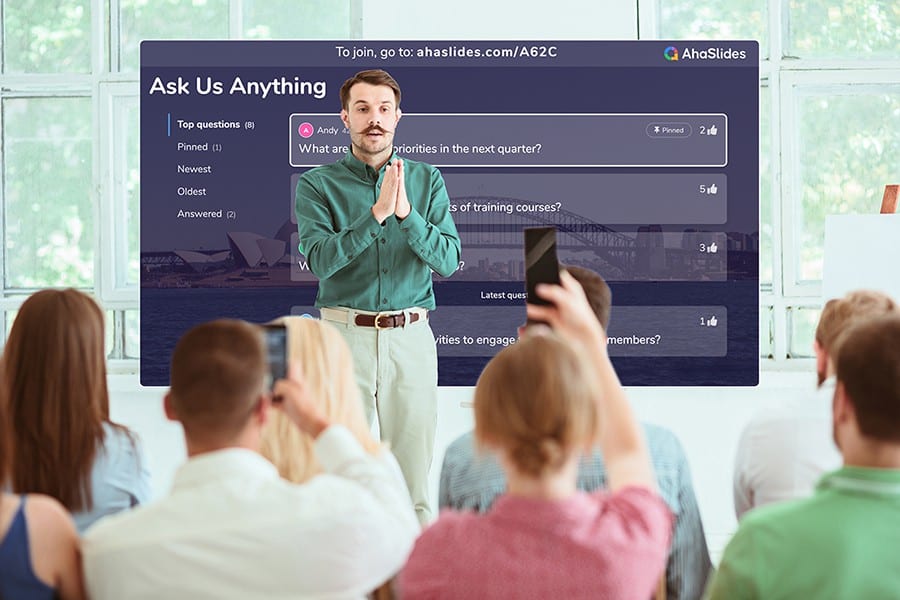 Start in seconds.
Add more funs with the best free spinner wheel available on all AhaSlides presentations, ready to share with your crowd!
🚀 Grab Free Quiz☁️
Table of Contents
Check out 3 ways to make a physical DIY at home
Making a Bicycle Spinning Wheel
It is time to recycle your home old bicycle wheel to create a new homemade spinner wheel.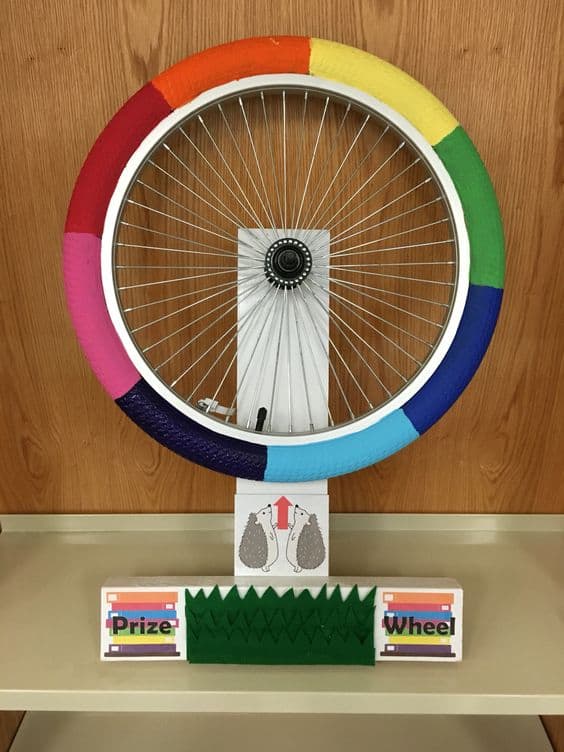 Step 1: What do you need?
Bike wheel frame
Spoke wrench
Drill
Long nut with bolt
Superglue
Poster Board
Magic marker or paint
Step 2: How to do
Find a stand base for the wheel so that you can stick the wheel on it later.
Drill a hole in the hub of your wheel so the bolt will be able to fit through.
Stick the hex bolt through the hole in the stand base and fix it with superglue.
Hammer the hex bolt through the hub of the bike tire and fix it with a hex nut.
Make the nut lose enough so the wheel can easily spin
Paint directly on the wheel tire and divide the tire's surface into different sections.
Draw an arrow in the centre bottom of the stand base, pointing at the wheel with a magic marker or paint.
Making Cardboard Spinner Wheel
One of the most traditional DIY Spinner Wheels, cardboard is used more frequently as it is cheap, easy to make and gets recycled.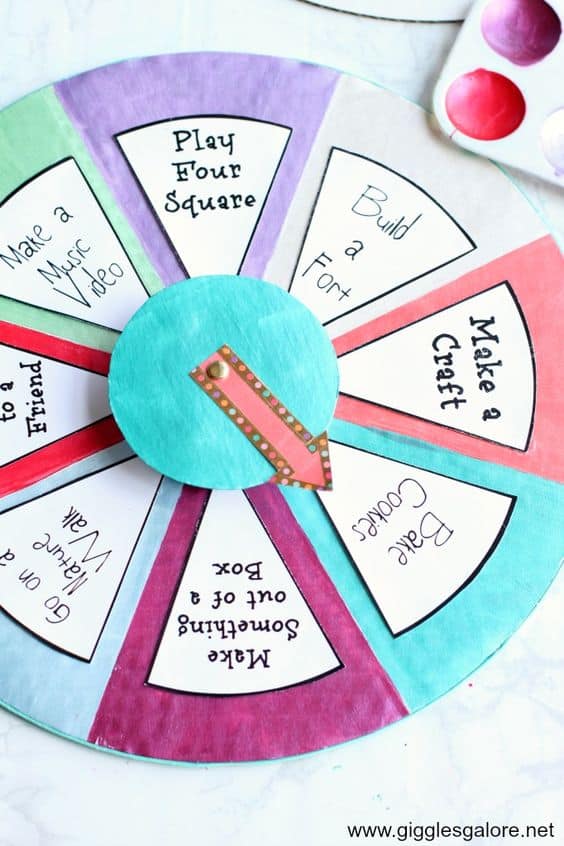 Step 1: What do you need?
Foam Board
Cardboard
Cardstock Paper
Dowel Rod (small piece)
Hot Glue & Stick Glue
Water Paints colour
Step 2: How to do
Cut a large circle out of the foam board for the base of the wheel.
Create the cover that will lay over the foam board wheel.
Divided into triangle patterns with different colours as much as you need
Pock the hole in the centre of hub via the dowel rod
Create a smaller cardboard circle and attach it to the dowel rod via the bolt
Make a flapper and hammer it into the centre of the smaller one and fix it.
Try to spin it several times to make sure it works well.
Making a Wooden DIY Spinner Wheel
To make your Wheel of Fortune look more endure and sturdy, you can use the plywood round, which You can buy or create by yourself.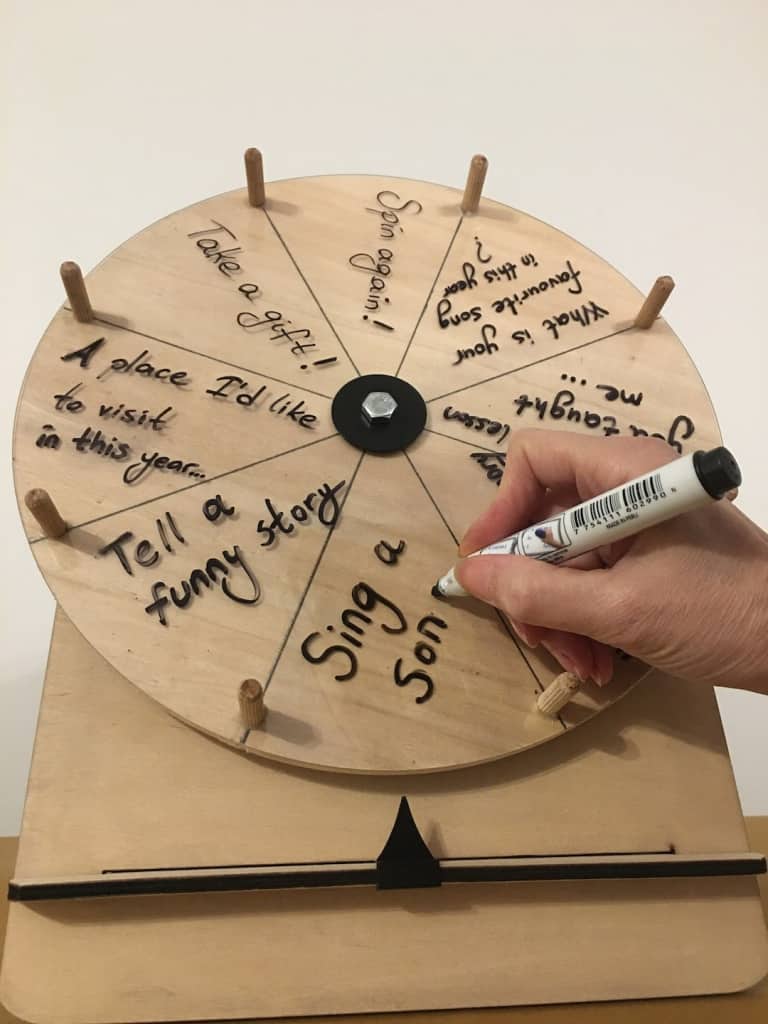 Step 1: What do you need?
A plywood round
Nails, pushpins or thumbtacks
Transparent marker sheets
Superglue
Dry erase markers
Step 2: How to do
You can buy or create a plywood round on your own but make sure the surface is sanded and smooth.
Drill the hole in the centre of the plywood.
Cut a transparent sheet into a circular shape and divide it into different triangle sections
Stick a circle transparent sheet with a hole in the centre and screw the nut int the centre hole for rotating.
Hammer the nails or thumbtacks based on your preference in the triangle line edge.
Prepare a wooden flapper or arrow and attach it to the nut.
Use the dry-erase marker to write your options directly on the transparent sheet.
Takeaways
Here are steps to create homemade spinner wheel! In addition, you can make an online DIY Wheel of Fortune for your different purposes. It is easy to share it among your friends and used on virtual meetings and parties.
You may find the AhaSlides Spinner Wheel Prize alternative is so hilarious and fun.
FAQ
Frequently Asked Questions
---
Got a question? We've got answers.
If you're planning to make an own wheel at home, all you need to do is prepare (1) a bike wheel frame (2) spoke wrench (3) drill (4) long nut with bolt (5) super glue (6) poster board and (7) magic marker or paint.
You can use AhaSlides Spinner Wheel for this, as you can also add your online spinner wheel to a presentation, to save and share during gatherings later!
If you take enough magnets and arrange them properly, they'll repel away from each other, to create a spinner wheel. Positioning these magnets in a circular is the way to create a wheel that spin since the magnetic fields push the wheel.