Looking for games to play in a large group? Or fun large group games for team-building activities? Check out the best 20 below, it works for all occasions happening in 2023!
When it comes to a massive amount of participants, hosting a game can be a challenge. They should be games that have a sense of collaboration, belongingness, fulfilment, and competition. If you are looking for the best games to play in a large group to enhance team spirit, team bonding, and team cohesion, this article is what you need.
Overview
| | |
| --- | --- |
| How many people are considered as large group? | More than 20 |
| How can I divide one large group into smaller groups? | Use Random Team Generator |
| What are other names of 'group'? | association, team, band and club… |
| Which five are popular outdoor games? | Football, Kabaddi, cricket, volleyball and basketball |
| Which five are popular indoor games? | Ludo, Chess, Table tennis, Carrom and Puzzle |
Overview of Large Group Games
Tips for Better Engagement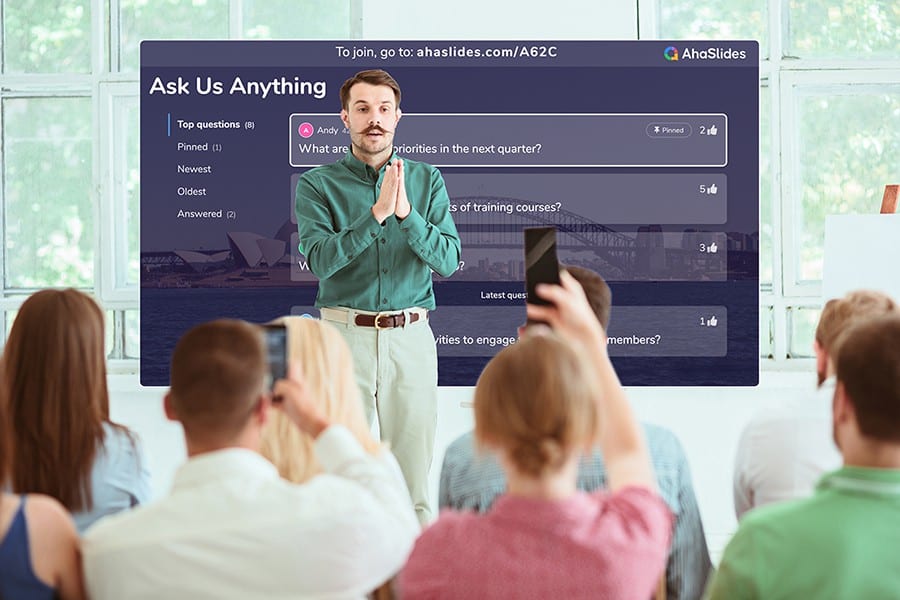 More funs in your icebreaker session.
Instead of a boring orientation, let's start a fun quiz to engage with your mates. Sign up to take free quiz from AhaSlides template library!
🚀 Grab Free Quiz☁️
This article will teach you 20 super fun large group games, including indoor, outdoor, and virtual ones. Thus, don't worry if you are about to organize large group games for remote teams. Plus, they are all excellent game ideas for school activities and company events for kids and adults.
Table of Contents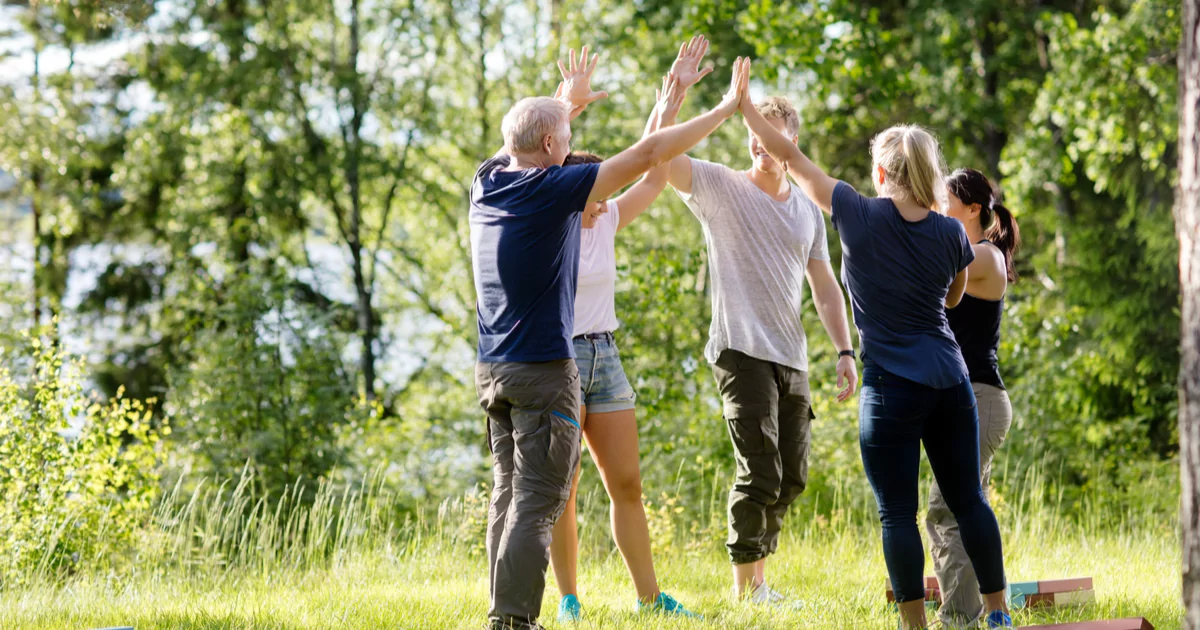 #1. Trivia Quiz – Large Group Games
At the top of large group games is a Trivia Quiz or themed puzzle quiz, one of the best games that can be used in person and online for as many players as you want. It is not only about asking a question and finding an answer. A successful Trivia Quiz game, depending on the nature of the event, should be designed with a good interface, not too easy, and hard enough to stimulate participants' thinking and increase engagement levels.
Want to have a good Trivia Quiz? Try AhaSlides Quiz and Games right away to get free and well-designed themed templates and thousands of questions.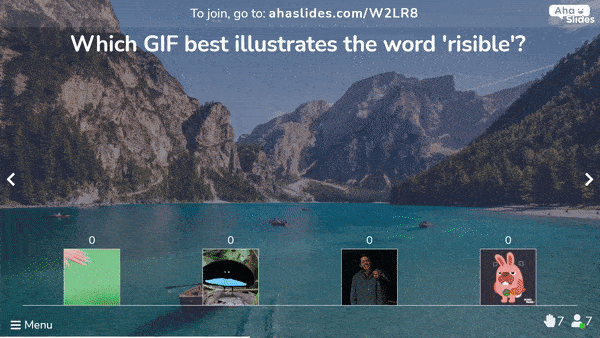 #2. Murder Mystery Party – Large Group Games
It is crazy fun and a bit thrilling to host a murder mystery party in your team-building activities. It is suitable for a small to medium-large group of people to play one game, but it can be expanded to 200+ people for solving different cases.
To play it, there is a need for a person to be a murderer, and other guests have to play different characters by dressing up and must work together to find the real criminal and solve the case. It takes time to prepare a scene of a staged crime and prepare a list of Must-Ask Questions in advance.
#3. Bingo – Large Group Games
Bingo is a classic game, but as many people say, old but gold. There is a range of variants of Bingo, and you can customize your Bingo for your purpose.
You can change the Bingo topics, and the content of each line such as Did you know? Bingo, Christmas Bingo, Name Bingo, etc. There is no limitation of participants, there might be many winners simultaneously when there is a large number of players.
#4. Candyman – Large Group Games
You need a 52-card deck to play Candyman or Drug dealer games to designate players' secret roles in the game. There are three main characters involving Candyman, who possesses an Ace card; the Police with King Card, and other buyers who hold different number cards.
In the beginning, no one knows who the Candyman is, and the cop is responsible for revealing the Candyman as quickly as possible. After successfully buying candy from the dealer, the player can exit the game. Candyman will be the winner if they can sell all of their candies without being captured by the police.
#5. Escape room – Large group games
You can play an escape room with your team players both offline and online. You can find an escape room supplier in your city or through an app or gather materials on your own. Don't panic if it takes time to prepare clues and hints.
Escape rooms attract you as they force you to work out your neurons, overcome your fears, work with others to follow the guided texts, and solve puzzles in a limited time.
#6. Musical chairs – Large group games
For many kids, a musical chair is a super interesting game requiring energy and quick reaction, and not be constrained to adults. It is the best way to make your body exercise. The game rule aims to eliminate involving players, by reducing the chairs to fewer than the number of participants each round, those who cannot occupy the chair, will be out of the game. People go around in a circle while music plays and quickly obtain the chair when the music is stopped.
#7. Scavenger hunt – Large group games
If you are interested in hunting treasure and mystery, you can try scavenger hunts which are exciting group games where players are given a list of items or clues to find, and they race against each other to locate them within a set time frame. Some variations of scavenger hunt games are Classic Scavenger Hunts, Photo Scavenger Hunts, Digital Scavenger Hunts, Treasure Hunts, and Mystery Hunts.
#8. Laser Tag – Large group games
If you are a fan of action movies, why not give Laser Tag a try? All kids and adults can enjoy their best moments with shooting games like Laser Tag. You can divide your participants into several teams and pick up a special team name to raise team spirit.
Laser tag requires players to work together to strategize and communicate effectively. Teamwork is essential to ensure that each player understands their role clearly and follows the overall game plan. Players have to collaborate to cover different areas of the playing field, watch each other's backs, and coordinate their attacks.
#9. Kayaking/Canoeing – Large group games
When it comes to outdoor activities in summer, Kayaking can be a fantastic option. You can set up a Kayaking competition for your employees as a team-building activity. It is a rewarding game for your employees to enjoy their vacation with the company and exotic experience.
When planning a kayaking or canoeing excursion for a large group, it's important to choose a location that can accommodate the number of people and has the necessary equipment available. It's also important to provide safety instructions and ensure that everyone wears a life jacket while on the water.
#10.
Werewolf

– Large group games
Have you ever played Werewolf during your childhood? It needs at least 6 people to play the game, and it is best for a large group of people. You can play Werewolf with virtual teams via interactive and live conference software.
Remember to assign roles to all participants before the game starts, The most basic rule of Werewolf is that the seer, medic, and werewolves must try and hide their true identities to survive.
#11.
Two Truths, One Lie

– Large group games
It is the perfect game to get to know others. To start, a player can share three statements about themselves, two of which are true and one of which is false. The other participants must then guess which statement is the lie. They can discuss and ask questions to try to figure it out.
#12. Charades – Large group games
Charades is a classic party game that involves guessing a word or phrase based on clues acted out by a player without using any verbal communication. There is a person who is responsible for acting out to explain the word or phrase without speaking, while their team tries to guess what it is. The player can use gestures, facial expressions, and body language to convey the clue. You can create your puzzle with AhaSlide to play it virtually.
# 13. Pyramid – Large group games
When it comes to drinking games, Pyramid is extremely fun. In this game, players arrange cards in a pyramid formation and take turns flipping them over. Each card has a different rule, and players must drink or make someone else drink depending on the card.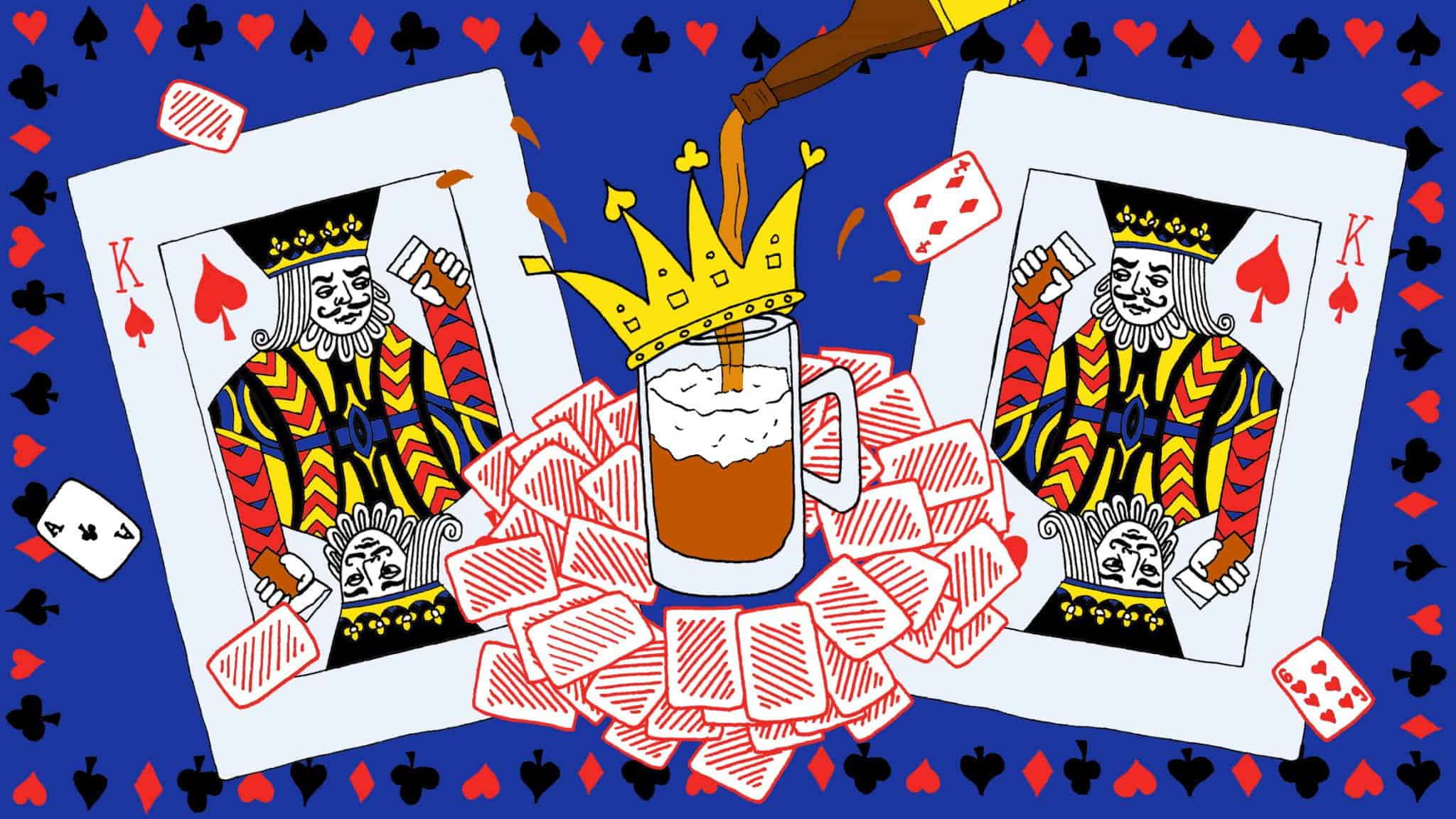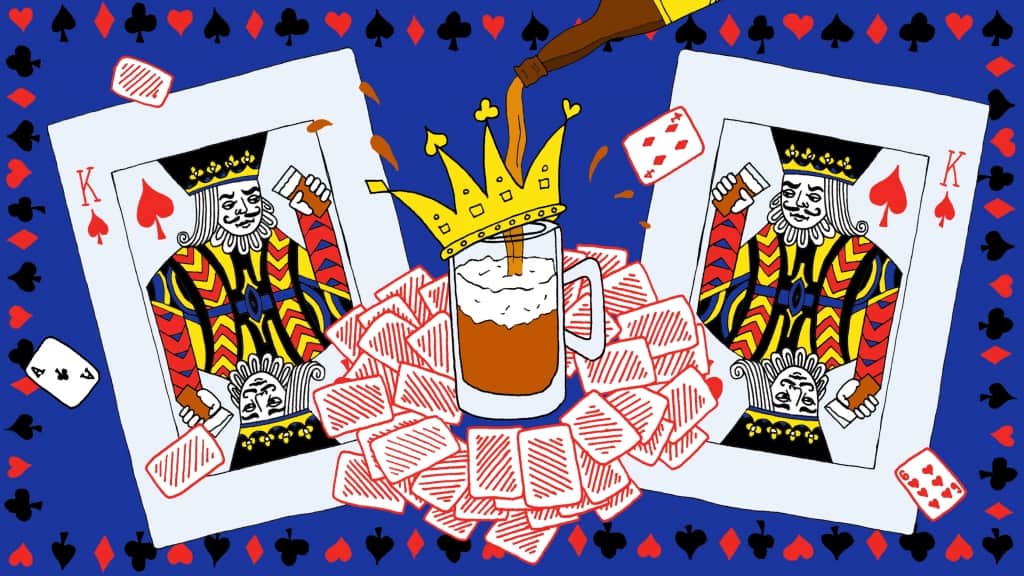 #14. 3 Hands, 2 Feet – Large group games
Do you love doing some exercise while having fun with your team? The 3 Hands, 2 feet's game is definitely what you are looking for. It is easy to play. Split the group into two or more teams of equal size. There will be different commands requiring you to arrange your team in different gestures such as 4 hands and 3 feet.
#15. Rope Pulling – Large group games
Rope Pulling or Tug of war, is a sort of sports game requiring a combination of strength, strategy, and coordination to win. It is more exciting with a large group of participants. To play rope pulling, you'll need a long, sturdy rope and a flat, open space for the teams to line up on either side of the rope.
#16. The Bomb explodes – Large group games
Don't forget the thrilling game like the Bomb exploded. There are two kinds of playing. You have to line up or circle up before starting the game. Option 1: People try to answer the quiz correctly in turn and pass the turn to the next person, it continues when time's up, and the bomb explodes.
Option 2: A person assigns a certain number as a bomb. Other players have to say a number randomly. If the person calling out the number is the same as the bomb number, he or she will lose.
#17. Pictionary – Large group games
If you are fond of drawing and want to make your game more creative and hilarious, give Pictionary a try. All you need is a whiteboard, A4 paper, and pens. Divide the group into two or more teams and have each team line up in a row. The first person in each line draws a word or phrase on their team's whiteboard and passes it to the next person in line. The game continues until everyone on each team has had a chance to draw and guess. The team with the highest points at the end of the game wins.
#18. Follow The Leader – Large group games
For a large group of participants, you can set up the Follow the leader game. You can play the game in as many rounds as needed to find the final winners. To play, one person stands at the center and performs a series of actions that the rest of the group must follow. Increasing the difficulty can make the game more joyful.
#19. Simon Sez – Large group games
You might play Simon Sez with your buddies many times before. But does it work for a large group? Yes, it works the same. The more, the merrier. Having a person play as Simon and issue physical actions is necessary. Don't be confused by Simon's Act; you have to follow what he says, not his act or you will be removed from the game.
#20. Head-ups – Large group games
Head-ups is a popular game to ring the party due to its being full of entertainment and amusement and became more trendy and widespread after the  Ellen DeGeneres show. You can prepare Head ups clues for people to guess with a paper card or via virtual card. You can make the game fun by creating more hilarious terms and phrases.
Key Takeaways
Suppose you are looking for the best ideas to throw a memorable and wonderful party for your teams and organizations. In that case, AhaSlides is the perfect tool to customize your virtual quizzes, live pub quizzes, bingo, charades, and more.
FAQ
Frequently Asked Questions
---
Got a question? We've got answers.
A person speaks of three statements, one of which is a lie. The others must guess which one is a lie.
People can get distracted if the group is too big, or can get very uncomfortable if being in a small area.
AhaSlides can help the large group to brainstorm and decide on what they want to play by the
Word Cloud
(to generate ideas) and
Spinner Wheel
(To choose a game). Then, you can use
Random Team Generator
to fairly divide team!