Need a family Christmas quiz with a perfect balance of age-friendly questions? Well, merry Christmas to you, because we've just put a free one in your stocking!
Check out free family Christmas quiz and how you can utilise AhaSlides' virtual features to make it a cross-generational corker this Christmas!
Grab this Interactive Quiz for Free!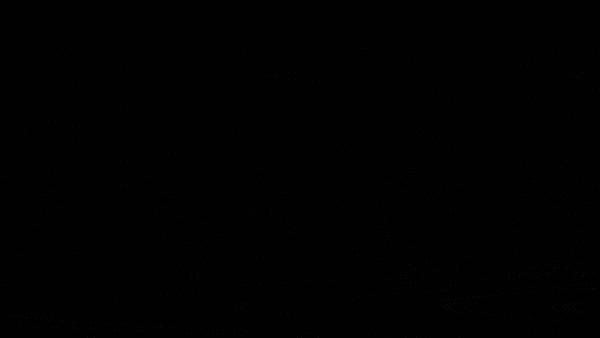 Host the 20-question family Christmas quiz directly from your laptop. Your family compete live on their phones to see who's Santa's top elf!
40 Family Christmas Quiz Questions and Answers
Get all of the questions from the family Christmas quiz right here. Note that the quiz above contains audio and image questions, which have been adapted for the list below.
Round 1: Christmas Films
What is the name of the town where the Grinch lives? Whoville // Buckhorn // Winden // Hilltown
How many Home Alone films are there? 3 // 4 // 5 // 6
What are the 4 main food groups that elves stick to, according to the movie Elf? Candy corn // Eggnog // Cotton candy // Candy // Candy canes // Candied bacon // Syrup
According to one movie in 2007 starring Vince Vaughn, what's the name of Santa's bitter older brother? John Nick // Brother Christmas // Fred Klaus // Dan Kringle
Which muppet was the narrator in 1992's The Muppets Christmas Carol? Kermit // Miss Piggy // Gonzo // Sam the Eagle
What's the name of Jack Skellington's ghost dog in The Nightmare Before Christmas? Bounce // Zero // Bounce // Mango
What movie stars Tom Hanks as an animated conductor? Winter Wonderland // Polar Express // Cast Away // Arctic Collision
Match these movies to the place they are set! Miracle on 34th Street (New York) // Love Actually (London) // Frozen (Arendelle) // The Nightmare Before Christmas (Halloween Town)
What's the name of the film that features the song 'We're Walking in the Air'? The Snowman
What toy did Howard Langston want to buy in the 1996 film Jingle All the Way? Action Man // Buffman // Turbo Man // The Human Axe
Round 2: Christmas Around the World
Which European country has a Christmas tradition in which a monster called The Krampus terrorises children? Switzerland // Slovakia // Austria // Romania
In which country is it popular to eat KFC on Christmas Day? USA // South Korea // Peru // Japan
In which country is Lapland, where Santa is from? Singapore // Finland // Ecuador // South Africa
Match these Santas with their native languages! Père Noël (French) // Babbo Natale (Italian) // Weihnachtsmann (German) // Święty Mikołaj (Polish)
Where might you find a sand snowman on Christmas Day? Monaco // Laos // Australia // Taiwan
What eastern European country celebrates Christmas on 7th of January? Poland // Ukraine // Greece // Hungary
Where would you find the world's largest Christmas market? Canada // China // UK // Germany
In which country do people give apples to each other on Ping'an Ye (Christmas Eve)? Kazakhstan // Indonesia // New Zealand // China
Where might you see Ded Moroz, the blue Santa Claus (or 'Grandfather Frost')? Russia // Mongolia // Lebanon // Tahiti
Where might you enjoy kiviak, a meal of fermented bird wrapped in seal skin at Christmas? Greenland // Vietnam // Mongolia // India
Round 3: What is it?
A small, sweet pie of dried fruit and spices – Mince pie
A human-like creature made of snow – Snowman
A colourful item, pulled together with others to release the stuff inside – Cracker
The reindeer with the red nose – Rudolph
A plant with white berries that we kiss under at Christmastime – Mistletoe
A baked cookie styled in the shape of a human – Gingerbread Man
A sock hung on Christmas eve with presents inside – Stocking
Besides frankincense and myrrh, the gift that the 3 wise men presented to Jesus on Christmas day – Gold
A small, round, orange bird that is associated with Christmas – Robin
The green character who stole Christmas – The Grinch
Round 4: Name the Songs (from the lyrics)
Seven swans a-swimming – Winter Wonderland // Deck the Halls // 12 Days of Christmas // Away in a Manger
Sleep in heavenly peace – Silent Night // Little Drummer Boy // Christmas Time is Here // Last Christmas
Sing we joyous all together, heedless of the wind and weather – Santa Baby // Jingle Bell Rock // Sleigh Ride // Deck the Halls
With a corn cob pipe and a button nose and two eyes made out of coal – Frosty the Snowman // Oh, Christmas Tree // Merry Xmas Everybody // Feliz Navidad
I won't even stay awake to hear those magic reindeer click – All I Want for Christmas is You // Let it Snow! Let it Snow! Let it Snow! // Do They Know it's Christmas? // Santa Claus is Comin' to Town
O tannenbaum, o tannenbaum, how lovely are thy branches – O Come O Come Emmanuel // Silver Bells // O Christmas Tree // Angels we Have Heard on High
I wanna wish you a merry Christmas from the bottom of my heart – God Rest Ye Merry Gentlemen // Little Saint Nick // Feliz Navidad // Ave Maria
Snow is falling all around us, my baby's coming home for Christmas – Christmas Lights // Yodel for Santa // One More Sleep // Holiday Kisses
Feelin' like the first thing on your wish list, right up at the top – Like It's Christmas // Santa Tell Me // My Gift is You // 8 Days of Christmas
When you're still waiting for the snow to fall, it doesn't really feel like Christmas at all – This Christmas // Someday at Christmas // Christmas in Hollis // Christmas Lights
How to Use the Family Christmas Quiz
Once you've signed up free to AhaSlides and got your quiz from the quiz library, make sure that you and your participants will have everything you need to play…
What You'll Need…
1 family (pretty essential!)
1 desktop or laptop for the quiz master.
1 phone for each quiz player.
If you're doing this quiz entirely online, your participants will need two devices – one for video calling and one for AhaSlides.
How it Works…
You present the quiz to your players, who can see your screen live or via Zoom.
Your players join your quiz by typing the unique room code into their browser.
You proceed through the quiz questions one by one, while your players race to answer them the fastest.
The leaderboard reveals the final winner!
❄️ Throw your own super fun quiz, live! Find out how below…
3 Tips to Personalise your Family Christmas Quiz
#1: Make it a Team Quiz
This family Christmas quiz is solo by default, but you can opt for a team one if you want to provoke a mini festive war between the two sides of the family.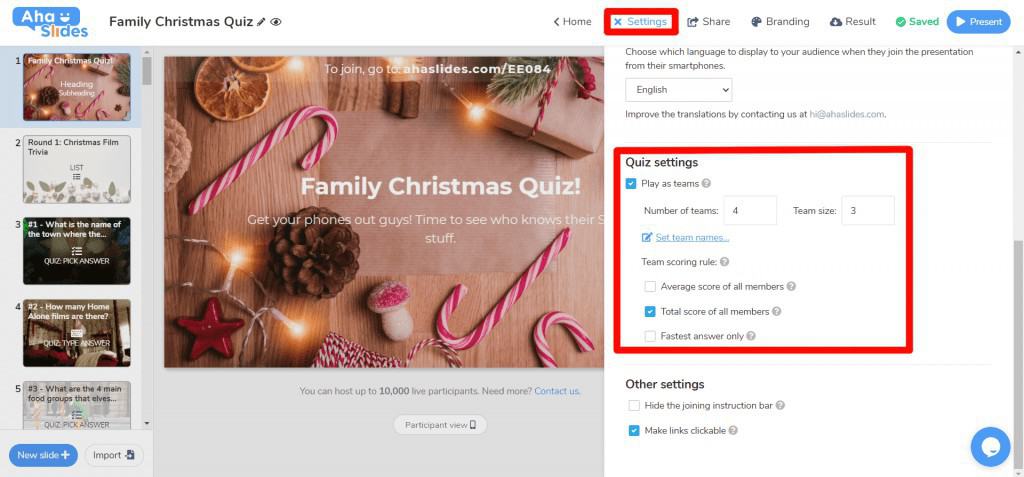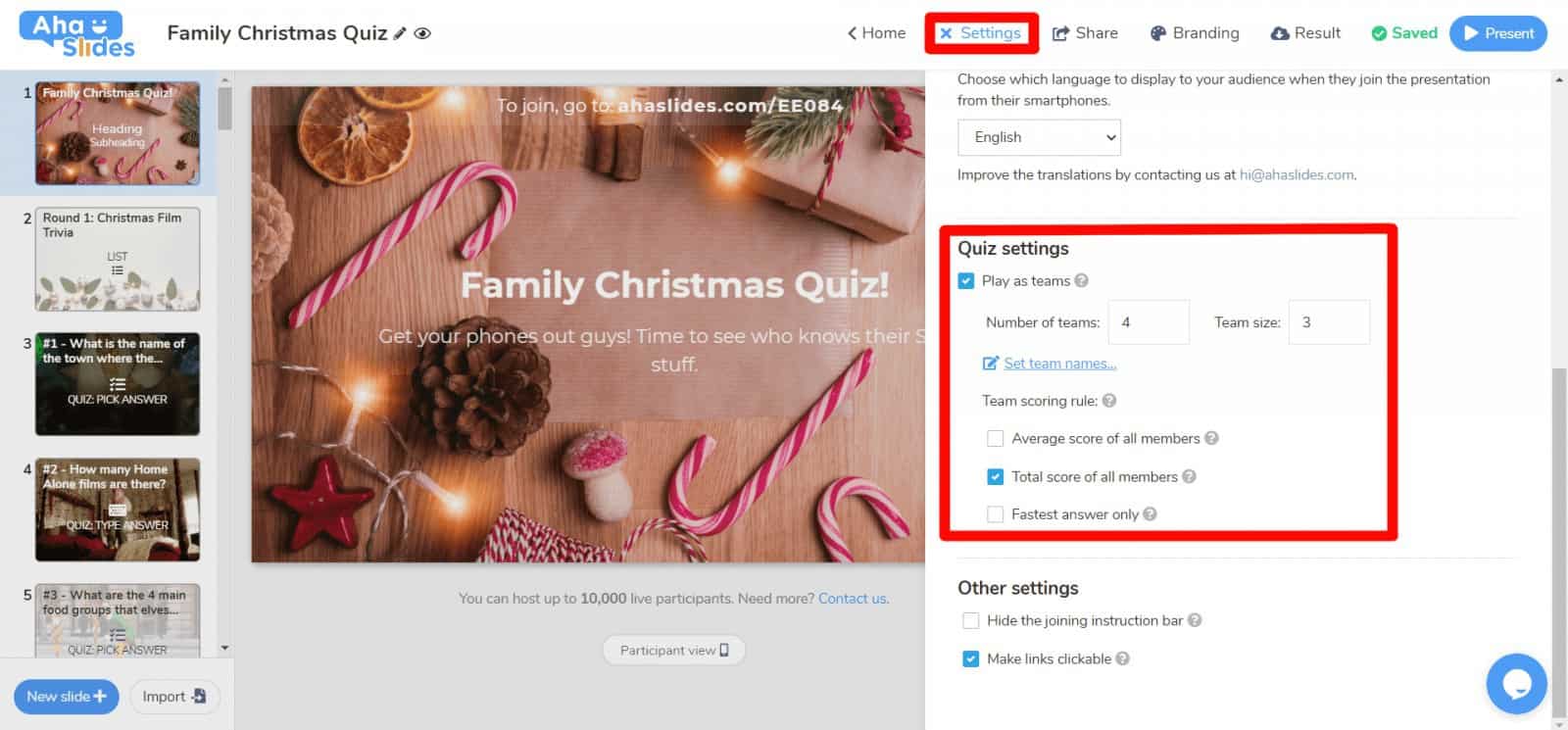 To do this, click on 'settings' in the top bar and come down to 'quiz settings'.
Select the checkbox that says 'play as teams'.
Choose the number of teams, the team size and the scoring rule for the teams.
Click on 'set team names' to open another pop-up box. Here you can write the names of your teams (either ones you assign yourself or ones invented on quiz day by your participants).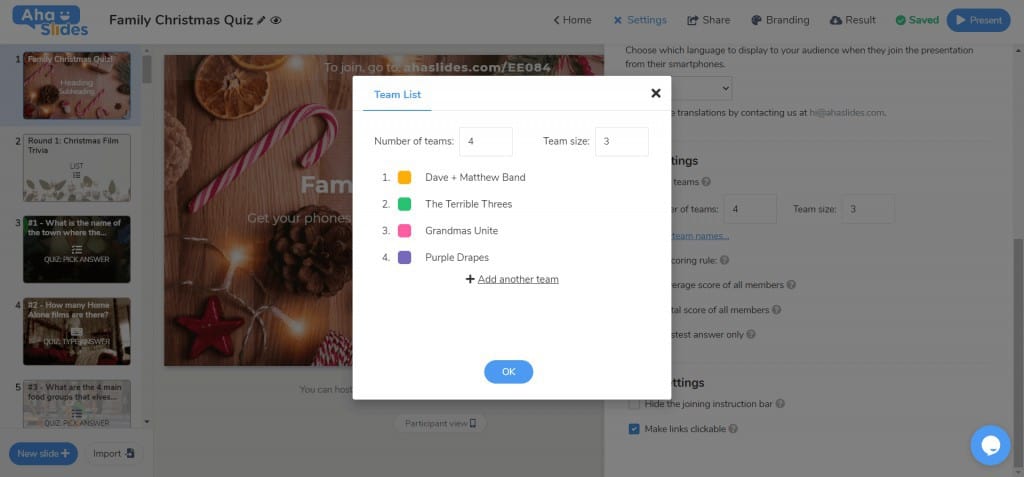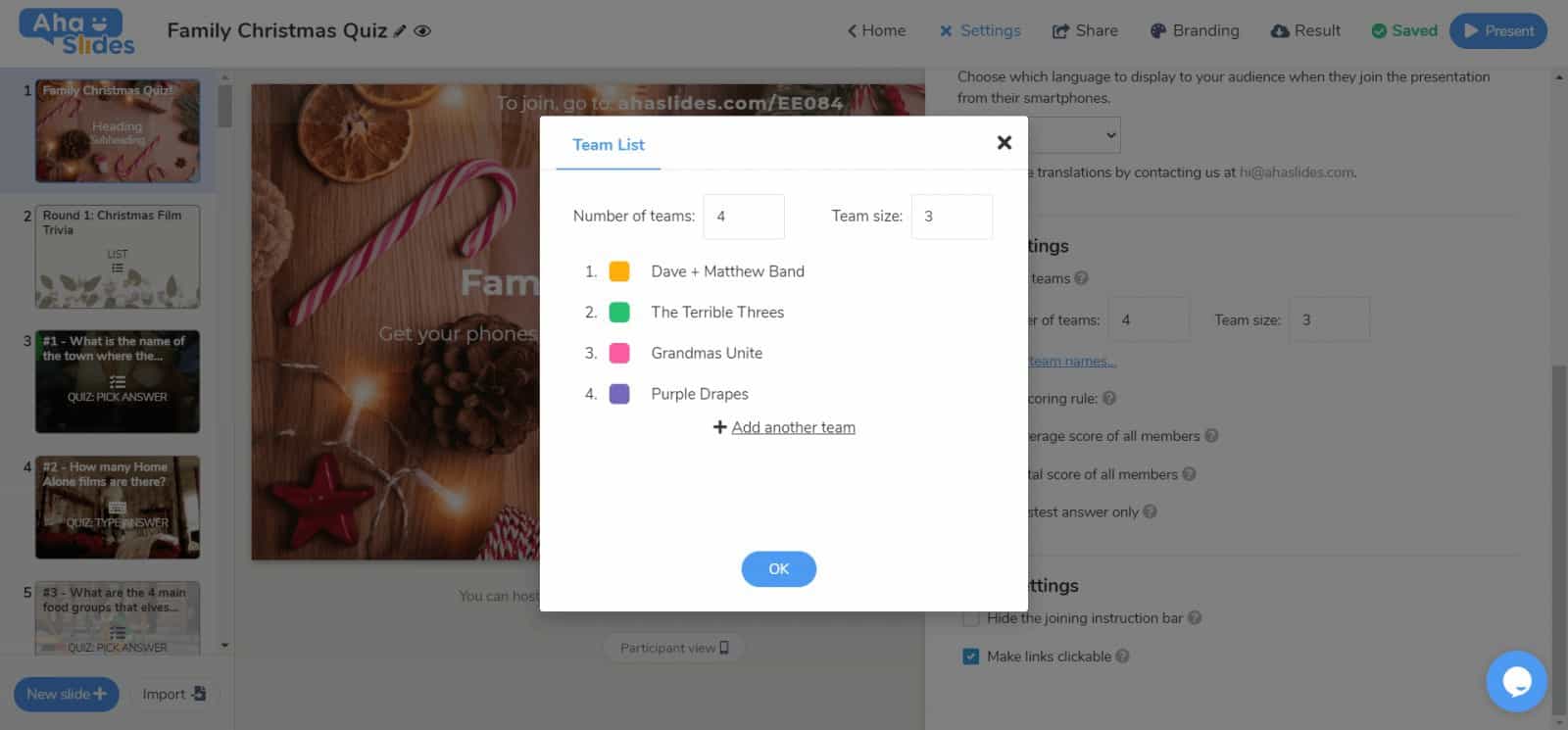 When it's time for players to join the quiz, each will choose their team on their devices.
#2: Change the Difficulty
By definition, it's hard to please everyone with a family Christmas quiz. Still, you can give it a go!
The questions in our template are a mixture of easy and difficult, but you can make any question easier and harder with a few simple changes:
You can change any slides in which participants must type the answer into a multiple choice question. Simply change this in the 'type' tab of the slide and offer a multiple choice option.
Add clues in the description box of any difficult question. These will show up on the players' devices.
Add clues through background images. You can choose these in the 'background' tab, either by uploading your own or choosing from image and GIF libraries.
Make it a solo quiz. It's always harder figuring this stuff out on your own!
Turn any multiple choice slides into type answer slides.
Add your own more difficult questions. Speaking of which….
#3: Add Your Own Questions
Want the good times to keep rolling? Well, there's no slide limit to an AhaSlides presentation – you can keep quizzing until the new year!
Take a look at some of our Christmas quiz round ideas for kids and adults alike:
Family Christmas Quiz Round Ideas
Chocolate Slogans – A list of advertising slogans that players have to match to the chocolate they belong to.
Best-selling Christmas Toy of the Year – A multiple choice of toys that players guess which was the best selling of a particular year.
True or False – Two options: true or false for a bunch of Christmas facts.
A to Z – 26 'type answer' questions with answers starting with each letter of the alphabet.
Christmas Songs in Emojis – A list of Christmas song titles rendered in emojis; players type the answer.
Christmas Spot the Difference – Two images with small differences; get the kids to list them out!
Need Help Using the Family Christmas Quiz?
Check our help article or contact our team at any time via the live chat function. We'll get back to you as quickly as possible to make sure your family Christmas quiz goes off without a hitch!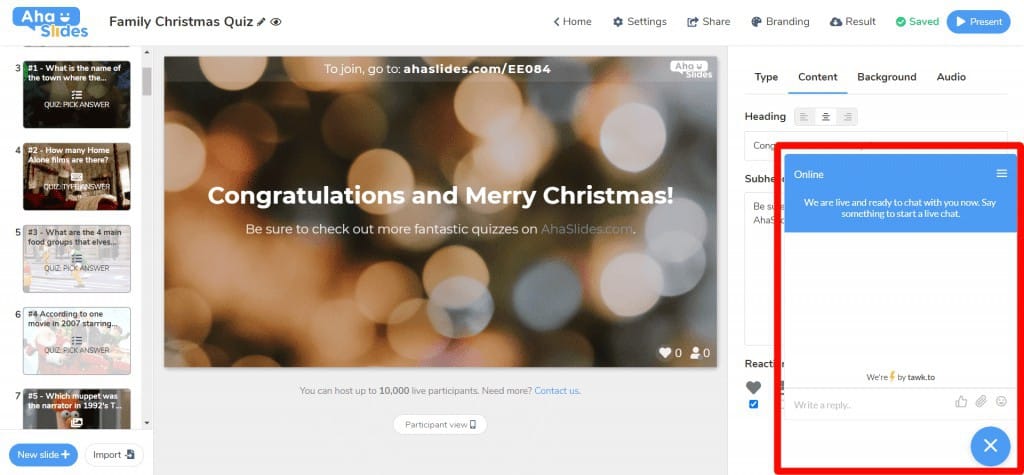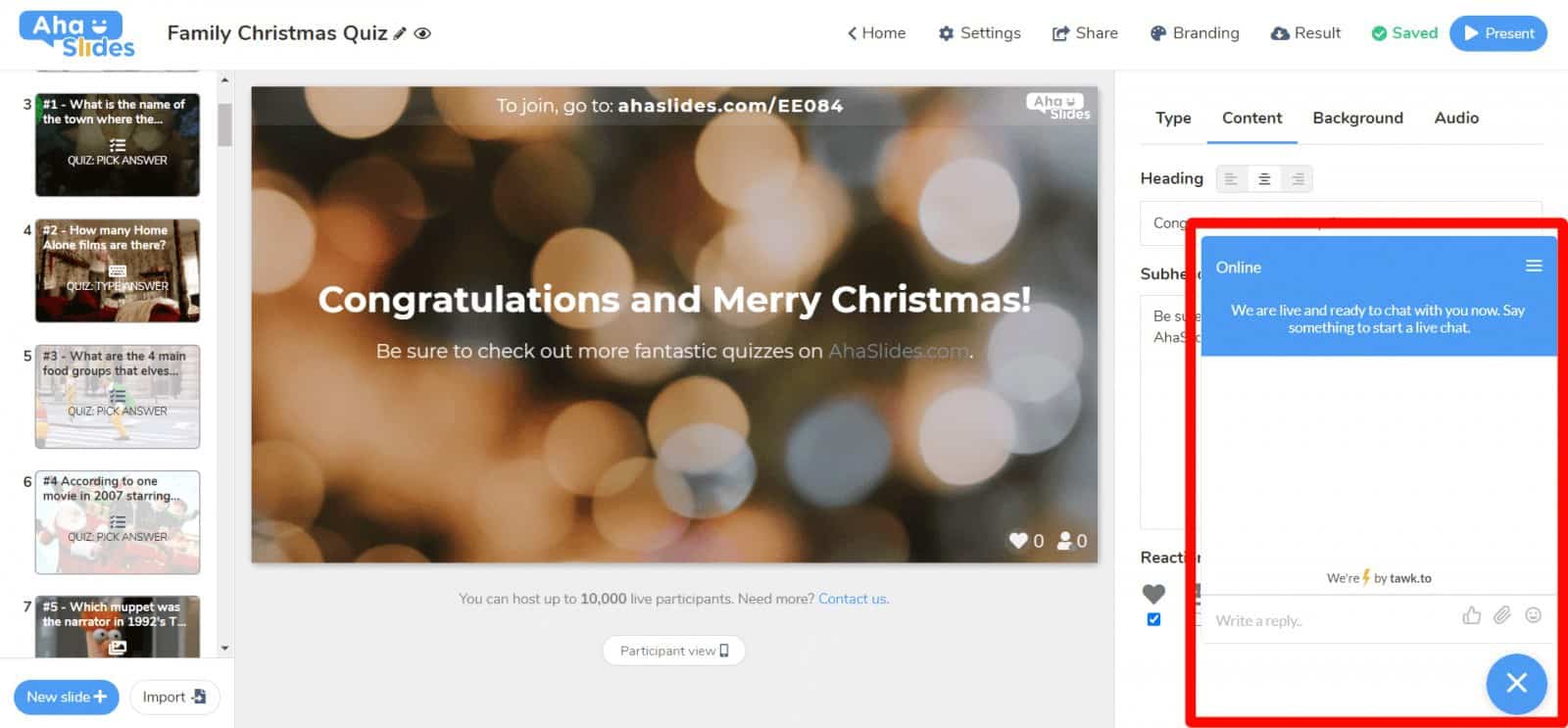 But Wait, There's More!
Got an insatiable thirst for quizzes? 'Tis the season!
You'll find a bunch of free quizzes, Christmas and otherwise, in the AhaSlides template library. Check out some of these…
Be sure to check out our other articles for more Christmas questions and quizzes!
👊 Protip: Setting up a big party to gloss over a draining year? We've got 30 totally free virtual party ideas to help make the job easier! These ideas are great for any type of virtual party, all demanding little preparation and zero budget.