Call us crazy, but we don't think there's a single occasion that a spinner wheel can't improve. Lessons? Yes. Meetings? Yes. Funerals? Maybe… Spinner wheel is beloved by all for the excitement, colour and sound they bring wherever they're spun.
So how to make a spinner wheel that gets your students, colleagues or funeral attendees jumping for joy?
Table of Contents
Template Library – Spin The Wheel Game Ideas
Besides learning how to make a spinner wheel with AhaSlides, let's learn more about what AhaSlides do by links below.
Take It For a Spin!
Use AhaSlides' free online wheel for any spinner wheel game. It even includes pre-loaded games!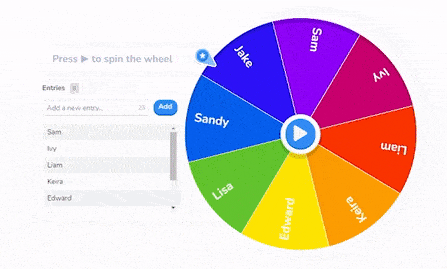 1. Why Should I Learn How to Make a Spinner Wheel?
Online Spinner Pros

✓

Online Spinner Cons

✗

Create in seconds
Hard to customise the look
Easy to edit
Not 100% bug-proof
Works for virtual hangouts and lessons
Comes with built-in sounds and celebrations
Can be duplicated in one click
Can embed into presentations
Players can join on their phones
Overview about how to make a spinner wheel
2. How to Create a Spinner
So how does a spinning wheel work? Whether you're looking to make a spinner wheel game offline or online, there are several ways to go about it.
So, how does a spinning wheel work?
4 Ways To Make a Spinner Wheel
The spinner centre is the fun part here, and we'll get there in a minute. But first, you'll need to create your paper wheel. Just grab yourself a pencil and a big piece of paper or a card.
If you're going for a large wheel (in general, the larger the better), then you may want to draw your circle around the base of a plant pot or a dart board. If you're going for smaller, then a protractor will do just fine.
Cut out your circle and divide it into equal segments using a ruler. In each segment, write or draw your wheel options at the edge of the wheel, so that your spinner doesn't obscure the option when it lands on it.
A pin and a paperclip (most effective way) – Put a pin through the narrow oval of a paper clip, then push it into the centre of your paper or card wheel. Make sure the pin isn't pushed all the way in, or your paperclip will struggle to spin!
Fidget spinner (the most fun way) – Use Blu Tack to stick a fidget spinner to the centre of your wheel. Use a good clump of Blu Tack to ensure that your spinner has sufficient lift-off from the wheel to spin freely. Also, don't forget to mark one of the three arms of your fidget spinner to make it clear which side is pointing.
Pencil through paper (easiest way) – This one couldn't be simpler. Pierce the wheel's centre with a pencil and spin the whole thing. Even kids can make one, but the results might be somewhat underwhelming.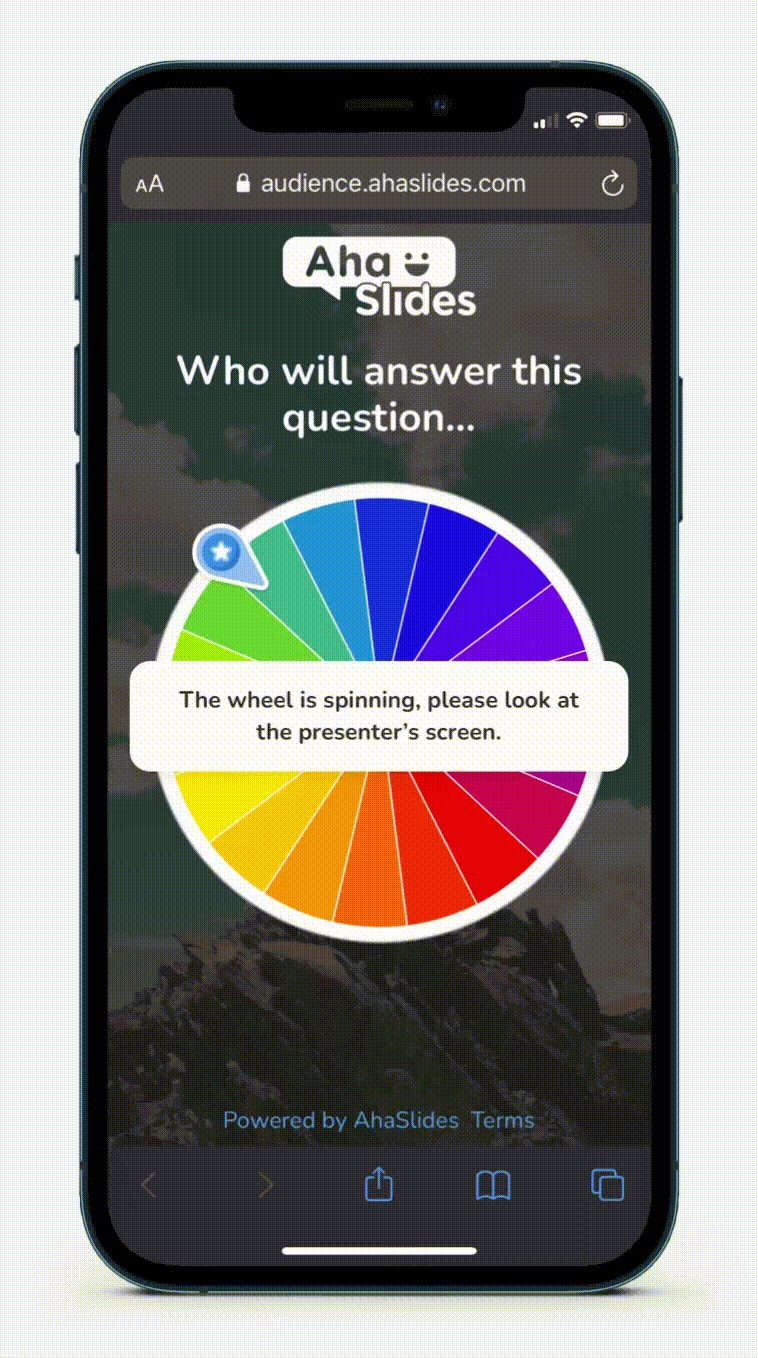 Let the Players in.
Players join with their phones, enter their names and watch the wheel spin live! Perfect for a lesson, meeting or workshop.
Take it for a (free) spin!
How to Make a Spinner Wheel Online
If you're looking for more convenient, immediate equipment for your spinner wheel game, there's a whole world of online spinner wheels waiting to be discovered.
Online spinner wheels are generally a lot more convenient, easier to use and share, and quicker to set up…
Choose your online spinner wheel.
Fill in your wheel entries.
Change your settings.

If you're playing your spinner wheel game, or looking for guide on how to play spinner online, then you'll need to share your screen over Zoom or other video calling software. Once you're done, press 'spin', play your game and shower your winner in virtual confetti!
DIY Spinner Wheel vs Online Spinner Wheel
DIY Spinning Wheel Game Pros

✓

DIY Spinner Cons

✗

Fun to create
More effort to make
Completely customisable
Not easy to edit
It can only be used in a physical space
Must be duplicated manually
"Everyone can be an artist", a well-known quote from Joseph Beuys, believes everyone has a unique way of looking at the world and creating the unique artwork. For that, learn how to make a paper spin wheel
3. Choosing Your Game
With your spinner wheel set up, the next step to making a spinner wheel game is establishing the game rules you'll be playing.
Already know how to make a spinner wheel? Struggling with ideas? Take a look at the list of 22 spinner wheel games below!
For School – How to make a spinner wheel?
🏫 How to make a spinner wheel game to get students active and engaged with your lessons…
Let the Harry Potter Random Name Generator Choose your role! Find your house, name, or family in the fantastic wizarding world… 🔮. Learn how to make a spinner wheel now!
Student Selector – Fill the wheel with student names and spin. Whoever it lands on must answer a question.
Alphabet Spinner Wheel – Spin a letter wheel and get students to give the name of an animal, country, element etc., beginning with the letter the wheel lands on.
Money Wheel – Fill the wheel with different amounts of money. Each correct answer to a question earns that student a spin and a chance to collect money. The student with the most money at the end wins.
Answer Raffle – Each correct answer earns a student a random number between 1 and 100 (students can collect multiple numbers). Once all the numbers are given out, spin a wheel containing numbers 1 – 100. The winner is the holder of the number the wheel lands on.
Act it Out – Write some short scenarios on the wheel and put students into groups. Each group spins the wheel, gets a random scenario, and then plans out their enactment.
Don't Say it! – Fill the wheel with keywords and spin it. When a keyword is chosen, get a student to talk about the topic for a minute without using the keyword.
Minute Spin – Fill the wheel with questions. Give each student 1 minute to spin the wheel and answer as many questions as they can.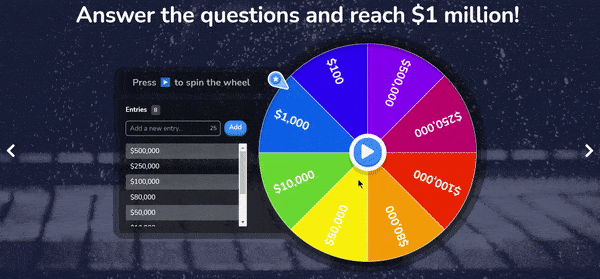 For Meetings
🏢 How to make a spinner wheel game to get remote employees connected and get productive with meetings…
Ice Breakers – Lay out some icebreaker questions on the wheel and spin. This one works best for remote workers who need to stay in touch with each other.
Prize Wheel – The employee of the month spins a wheel and wins one of the prizes on it.
Meeting Agenda – Fill the wheel with items from your meeting agenda. Spin it to see what order you'll tackle them all in.
Remote Scavenger – Fill the wheel with slightly quirky items from around the average house. Spin the wheel and see which of your remote workers can find it the quickest within their house.
Brainstorm dump – Write a different problem on each wheel segment. Spin the wheel and give your team 2 minutes to unload all the wild and wacky ideas they can. (Believe it or not, this is an effective brainstorming technique!)
For Parties
🎉 How to make a spinner wheel game for livening up get-togethers, both online and offline…
Magic 8-Ball – Fill the wheel with your own magic 8-ball style responses. Get your partygoers to ask questions and spin for a response.
Truth or Dare – Write either 'Truth' or 'Dare' across the wheel. Or you could write specific Truth or Dare questions on each segment.
Ring of Fire – Lacking playing cards? Fill the wheel with numbers 1 – 10 and ace, jack, queen and king. Each player spins the wheel and then does an action depending on the number the wheel lands on.
Never Have I Ever – Fill a wheel with Never Have I Ever style questions. Ask the question the wheel lands on. If a player has done 3 of the things that the wheel lands on, they're out of the game.
Wheel of Fortune – The classic game show on the small screen. Put different amounts of dollar rewards (or penalties) in a wheel, get players to spin, and then get them to suggest letters in a hidden phrase or title. If the letter is in, the player wins the dollar reward.
For Indecisive People
🤔 How to make a spinner wheel game for people who can't make a decision…
Yes or No Wheel – A really simple decision-maker that takes the role of a flipped coin. Just fill a wheel with yes and no segments.
What's for Dinner? – If you can make a spinner wheel game when you're hungry, try our 'Food Spinner Wheel' different food options from your local area, then spin!
New Activities – Knowing what to do when Saturday rolls around is never easy. Fill in a wheel with new activities you're curious about, then spin to find out which one you and your friends will do. Therefore, spinner wheel is definitely wheel of things to do with friends
Exercise Wheel – Stay healthy with a wheel that gives you short-burst exercise activities to do. 1 spin a day keeps the doctor away!
Chore wheel – One for the parents. Fill the wheel with chores and get your kids to spin it. Time for them to earn their keep!
4. Ultimate Guides of How to Make a Spinner Wheel
Build the suspense – Most of the attraction of a spinner wheel is in suspense. No one knows where it will land, and that's all part of the excitement. You can elevate this by using a wheel with colour, sound, and one that slows down like an actual wheel would.
Keep it short – Don't overload the wheel with text. Keep it as fast as possible to make it easily comprehensible.
Let the players spin – If you're turning the wheel yourself, it's the same as presenting someone with a birthday cake and taking the first slice yourself. Whenever possible, let the players spin the wheel!