Teenagers constantly seek support and motivation. In high school, there are numerous helpful activities for teenagers, where they can learn to support each other, overcome awkwardness, and enjoy comfortable zones.
The importance of Icebreaker games for teens is undeniable. They break the ice in group settings, fostering a comfortable atmosphere and encouraging active participation among teens. These activities bring an element of fun and interactivity to group dynamics while providing opportunities for open communication. They also aid in developing essential communication and teamwork skills, while revealing shared interests that strengthen bonds among group members.
So what are fun icebreaker games for teens that they have loved so much recently? This article introduces you to the top 5 icebreaker games for teens that are best-known around the world.
Table of Contents
Tips for Better Engagement

Make Your Own Quiz and Host it Live.
Free quizzes whenever and wherever you need them. Spark smiles, elicit engagement!
Get started for free
Icebreakers for Teens #1. Teens Interviews
Form pairs or trios within your group. This is one of the best fun icebreaker games for teens that focuses on simple yet effective, is inspired by get-to-know-you games for teenagers, providing an excellent opportunity for members to become acquainted. If your group's size is uneven, opt for trios instead of pairs. It's advisable to steer clear of creating excessively large groups, as this can hinder the quality of interaction.
Assign each group a set of common tasks, such as:
Question 1: Inquire about your partner's name.
Question 2: Discover and discuss your mutual interests.
Question 3: Plan to wear matching colours during your next encounter to easily recognize one another.
Alternatively, you can impart distinct tasks to each group to inject an element of surprise.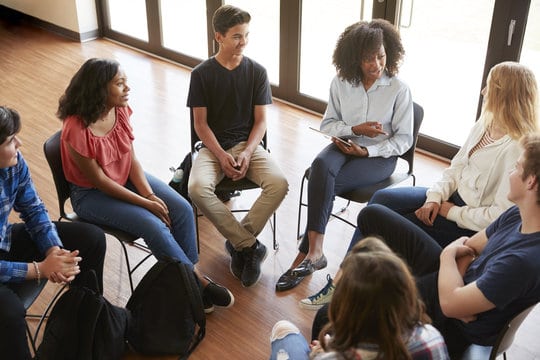 Icebreakers for Teens #2. Mix and Match Candy Challenge 
To play this game, you'll need multi-coloured candies like M&M's or Skittles. Create game rules for each candy colour and display them on a board or screen. It's best to avoid using words for the rules since there are many candy colours, which can be confusing.
Here are some example rules:
Each person randomly gets one candy, and the colour determines their task:
Red candy: Sing a song.
Yellow candy: Perform any action suggested by the person with the closest green candy.
Blue candy: Run one lap around the gym or classroom.
Green candy: Create a hairstyle for the person with the red candy.
Orange candy: Ask a member holding a brown candy to join you in a dance.
Brown candy: Choose a group of people who have drawn any colour and decide on a task for them.
Since the rules are a bit long, it's a good idea to write them on a board or display them on a computer for everyone to easily see.
Pick tasks that are fun but not too sensitive or difficult to perform.
Each person can swap their candy's colour, but in return, they must take two candies, each corresponding to a different task.
Icebreakers for Teens #3. Updated Version of "What's Next"
"What's Next" is a fun icebreaker game that helps team members connect and understand each other. You can play this game with any group, whether you have just two people or more.
A whiteboard or a big sheet of paper
Pencils or markers
A timer or stopwatch
First, split the participants into 2 or 3 groups, depending on how many people you have. If you want to make it more exciting, you can use a see-through board so everyone can see what's happening.
Now, explain the game: Each team has a limited amount of time to draw a picture together, showing their teamwork. Each person in the team can only make up to 3 strokes in the drawing, and they can't talk about what they're going to draw beforehand.
As each team member takes their turn, they'll add to the drawing.
When the time is up, a panel of judges will decide which team has the clearest and most beautiful drawing, and that team wins.
You can have a little prize for the winning team, like a week of free cleaning, buying everyone drinks, or giving them small candy treats to celebrate the win and make it more exciting.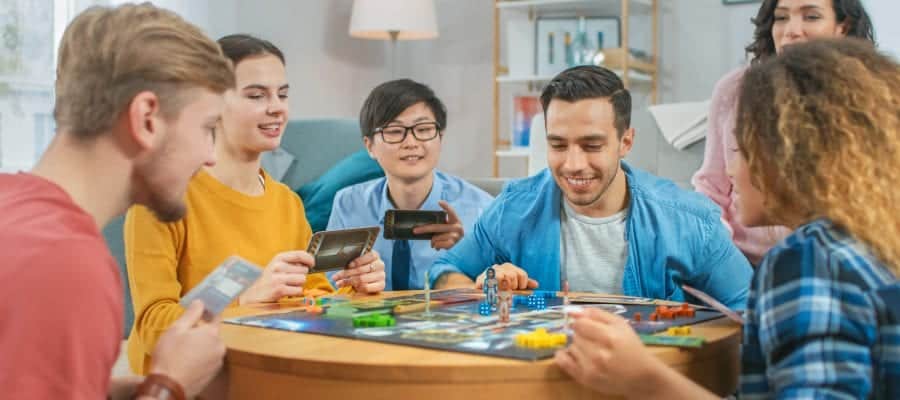 Icebreakers for Teens #4. Two Truths and A Lie
Can you tell the difference between truth and lies? In the game Two Truths and a Lie, players challenge each other to guess which of their three statements is false. This game is perfect for zoom icebreakers for teens to warm up the atmosphere.
Each person takes turns sharing 3 things about themselves, including 2 truths and 1 lie.
The other members will guess which statement is a lie.
The player who can successfully deceive others is the winner.
The winners from the first round get to move on to the next round. The ultimate winner might receive a nickname or special perks within the group.
This game is not suitable for groups with too many people.
If your group is large, split it into smaller groups of around 5 people. This way, everyone can remember each other's details more effectively.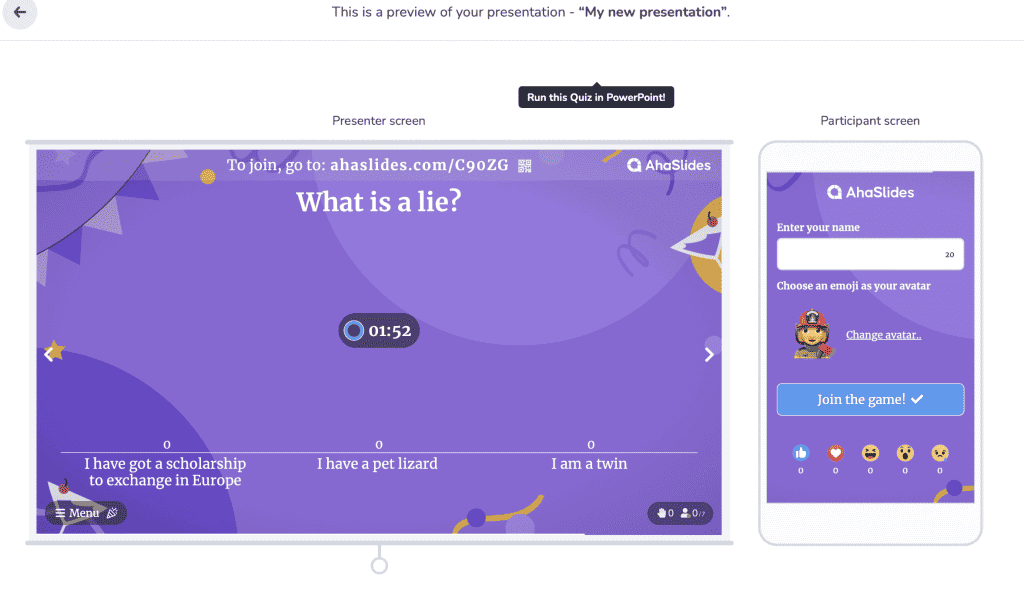 Icebreakers for Teens #5. Guess That Movie 
Become a master filmmaker with the game "Guess That Movie"! This game is a perfect fit for film or drama clubs, or multimedia art enthusiasts. You'll witness creative and hilarious reenactments of iconic movie scenes that might just uncover shared interests among group members.
First, divide the large group into smaller teams of 4-6 people.
Each team secretly selects a movie scene they want to reenact.
Each team has 3 minutes to present their scene to the entire group and see who can guess the movie correctly.
The team that guesses the most movies correctly wins.
Pick iconic movie scenes that are universally recognized to ensure the game's appeal.
Efficiently manage the game's time allocation, balancing discussions, acting, and guessing, as it can be time-consuming.
To effectively implement icebreaker games for teens, you need to adapt the content of icebreaker games to suit the characteristics of your group. For example, if your group is involved in film and arts activities, the "Guess That Movie" game will be more engaging for the members.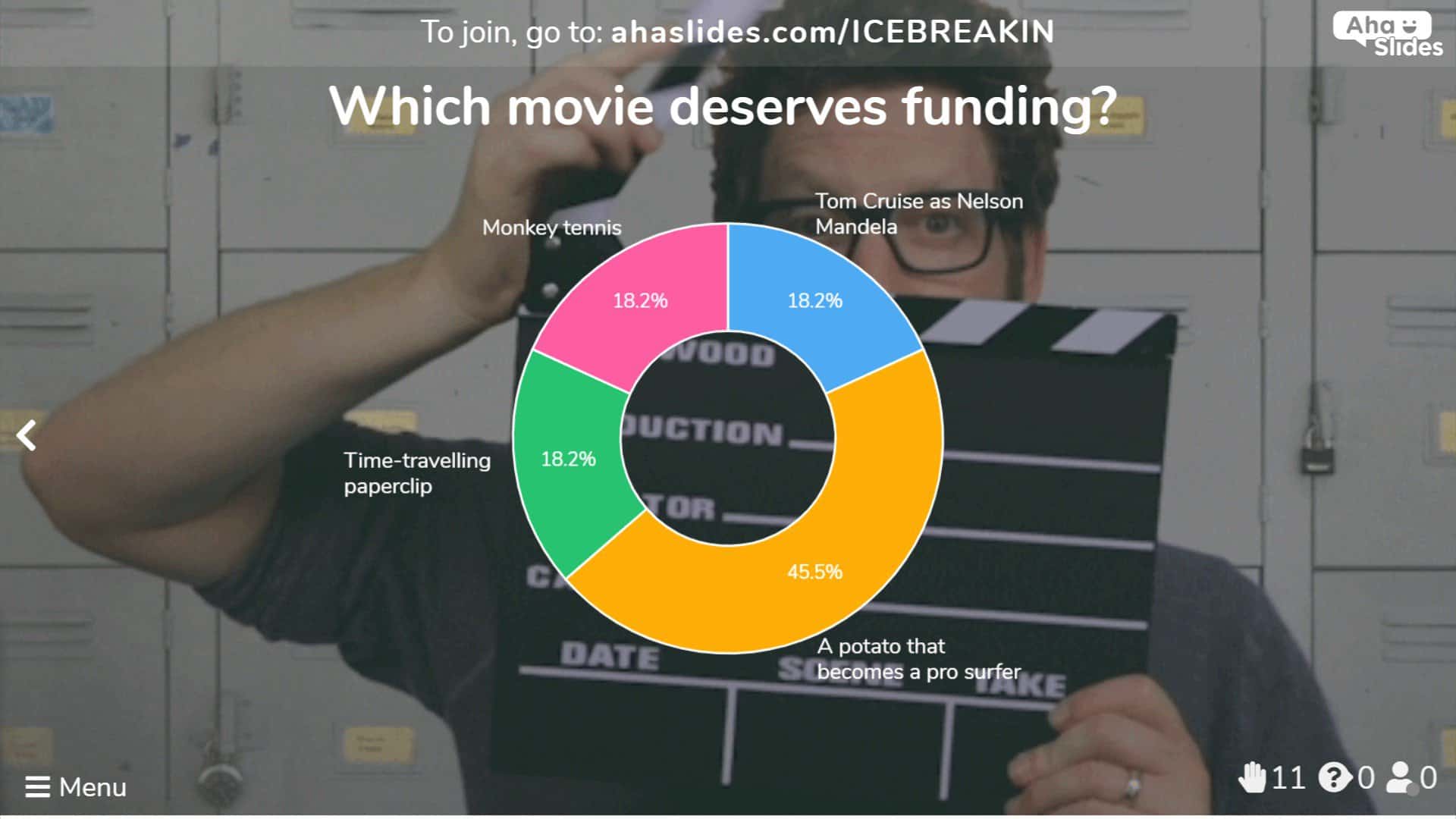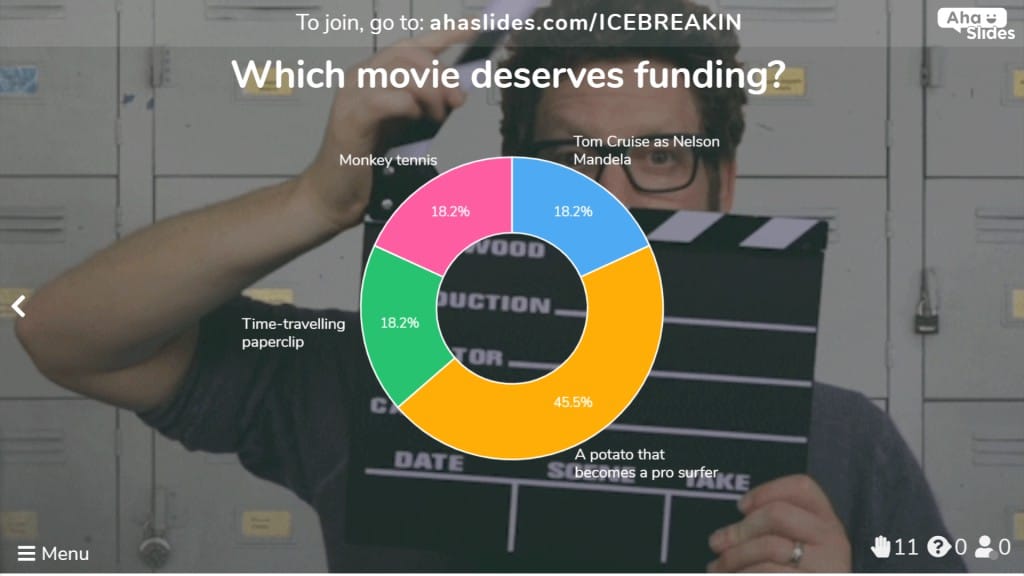 Key Takeaways
💡Icebreaker games can be fun! Discover thousands of engaging icebreaker ideas with AhaSlides right away! 300+ Updated Free ready-to-use templates waiting for you to explore!
Frequently Asked Questions
What are 3 popular icebreaker questions?
Some examples of icebreaker questions to kick off the event:
If you could meet any celebrity, who would it be? What one sentence would you say to them if given the chance?
Who has had the most significant influence on your life?
Share a quirky hobby of yours and explain why you're into it.
What are situations calling for the use of icebreaker games?
Here are some reasons why icebreaker games are popular in almost all events:
To facilitate quicker acquaintance among young members.
To form a captivating start to your presentation.
To capture attention at intimate gatherings, such as parties, weddings, or meetings.
To promote interaction and strengthen bonds among the company or group members.
What are the principles to note when playing icebreaker games for teens?
Here are some principles to make the most of icebreakers:
Select games tailored to your group's interests; e.g., teens may prefer different options than parents.
Take into account the group size when choosing the ideal game.
Manage playtime effectively to prevent any impact on future activities.
Ensure game content and language are appropriate, avoiding sensitive topics like ethnicity, politics, or religion.