If you look at the evolution of education and teaching methods in the last few decades, you can see how technology has played a significant part in it.
Interactive presentations are about how teachers can make their students feel involved by making learning fun and exciting. Traditional teaching methods like storytelling, examples, visual and audio aids, etc., are still indispensable, but the question is, how do you make these interactive?
| | |
| --- | --- |
| Needs | Ways to present information to a class |
| Presenters want audience to engage better with their thoughts and ambition | Story Telling |
| Presenters want audience to interact with each other better | Games, Debates and Discussions |
| Presenters want audience to understand the contexts better | Quizzes, Brainstorming |
| Presenters want audience to share their concerns and thoughts toward topics better | Q&As |
Overview of Interactive Presentation Ideas for Students
Table of Contents
More Tips from AhaSlides
Besides interactive presentation ideas for students, let's check out the following: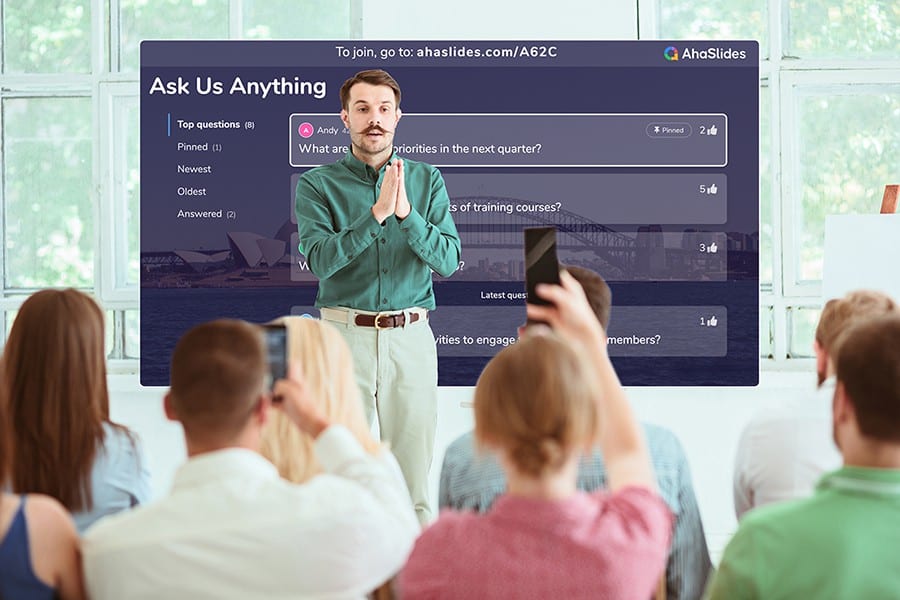 Start in seconds.
Still need ways to present information to a class? Get free templates for your next interactive presentation. Sign up for free and take what you want from the template library!
🚀 Grab Free Account
4 Tools to Generate Interactive Presentations Ideas for Students
Here are the top 4 pieces of software you can use to make a school presentation ideas interactive:
6 Interactive Presentation Ideas for Students
You've done your research and prepared excellent learning materials for your students, went over the topics to teach in a day, over and over again to perfection. Add a little sprinkle of "interactive activities" to the recipe, and you are all in to make the classroom experience memorable and engaging for your students.
Here are six interactive activities you can try online and offline to engage your students.
#1 – Story Telling
One of the best ways to grab your student's attention is to tell stories. This could be a great icebreaker activity on a Monday to beat the blues, or you can use it as a filler activity after a complex class of maths, science or history.
You might wonder, what's so interactive about this? Here's how you could make this exciting and interactive for your students.
Tell Your Story
Suitable for middle and high schoolers
Divide the class into groups. Ask each team to make an online presentation on a book, a movie, or a story they know of. The story could be left on a cliffhanger, and you could ask the audience how they think the story would end.
For this activity, you could use the open-ended slide on AhaSlides, where the students could write their entries and display them in real time on the screen.
Once everyone has put in their answers, the narrating team could reveal the ending, and the person who guessed the correct answer, or came closest to the right one, would get a prize.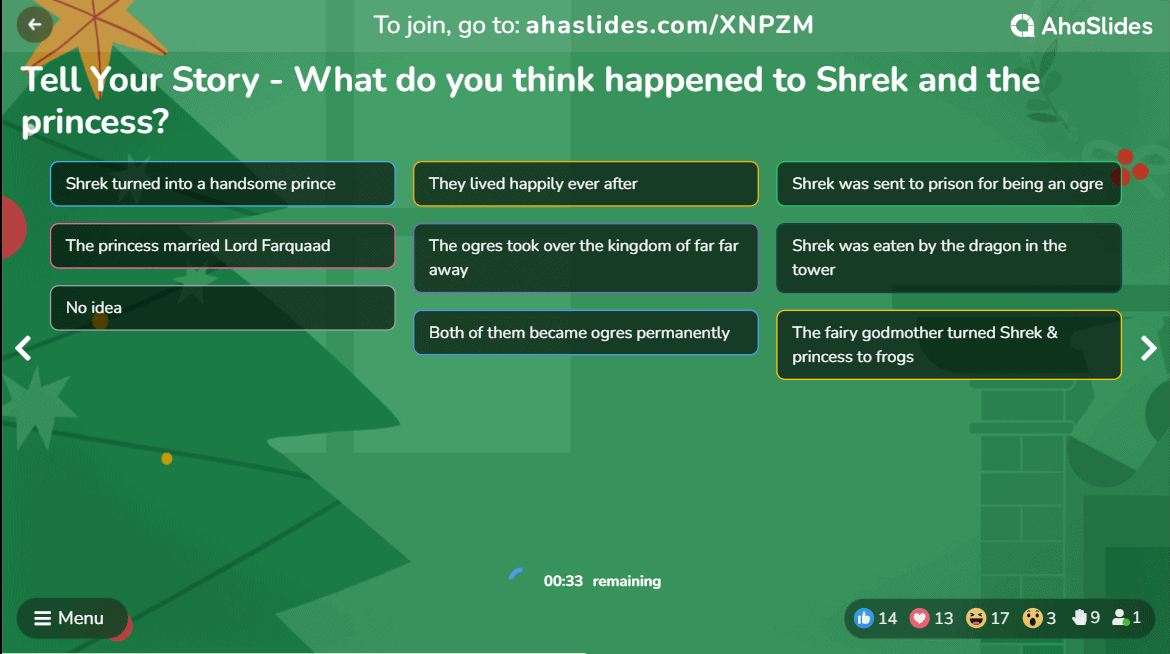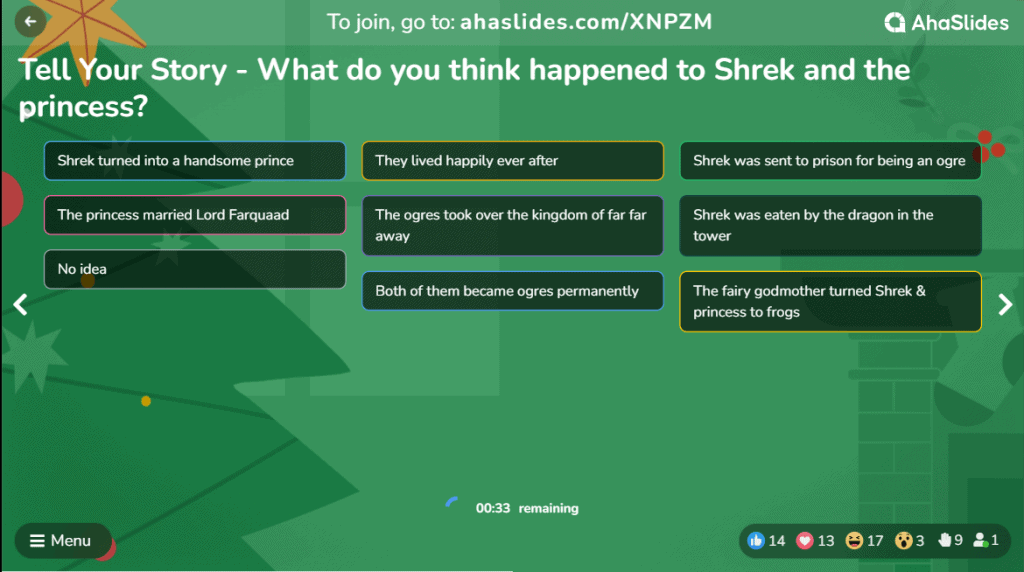 #2 – Games
Irrespective of which grade you are teaching, everyone loves to play games. Merging interactive games into your lesson plan can motivate your students to pay better attention in class and engage them.
You can either link the games to the topics you teach in the class or simply have them as fillers or as an icebreaker activity.
Here are three fun games you can play virtually or in class with your students.
Pictionary
There's rarely anyone who doesn't get excited hearing about this classic game. The game can be played in pairs of two or you can divide the whole class into groups, depending on the class size and grade you are teaching.
If you are hosting a virtual class, you can play Pictionary on Zoom using its whiteboard feature. Otherwise, you can use an online Pictionary platform like Drawasaurus, which can host up to 16 participants simultaneously.
Ambassadors
Suitable for middle and high schoolers
Ambassadors is a great game for teaching geography lessons. The players are assigned a country each, which they would represent. They are then asked to describe the country with facts about it, the flag, the currency, the food, etc.
The audience is given a specific time limit to guess the country. Instead of simply asking them to guess the answer, you can use a live word cloud to showcase everyone's responses. The most guessed word would be highlighted largest in the centre of the cloud, with the rest descending in size depending on how many times your players submitted them.
Show and Tell
Suitable for primary students
Teaching complex vocabulary can be pretty tricky, especially with young learners. This is a perfect game to teach them new words, what category they belong to, their meaning and their uses.
Give the students a category – for example, stationery- and ask them to pick one item that belongs to the category and share something about it. It can be either a memory, a story or something they know about that item.
💡 Take a look at 100s more fun games you can play with your students in class!
#3 – Quizzes
Whether you want to teach something new, give the students a surprise test to see if they remember what they've learned till now, or have a fun activity, quizzes are the best way to go about it.
From multiple-choice and audio questions to picture quiz rounds and matching pairs, there are many interactive quizzes you can play in class to engage your students.
#4 – Brainstorming
Along with hard skills the students learn with practice and learning techniques, it is essential for them to have specific soft skills too. Most often, when there's any interactive activity in the class, students think of getting the 'correct answer'.
This kind of restricts their thinking, but when you have brainstorming activities, there's a free flow of ideas. They can write any statement that comes to their head, which helps to improve their interpersonal skills and also their retention span.
Brainstorming can be either based on the presentation topic, or you could have a random game of your student's choice. Let's look at two brainstorming activities you can play with your students.
Tick-Tock
If you are looking for a simple game with little preparation, Tick-Tock is the one. The game is played in groups and each group will be given 1 topic.
The students of each group are seated in a circle for this activity
Give each team a theme or a topic, say Cartoons
Every student in the team should name one cartoon within a set time limit and continue the game for the next 2 rounds.
You can have one topic per round and eliminate students who didn't answer within the time limit.
The last one standing wins
This can be played both as a filler or can be played according to the subject you are teaching.
Bridge the Words
Suitable for middle and high schoolers
Teaching English can be fun and exciting if you know how to use the right tools and activities at the right time. 'Bridge the words' can be used to teach compound words and vocabulary to students.
The complexity of the words can be decided based on the grade you are teaching.
The game can be played individually or in groups.
Give your students a list of words and ask them to choose one from it
The students then have to come up with as many compound words as possible within a particular time
If you want to play this game with young learners, you could use a "match the pair" slide on AhaSlides.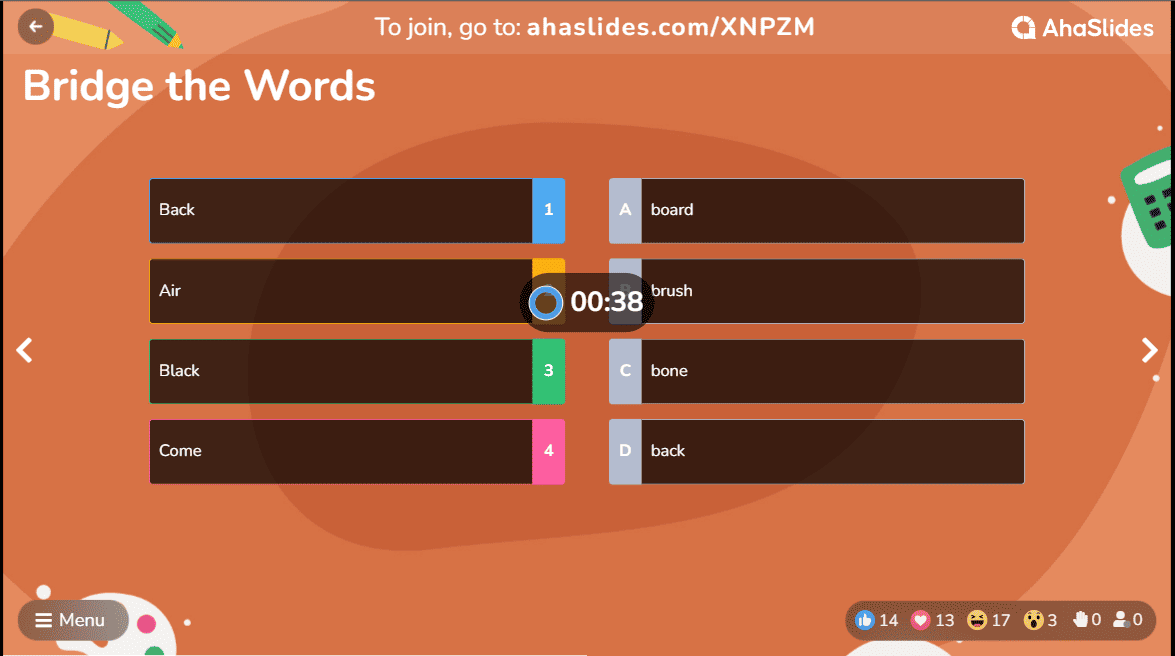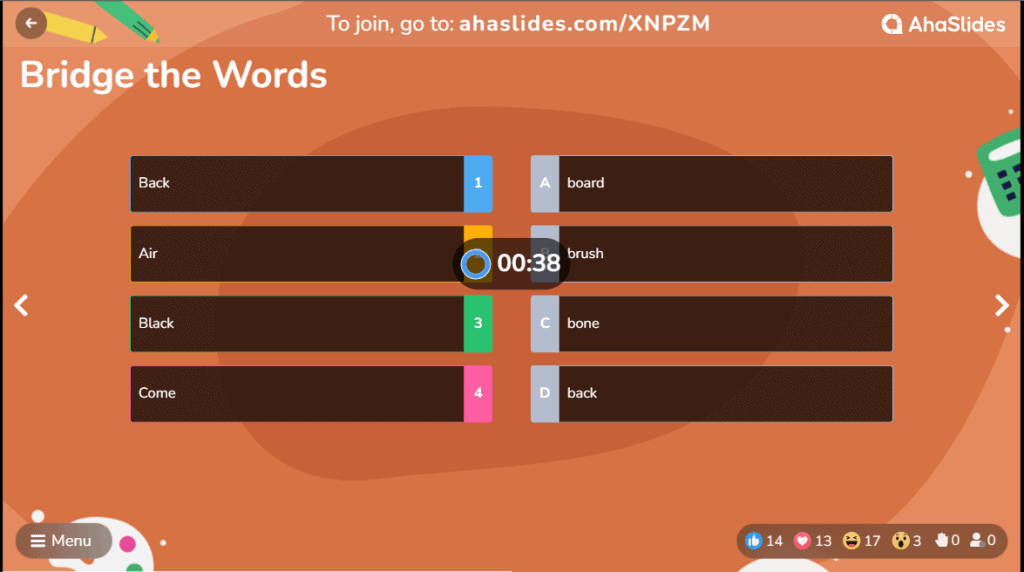 #5 – Q&As
Irrespective of what grade or subject you teach, your students will have some questions about the material.
But most of the time, students hesitate to ask questions because they are not confident enough or they fear that others might think the questions are silly. So how can you tackle this problem?
A live Q&A can be a fun and interactive experience for your students with the help of online interactive platforms like AhaSlides.
Students can send in their questions anonymously or with their names, depending on their choice.
The questions will appear from newest to oldest, and you can mark the questions that are answered.
Your students can upvote the popular questions, and you can answer them based on priority, as well as skip the ones that are less relevant or repetitive.
#6 – Debates and Discussions – Focus Groups
Guided debates and discussions are an excellent way to get students engaged. They give students an organised way to explore and express thoughts on topics they might already have strong opinions about.
They are interactive by nature, boost your students' confidence and teach them how to accept constructive criticism and respect the viewpoints of others.
Discussion topics can be selected either based on your lesson plan, or you can have general discussions that could be an additional activity in class.
Government and Citizens
Getting your students excited about general knowledge can be a daunting task. 'Government and Citizens' is a multi-player game best suited for an offline classroom activity.
The game is pretty simple. The whole class is given a country to represent. You can ask the students to research the country and make relevant notes for the activity.
Divide the class into different groups
Each group is given a category to represent – citizens, office of the Mayor, Bank etc.
Select a problem area – say, for example, "how can we make the country more sustainable?" and ask each group to raise their opinions.
Each group can present their opinion on the same and have cross-discussions as well.
Debate Cards
Add a little spice to the classic debate game with customised index cards. These cards can be made out of regular paper, or you can buy plain index cards that can be customised later.
This game can help students think before an argument or rebuttal and use the resources they have to the maximum benefit.
Make index cards (just a little extra than the total number of students)
On half of them, write "comment" and "question" on the other half
Give one card to each student
Choose a debate topic, and the students need to use their index cards if they want to comment on the topic or raise a question
The students will use their cards only when they think it is necessary
You can reward them with extra cards if they make a strong point or raise an excellent question that keeps the debate moving
💡 For interactive presentation ideas for students, let's check out 13 online debate games you can play with students of all ages.